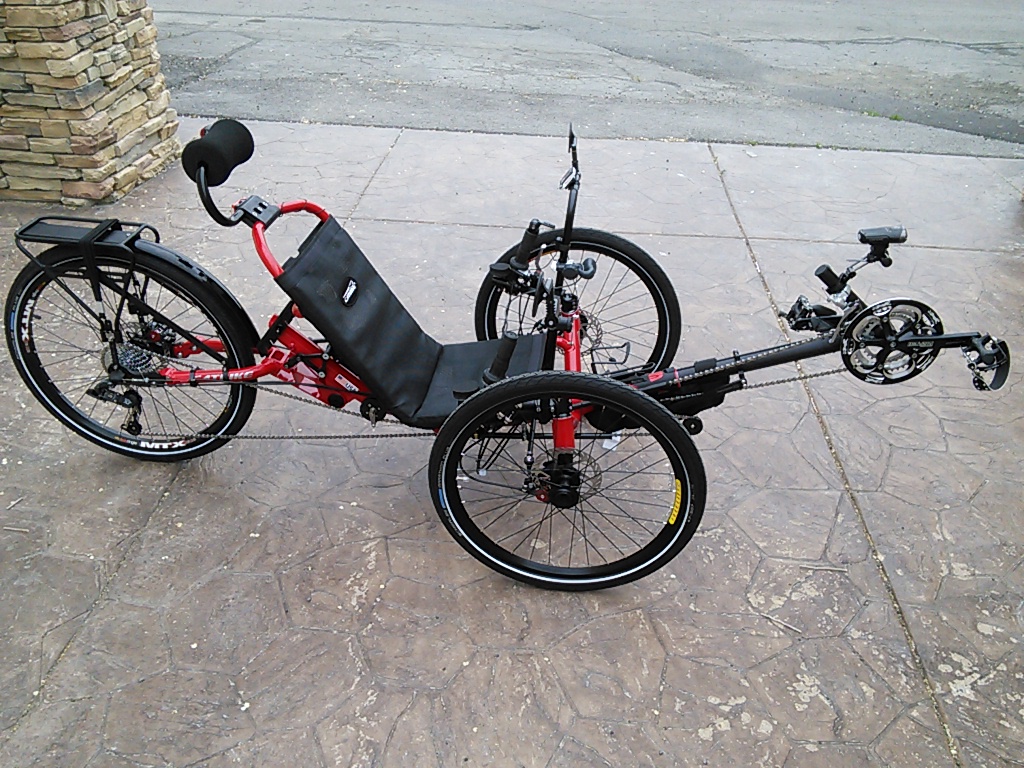 ---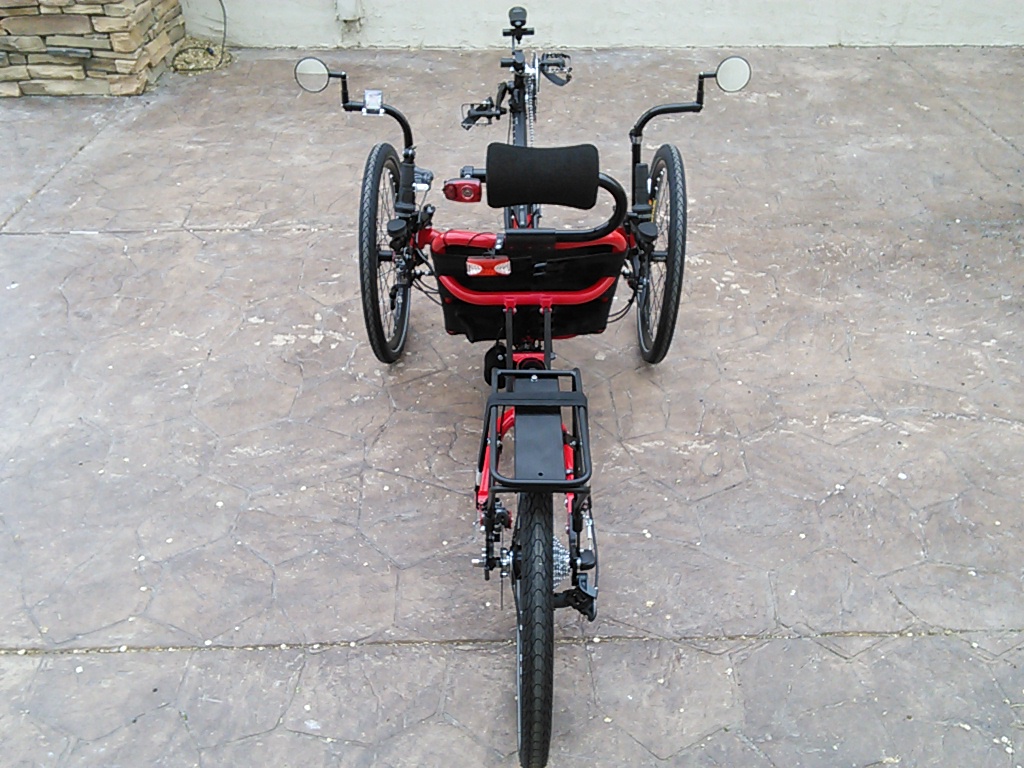 ---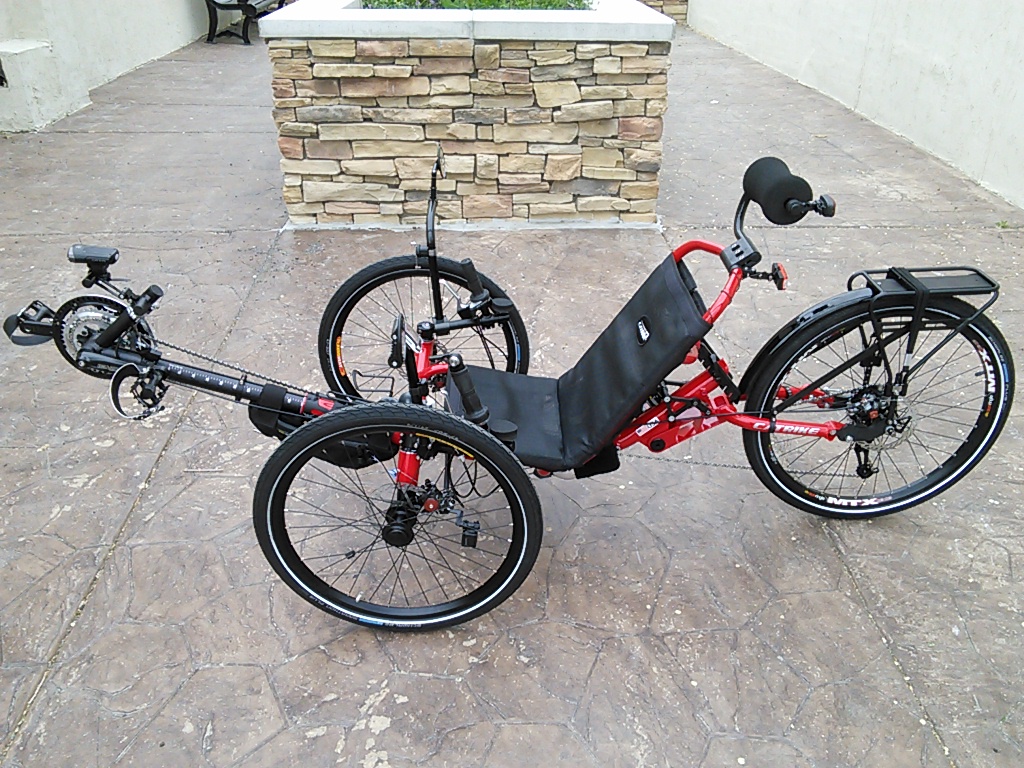 ---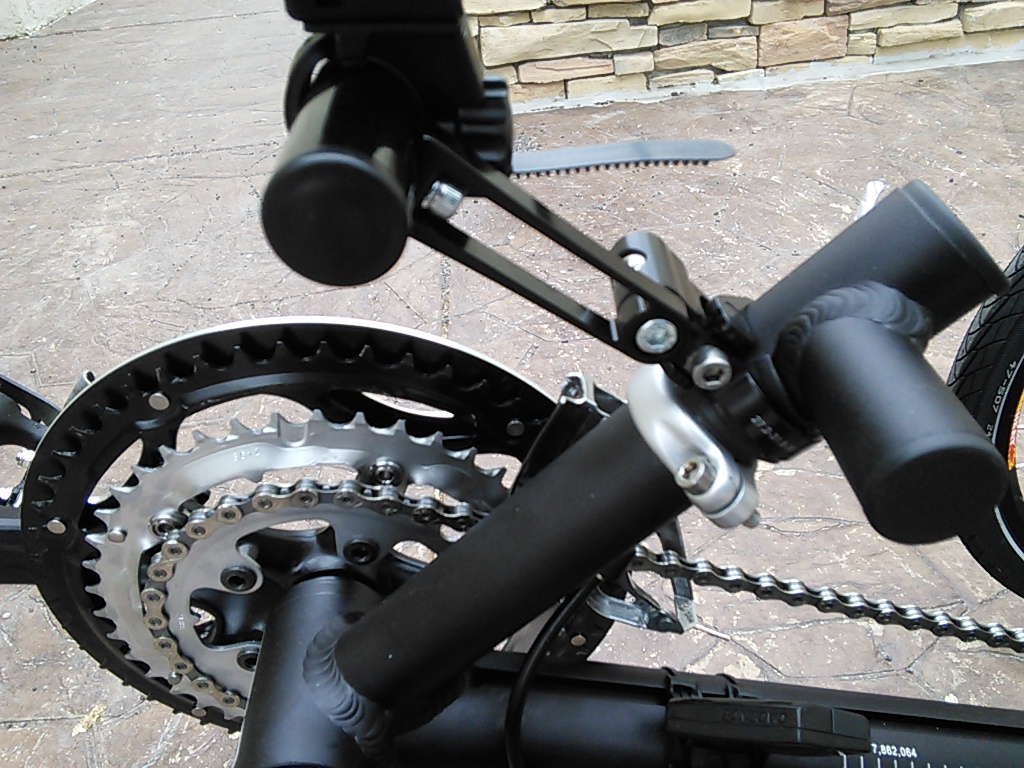 Minoura SwingGrip Accessory Mount Holder - The Minoura SwingGrip is a favorite accessory for recumbent bicycles and tadpole trikes. The most popular use is to mount it on the derailleur post on the recumbent trike boom. An easy way to add headlights or a computer display.

---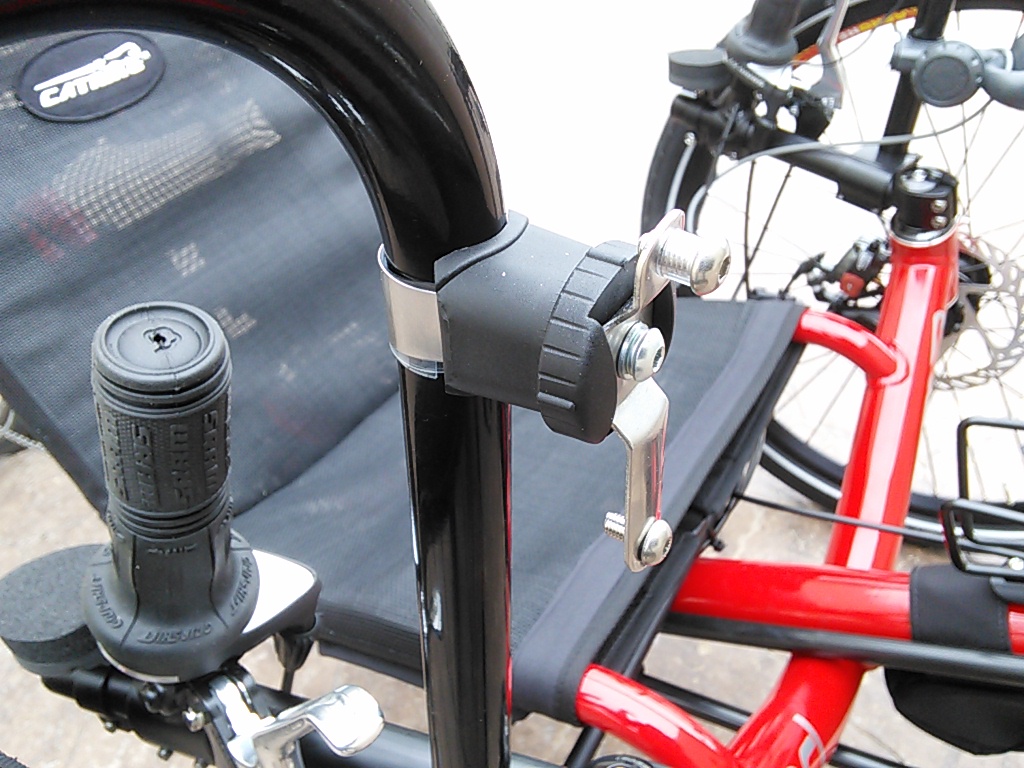 Minoura Clamp-On Water Bottle Cage Holder - Stainless Steel - We use these A LOT and all riders love them. They seem to be the bottle cage accessory that we go to when others won't work. They go quick so grab as many as you need! -Adjustable band fits on seatpost, handlebar or frame tube -Accomodates 22-35mm diameter range -Holder bracket made of rustproof Stainless Steel -Bracket is angle adjustable

---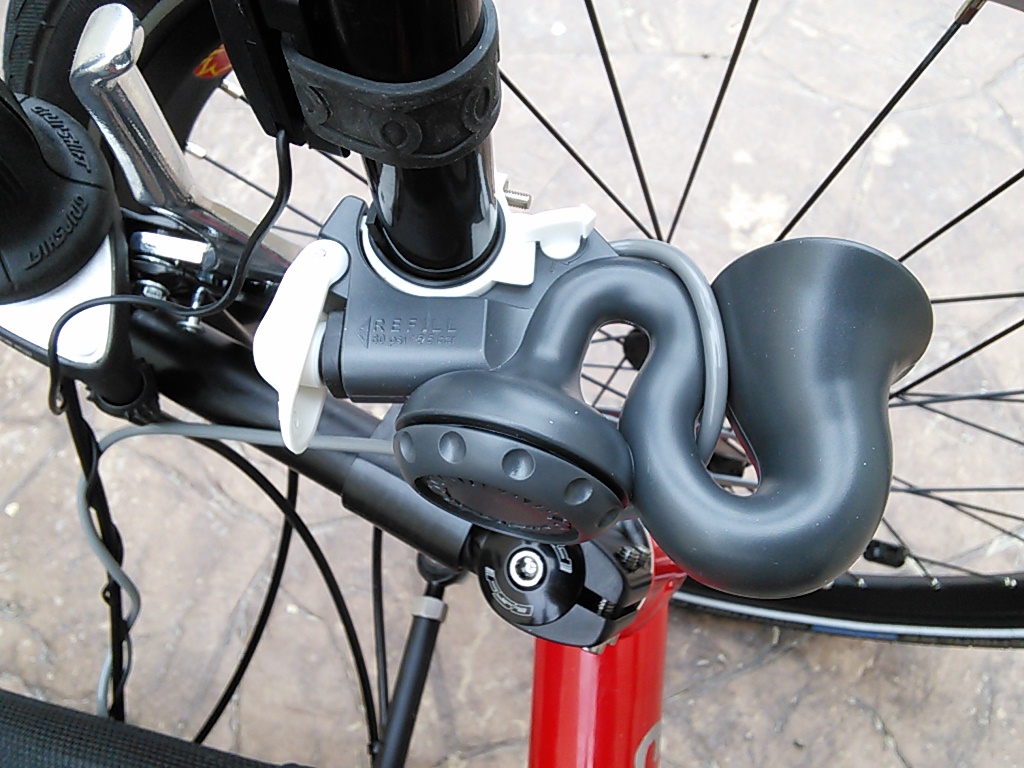 Delta AirZound Rechargeable Air Powered Horn - 115db - An air horn that can be mounted on any handlebar and refills with any bike pump. -No batteries or cartridges required -Volume control switch -Clamp for mounting on 22-26mm handlebar -Refills with any bike pump -Please note that clamps and knobs pictured in red are actually white

---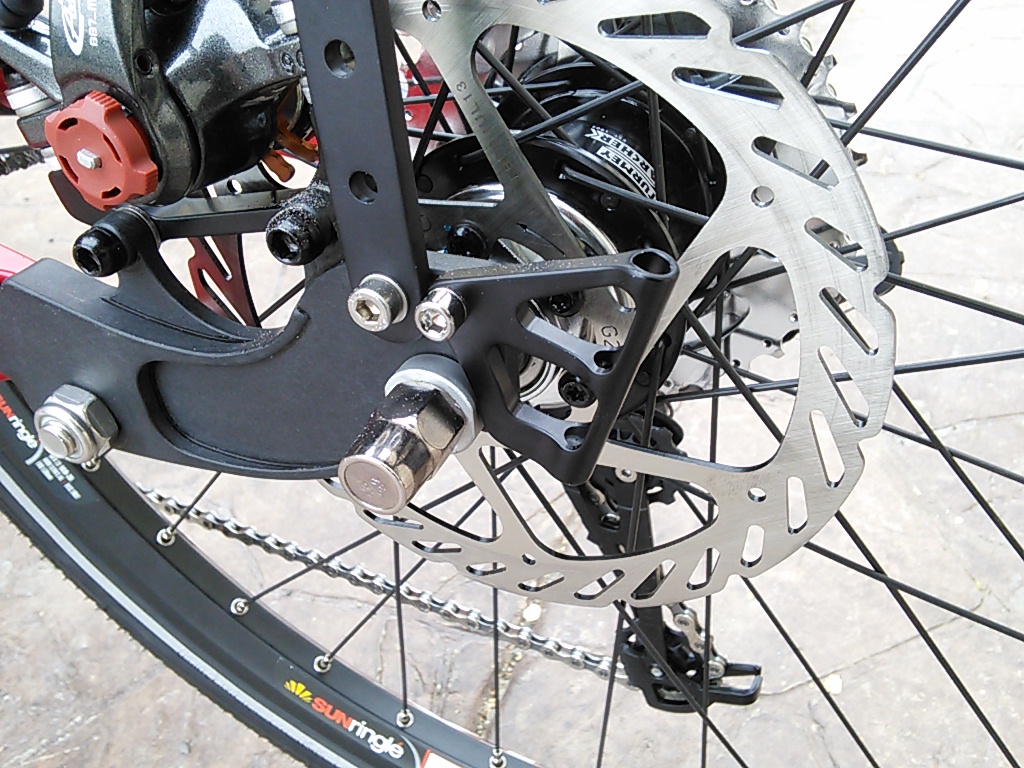 Catrike Flag Mount - Alloy flag mount. Easy to install in minutes. Attaches to the rear drop out with one bolt that is included.

---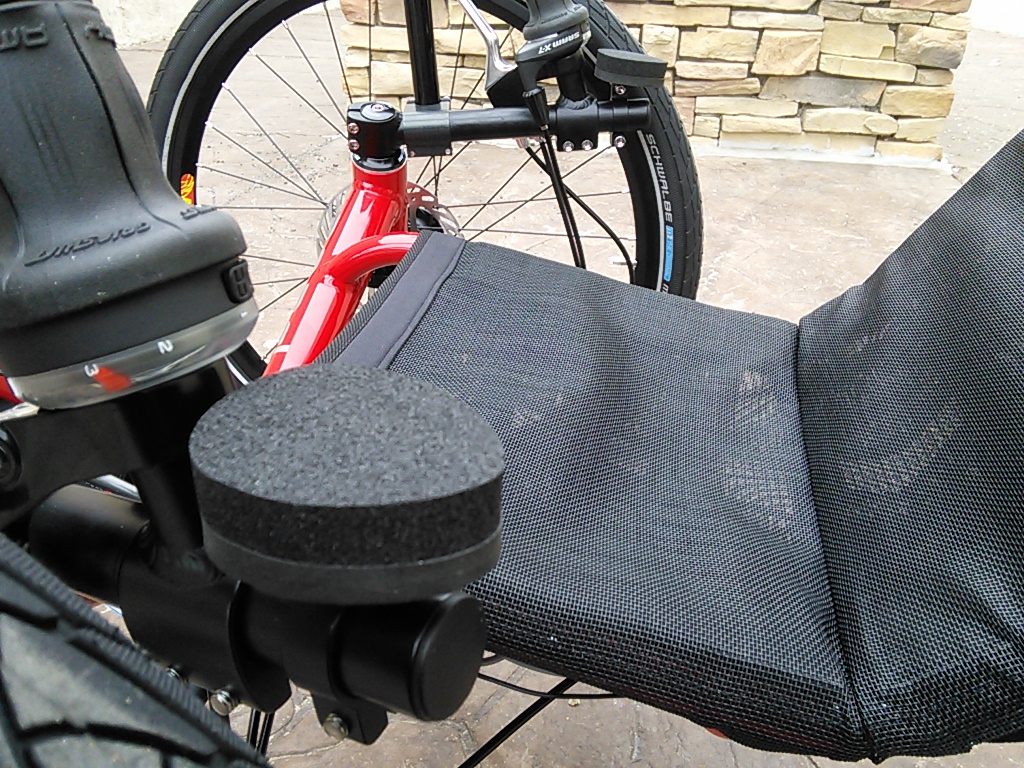 Catrike Hand Rest Pair - A mount that attaches to the lower handle bar of a Catrike to rest your wrist on as you ride. Includes adjustable clamps and foam pads.

---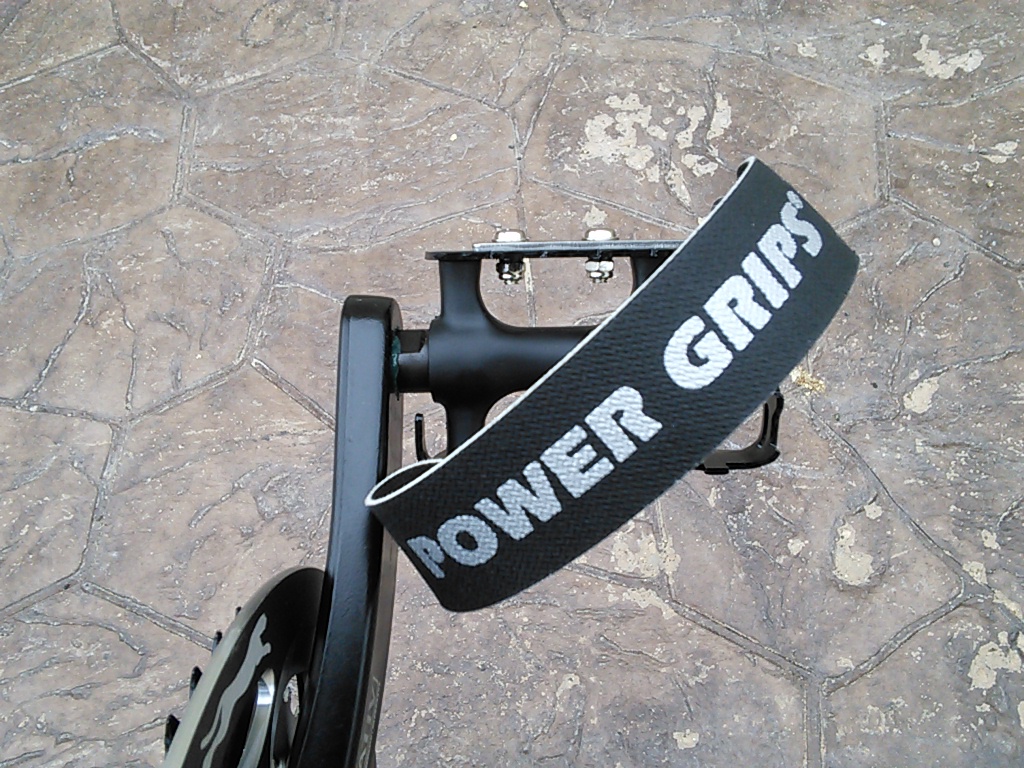 Power Grip Sport Pedal and Strap Set - Don't want to have your feet come off the pedals but don't want to wear special cycling shoes? Helping you avoid the hassle of special shoes, the Power Grip straps hold your feet securely on the pedals while wearing your favorite pair of sneakers. A favorite option on many recumbent bicycles and trikes. To use, just put your feet through the straps at an angle. When your foot straightens out the straps lock against your shoe. Simple and effective.

---
---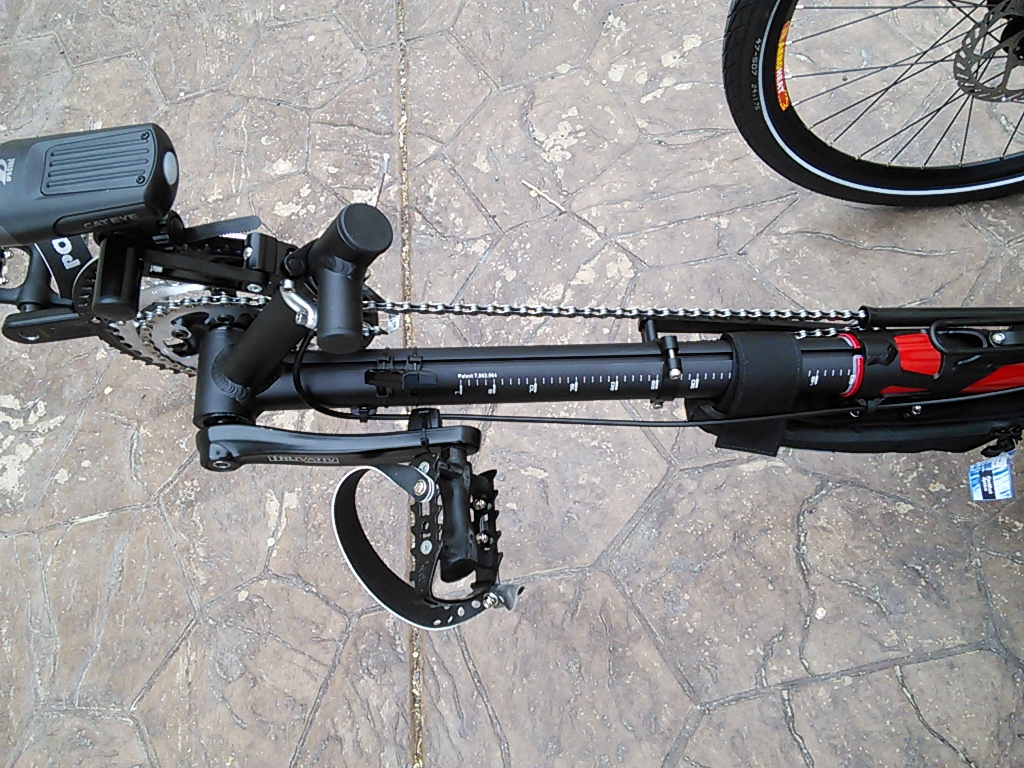 Catrike XL Boom 24in Long - Anodized Black - We get it. Some of you are just really tall! This Extra Long Boom from Catrike will let you adjust your reach so you can ride comfortably.

---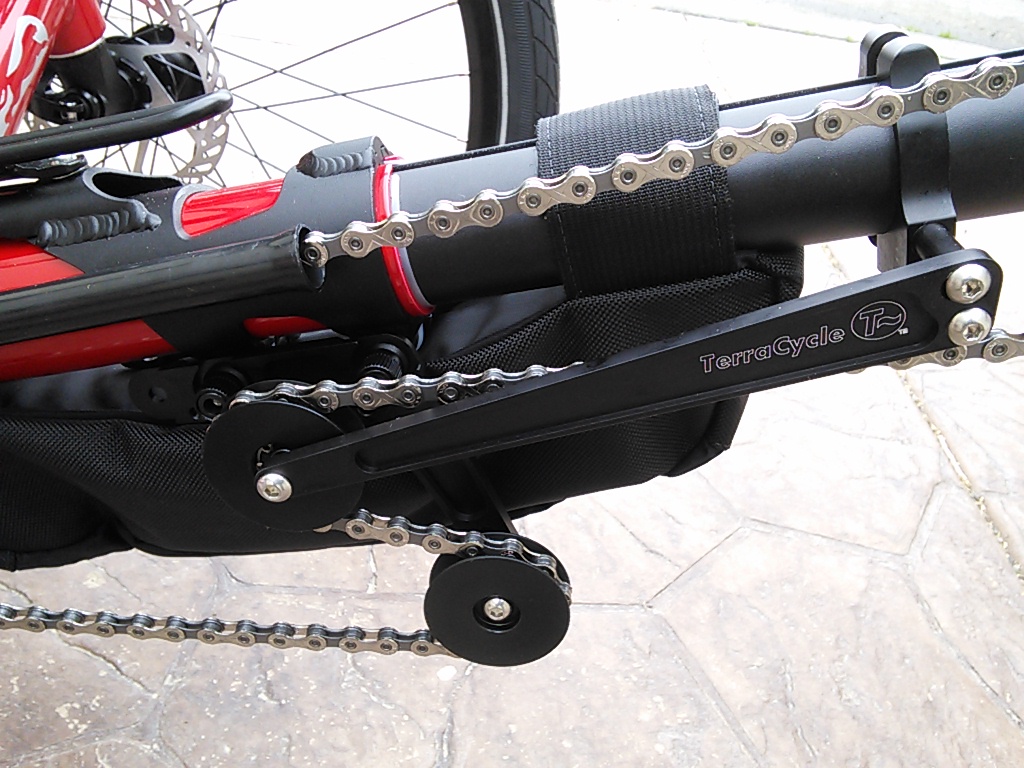 Catrike Chain Tensioner by TerraCycle - This Chain tensioner system made for all Catrike models by TerraCycle allows the rider to change the boom length without having to worry about adjusting the chain. It's easy to set up, hassle-free, and makes it easier for different friends to check out your cool new trike.

---
---
---
---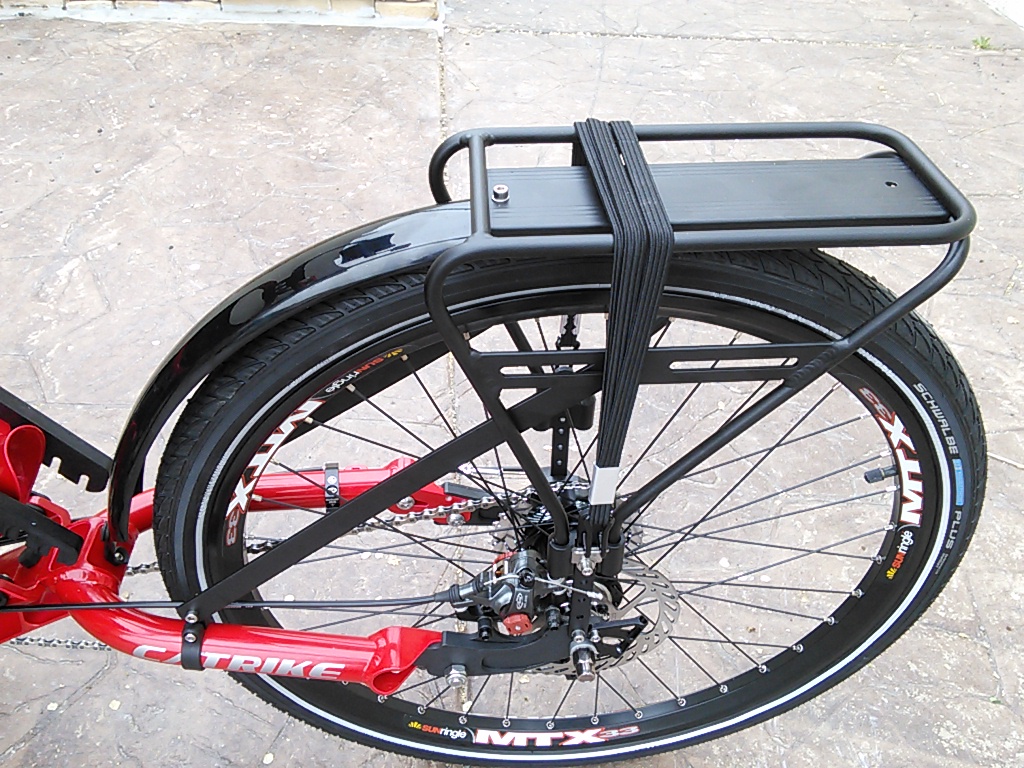 Utah Trikes Rack with Integrated Fender for Annihilator - Our adjustable rack fits the Annihilator perfectly. With this option we mount the fender directly to the rack to eliminate the traditional wire stays. This makes the fender much more rigid and secure and keeps the rack height as low as possible.

---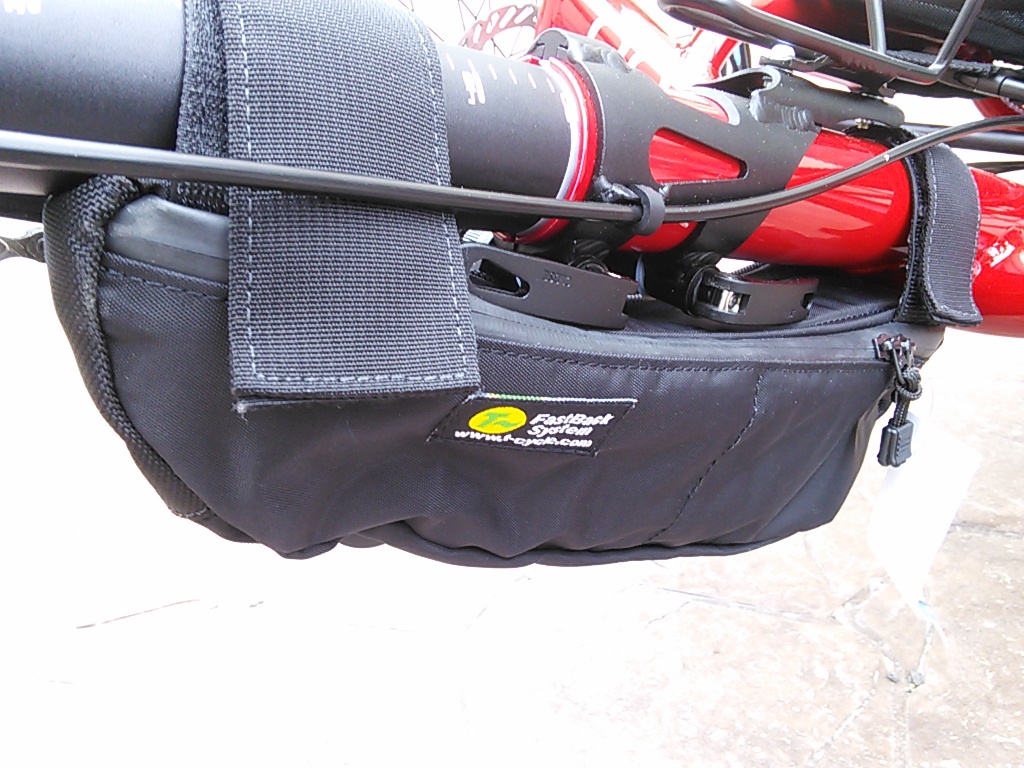 FastBack NorBack Frame Pack - Inspired by Texas cycling legend Cletus Lee who provided the idea, and named to honor our head seamstress extraordinaire, the NorBack is a tool pack and more. Inside, a big grippy holder secures a Topeak Morph or other mini-pump, with room for tools, arm warmers, or even a light jacket.

---
---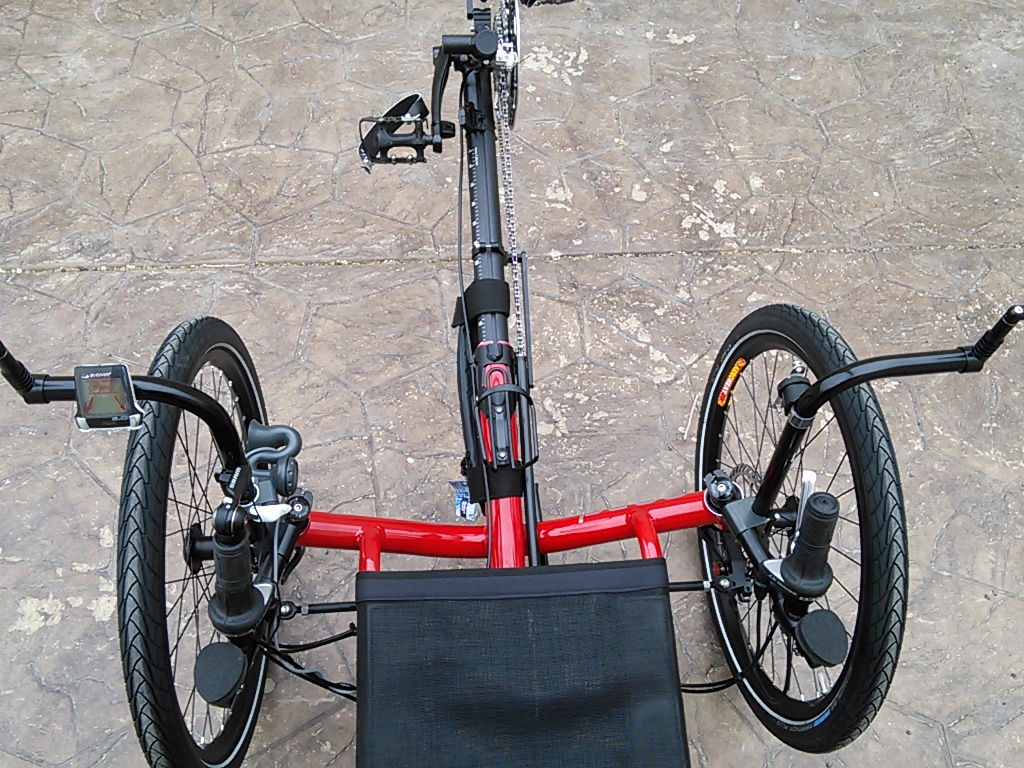 UTCustom Super Mounts (pair) - Black Anodized Clamp - Our Super Mounts get your mirrors out where they are the most useful. Our custom clamp allows the mounting bar to be positioned anywhere along the handlebar and adjust the angle. Works especially well with the larger tires found on our Catrike Annihilators and KMX K90 models.

---
---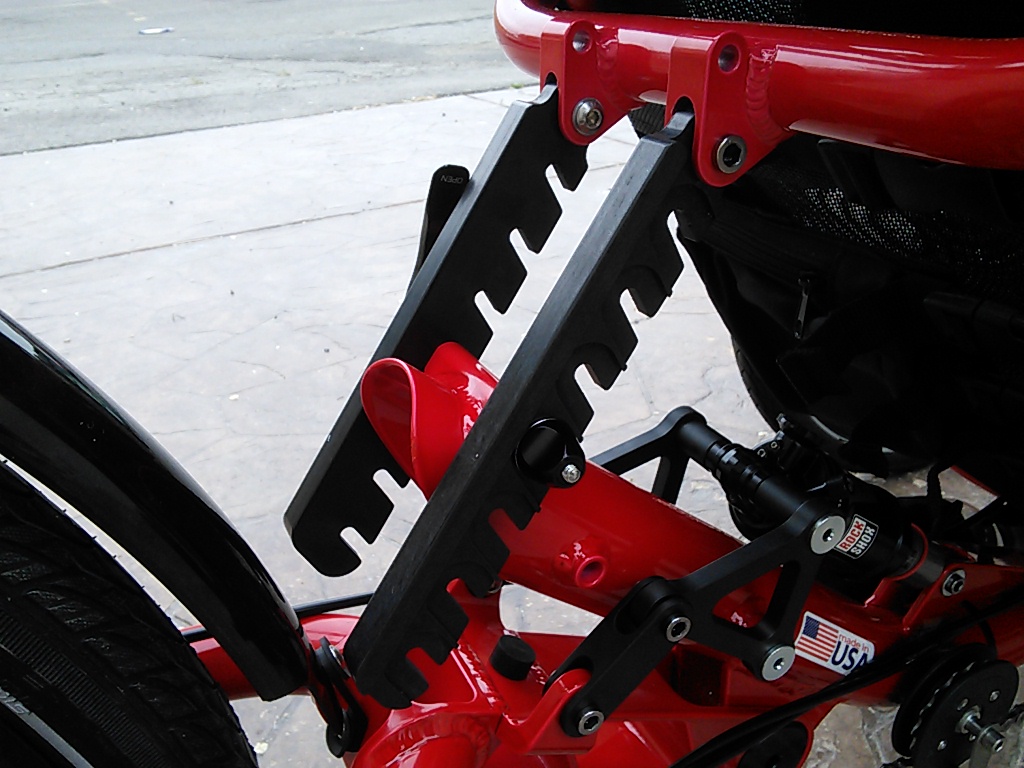 UTCustom Catrike Seat Extension - We have had so many people tell us that they wish their Catrike seat could go more upright. Well, now you can! Our seat extensions let you adjust the seat back to a nearly vertical position. Hey, it's your trike right? You gotta be comfortable!

---
---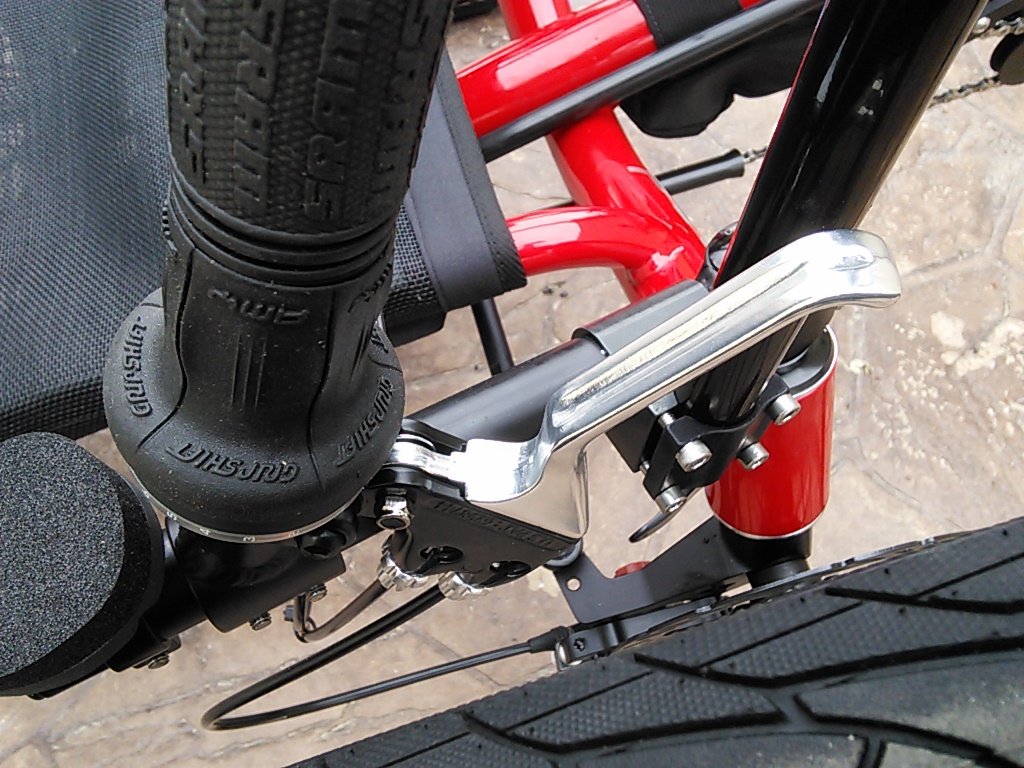 One Hand Brake Control Lever - Right Side Dual Pull - Do you need to operate all of the controls with one hand? Do you prefer to have no brake-steer? If you answered yes to either question, order this dual control brake lever! It's a single lever that operates both brakes and is compatible with all trikes we currently sell. -The Double Barrel lever pulls two long-pull brakes simultaneously -Forged aluminum lever and cast aluminum bracket -Three-finger design

---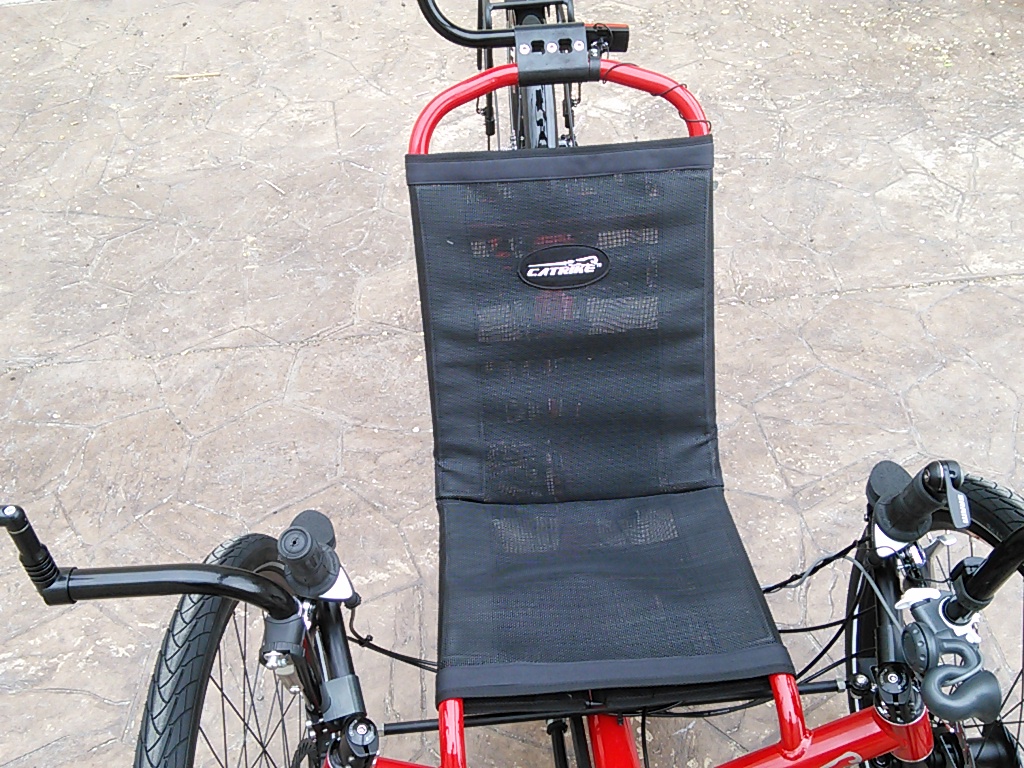 Catrike Seat Mesh for Villager/Road - The Catrike seat mesh is breathable and comfortable. The strap and buckle system on the back allow the mesh to be easily removed for cleaning. Integrated pockets provide storage for a pump, cell phone/mp3 player, and a spot for a tool kit, spare tube, etc.

---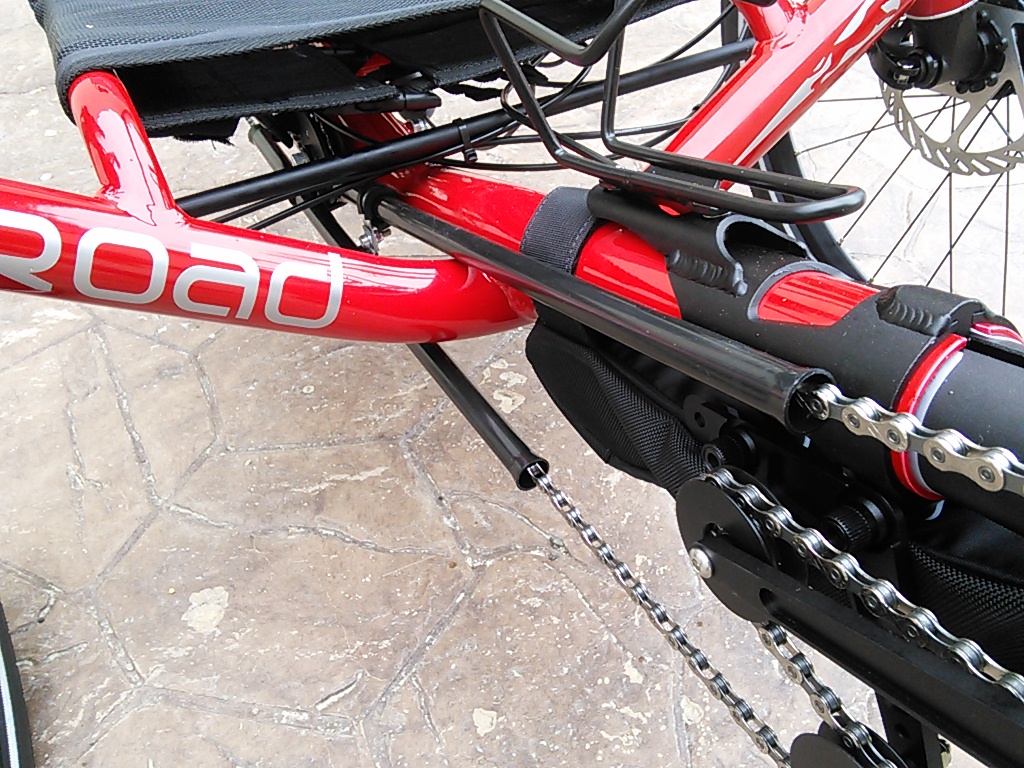 Catrike Chain Tube Assembly - The stock Catrike chain routing uses low-friction PTFE tubing to guide the chain around the cruciform section of the frame. The ends of the tubes are flared for quiet and smooth running.

---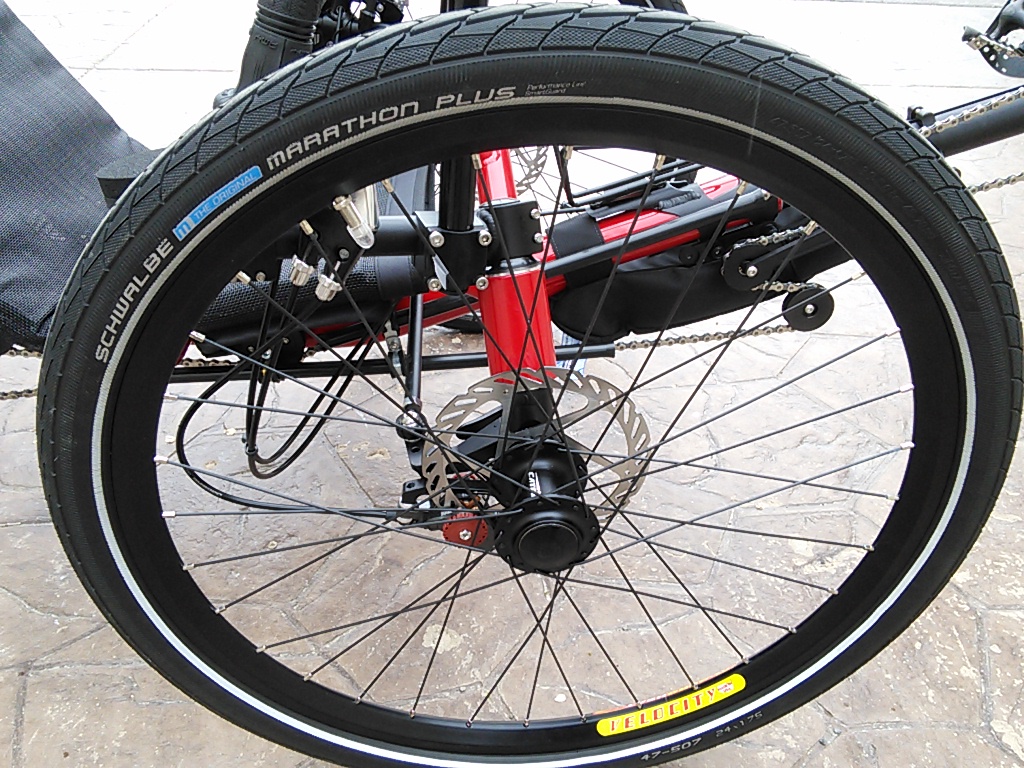 Schwalbe Marathon Plus 24x1.75 (47-507) HS440 Tire - Punctures become obsolete with the MARATHON PLUS! The SmartGuard layer made from a flexible, special rubber offers particular resistance to shards of glass and flints. Even a thumbtack cannot penetrate this protective layer. The SmartGuard belt does not increase rolling resistance. -WIRE BEAD -PSI: 45-70

---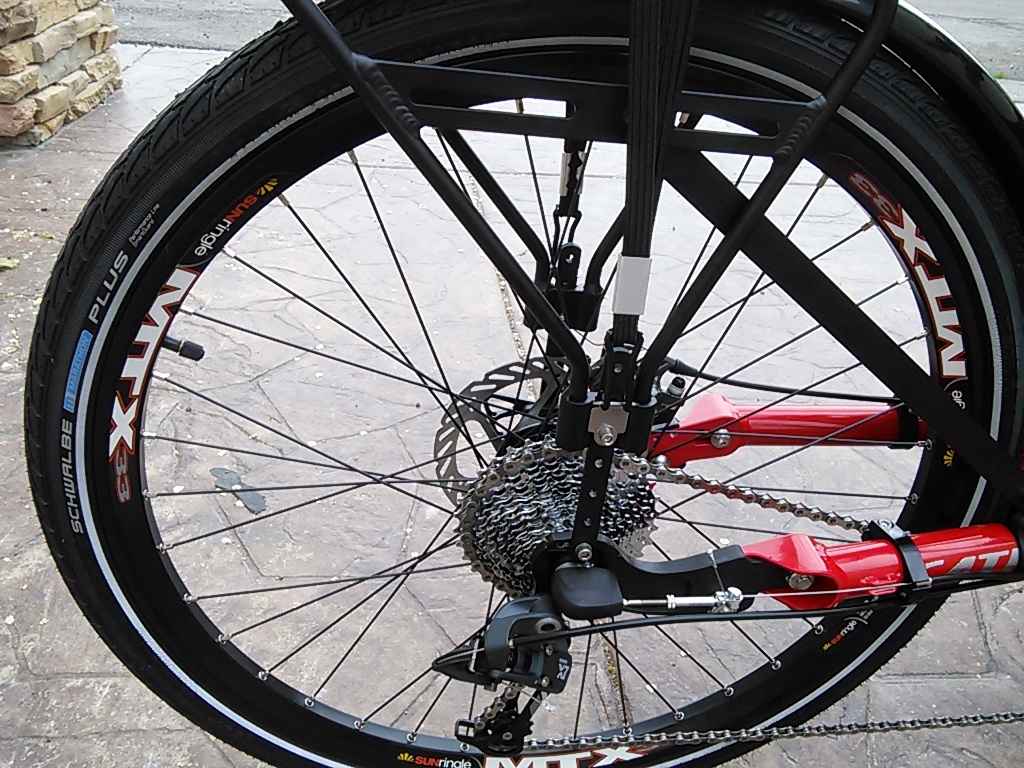 Schwalbe Marathon Plus 26x1.75 (47-559) HS440 Tire - The Marathon plus tire has a thick protective liner to keep foreign objects from reaching the tube. Schwalbe has a protection level 7 out of 7 for all Marathon Plus tires. This is our most popular tire by far because it's affordable and they will outlast any tire out there. You'll be surprised at how smooth and quiet they roll. -WIRE BEAD -PSI: 45-70

---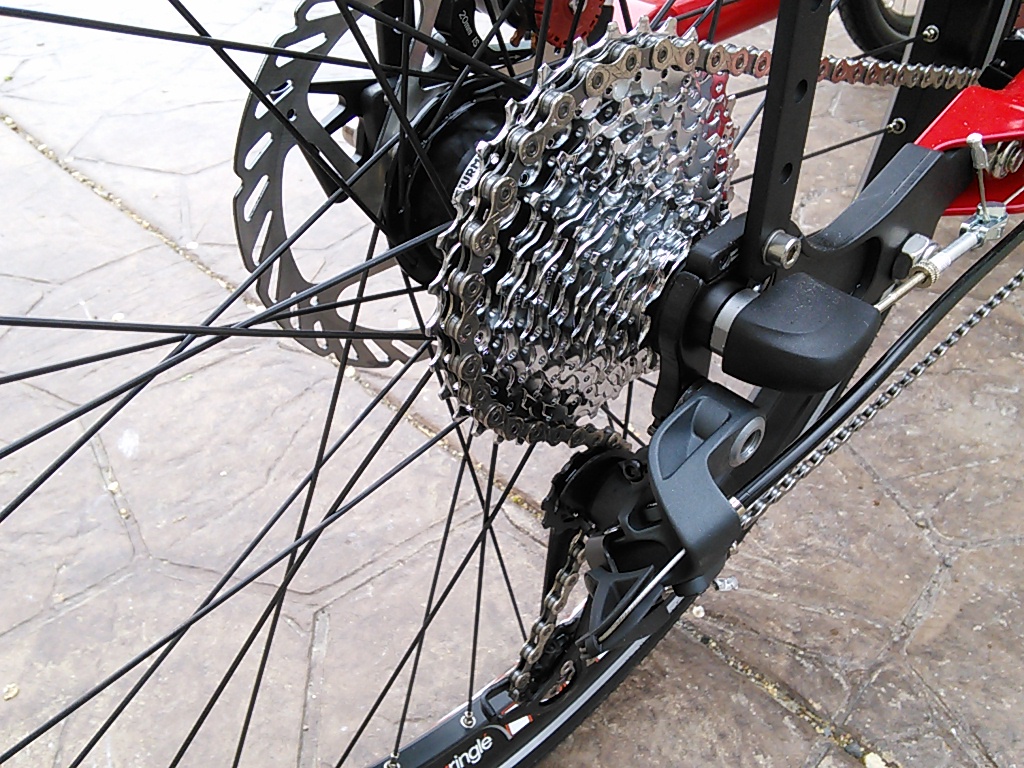 SRAM PG-950 11-34t 9sp Cassette, X7 Rear Derailleur, Grip Shifter, Chain - This 9-speed gearing system is tried-and-true. The included twist shifter is also very reliable.

---
---
---
---