Utah Trikes is the #1 online trike retailer in the world! We want to provide you with personal and quality service. Place an order online, over the phone, or set an appointment to visit us in our showroom. You're the reason we work so hard and we want to help you every step of the way.
Showroom and Shop
Hours:
Mon - Fri: 9 a.m. - 5 p.m. MST
Sat: 10 a.m. - 4 p.m. MST

Location:
40 S Main St.
Payson, UT 84651

Phone:
801-804-5810
Contact Us by Email
Sales:
trikes@utahtrikes.com
Support:
support@utahtrikes.com
Appointments:
accounting@utahtrikes.com
Marketing:
marketing@utahtrikes.com
Orders/Shipping:
orders@utahtrikes.com

Call for an Appointment
We are always here in the shop building custom trikes during our business hours, and we love showing them off! Before you come in, talk with an associate to let us know when you'd like to visit. We'll be sure to have someone ready to help you and answer your questions.

Operations

Ashley Guy
-
President
Utah Trikes
Payson
Ashley Guy has been into riding and building cycles as long as he can remember. When he discovered his first recumbent trike his life changed forever. His love of trikes turned into a full-time business and now, between answering customer emails and phone calls, he runs the nation's number one trike retail shop.

Kaitlin Urmston
-
Marketing
Utah Trikes
Payson
Kait Urmston is our written content editor and is committed to proper grammar. She also heads up a lot of our social media outreach. If you follow @utahtrikes on Instagram, you'll see some of her work.
Mechanics

Joshua Spencer
-
Secretary of Trike Defense
Utah Trikes
Payson
Josh makes sure your trike is fully operational before it gets shipped to your door. Heís the last line of defense so to speak, and will catch anything that seems amiss. Heís also the one thatíll take some awesome sneek peak pictures of your trike and its features before we ship it.

Dylan Youngberg
-
Mechanic
Utah Trikes
Payson
Dylan loves building things and working on anything mechanical. Utah Trikes is a perfect fit. He'll lend a hand in all the trikes that come through our shop, and he's committed to quality. Your trike is in good hands.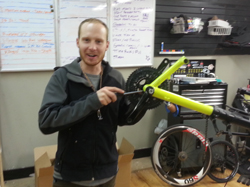 Nate Guest
-
Mechanic
Utah Trikes
Payson
Nate Guest lives for biking, so to work making trikes was just natural. Nate is a local biker who has worked in local bike shops for years. Here at Utah Trikes, he not only builds the trikes but works on creating some of the key pieces for them as well. Chances are when you come into Utah Trikes Nate will be there to greet you and he can show you some of his favorite trikes.
Custom Shop

Luke Green
-
Custom Shop Manager
Utah Trikes
Payson
Luke Green is a certified TIG welder, builds trikes, and has a part in most all projects. You will see him in the build shop most of the time building stock trikes. When not riding a trike, Luke is on a dirtbike at the dunes or in Moab on his bike.

Cody Fowlke
-
Fabricator
Utah Trikes
Payson
Cody has been with Utah Trikes from almost the beginning. Cody was our head mechanic building trikes before moving into our fabrication team. He's TIG certifiede, and he wants everything done perfectly. He builds many of our custom frames and quad rear ends, as well as heading up all of our powder coating.
Shipping

David Sneddon
-
Shipping Manager
Utah Trikes
Payson
Dave Sneddon, Mr. Joe Sneddon's brother, is our guy in charge of all things shipping. He'll take care of your trike and make sure it get's delivered to your door. He's pretty familiar with our inventory, too, so if Joe is busy, ask for Dave.

Joe Sneddon
-
Inventory Manager
Utah Trikes
Payson
Hailing from Sierra Vista, AZ is Joe Sneddon. He's the lucky guy in charge of keeping track of our trikes, parts, and other accessories. If you want to know what we're currently carrying, he's the man to talk to.