UTAH TRIKES IS STILL SHIPPING DAILY TO KEEP YOU RIDING. STAY SAFE!
---

OVER THE PHONE
Call in and talk to our friendly staff. We'll walk you through the process over the phone!
TOLL FREE: 866-446-2065
APPLY ONLINE
Our online application process is quick and easy. Fill it out on your own and get approved in no time!
APPLY ONLINE
Why Use A Utah Trikes Card?


Easy Access: 24-hr account info and online payments.


Improve cash flow: Free up your other financing channels


Flexible Financing: We offer promotional financing and special deals exclusively for our Utah Trikes Card


Flexible Payment Options: Stick to your budget


Simple Application Process: Get notified instantly of approval and get riding sooner!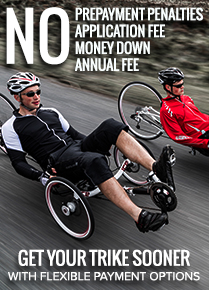 ---
UtahTrikes.com is a wholly owned subsidiary of Guy Graphics, Inc.
Copyright © 2006-2022 All Rights Reserved.
Materials on this site may not be used without express written permission.