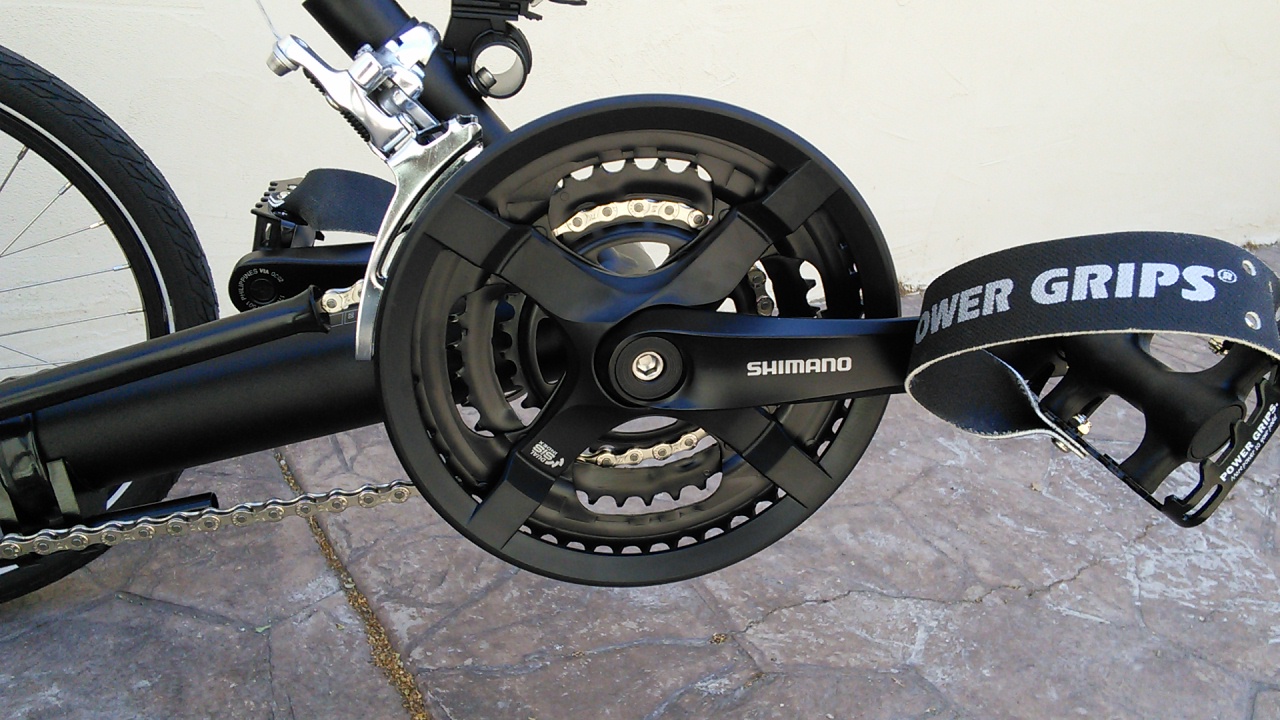 Shimano Triple Crankset
---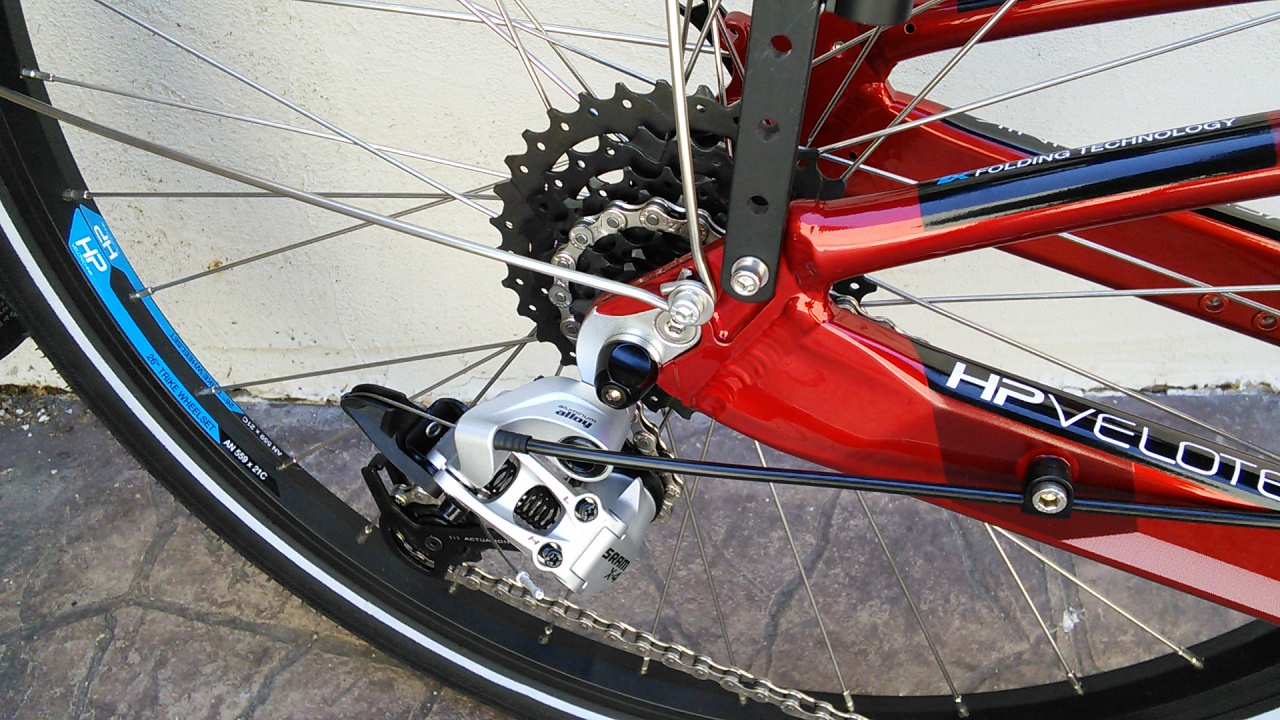 SRAM X4 Long Cage Rear Derailleur - 7/8/9 Speed - Affordable and reliable derailleur is great for repairs and upgrades. -Compatible with 7-, 8-, and 9-speed systems -1:1 shifter-to-derailleur actuation ratio for precise light-action indexing

---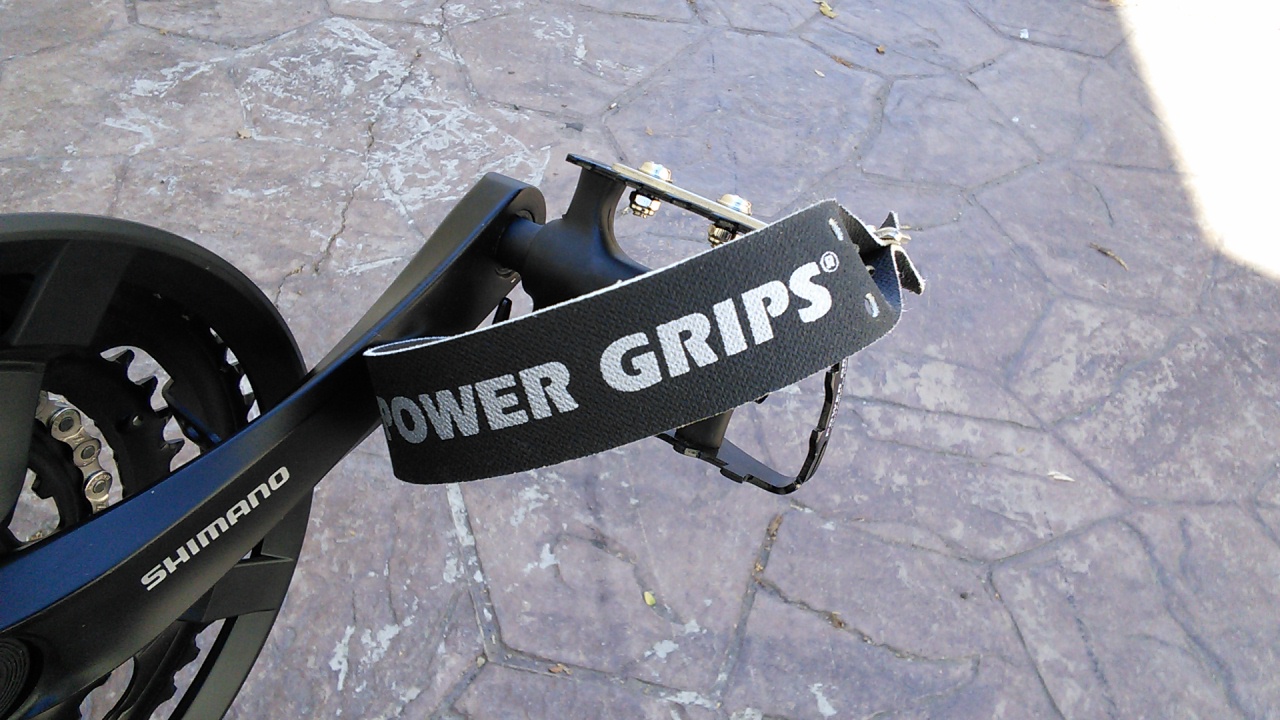 Power Grip Sport Pedal and Strap Set - Don't want to have your feet come off the pedals but don't want to wear special cycling shoes? Helping you avoid the hassle of special shoes, the Power Grip straps hold your feet securely on the pedals while wearing your favorite pair of sneakers. A favorite option on many recumbent bicycles and trikes. To use, just put your feet through the straps at an angle. When your foot straightens out the straps lock against your shoe. Simple and effective.

---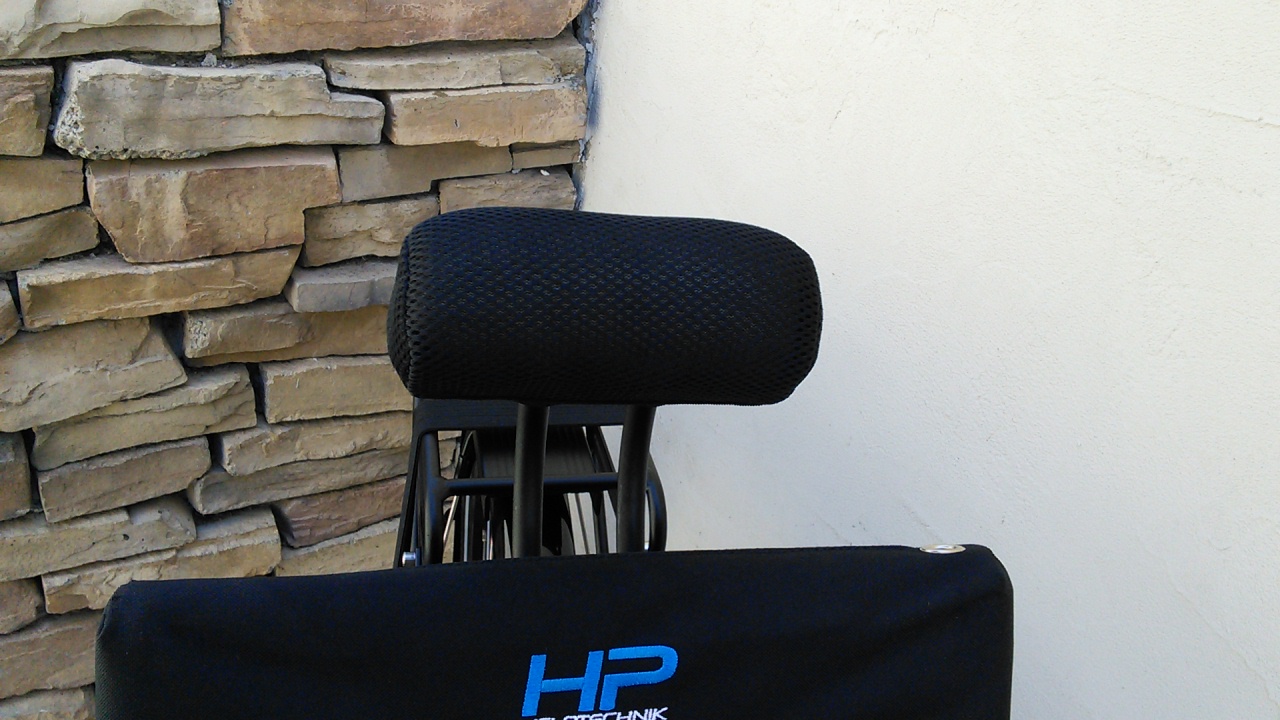 HP Headrest For Gekko and Scorpion ErgoMesh Seats - The Head Rest,a retrofittable, sleek ergonomic accessory, height and tilt adjustable. Solid aluminum design with detachable and washable head pad with reflecting feature for passive safety.

---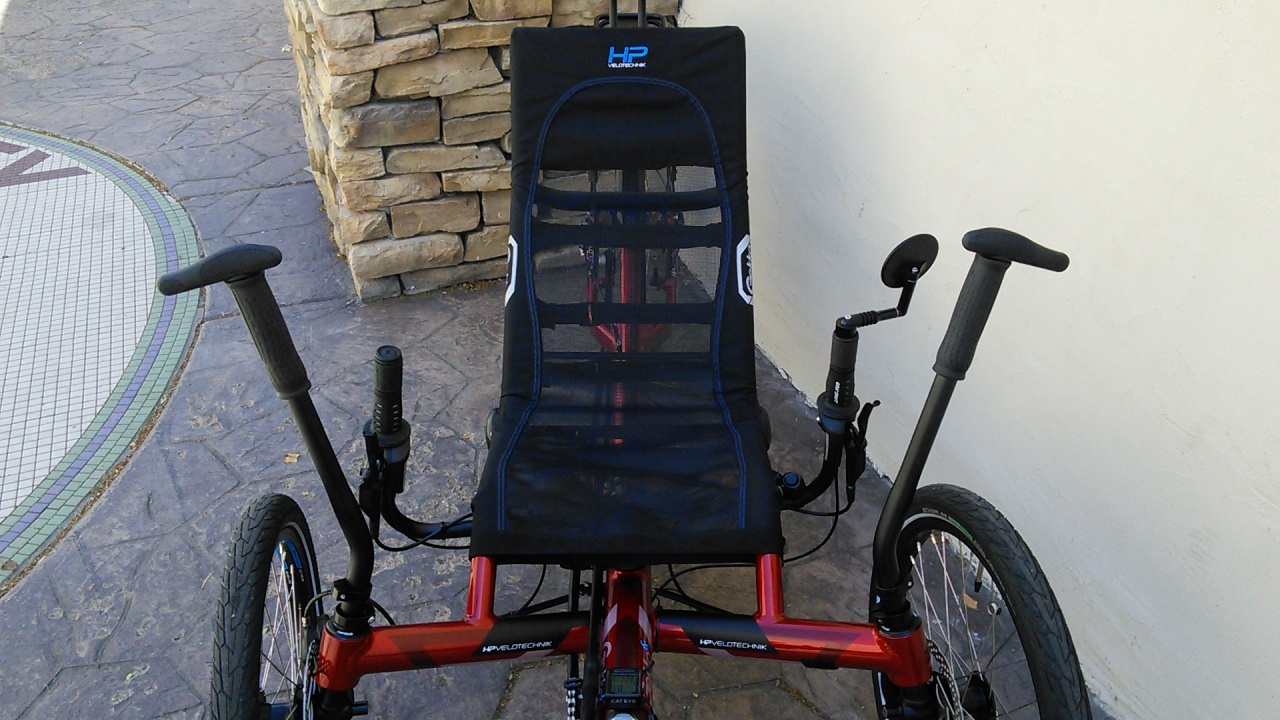 HP Standing-Up Aid for Trikes without Front Suspension - Left - Stand-Up aid for HP Velotechnik non-front suspension trikes made from March of 2012 or later. Fits the Gekko, Gekko fx, Scorpion, Scorpion fx, Scorpion fx2 and Scorpion 2. Product Notes: Two variants: choose left or right. Easily removed for folding on the Gekko fx and does not interfere with folding on the Scorpions. These do not work if you have mirrors already installed onto your trikes kingpins as both the mirrors and stand up aids use the same mounting location.

---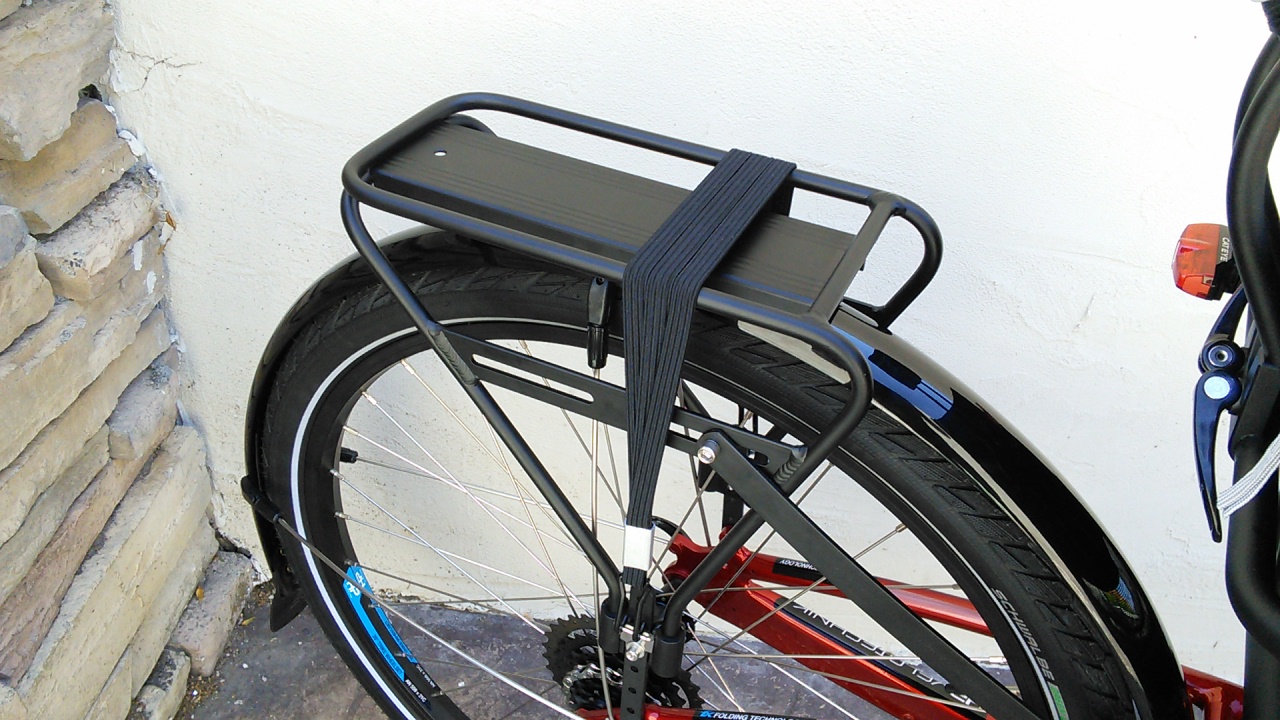 Utah Trikes Adjustable Aluminum Cargo Rack - This adjustable rack can be used on many trikes. It includes a variety of hardware and is very adjustable.

---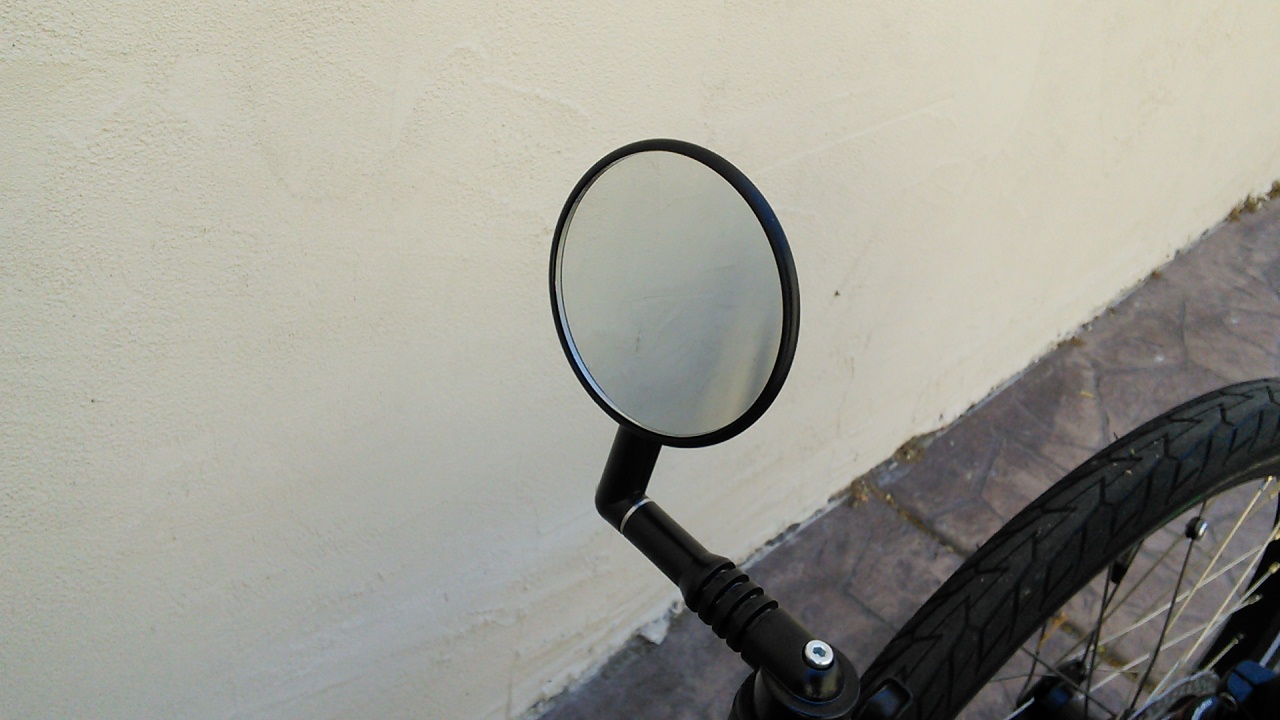 Mirrycle Mirror - The Mirrycle Mirror is by far the most popular mirror for recumbent trikes. It is well made, attaches to any 7/8in tube or handlebar and is easily adjustable. This is an essential safety item for anyone riding a recumbent bike or trike on the street.

---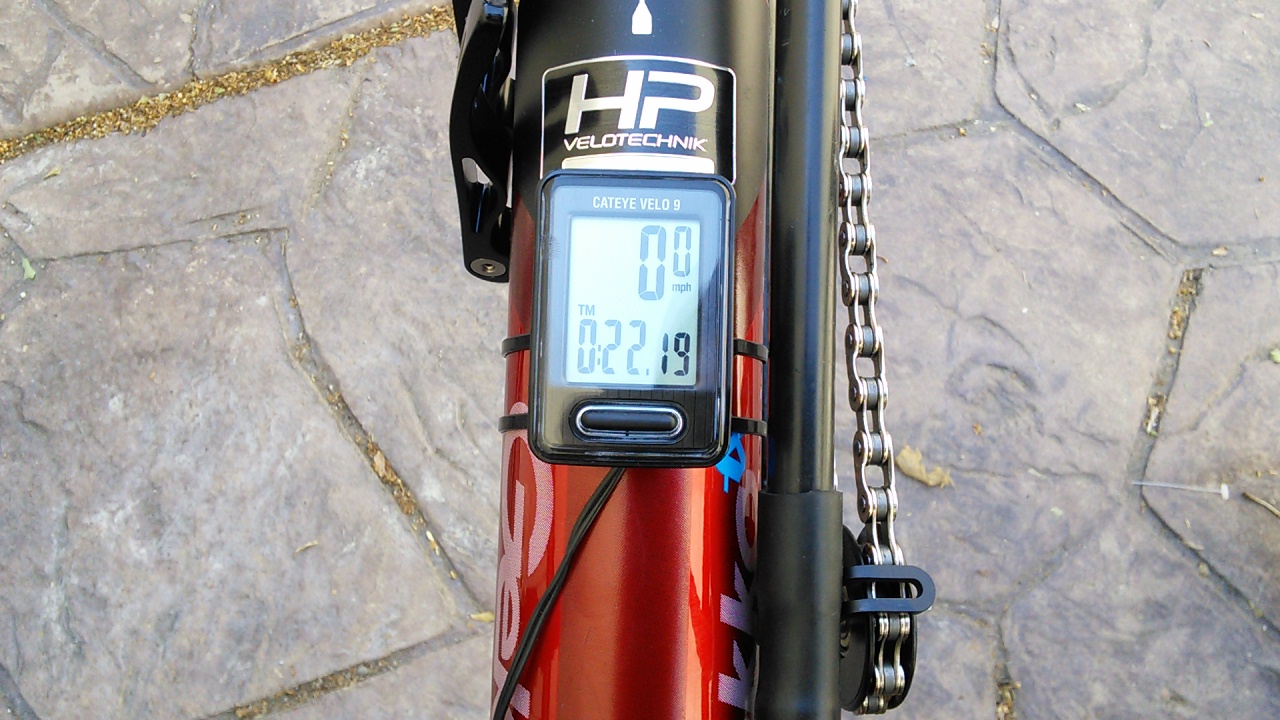 CatEye Velo 9 Wired Computer - The newly designed Velo 9 is CatEye's entry level 9 function computer. The new, larger screen is even easier to read and set up is made simple with pre-programmed tires sizes. Features: Wired. Calorie Consumption. Carbon Offset. Current/Max/Average Speed. Distance. Clock. Pace Arrow. Auto Power Saving. Auto Stop/Start. Battery CR2032.

---
---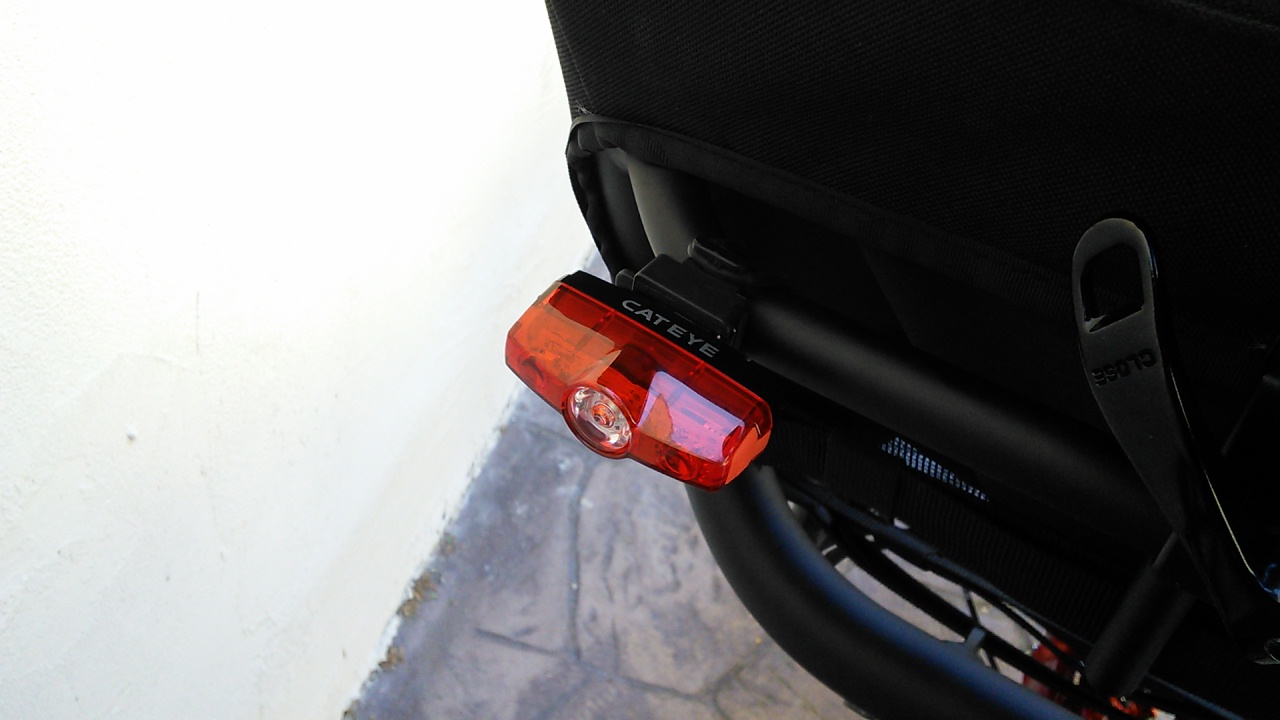 CatEye Rapid Mini Rechargeable Safety Taillight - The smallest member of the Rapid family packs a mighty punch. Features: Upgraded 25 Lumen Output. Rechargeable Li-ion Battery. Low-Battery Indicator. Battery Auto-Save. Modes/Run Time: -Constant: Approx. 3 Hours -Flashing: Approx. 30 Hours -Rapid: Approx. 5 Hours -Pulse: Approx. 20 Hours -Charge Time: Approx. 2 Hours Via Micro USB

---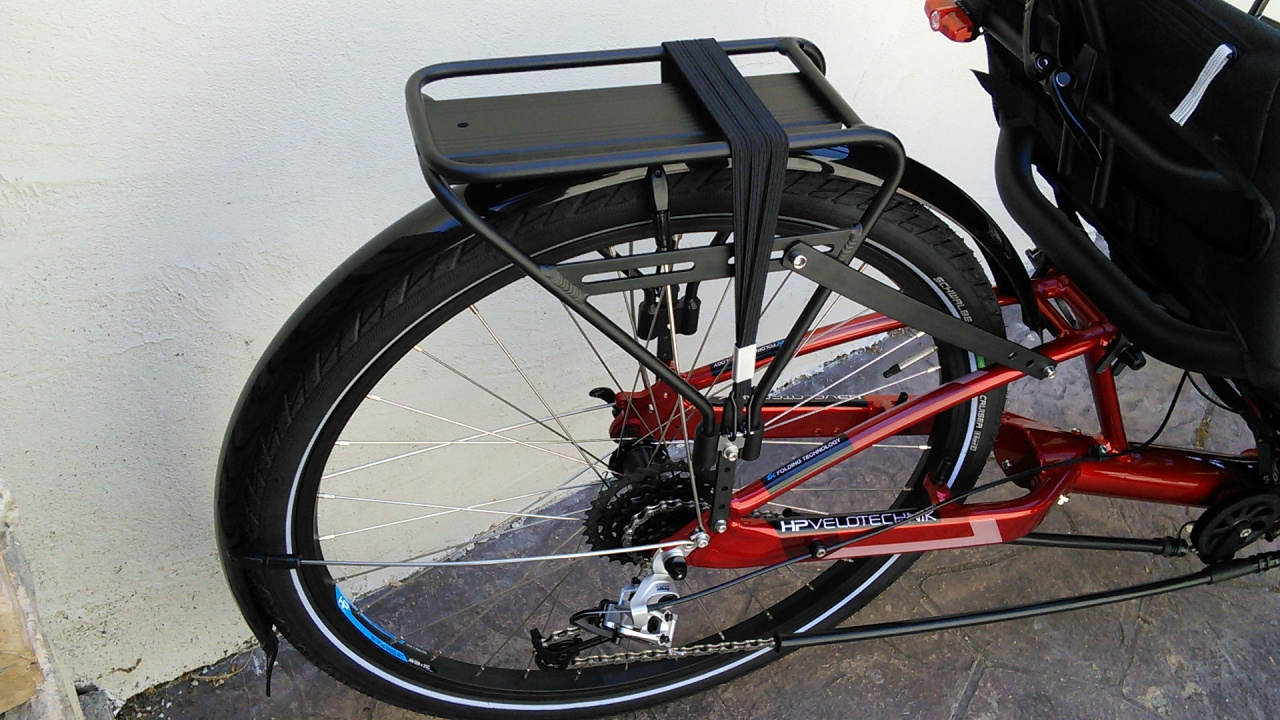 *N/A* Planet Bike 26in Rear Fender with Release Tabs - The planet bike rear fender is a universal fit fender designed for use with almost all 26" rear wheeled recumbent trikes. (NOT COMPATIBLE WITH ICE OR KMX)

---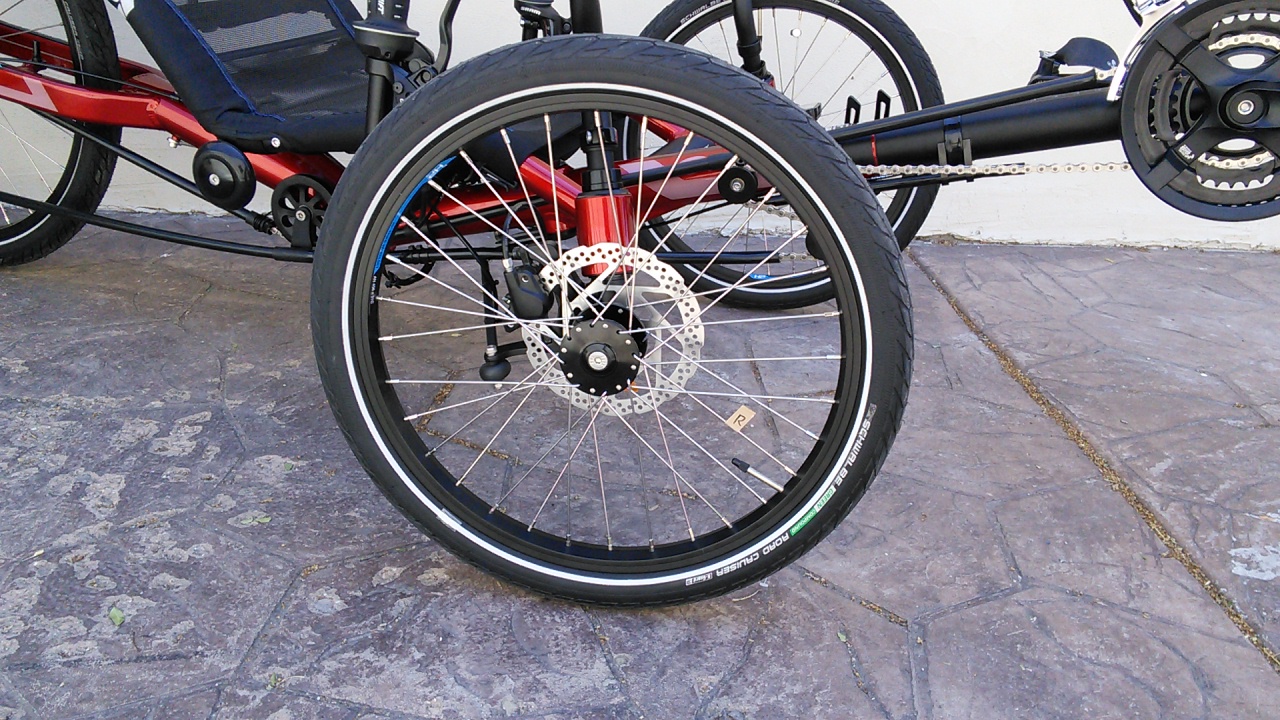 Schwalbe Road Cruiser 20x1.75"
---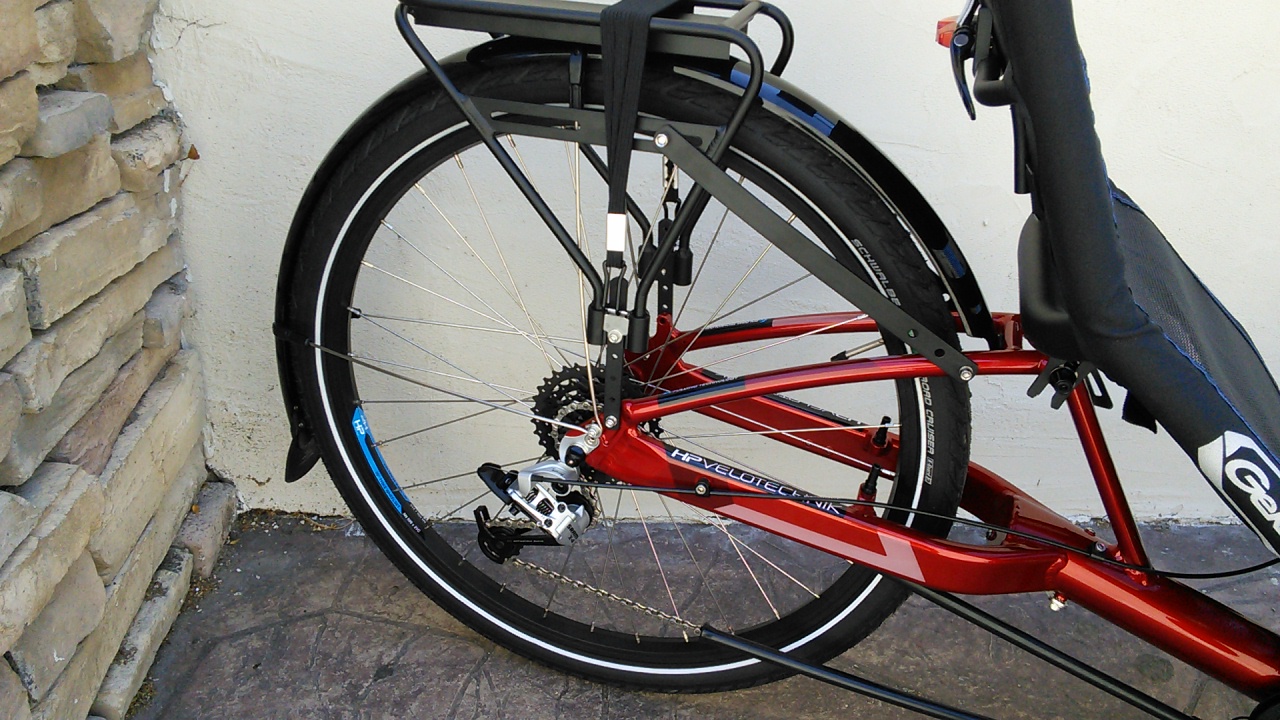 Schwalbe Road Cruiser 26x1.75"
---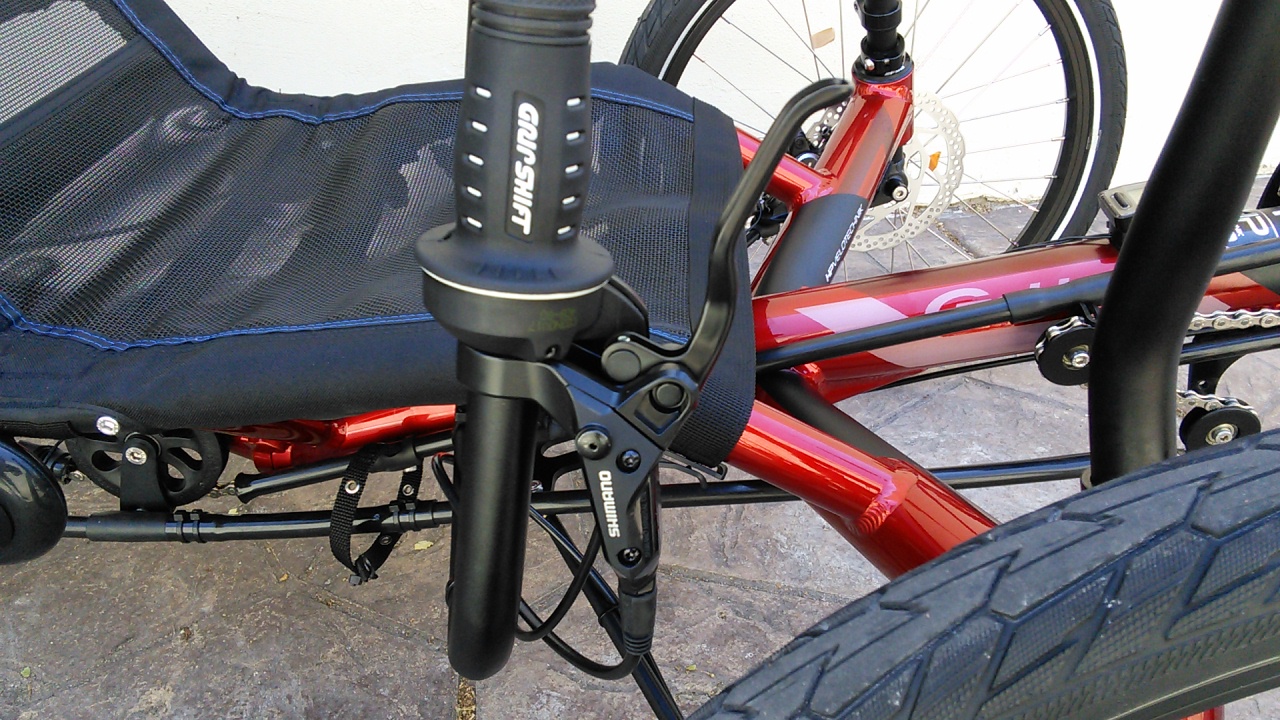 Shimano Hydraulic Disc Brakes
---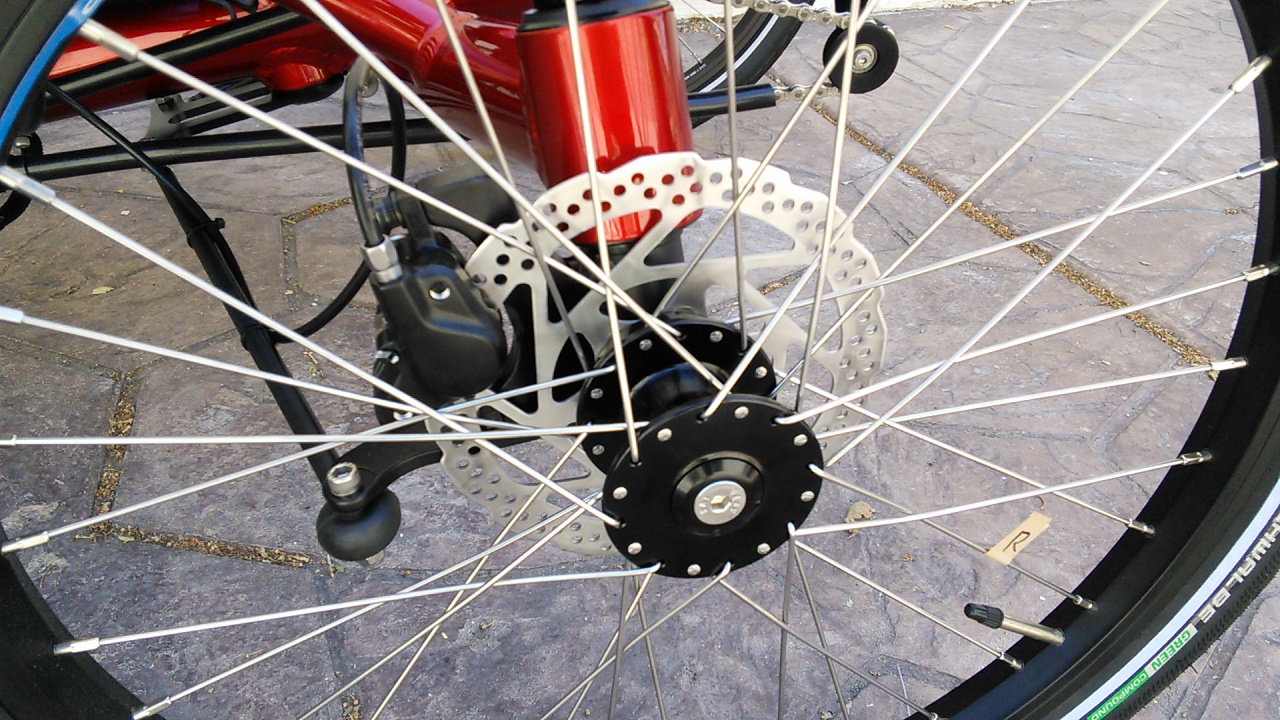 ---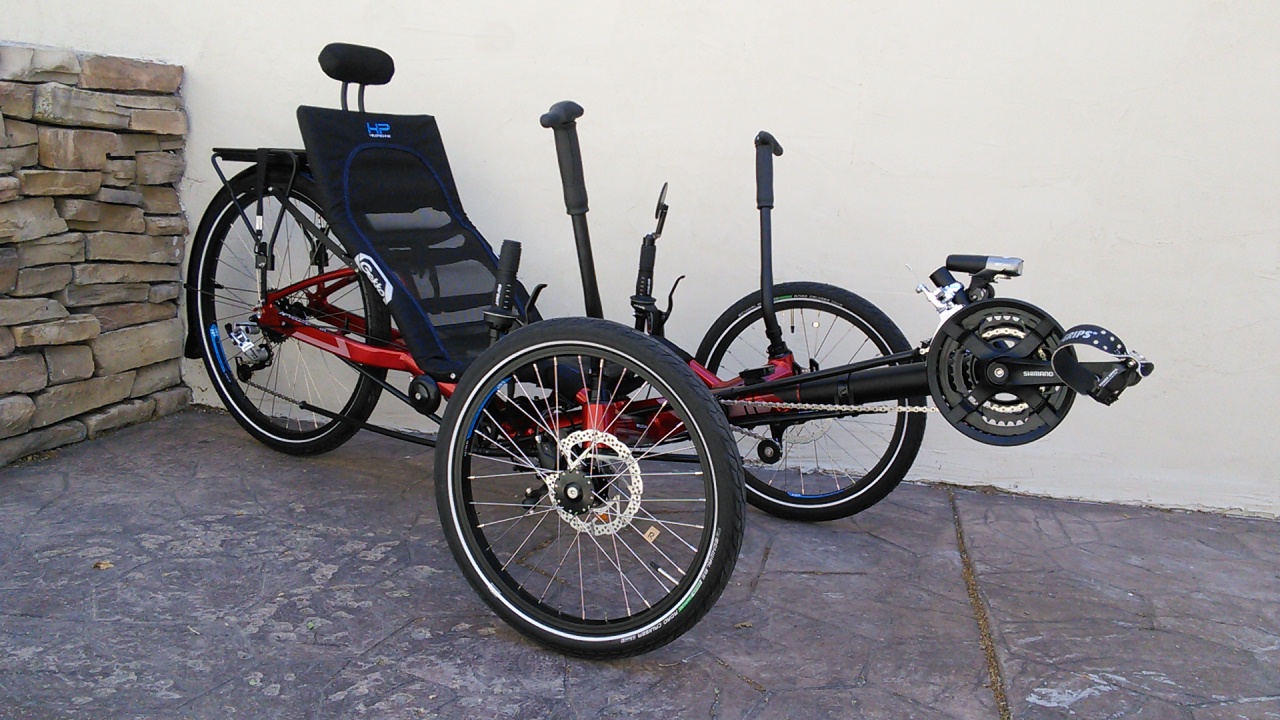 ---