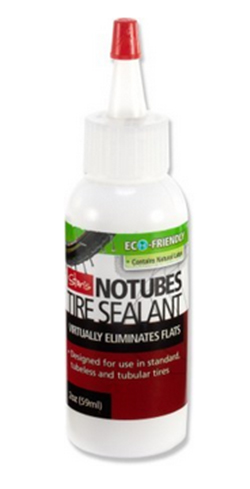 $3.99
Availability: 10+ In Stock
This liquid sealant will quickly become your best friend, saving you out there on the trail from whatever might want to jam itself into your tires. It works with standard and tubeless tires and will seal any puncture up to 1/4"!
Because this sealant isn't clumpy, it's especially useful on Presta valves. Putting this in your tubes will stop punctures in the moment, sealing them quickly to keep you from getting flats on the ride.

Two ounces of Stan's Tire Sealant in a converted standard tire or a tubeless tire can repair up to a 1/4" hole instantly. It comes pre-measured and ready to apply to one bicycle tire. Stanís Tire Sealant will stay liquid in a mountain bike tire with a thin casing for two to seven months on average. Riding in arid climates or storing the bike in a hot area will require more frequent monitoring of sealant levels. Special anti-freeze agents allow the sealant to be used in environments as cold as -30į F.