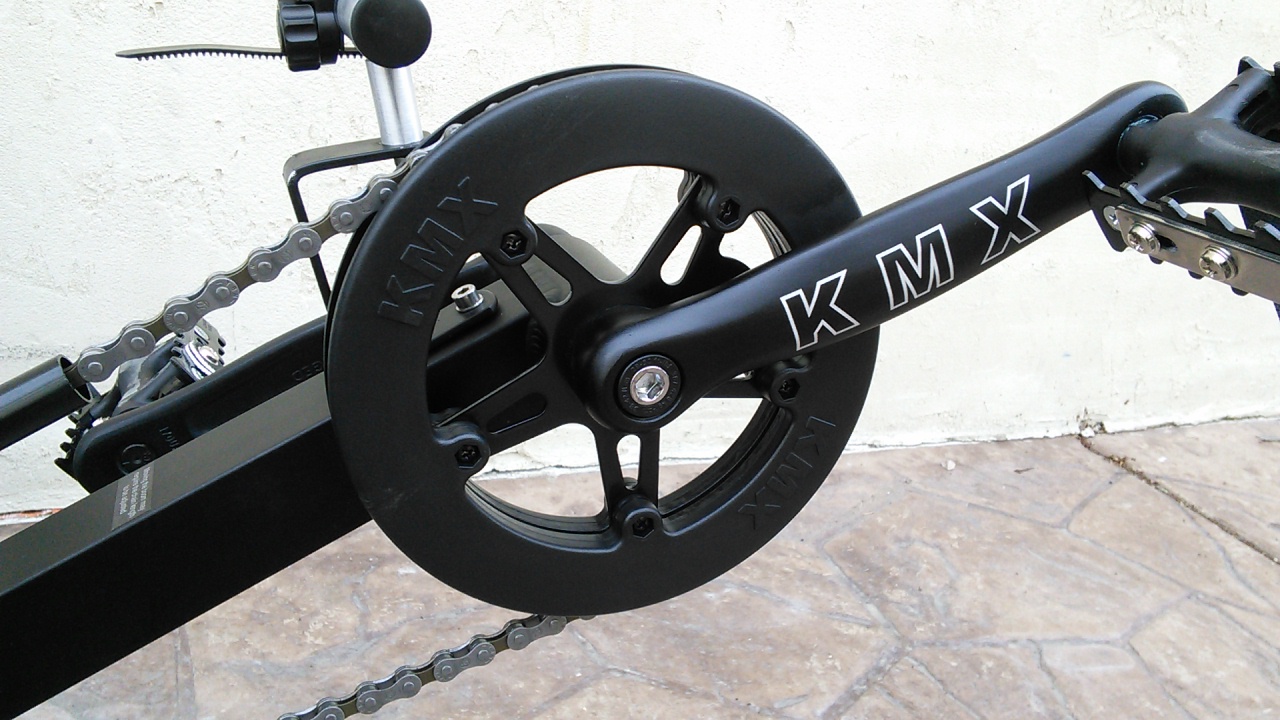 KMX 42T Single Crankset with Bashguard
-
---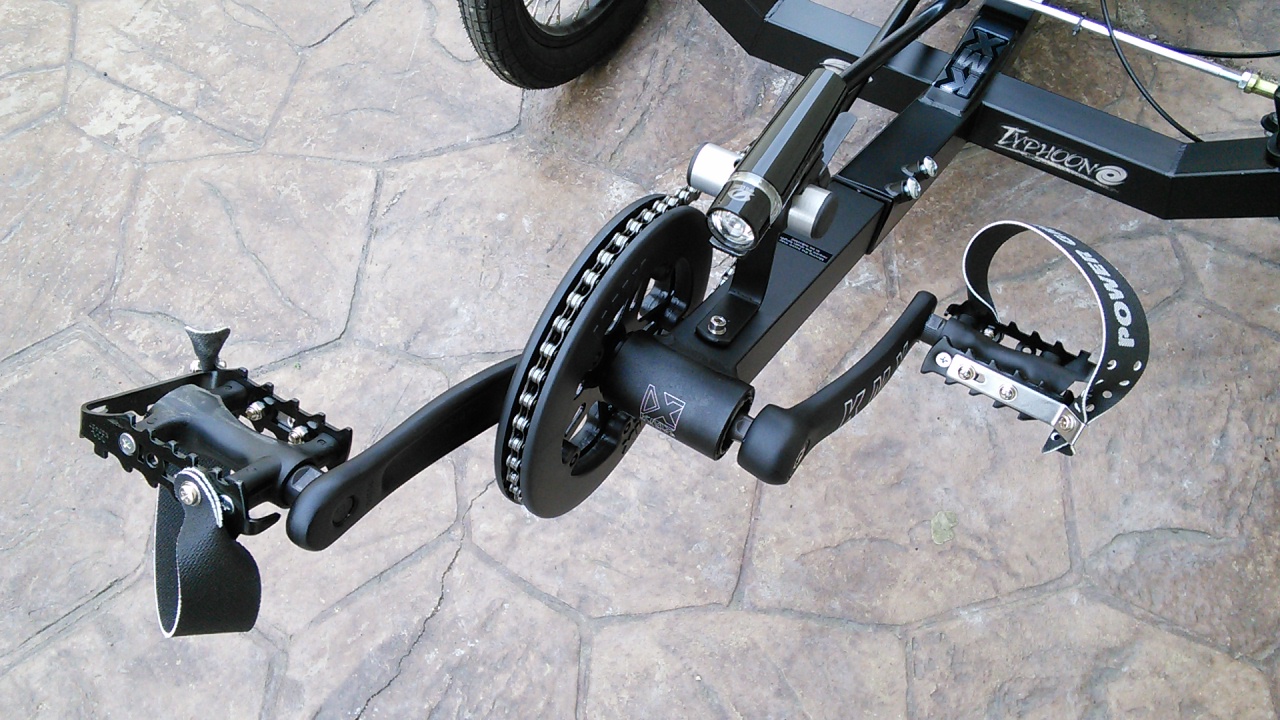 Power Grip Sport Pedal and Strap Set - Don't want to have your feet come off the pedals but don't want to wear special cycling shoes? Helping you avoid the hassle of special shoes, the Power Grip straps hold your feet securely on the pedals while wearing your favorite pair of sneakers. A favorite option on many recumbent bicycles and trikes. To use, just put your feet through the straps at an angle. When your foot straightens out the straps lock against your shoe. Simple and effective.

---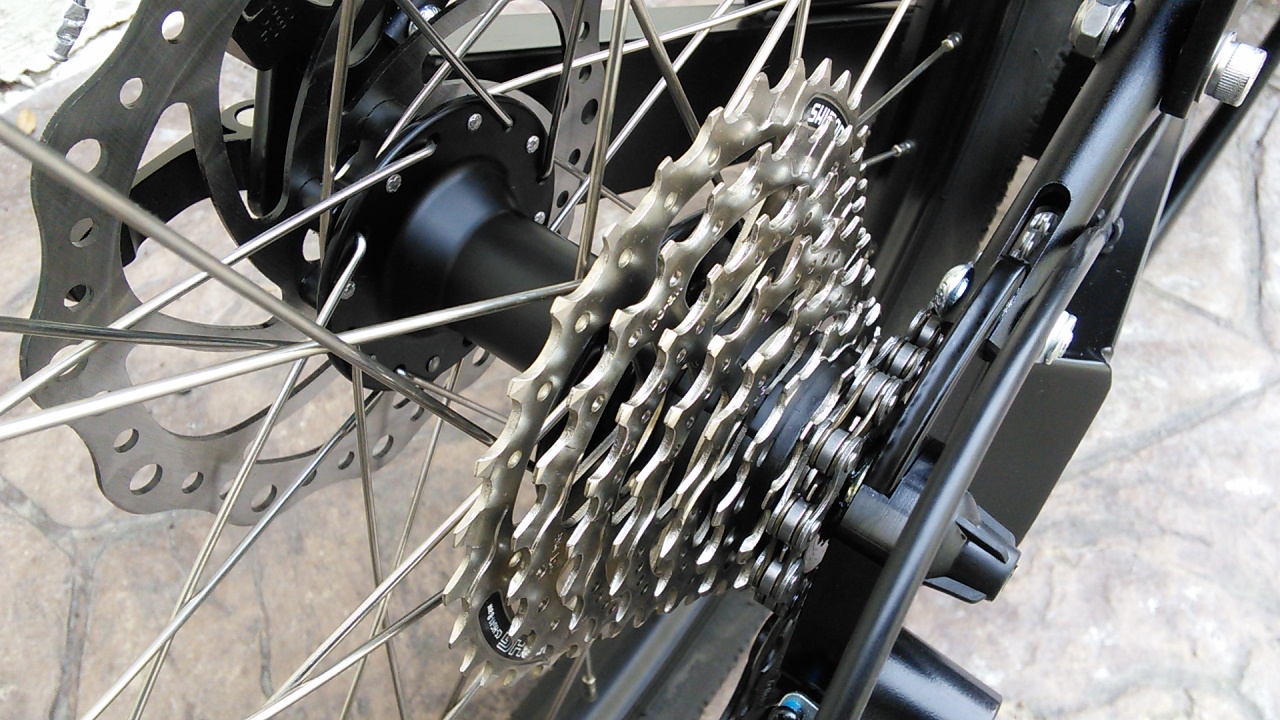 Shimano 8-Speed 11-32t Cassette, Altus Derailleur, Microshift Twist Shifter, YBN Chain - ***VERY LIMITED STOCK!***

---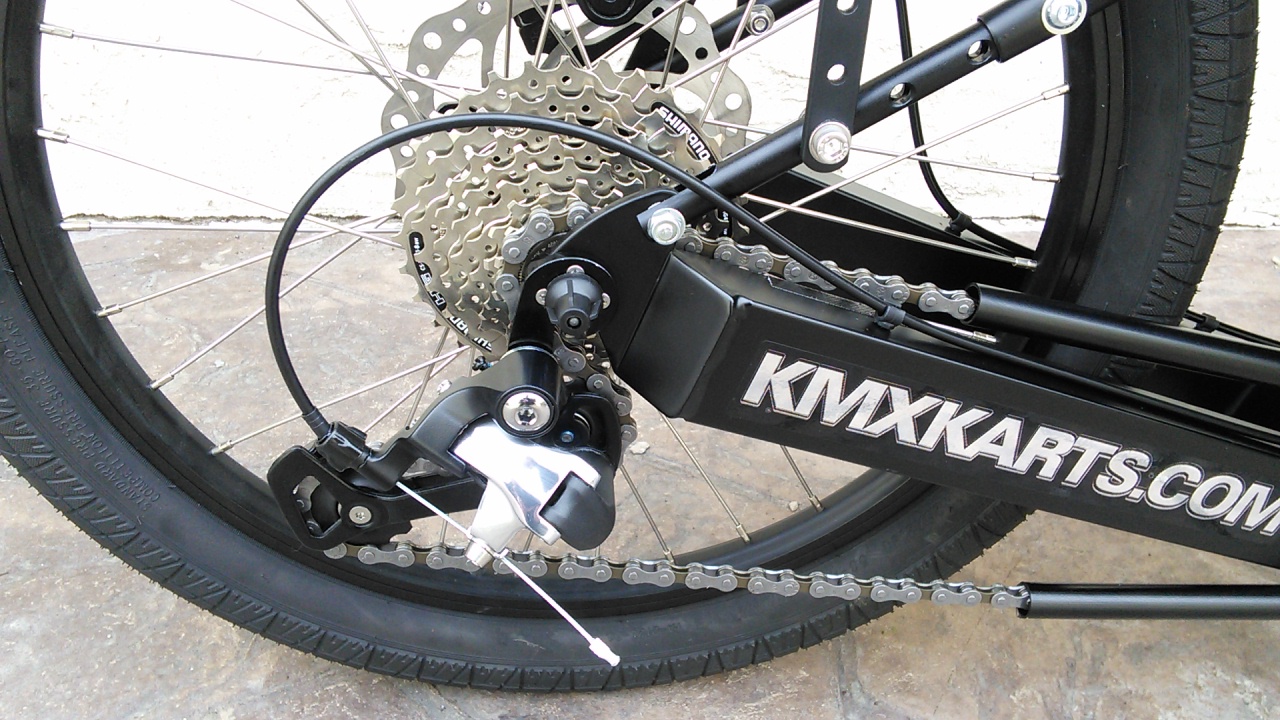 ---
Grip Shifter LEFT SIDE
---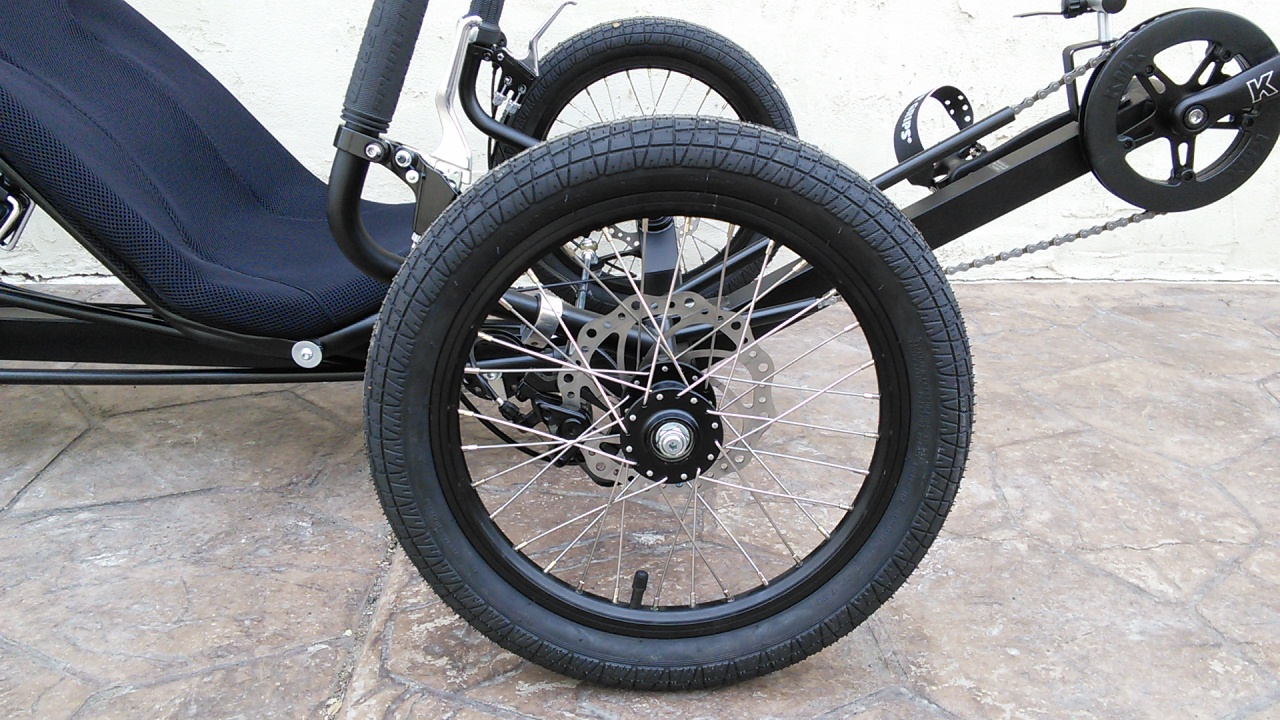 KMX OEM 16-inch Front Wheel - This is the OEM wheel for Tornado and Typhoon models.

---
---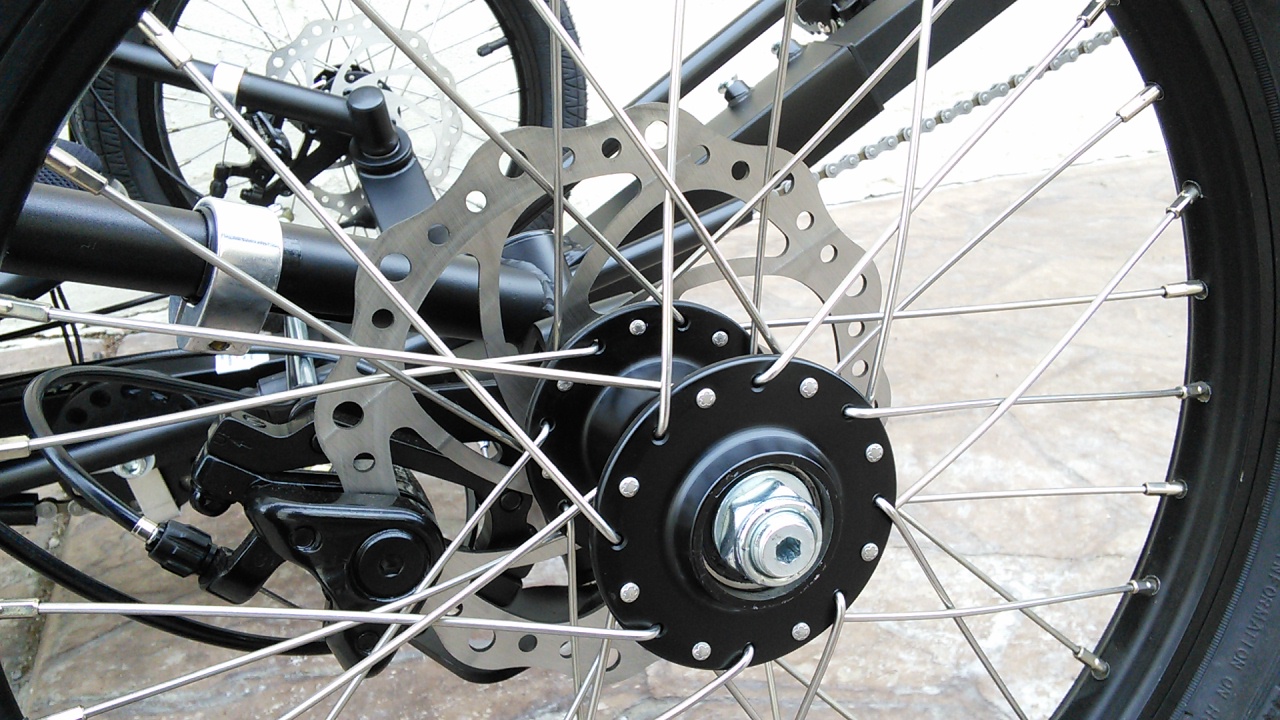 Bengal 160mm Mechanical Disc Brake Set -

---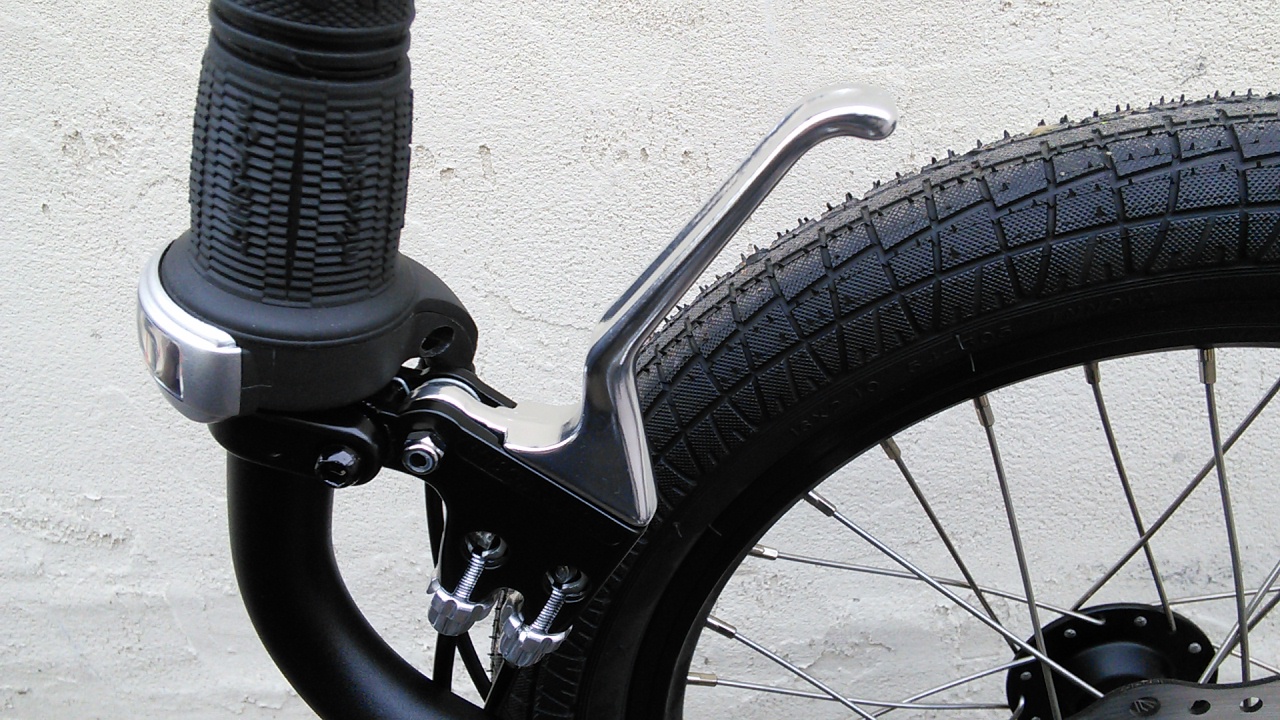 One Hand Brake Control Lever - LEFT Side Dual Pull - Do you need to operate all of the controls with one hand? Do you prefer to have no brake-steer? If you answered yes to either question, order this dual control brake lever! It's a single lever that operates both brakes and is compatible with all trikes we currently sell. -The Double Barrel lever pulls two long-pull brakes simultaneously -Forged aluminum lever and cast aluminum bracket -Three-finger design

LEFT SIDE
---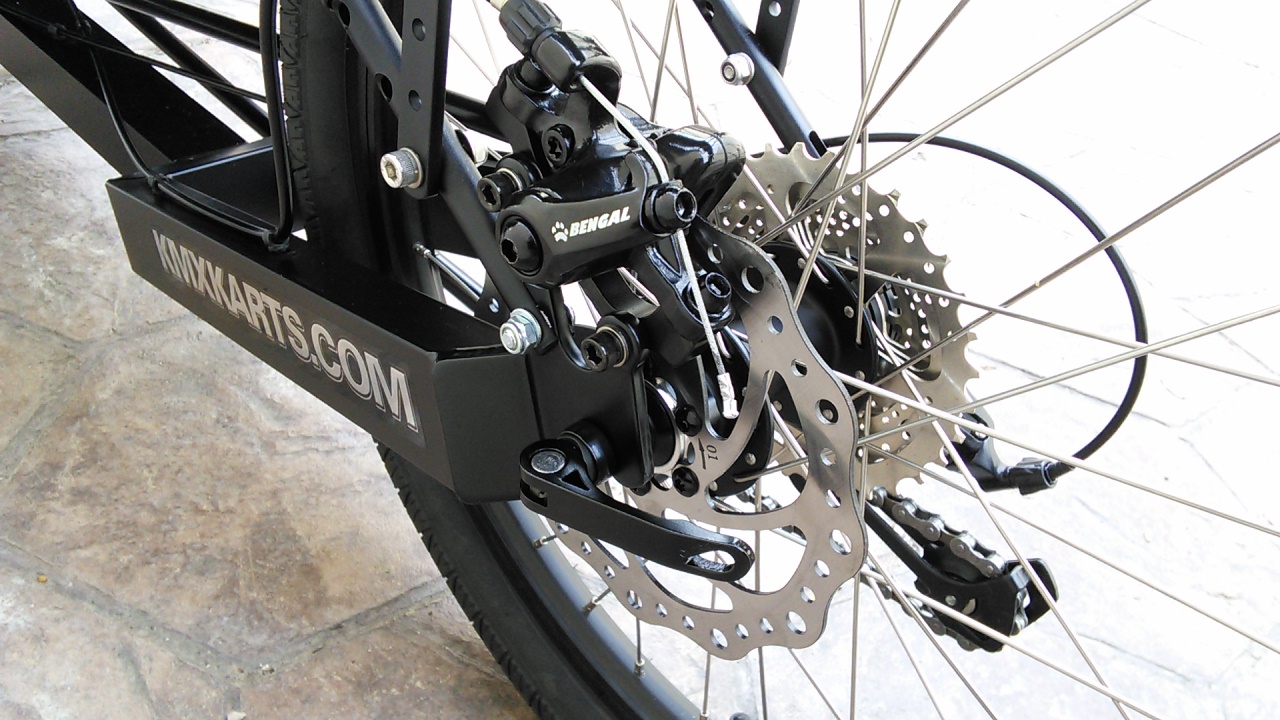 Rear Parking Disc Brake
---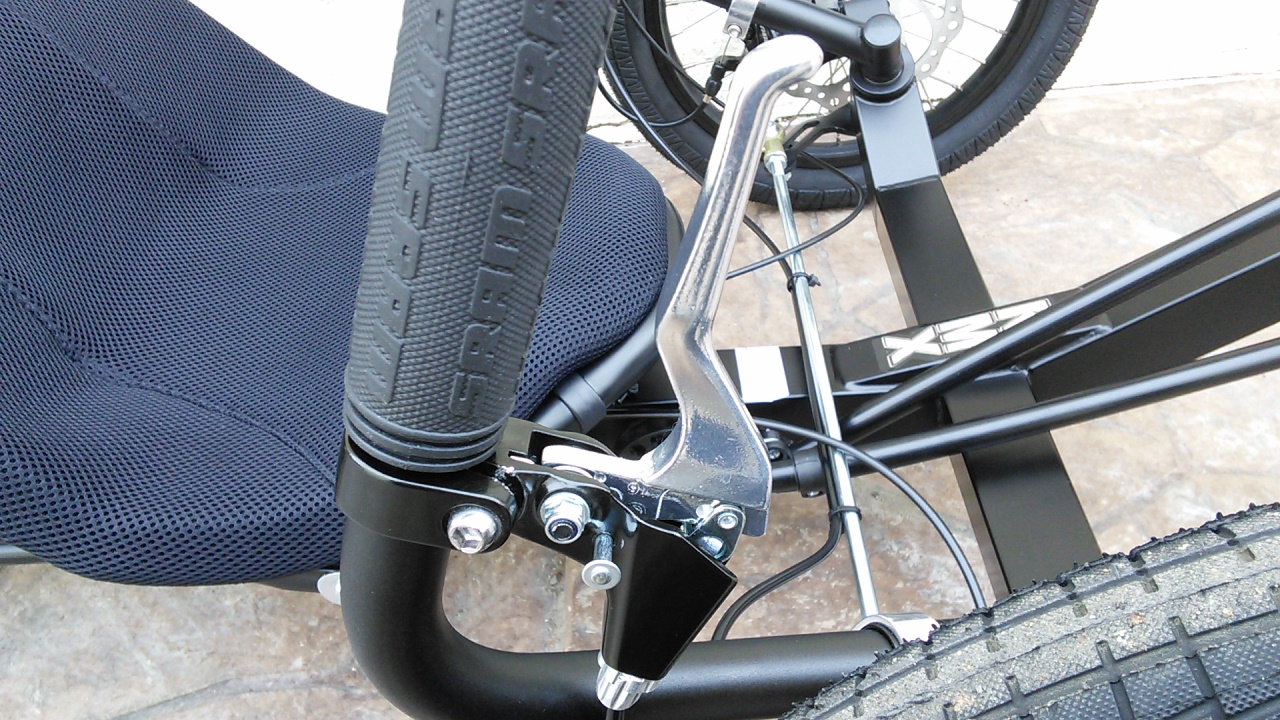 Locking Brake Lever - Rear Disc Brake (right side)
---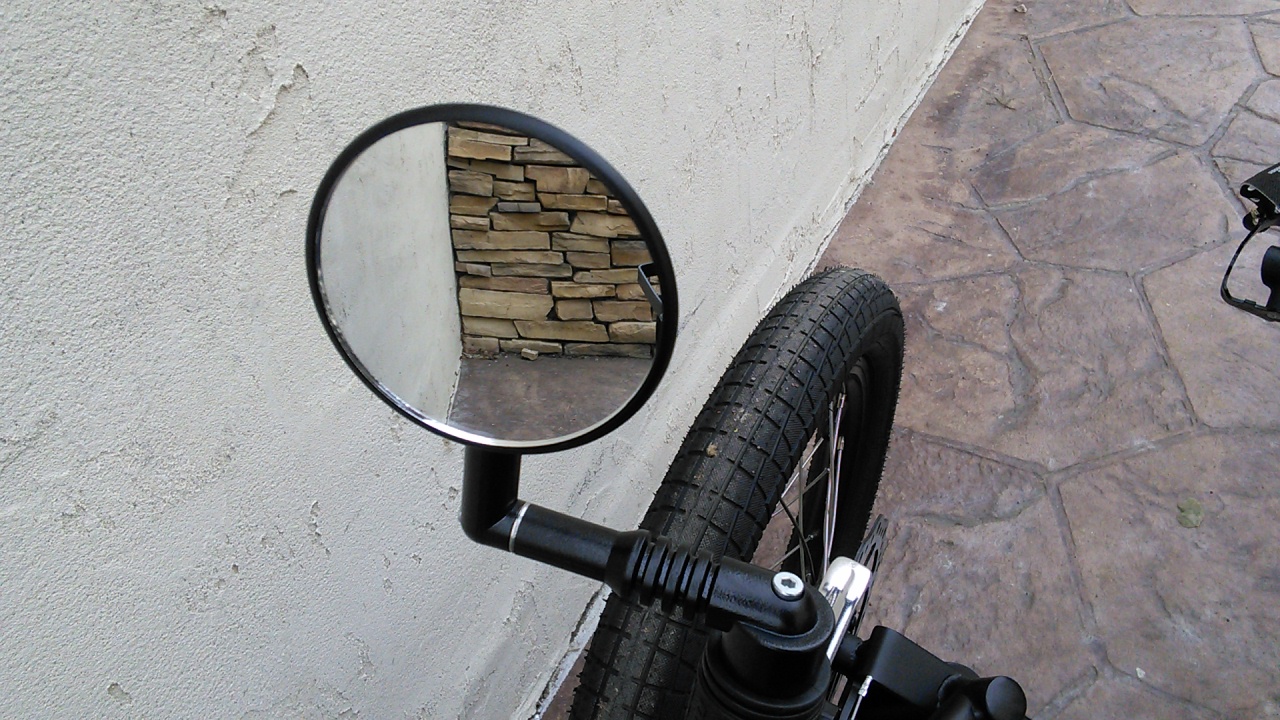 Mirrycle Mirror - The Mirrycle Mirror is by far the most popular mirror for recumbent trikes. It is well made, attaches to any 7/8in tube or handlebar and is easily adjustable. This is an essential safety item for anyone riding a recumbent bike or trike on the street.

---
---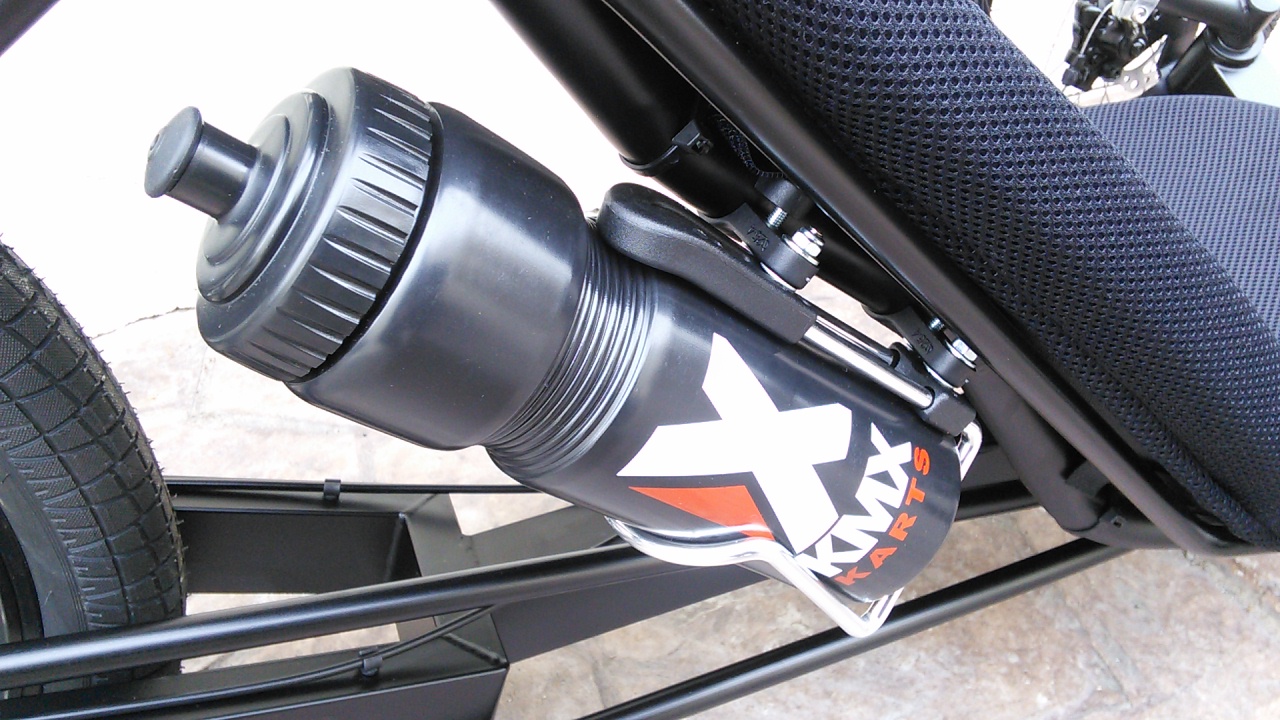 KMX Water Bottle and Cage - Kmx Water bottle and cage set. Water bottle cage fits all trike models

---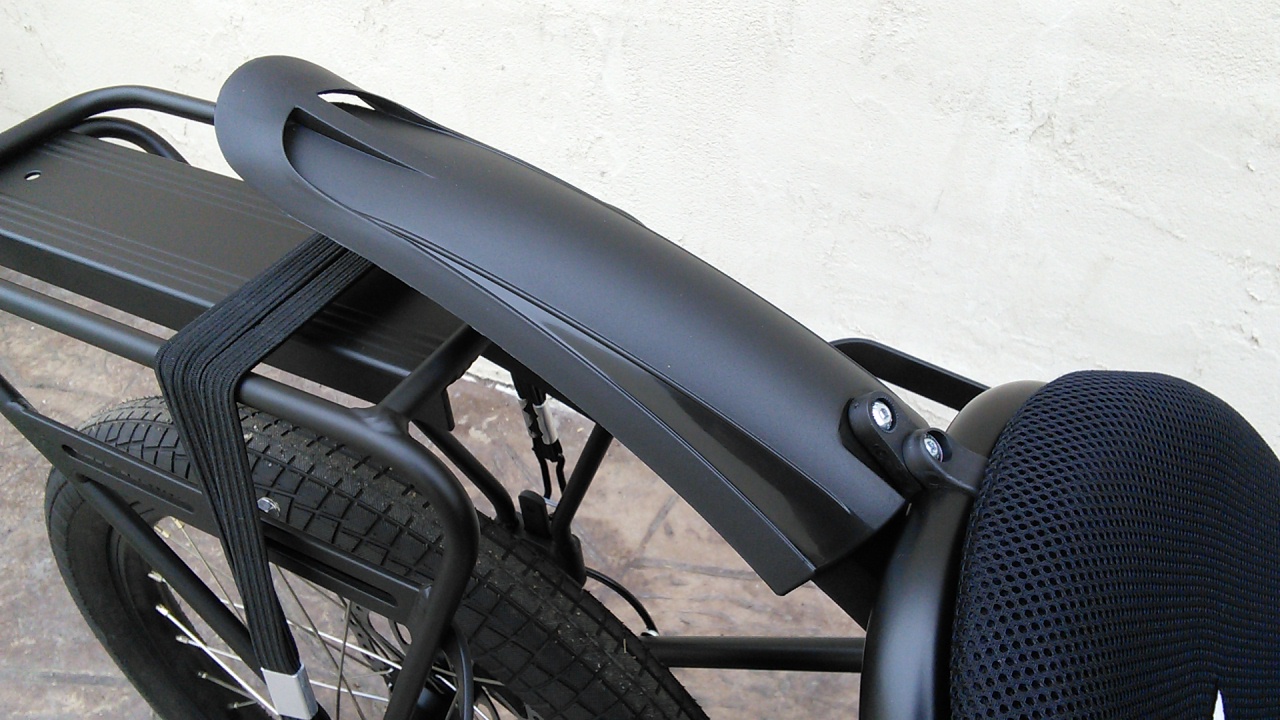 OUT KMX Rear Mudguard Fender - Who likes dirt, sand, mud or water hitting the back of their head as they ride? That's right. No one. This minimalist fender looks sharp and works on several other brands of trikes. It comes stock on all our KMX Karts.

---

Utah Trikes Adjustable Aluminum Cargo Rack - This adjustable rack can be used on many trikes. It includes a variety of hardware and is very adjustable.

---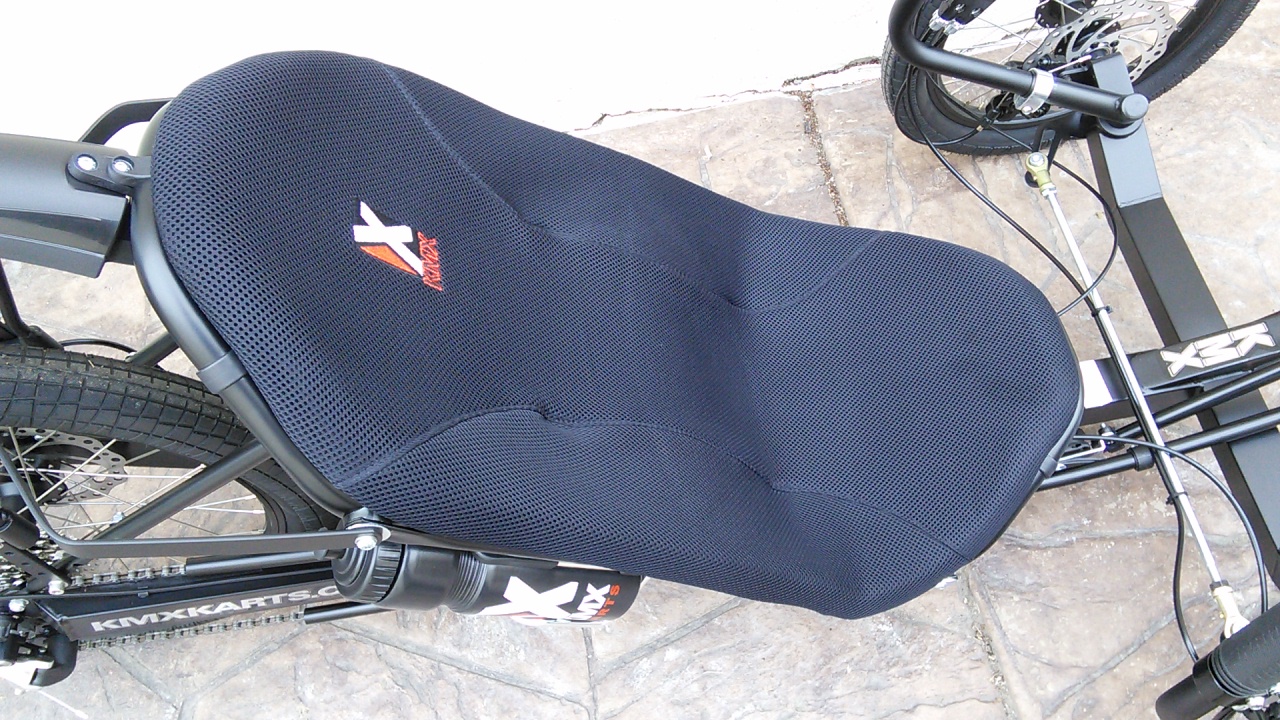 KMX Bucket Seat (steel) - If you have a KMX, you'll know what these are. This is the stock seat on the Tornado, Typhoon, Cobra, and Viper. Designed for KMX only. DOES NOT INCLUDE MOUNTING HARDWARE. If you need a new seat, order one up before they're gone.

---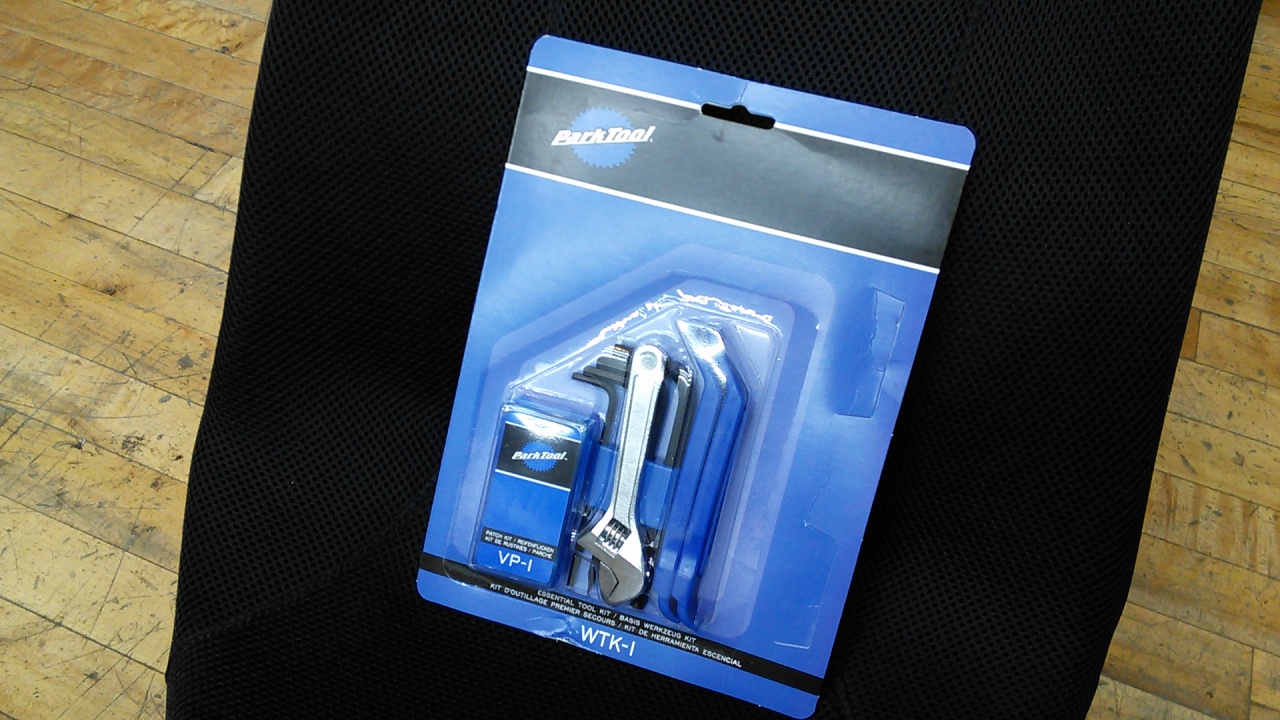 Park Tool WTK-2 Essential Tool Kit - Small and easily carried, WTK-2 Tool Kit contains basic tools for adjusting and making simple repairs on the road. -Includes 2 TL-1.2 Tire Levers, AWS-9.2 Fold up Hex Set, 2 TB-2 Tire Boots and GP-2 Patch Kit -Packaged in convenient nylon carrying case

---
---