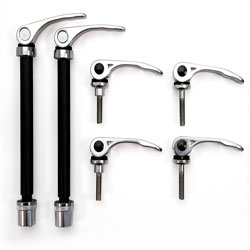 This item is currently not available for sale.
If you would like to be able to fold your ICE trike without any tools, the ICE quick release kit for enhanced tool-less folding / split down would be perfect.
This is a package product.
Use the "Add to Cart" button above to add the entire package to your order.
This package contains the following:
The standard Trike models can all be folded and split down into a small package. The rear wheel, seat, carrier (if fitted) and rear mudguard can all be removed and the rear frame folded under without tools. If you wish to make the trike smaller then you can also remove the front mudguards (if fitted), the front wheels, slide the front boom in and fold the handle bars down flat all with simple tools. However, if you would like to make all of the these adjustments WITHOUT ANY TOOLS then you will certainly need our additional quick release kit which consists of the following:
QR front wheel axles Part # 02229
QR mudguard clamps Part # 02228
QR front boom clamps Part # 02227