With temperatures dropping and winter right around the corner have you been concerned about riding conditions? Because I sure have and I know how hard it can be to relax, spin fast, and ride those trikes in freezing temperatures and icy roads. That's why today I want to highlight a super cool product that will help solve this; lack of riding problem. Today we here at Utah Trikes want to show you the amazing SportCrafters Overdrive trainer. This is an at home trike trainer. Built with trikes in mind and SportCrafters are the only ones doing this right now.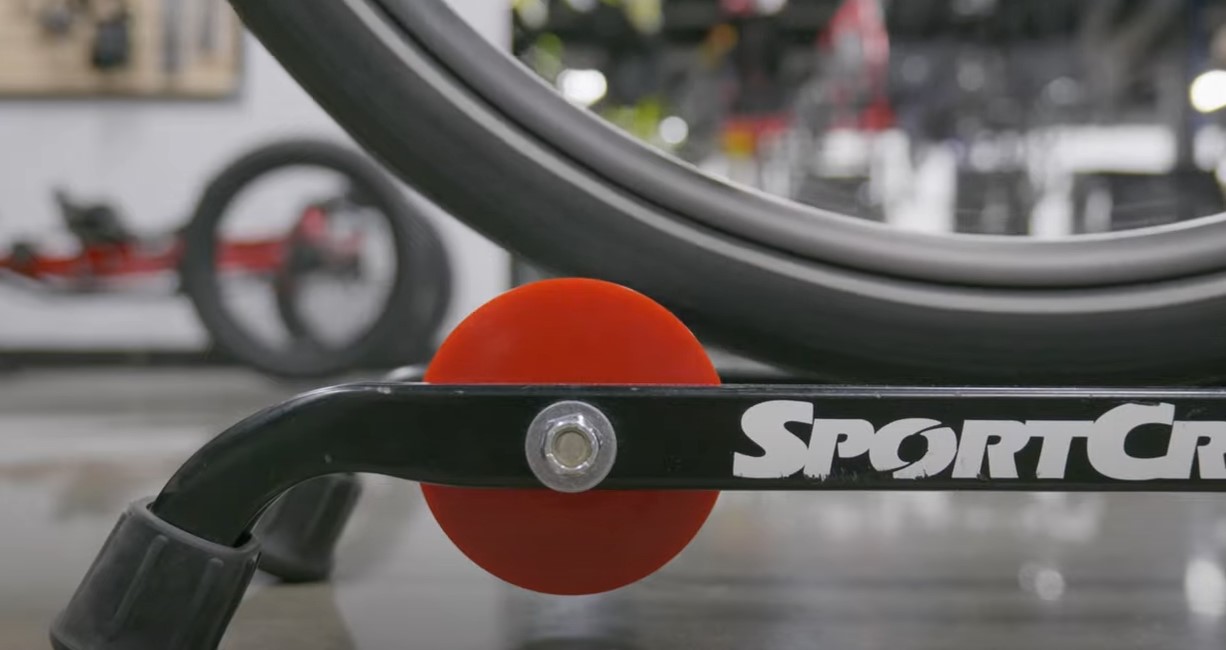 If you don't know what a trainer is. A trainer is a great solution for when you aren't able to get outside and ride. It basically just turns your trike into a stationary bike. Letting you ride from the comfort of your own living room. There's no complicated electrical system or clamp you need to attach to your trike; it's as simple as some magnetic rollers. Even with its simple build it is engineered to give you dynamic resistance as you ride.


As you speed up and change gears the resistance of your trainer will increase, this resistance is proven to be as close as you can get to effectively mimicking the natural resistance of road riding. Helping you replicate your outdoor rides as much as possible. This doesn't work through gear monitoring or electrical systems; it's all because of the internal ARC Technology. Inside of the roller there are strong magnets. As you start to pedal and the rollers move with your wheel the magnets start to move to the outer wall of the roller. The faster you are going the closer they are to the drum wall and in turn the higher your resistance.

There's no need for adjustments or hook ups; Even though this doesn't replace a beautiful ride on a spring morning out in nature, it's a good substitute to help keep you in shape for the next season of riding. Especially when you start putting on those holiday pounds. It will however allow you to ride in the comfort of your own home. Be that in the garage, on the porch, or even in your living room.

Now Speaking of the living room, let's talk about getting it set up. Luckily it's super easy and just a couple of steps. First off just get your trainer out of the box, there's no preliminary adjustment it's just ready to go straight out the package.
Once you have it ready, set it on the ground in an open area. Next get your trike and put the rear tire on the rollers right in the center and head on. Make sure it's as straight as can be so it doesn't slide when you start pedaling. Once it's set in place make sure to lock your front brakes so you don't end up moving yourself off the trainer as you ride.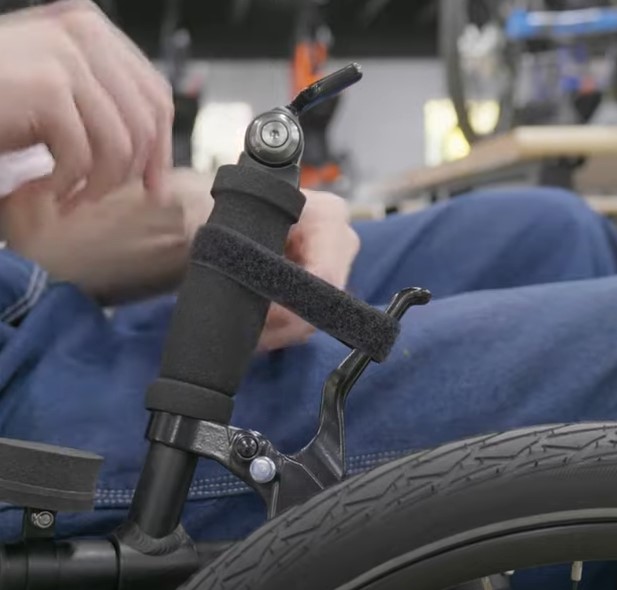 If your trike doesn't have locking brakes or only has a rear brake lock. You will want to strap your front brake levers with a velcro strap. We sell these
velcro brake straps on our website for about five dollars if you want to pick some up. Once you're all secured all you need to do is hop on your trike and start pedaling.

Just note that with these trainers you aren't locking your wheel into the rollers so you may experience slight rocking while pedaling. But it shouldn't be anything to worry about and most customers find that with the slight rocking feedback it's a good way to help develop a smoother pedaling cadence.

If you are using a one wheel drive delta trike don't worry you can still use a trainer and you don't need two of them. All you need to do is find a block of wood or something to hold up the other wheel. And then place your drive wheel on the Overdrive Trainer. Lock up the front brake and you're ready to ride!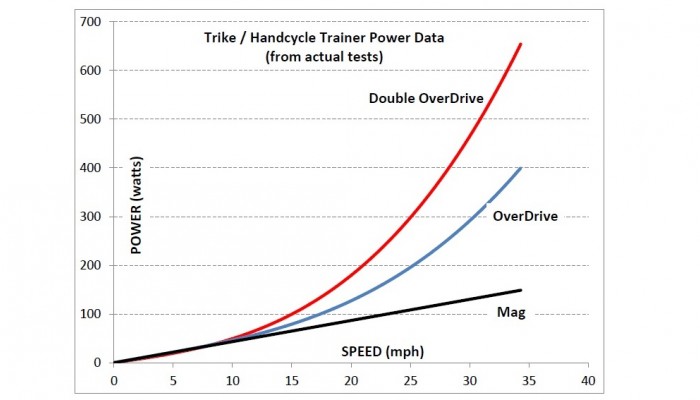 The SportCrafters Overdrive can be used on a wide range of trikes of varying wheel sizes. It can fit anywhere from a 16 inch wheel to a 26 inch wheel. It also supports thick tires up to 5 inches in width. Which makes it a good fit for pretty much any trike!

If you are a more avid rider and need even more resistance from your trainer we carry another option which is perfect for you! It's called the Sport Crafters DOUBLE Overdrive. It's exactly like the standard overdrive but instead of just one resistance drum there are two. One in each of the rollers. This increases the resistance exponentially. Sport Crafters have run tons of tests to get the data needed to compare these two models and you can see their differences here on this graph.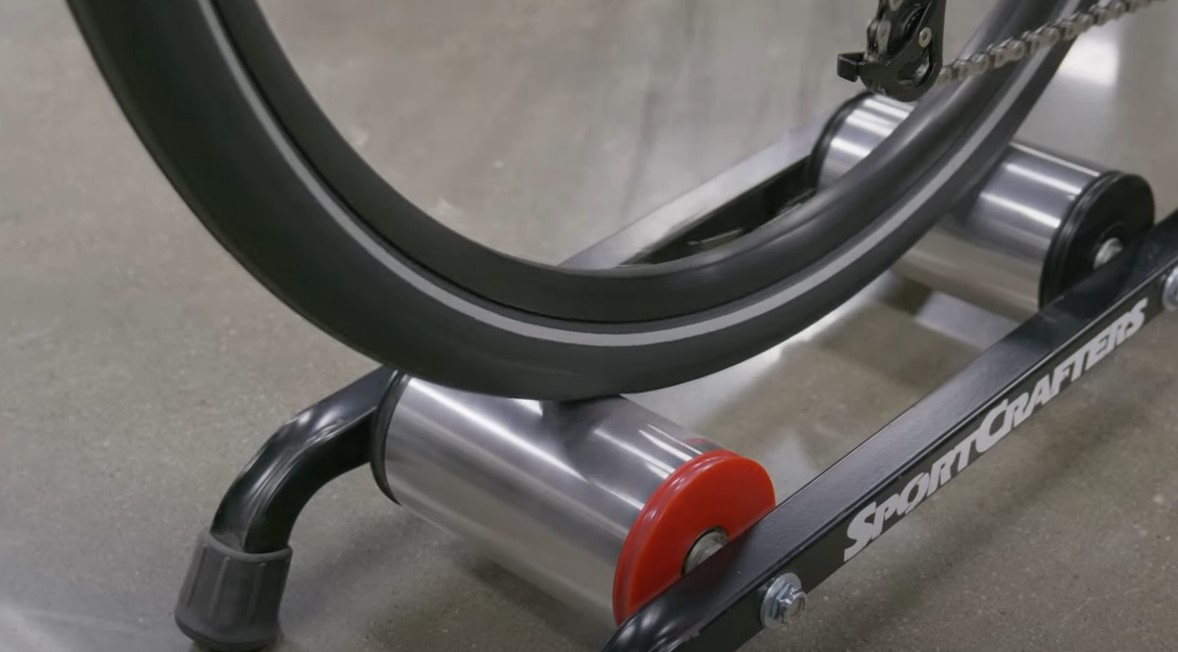 As you can see the power input relative to speed is a lot higher than the OverDrive and keeps increasing at a much steeper pace. This is great for the more athletic riders who want more of a challenge on their rides.

We just got both of these Sport Crafters Trainers back in stock. Just in time for the colder seasons. If you are interested in the Standard Overdrive MR 110 You can get it from our website for $211. If you want the stronger edge of the Double Overdrive MR120 it will be a little bit more at $260.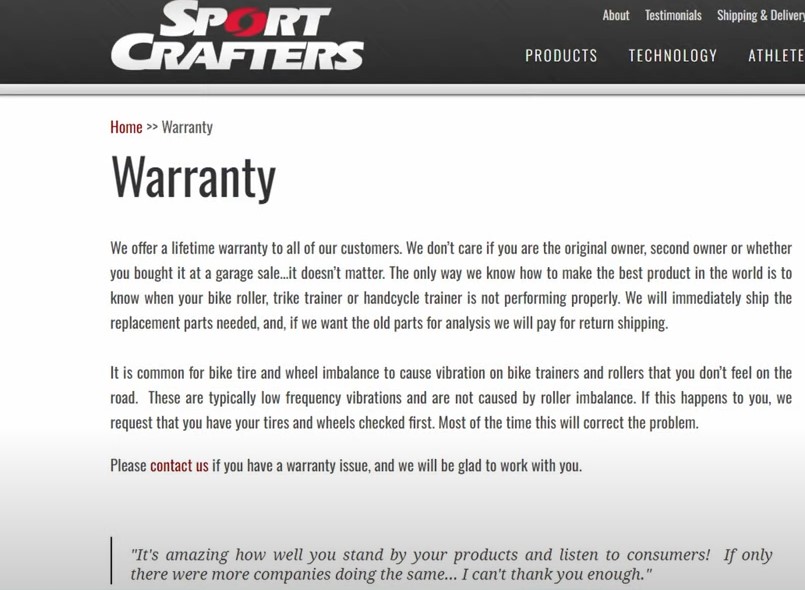 As an added bonus Sport Crafters has chosen to warranty their trainers FOR LIFE. Any problems you have they will help you diagnose the problem and send you the replacement parts you need free of charge! No matter how you got it or your issue you can reach out to Sport Crafters and get a claim on your warranty.
Remember this isn't through Utah Trikes but a warranty through Sport Crafters so reach out to them with any product issues you may have.

That's everything you need to know about the Sportcrafters Overdrive Trike Trainers! We hope this Article was able to give you the info you need to inform your purchase! And that if you are rocking the Overdrive or the Double Overdrive that it will keep you active until the next riding seasons. If you liked this informative product review make sure to leave a comment down below of what other accessories or tools you would like us to cover in another article or video!


We will see you next time!

But in the meantime Relax, Spin, Fast and Ride Trikes…. While you still can…. Like because its getting colder and harder to get out and ride not because of any other dark reason why you wouldn't be able to ride