Why buy from Utah Trikes?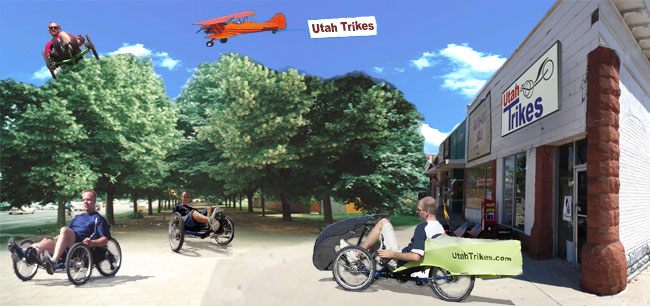 We keep more trikes in stock than anyone else - There's nothing as bad as taking a test ride, deciding you have to have it, and then having to wait a week or two to actually get your trike. We keep the most popular models ready to ride. With the exception of some custom colors, we keep enough frames and components on hand to build most any custom configuration within a couple days. Just check our inventory of trikes.

We custom build your trike how you want it - We recommend starting with your favorite base model trike and then using that trike's customizer to play around with different options. We offer many custom options and are constantly testing and evaluating new options. We can also retrofit most customization to your existing trike. If you need something really different let us know and we'll be happy to work with you.

Tremendous value - Considering the quality of our trikes, and all the money you'll save on gas and not needing to go to the gym, we doubt you'll find a better value. Come in to our store for a test ride and ask us about our special promotions.

Great service - When you come in to pick up your trike, we will take the time to custom fit the trike for you. Depending on the model of trike you purchase, we will adjust the boom, steering bars, seat position, and seat angle to fit you perfectly. We will also go over all the basics of shifting, steering, and basic maintenance. If we are shipping a trike to you we will take the time to help you make any adjustments as needed.

A Finely Tuned Machine - When you purchase a trike from Utah Trikes you get a finely tuned machine. We take the time to adjust the alignment, true the wheels, check tire pressure, lube the chain, adjust derailers, check all bolts, and more.

Easy-to-find location - We are located in Historic Payson, UT, right on Main Street and near the Main Street freeway exit. (Click here for map/directions)

Very accessible staff - If you need to contact someone before or after your purchase we make it easy. You can email us at trikes@utahtrikes.com, you can call our local number 801-804-5810, you can call our toll-free number 866-446-2065, and you can even call Ashley's personal cell phone at 801-682-3334.

Free Test Rides - We have dozens of trikes built and ready to ride, so you can try out different features and components. While, our shop is located on Main Street, there are quiet residential streets behind us. We even have a variety of hills nearby, so you can try climbing up and speeding down!


Easy payment options - To make it easy for you to get your trike we accept the most popular forms of payment. We accept Visa, MasterCard, Discover, American Express credit cards, and debit cards (local customers only). We also accept cash and checks. We also offer interest-free financing promotions when you use our Utah Trikes store card.

Great Delivery Options - We have teamed up with Con-Way and UPS for delivery to any residence or business in the USA. All our trikes are fully assembled and only require air in the tires and final seat adjustment before they are ready to ride! Local customers can always pick their trike up at our Main Street shop.

Great selection of accessories - Sure, some bike stores may have more stuff than we do, but will they have that Windwrap fairing or those titanium idlers that you've been thinking about? We didn't think so. We keep the most popular trike-specific accessories in stock so when you decide you need it we got it.