Easy Financing Options With Utah Trikes
Utah Trikes has teamed up with GE Financing to offer interest-free financing for qualified buyers. Our financing can be used on any purchase that meets the minimum purchase amount for the specified promo.
Minimum
Purchase
Financing
Promotion
Minimum Monthly Payment
$199
6 Months 0% Interest
3% of Balance
$499
9 Months 0% Interest
3% of Balance
$1499
12 Months 0% Interest
3% of Balance
$1999
18 Months 0% Interest
3% of Balance
$1999
24 Months @ 9.99% Interest Fixed Payment
4.6% of Purchase
Why use the Utah Trikes/GE Money Card instead of your other credit card?
This dedicated line of credit through GE Money and Utah Trikes improves your cash flow without tying up other financing channels you may use for day-to-day and emergency needs.

NEW APPLY ONLINE - You can now apply online. Click here to apply online now. If you prefer the entire application can now be completed over the phone.
---
Some advantages of the Utah Trikes/GE Money card are:
Extended, Flexible Financing not available with normal bank cards.
Customers can enjoy flexible payment options to fit nearly every budget.
There are no annual fees.
A simple application and quick approval process make it easy for customers to apply today and buy today.
NO Interest Charges if purchase is paid in full when due.
Purchases don't tie up other credit cards.
NO Application Fee, NO Transaction Fee, NO Annual Fee, NO Money Down, and NO Prepayment Penalties.
Access to GE's 24-hr Account Information & Online Payments.
Optional Payment Coverage to help protect credit card balance in the event of unforeseen circumstances.
---
About GE Money and Sales Finance



Sales Finance, based in Kettering, Ohio, is part of GE Money, formerly GE Consumer Finance, and provides private label credit card programs, marketing, installment lending, service contracts and financial services for national and regional retailers in more than 20 industries including: sporting goods, home improvement, outdoor power equipment, powersports, automotive, recreational vehicles, consumer electronics and appliances, furniture, floor covering, marine, music, jewelry, and health care.
With more than $190 billion in assets, GE Money, a unit of General Electric Company (NYSE:GE), is a leading provider of credit services to consumers, retailers and auto dealers in more than 54 countries around the world. GE Money, based in Stamford, Conn., offers a range of financial products, including private label credit cards, personal loans, bank cards, auto loans and leases, mortgages, corporate travel and purchasing cards, debt consolidation and home equity loans, and credit insurance. More information can be found at www.gemoney.com.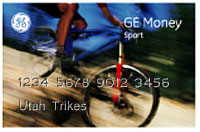 GE is Imagination at Work -- a diversified technology, media and financial services company focused on solving some of the worldfs toughest problems. With products and services ranging from aircraft engines, power generation, water processing and security technology to medical imaging, business and consumer financing, media content and advanced materials, GE serves customers in more than 100 countries and employs more than 300,000 people worldwide. For more information, visit www.ge.com.
---
Other Financing Options

PayPal's Bill Me Later service offers a great and easy way to finance your purchases. Click the banner for full details and select Bill Me Later during your PayPal checkout to take advantage of this great offer.