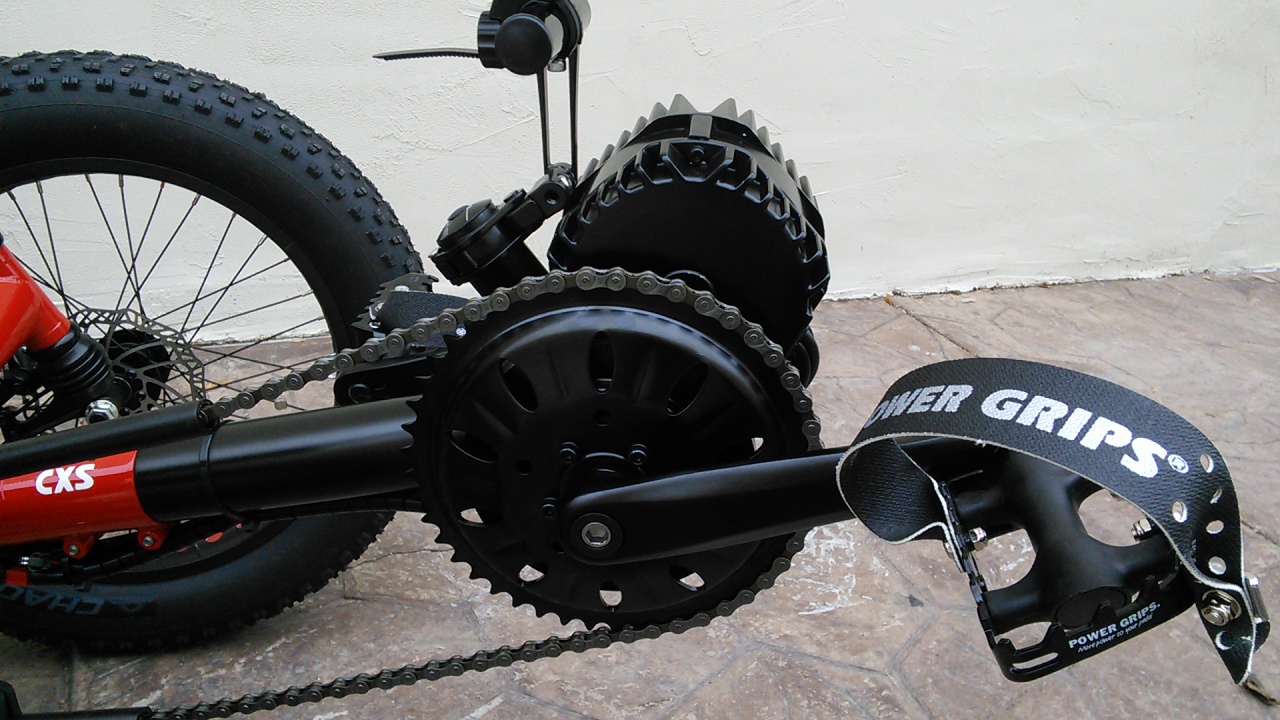 Bafang BBSHD 48volt 1000watt Motor Assist
-
---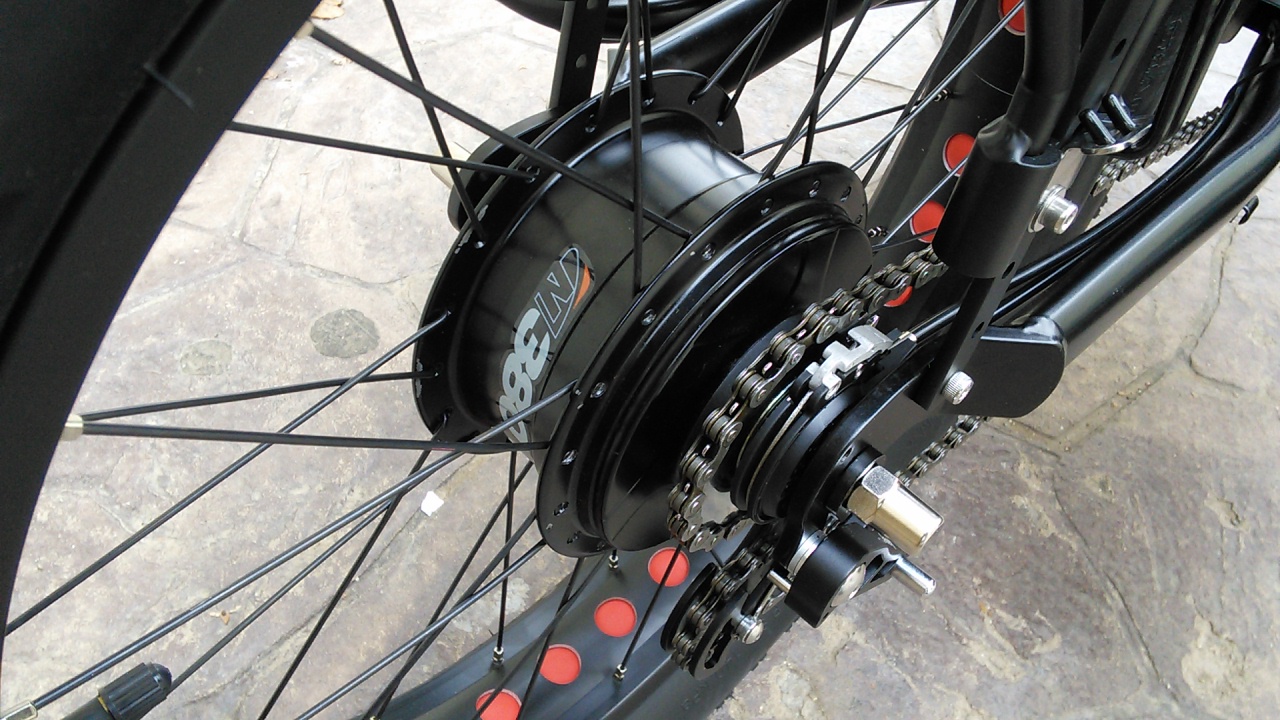 NuVinci N380 CVP Wheel Drivetrain Transmission with Tensioner and Chain -

---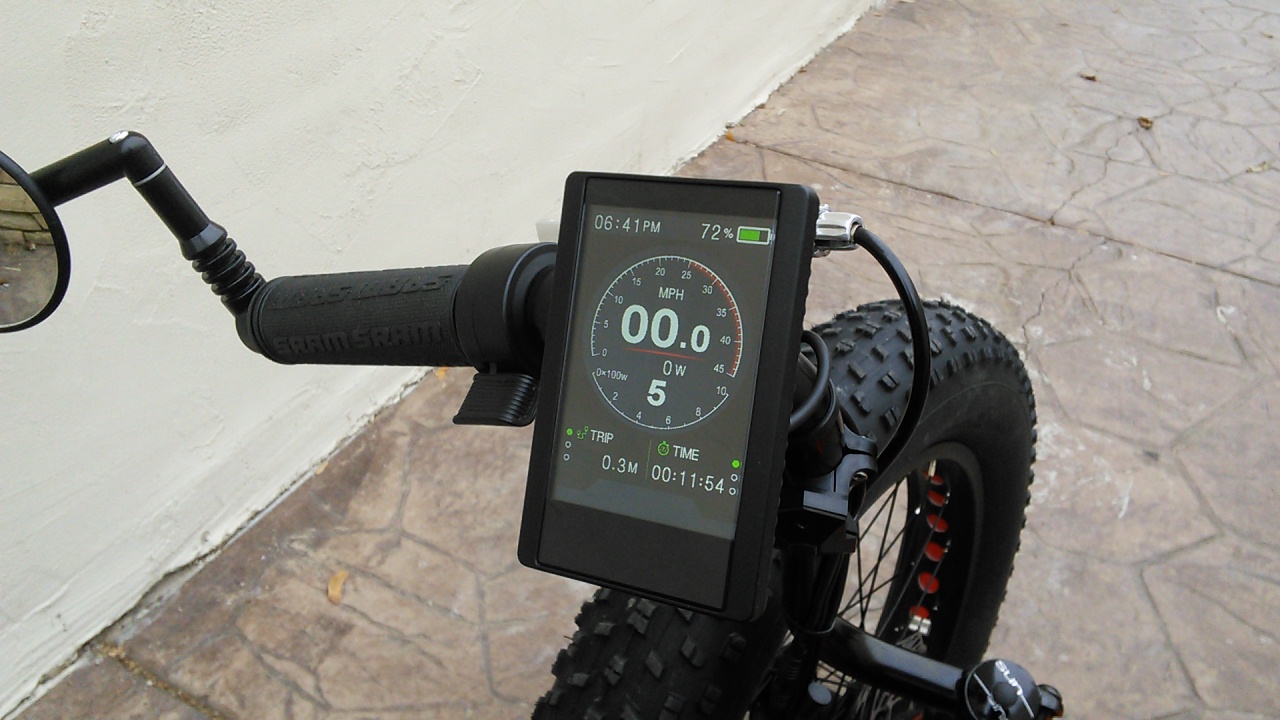 Full Color Display for Bafang
---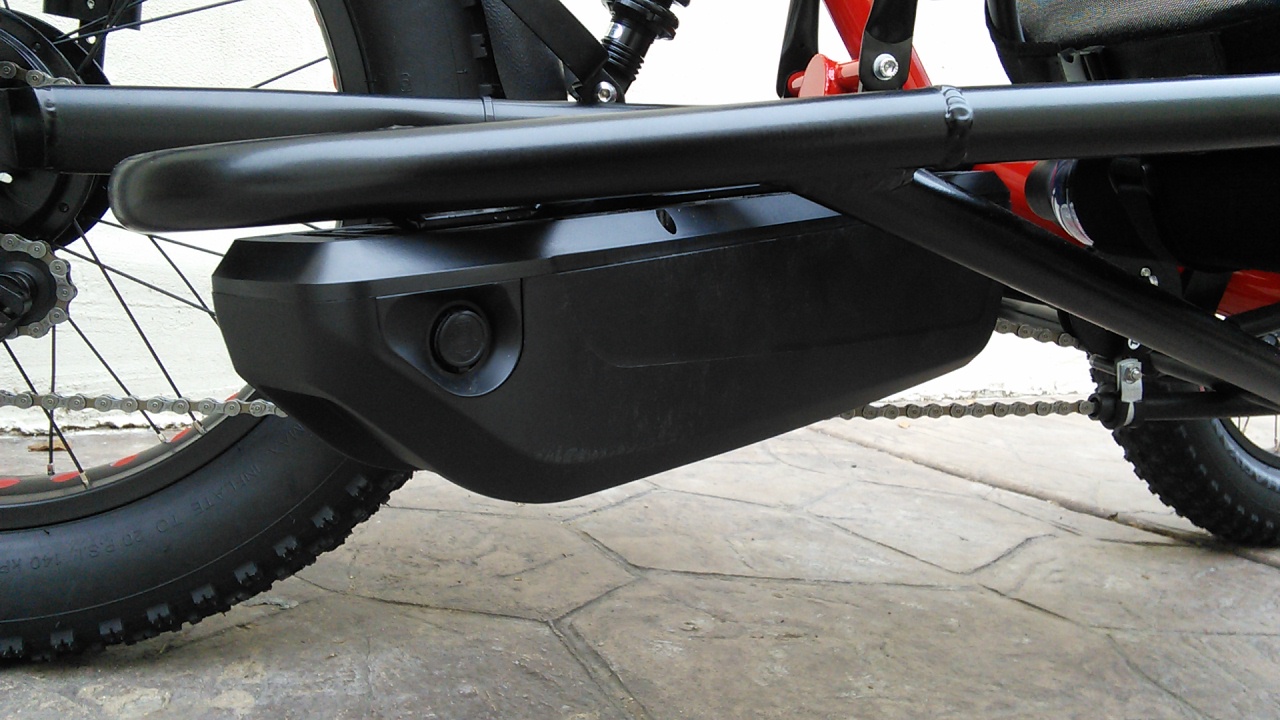 48V Batteries- Mounted to Wing Rack
---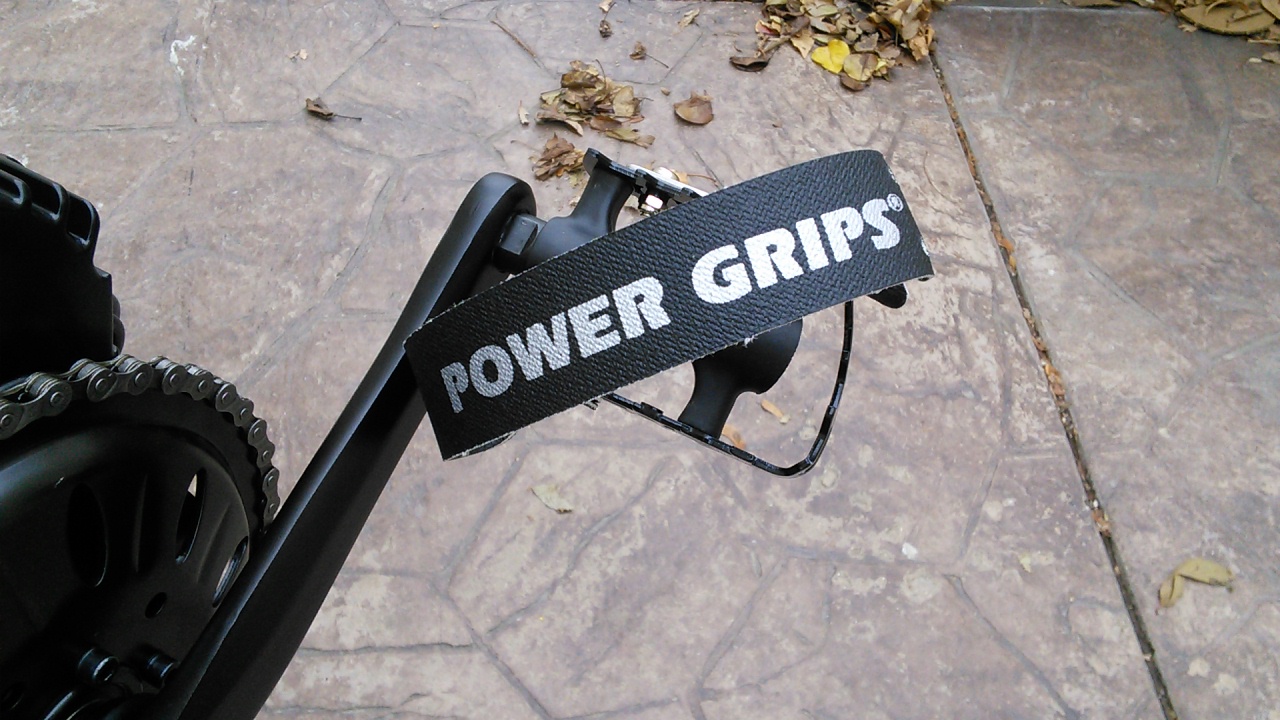 Power Grip Sport Pedal and Strap Set - Don't want to have your feet come off the pedals but don't want to wear special cycling shoes? Helping you avoid the hassle of special shoes, the Power Grip straps hold your feet securely on the pedals while wearing your favorite pair of sneakers. A favorite option on many recumbent bicycles and trikes. To use, just put your feet through the straps at an angle. When your foot straightens out the straps lock against your shoe. Simple and effective.

---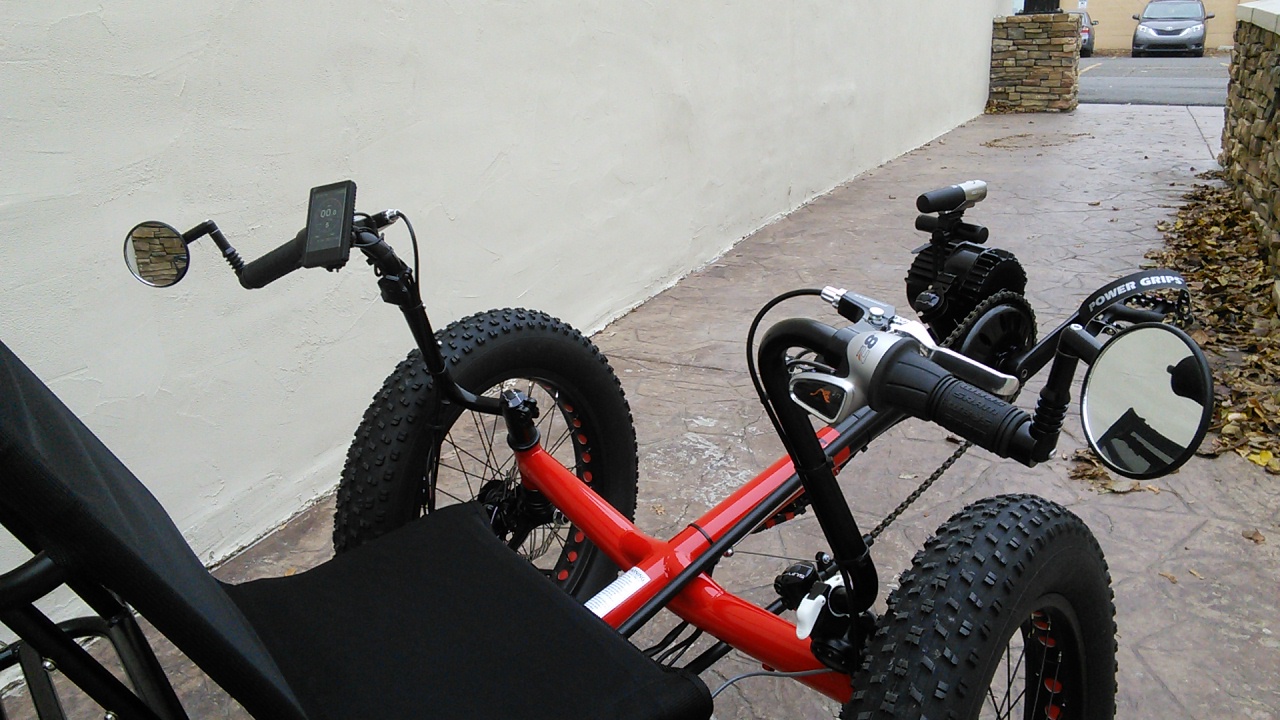 Mirrycle Mirror - The Mirrycle Mirror is by far the most popular mirror for recumbent trikes. It is well made, attaches to any 7/8in tube or handlebar and is easily adjustable. This is an essential safety item for anyone riding a recumbent bike or trike on the street.

---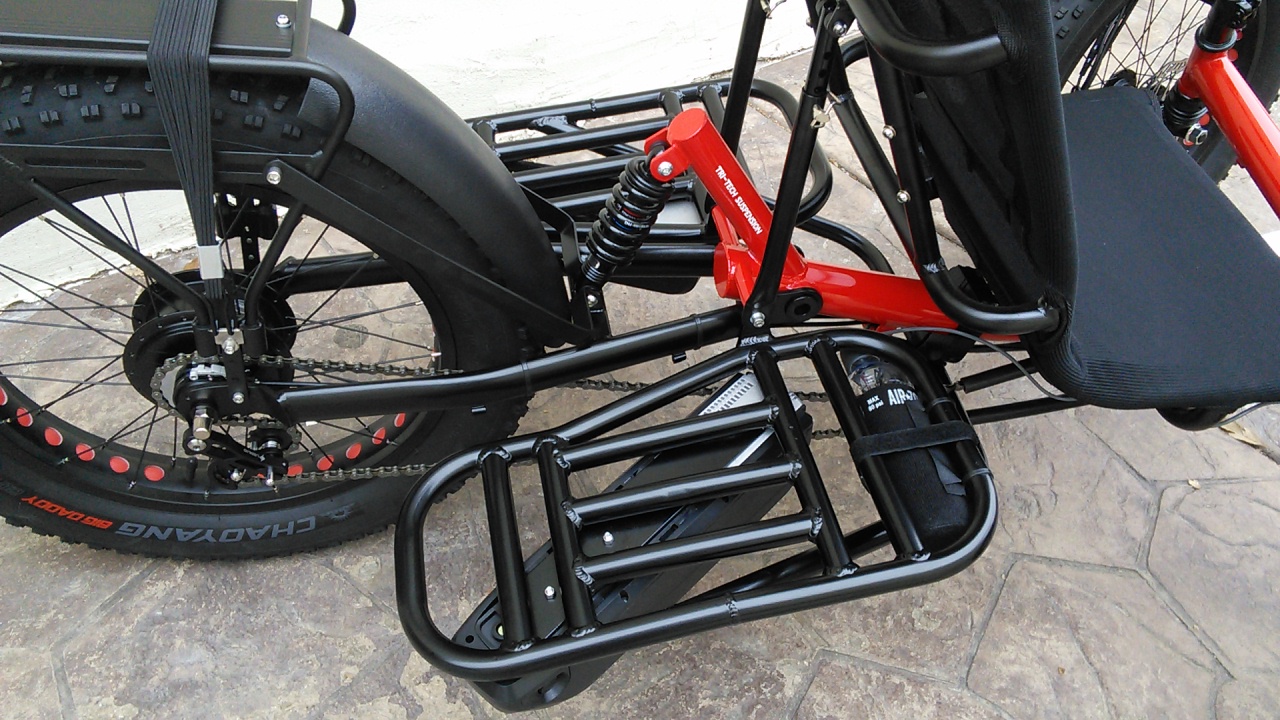 UTCustom CXS Wing Rack - This rack provides storage on either side of the frame.

---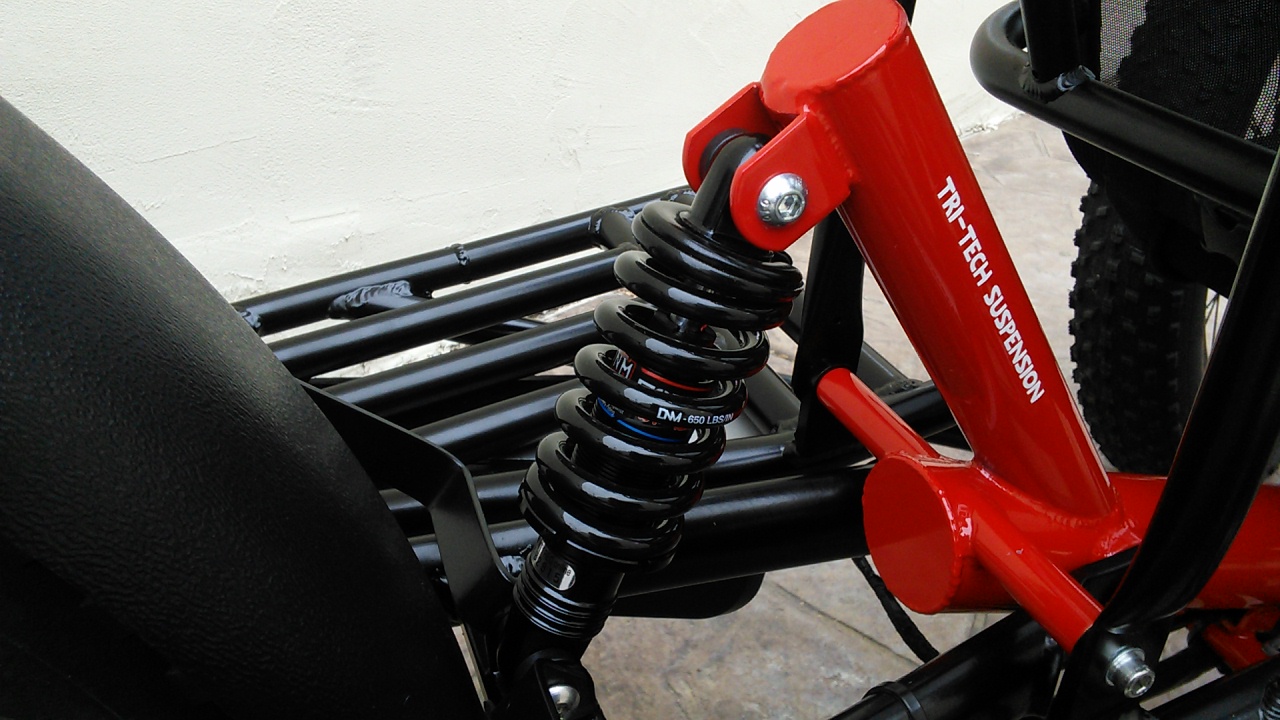 DNM DV-22 Air/Oil/Coil Spring Shock - 650lb - Basic damper in our offer. Spring-oil type. A reliable and convenient damper which is especially suitable if you ride with approximately constant load and mainly down asphalt paths or biking routes.

---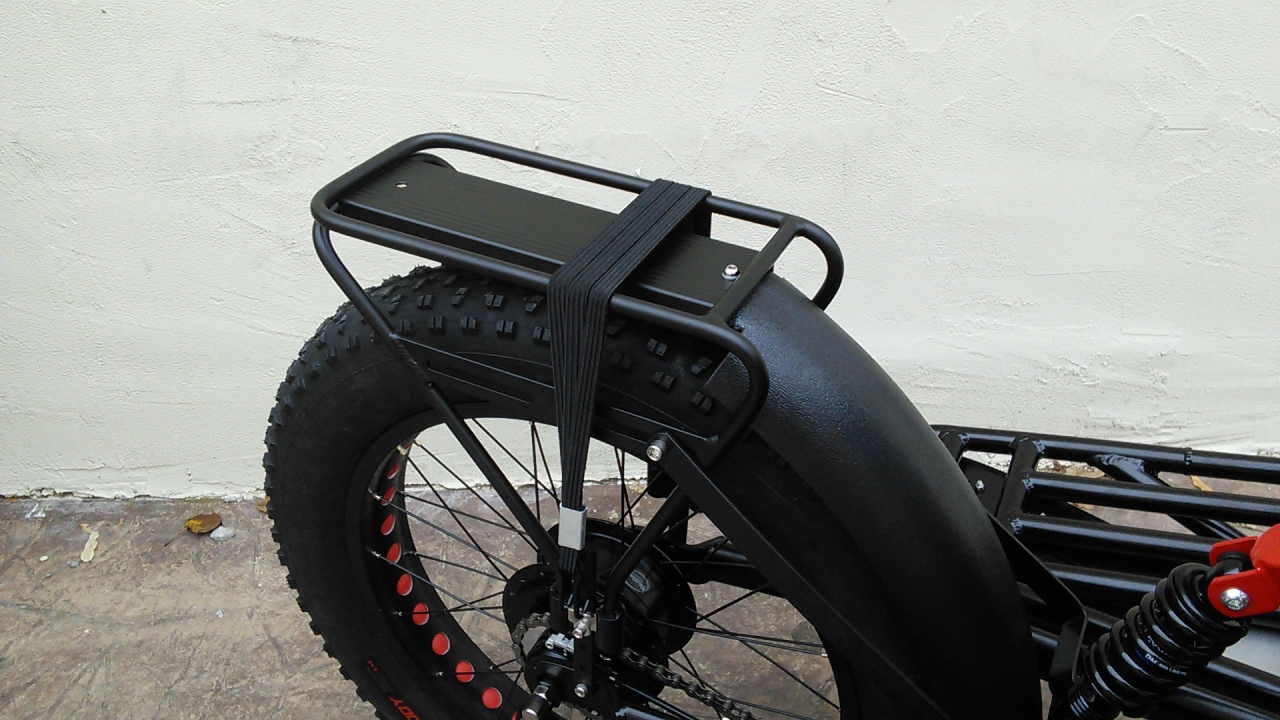 Utah Trikes Rack with Integrated Fender for Annihilator - Our adjustable rack fits the Annihilator perfectly. With this option we mount the fender directly to the rack to eliminate the traditional wire stays. This makes the fender much more rigid and secure and keeps the rack height as low as possible.

---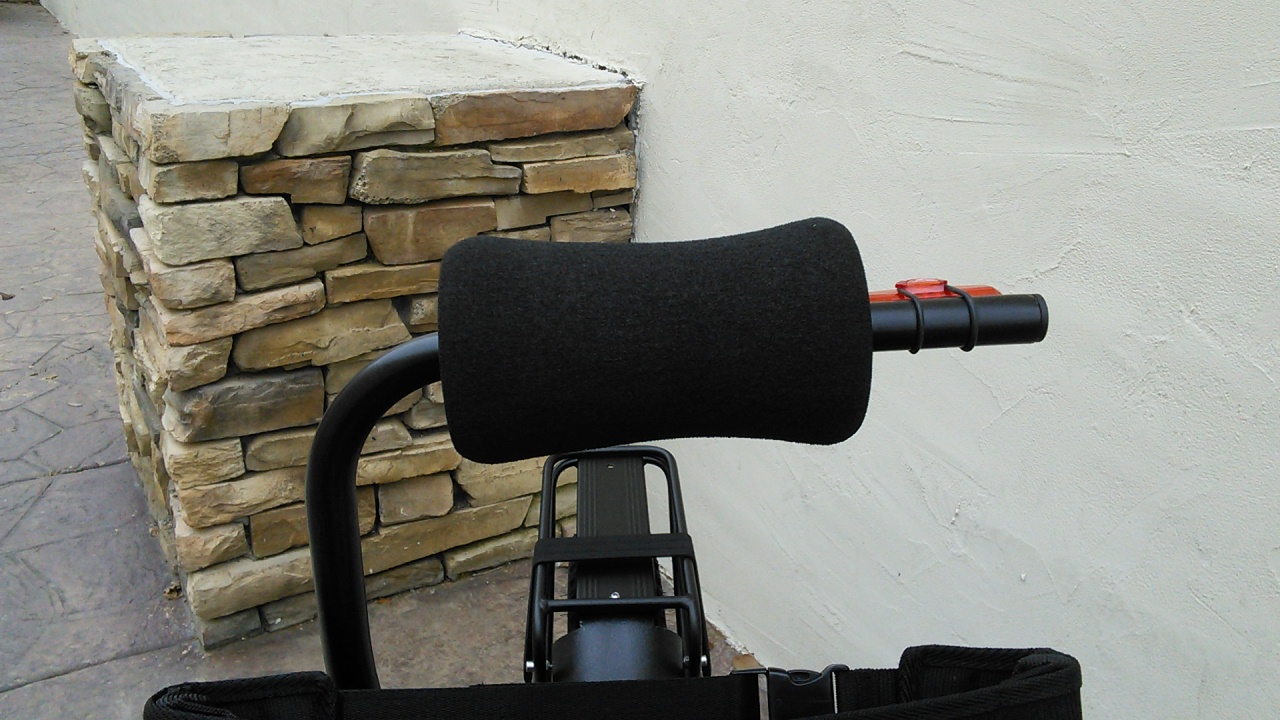 UTCustom Adjustable Super Headrest - FOR SUN TRIKES - **PLEASE LET US KNOW WHAT SUN MODEL THIS IS FOR** Order this headrest if you own a Sun trike with the original seat. This headrest has a taller bar, designed to fit Sun trike seats. These bars are made to order in our custom shop but if they're in stock, it's your lucky day! Order one up, they go quick! 1-2 WEEK LEADTIME IF NOT IN STOCK

---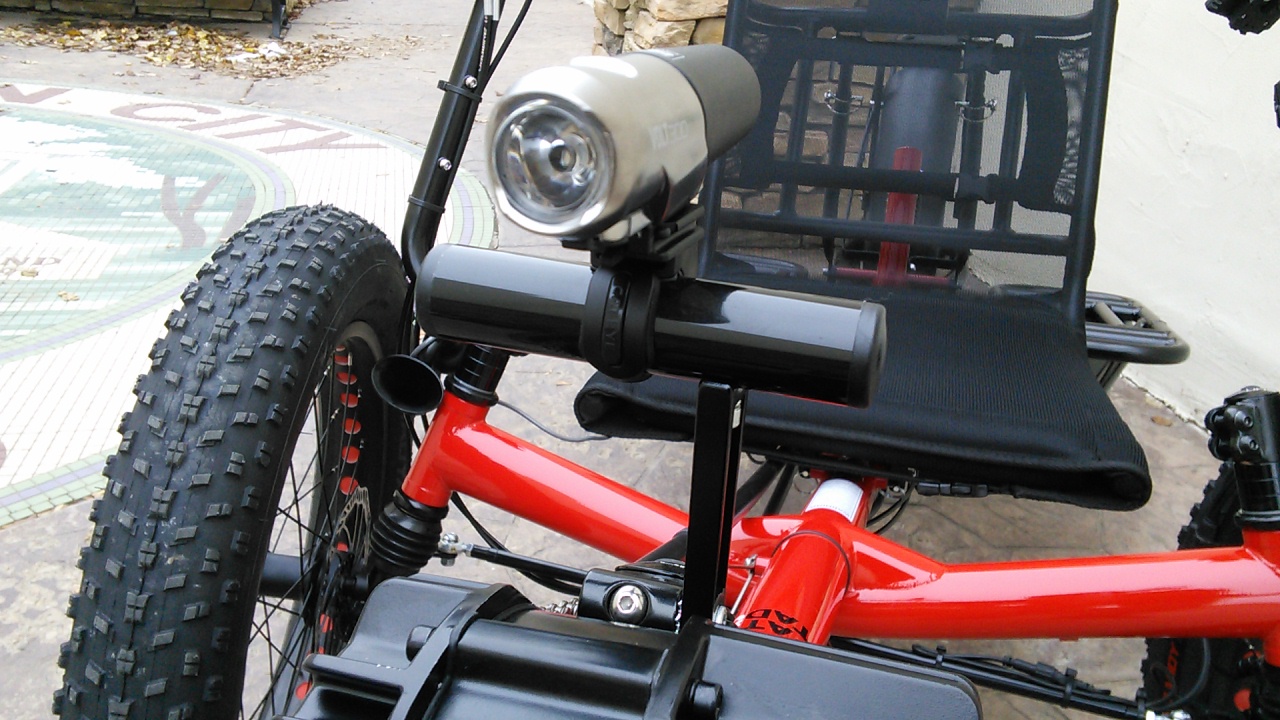 Minoura SwingGrip Accessory Mount Holder - The Minoura SwingGrip is a favorite accessory for recumbent bicycles and tadpole trikes. The most popular use is to mount it on the derailleur post on the recumbent trike boom. An easy way to add headlights or a computer display.

---
---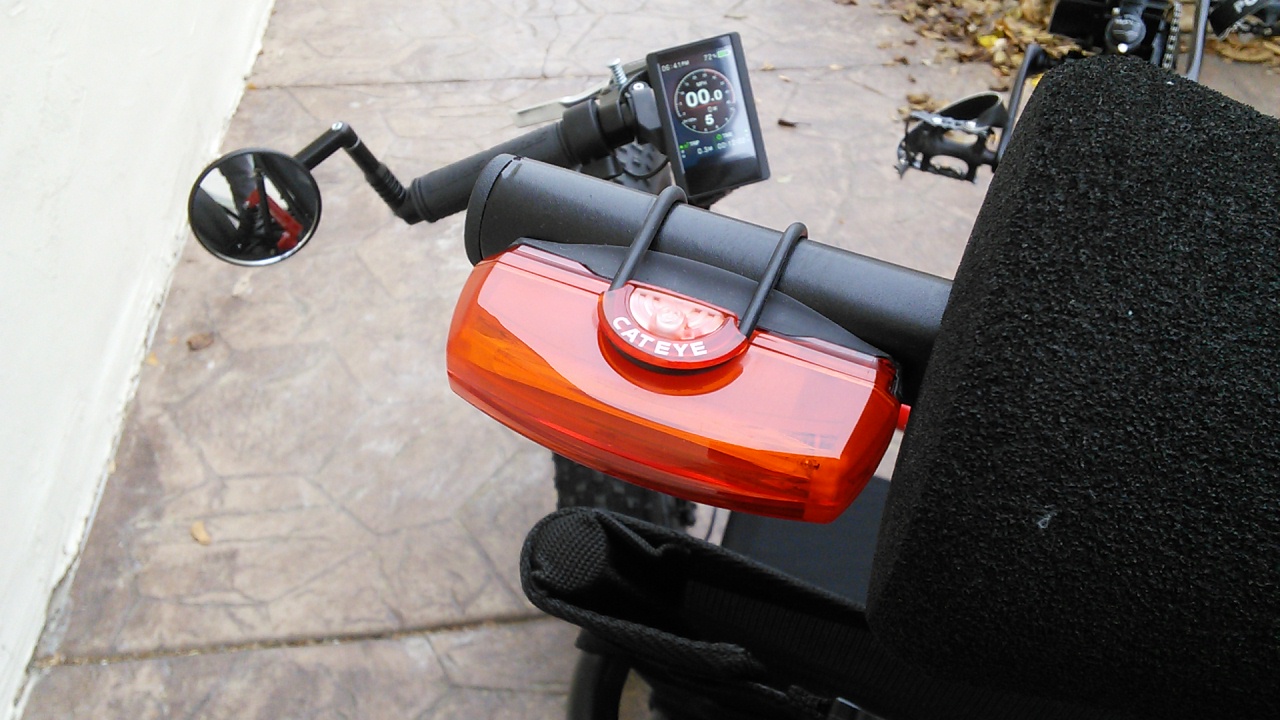 CatEye Rapid X3 Rechargeable Safety Taillight - The ultimate safety light. Features: Upgraded 150 Lumen Output. High-Power Red OCB (Chip On Board) LED. Approved For Day + Night Use. Rechargeable Li-ion Battery. Micro USB Cable Included. Low-Battery Indicator. Battery Auto-Save. Mode Memory Function. Modes/Run Time: -High: Approx. 1 Hour (150 Lumens) -Low: Approx. 5 Hours -Flashing: Approx. 30 Hours -Rapid: Approx. 16 Hours -Pulse: Approx. 16 Hours -Vibration: Approx. 8 Hours -3 Hour Charge Time Via USB

---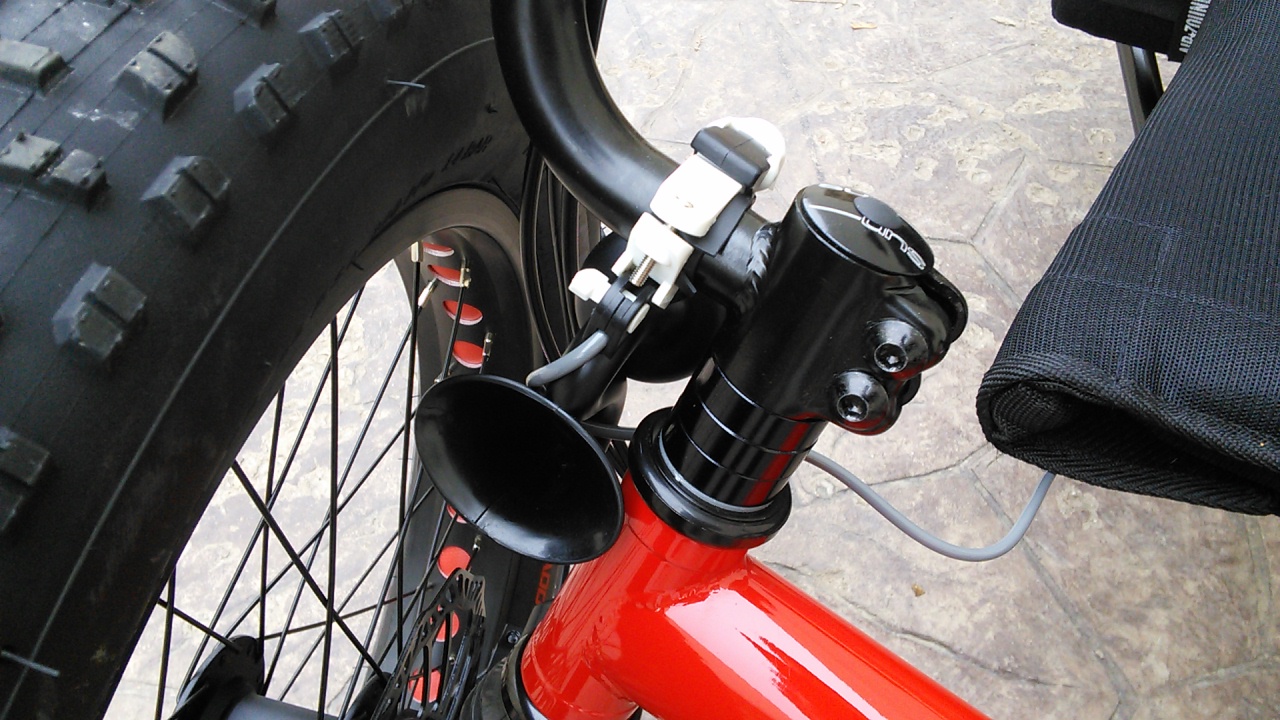 Delta AirZound Rechargeable Air Powered Horn - 115db - An air horn that can be mounted on any handlebar and refills with any bike pump. -No batteries or cartridges required -Volume control switch -Clamp for mounting on 22-26mm handlebar -Refills with any bike pump -Please note that clamps and knobs pictured in red are actually white

---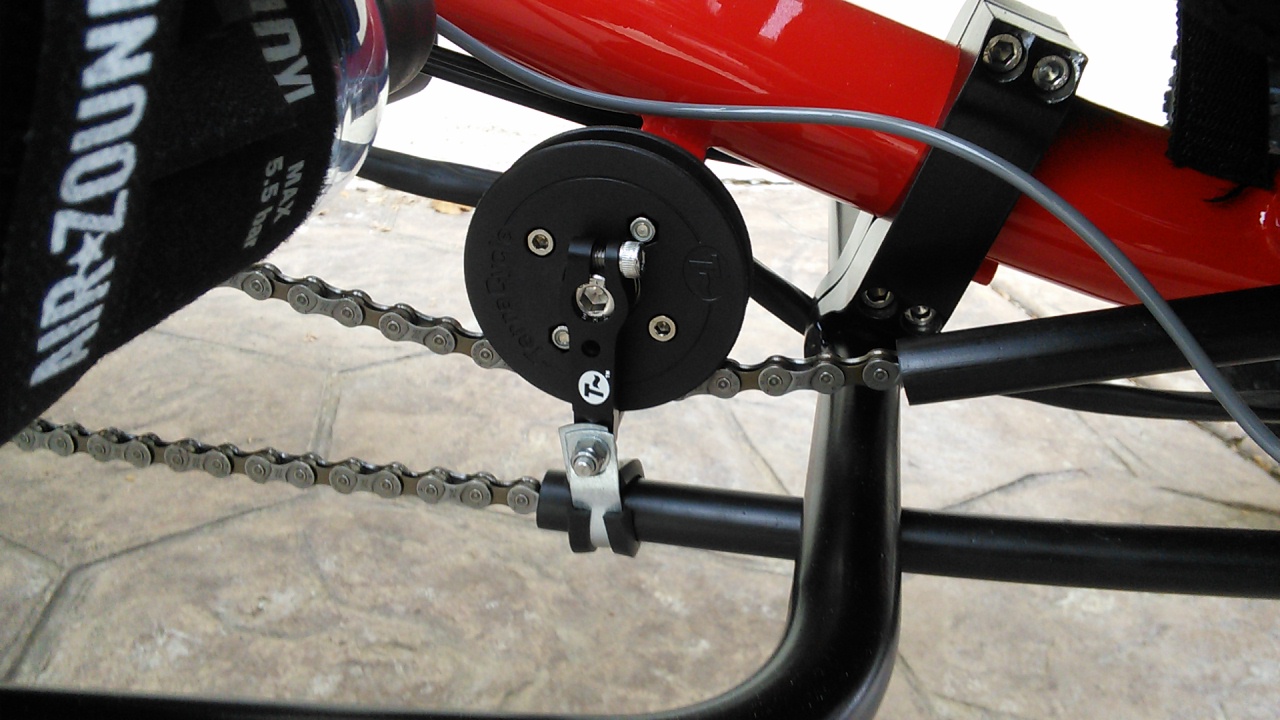 UTCustom Performance Idler Kit for CXS/Defiance - Required for any CXS or Defiance trike with a motor. Recommended for all builds.

---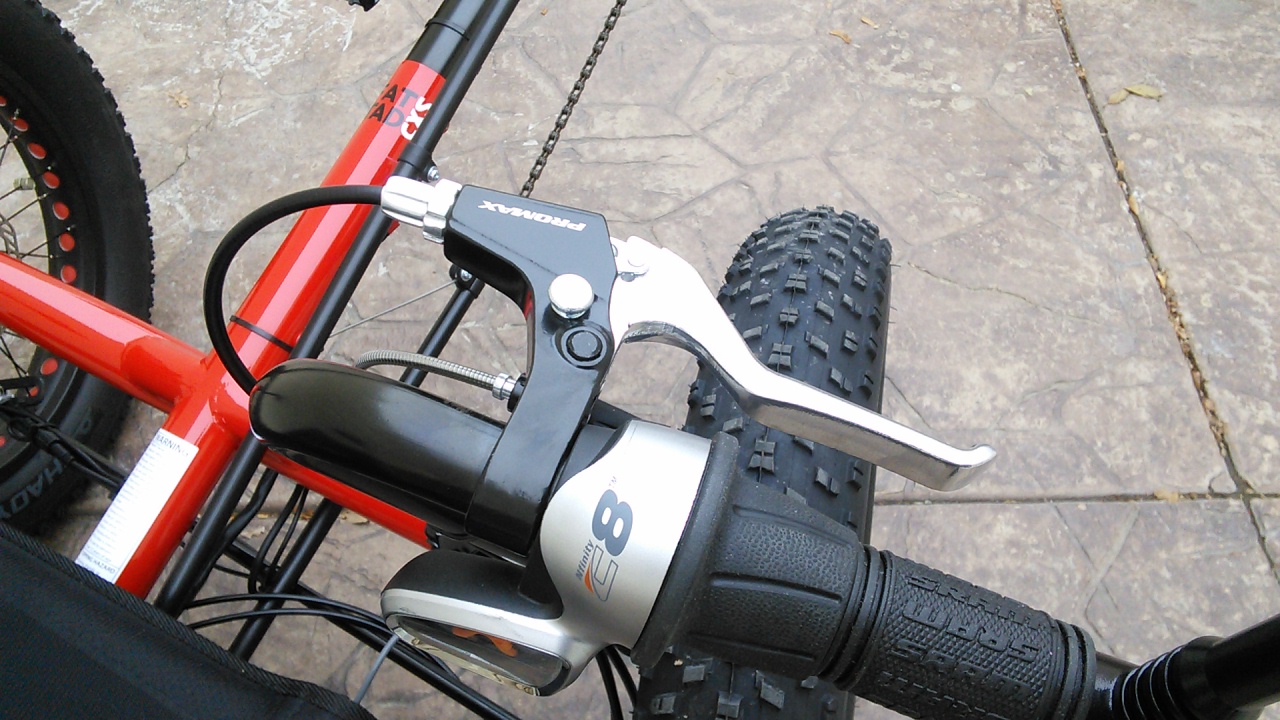 Locking Brake Lever Set
---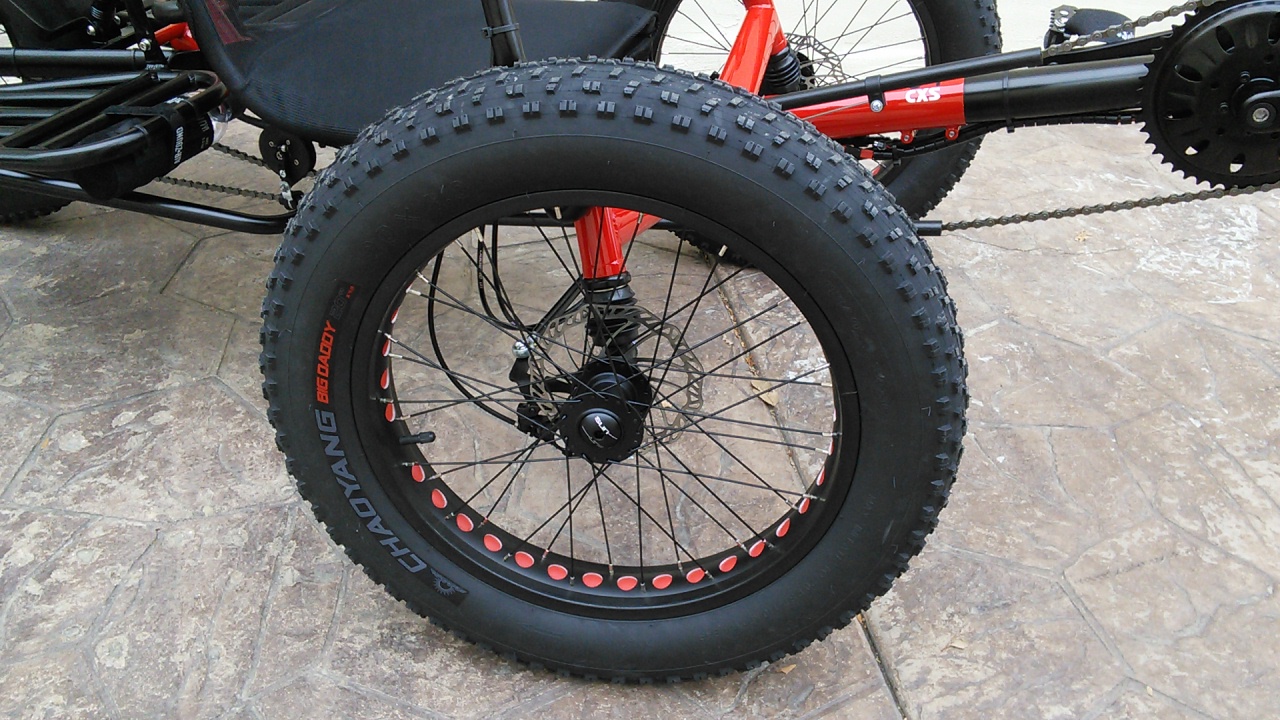 20x4" Fat Tires​
---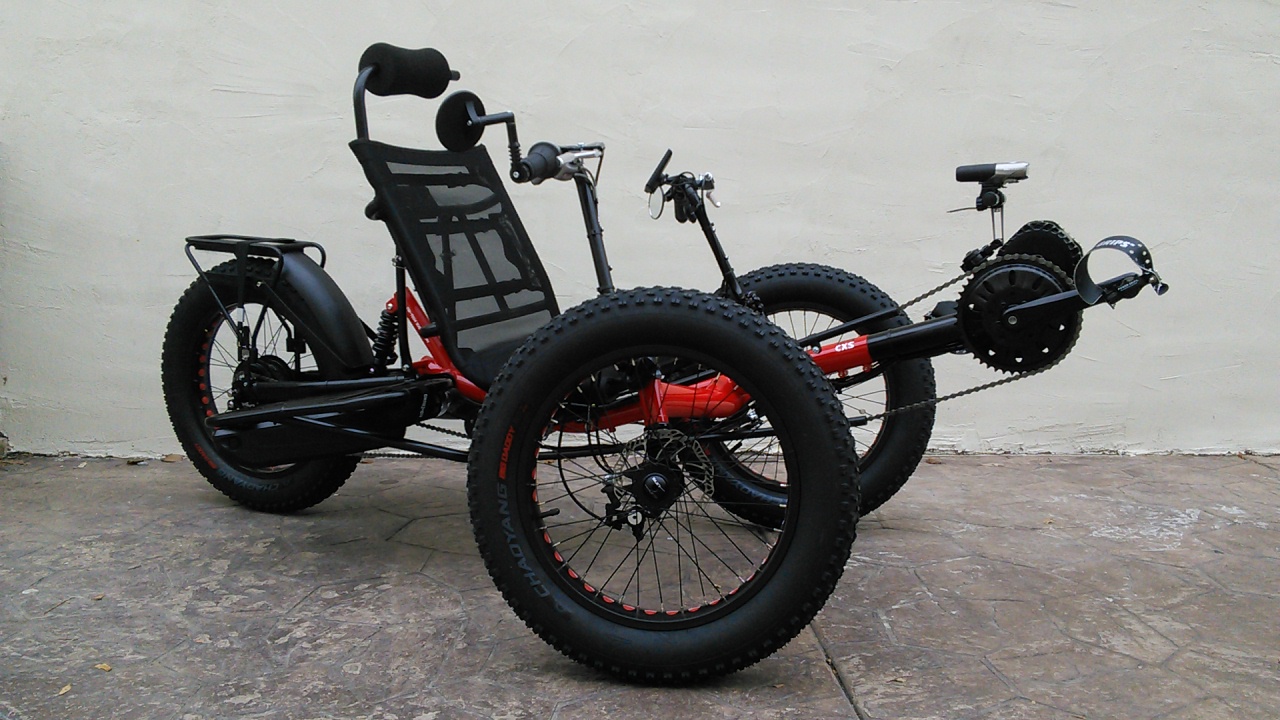 ---