$2,210.00
Availability: Currently Out of Stock
World's First Cardiovascular Exercise Bike
Originally designed for exercise following a spinal cord injury, YouBike™ is a multipurpose cardiovascular exercise bike which be used by persons recovering from a stroke, MS or Parkinson's.
YouBike™ can be floor mounted and used with or without a wheelchair or in a bed to exercise the arms and legs. YouBike™ is lightweight and suitable for rehabilitation units, physical therapists or any person requiring safe and effective exercise at home.
YouBike Brochure
History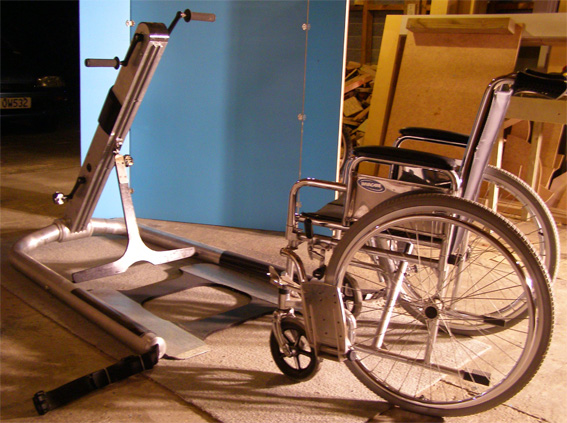 Phil Thorn, the brother of Clem, was the inspiration for the YouBike™.
On the 26th September 2008 Phil contracted Pneumococcal Meningitis and fell into a coma. Phil recovered, but the almost fatal attack left him deaf, blind and paralysed in his lower body.
Phil was transferred to a rehabilitation hospital where he underwent physiotherapy treatment for his legs and feet, he attended the hospital gym daily, however he would spend a lot of time in bed if family, friends and staff did not take him out in his wheelchair.
While visiting Phil in hospital, Clem thought of the idea of a bed-mounted, portable fold-away cycling machine that could help Phil. The first basic ideas were designed on scrap paper and Clem got an engineering friend to build the first prototype which was named the 'Phil Bike'. When Clem took the bike down to the rehabilitation hospital for Phil to try out, Phil was delighted.
Clem realised that the bike could help many people and that to be a product for the market place it needed a new name and came up with the name of YouBike as it is a bike all about 'you'.
Over the next 4 years Clem designed and built several versions of the YouBike™. Weltec Connect became involved in 2012 and borrowed the final bike that Clem had built. They put together the YouBike modelled from Clems and finished it off to be a marketable and stylish design while also ensuring that it was light enough to be portable.