What is a Trike?
People are always asking us questions about our trikes. After all, they are pretty unique. The most common questions we get as we are riding are:

What is that thing? Is it a bike? Is it a pedal car? Is it comfortable? Is it fast? Is it expensive? Is it safe? Where can I get one?

Wow! That's a lot of questions.

What is that thing?
The trikes we ride are known as "tadpole recumbent trikes". "Recumbent" means that you are sitting in down with your feet in front of you. These "trikes" have three wheels with two in the front and one behind the rider. This style of trike is known as a "tadpole". (The other style of trike is known as a delta trike and has one wheel in front and two in the back.)

Is it a bike? Is it a pedal car?
These trikes ride like a little sports car or a go-cart. With their extremely low center of gravity it is easy to take fast turns without fear of flipping over. Like a bicycle, these trikes are pedal powered and will go as fast as you can pedal. Unlike a bicycle, the trike does not lean when turning, so it is up to the rider to lean and keep all the wheels on the ground. Turning is done with the steering bar that goes under the seat and has handles on each side.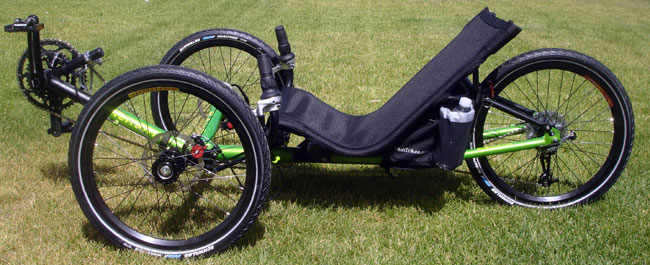 Is it comfortable?
Riding a trike is similar to pedaling a really comfortable lawn chair. Most of our trikes have a mesh seat which keeps you cool, and many models offer adjustable seat positions. Some people ask if it is uncomfortable to pedal with your feet in front of you. Actually, it is very easy and isolates most of the pedaling effort to your legs, which means that your entire upper body does not become fatigued. The recumbent trike is fast becoming the cyclist's machine of choice for long tours precisely because you can ride all day without hurting.

Is it fast?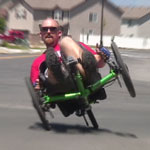 It depends on who is asking and how much riding experience you have. Because of the recumbent position of the rider, different muscles are used to pedal. You cannot use gravity to help you by standing on the pedals and instead you learn to "spin" the pedals. Most people that are currently fast riders will find the trike to be slower initially because of this. Once accustomed to the recumbent style of riding it is possible to go very fast. One of our team riders has a modified trike and regularly cruises at 25mph, with flat-road burst speeds of 35+mph. Our fastest downhill decent record on E-6 HWY is 49.6mph.

Is it expensive?
Adult trikes range in price from $799 to $5000. Just as with bicycles, much depends on the features and components. We offer many ways to customize your trike to best fit your needs and budget. When considering the price of gas nowadays, people everywhere are looking for alternative transportation. Replacing some of your commute with riding a trike will save you money and provide a healthier you.

Is it safe?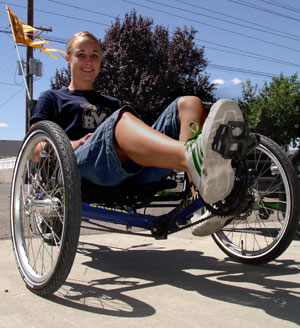 Riding a trike is very safe and offers some safety advantages over riding a conventional bicycle. It is very stable at any speed and eliminates the need to balance. Instead of wobbling up a hill you can go as slow as you want and even rest without taking your feet off of the pedals. Riding in traffic is also very safe. Since most people have not seen trikes regularly they usually give you more room and slow down to take a look. If you are riding in tight traffic you can enhance your visibility with a flag or neon colored tailsok.

Want to learn more?
If you want to learn more about trikes we have lots of information on our websites. For trike reviews and articles about trikes check out our Articles Page. To view the details about the different trike models we offer check out our Trikes Page. View trikes in action on our Video Page.

Where can I get one?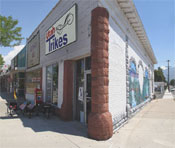 We recommend visiting Utah Trikes in Payson, Utah. Come in for a free test drive and find out what everyone is talking about. With the Ergonomic design, our rebumbent trikes are far more comfortable than a standard diamond frame bike. Not only will your body feel better from the impact-free ride, but you'll become healthier and have fun too! We are located on Historic Main Street at 40 S Main Street, Payson, UT or call 801-804-5810. Feel free to look at our "Buy a Trike" page to see our recommended models and learn more about each trike. If you don't live in Utah or can't make it out here to visit us, then call us toll-free at: 866-446-2065. Relax. Spin Fast. Ride Trikes. UTAH TRIKES!



Read our Trike FAQ