| | | |
| --- | --- | --- |
| | Bills 4 Seater Electric Cycle | |
This vehicle is a fusion between an electric car and a tandem bicycle. With seating for four and two EcoSpeed motors this vehicle is probably the funnest one that we have built.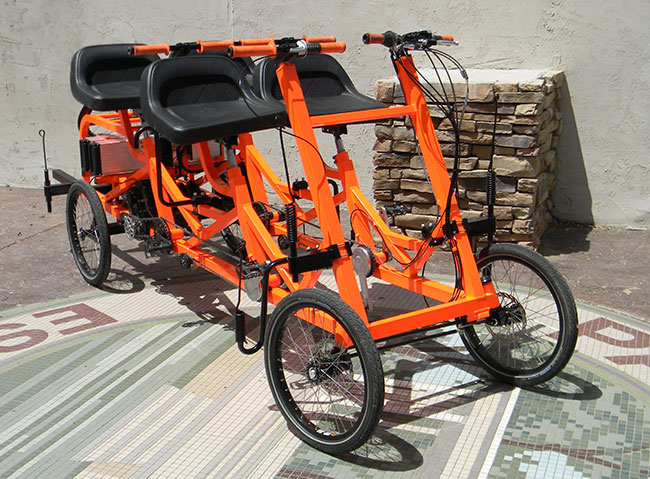 Blinged to the extreme, this pedal/electric hybrid was made custom for running dogs.
---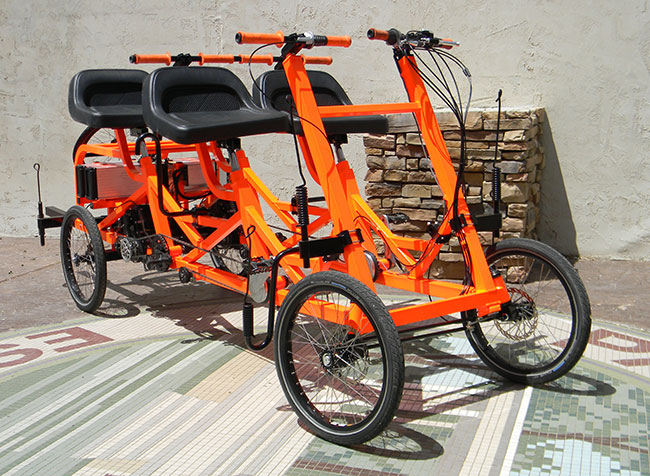 Painted Flourescent Orange it is definitely noticeable.
---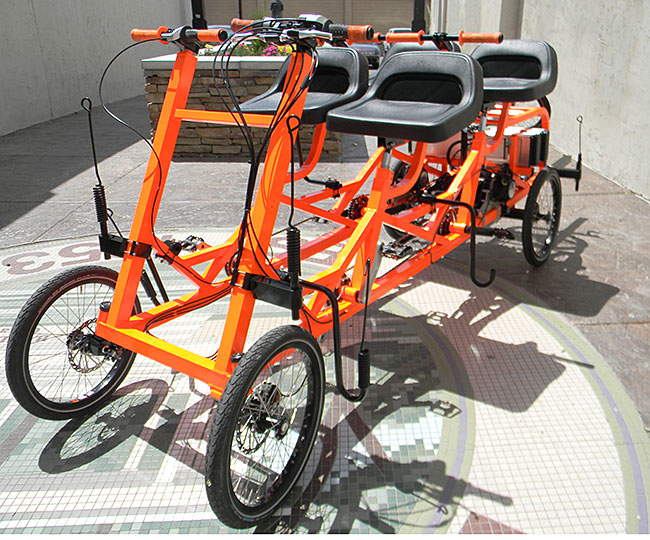 This machine is setup with three dog springer attachments on each side.
---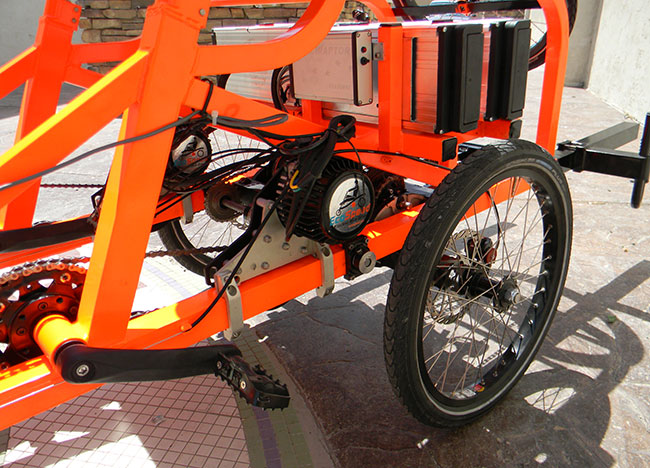 Powered by two custom 1000W EcoSpeed electric motor systems and four 48V batteries this machine hardly needs the pedals. Each rider can pedal independently.
---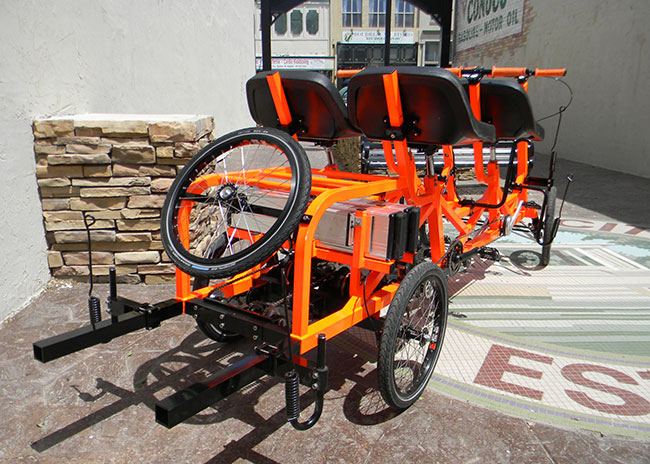 Just for fun we felt Bill's car really needed the spare wheel on the back.
---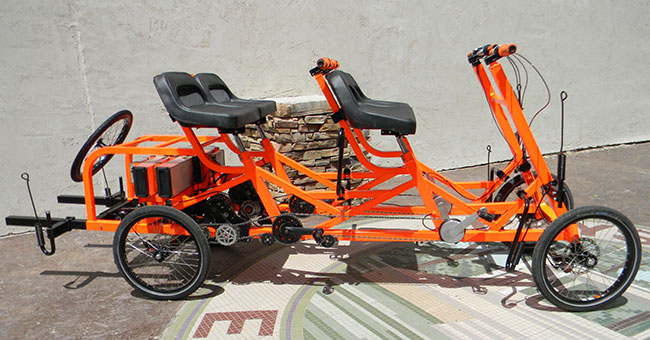 With everything attached we ended up being just over 10 feet long.
---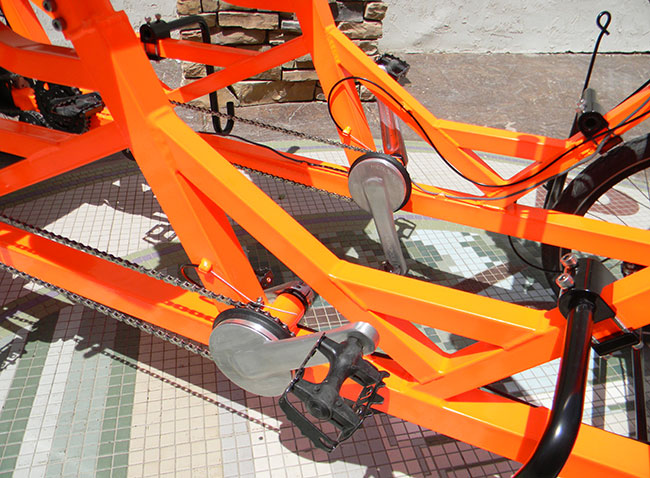 The front riders get to take advantage of the Patterson 2-speed drives.
---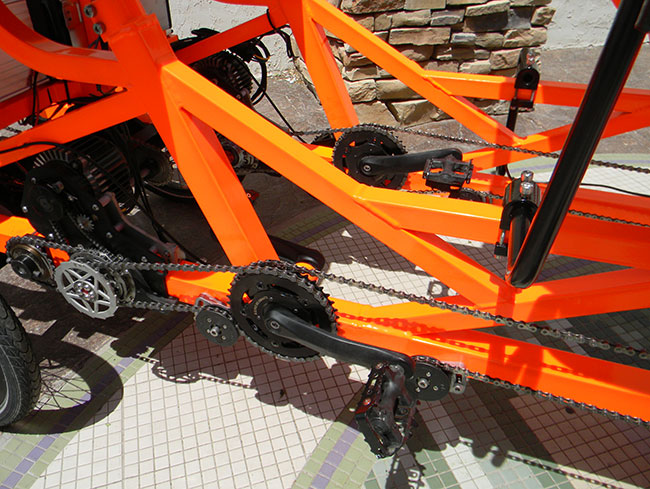 The rear riders have custom IPS systems so they can coast or help pedal.
---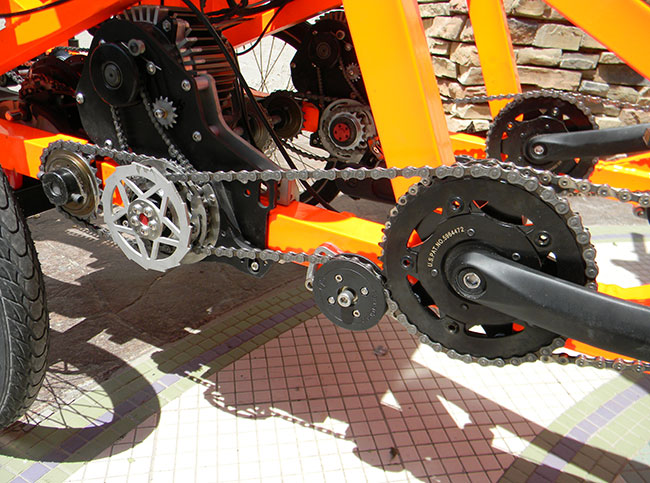 The EcoSpeed motors connect as a middrive between the pedal chains and the jackshaft.
---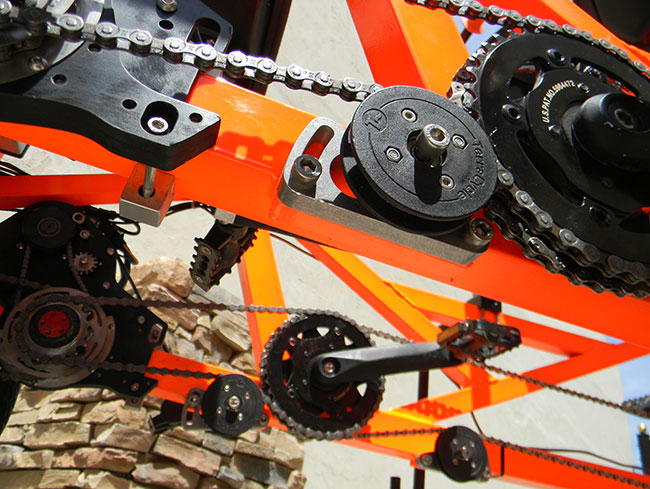 We used TerraCycle idlers and custom adjusting mounts to route and tension the chains properly.
---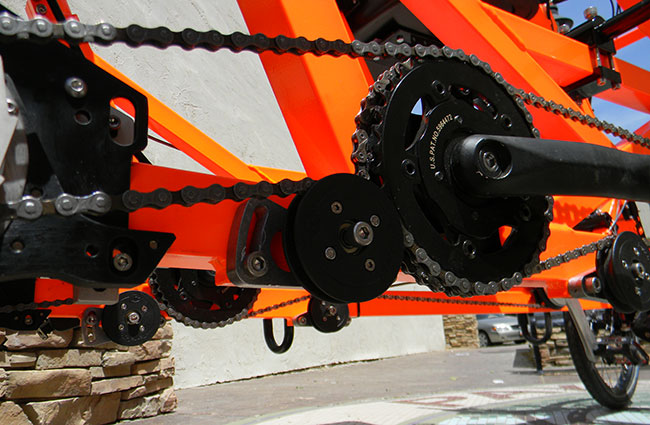 Idlers are on the return/slack side of the chain.
---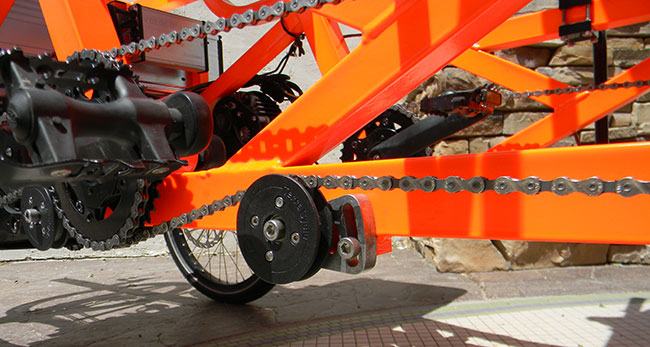 The front-mounted idlers are used to tension the chains between the riders.
---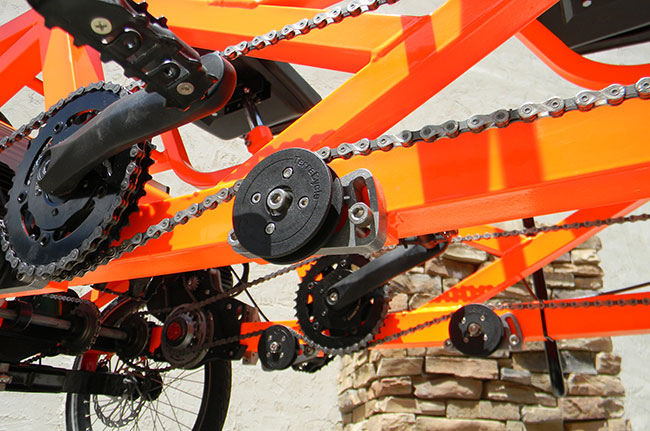 To tighten the idlers loosen both bolts on the mount and then push the idler up.
---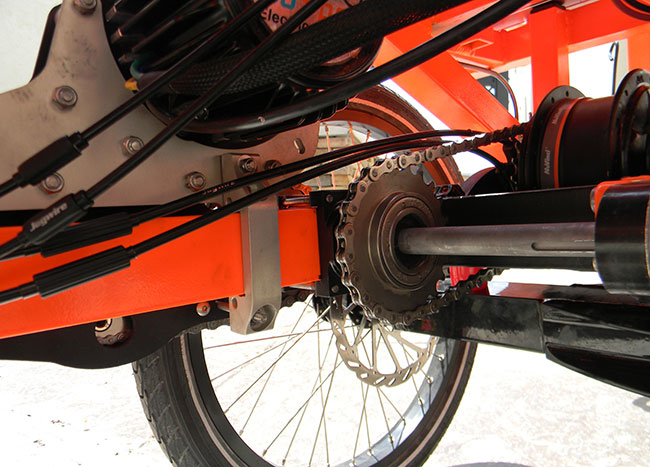 The chain between the EcoSpeed middrive and the jackshaft is tightened by loosening the clamps shown and pushing the motor assembly forward.
---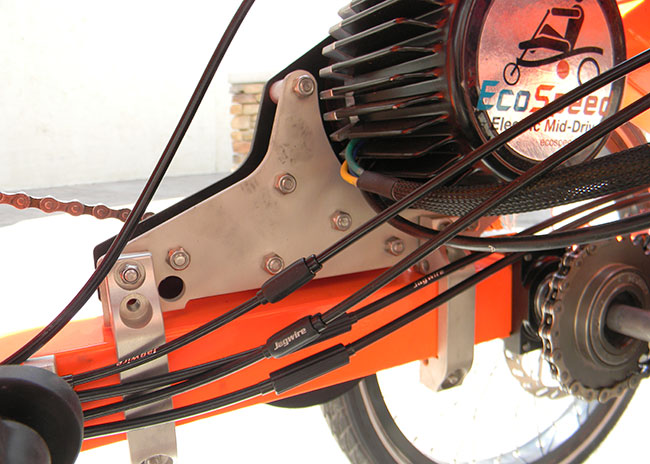 Both middrive clamps are shown here.
---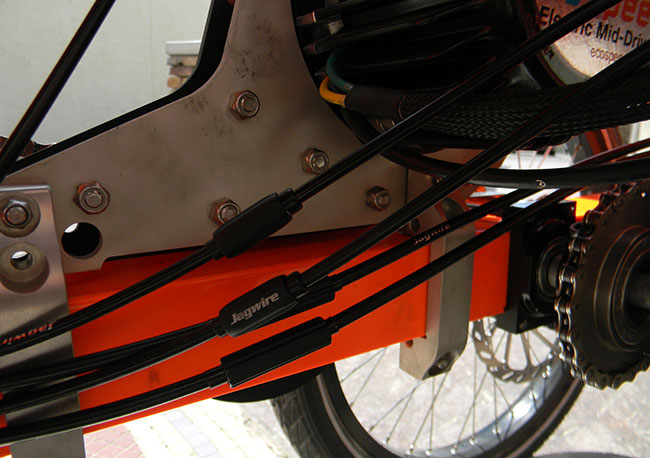 The Jagwire cable adjusters here are used to adjust the shifter cables going to the twin Nuvinci transmissions.
---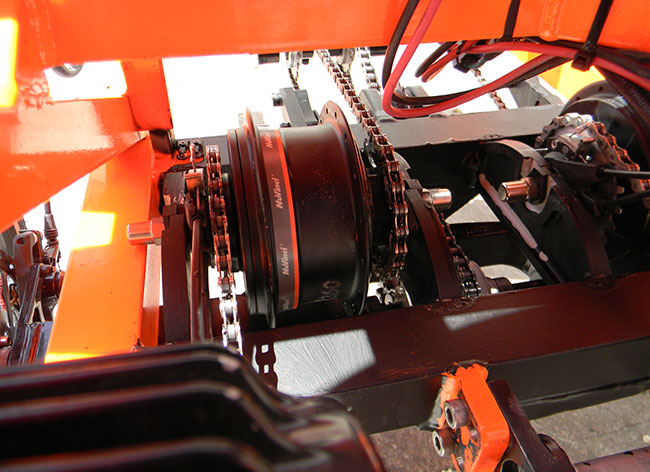 Because of the power delivered by the two motors and four riders we ultimatley decided to go with two Nuvinci N360 transmissions.
---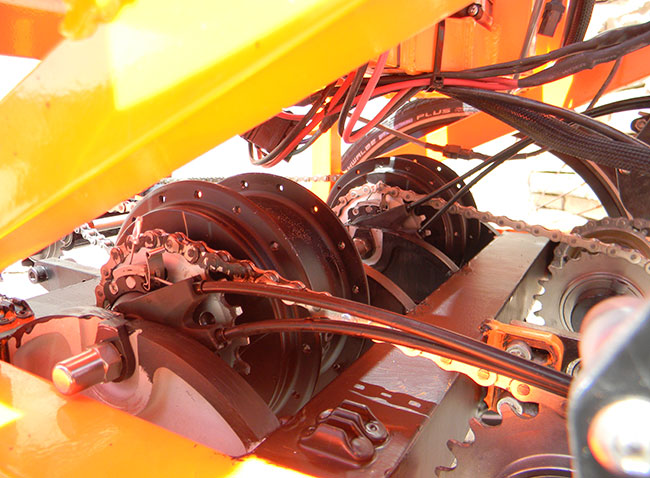 Both transmissions are synced together and pull power from the jackshaft. They are set up this way to split the load.
---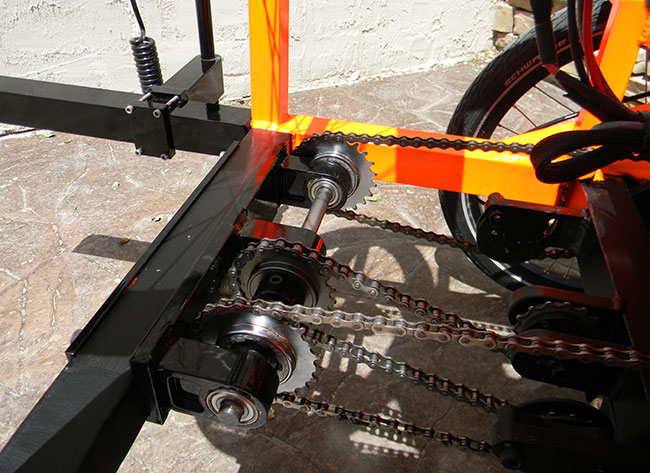 The output of both transmissions goes to a final jackshaft which outputs the power through a motorcycle chain to the drive axle.
---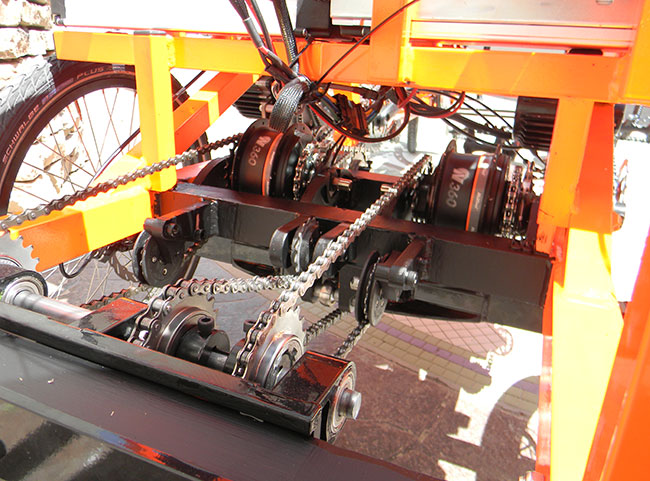 Twin idlers are used to keep the chains going to the transmission tensioned.
---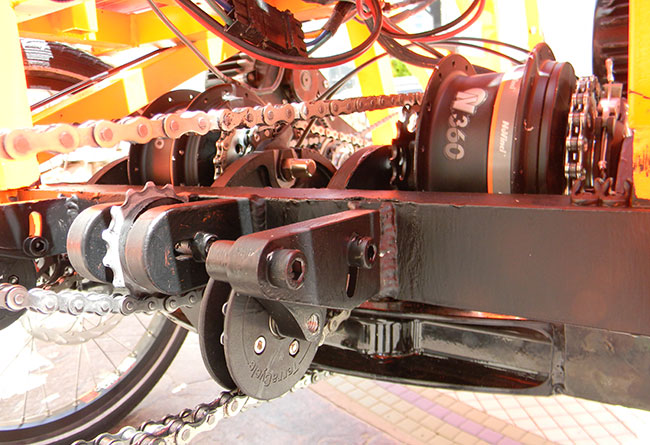 The idlers are tensioned by loosening both bolts and swinging down the idler arm.
---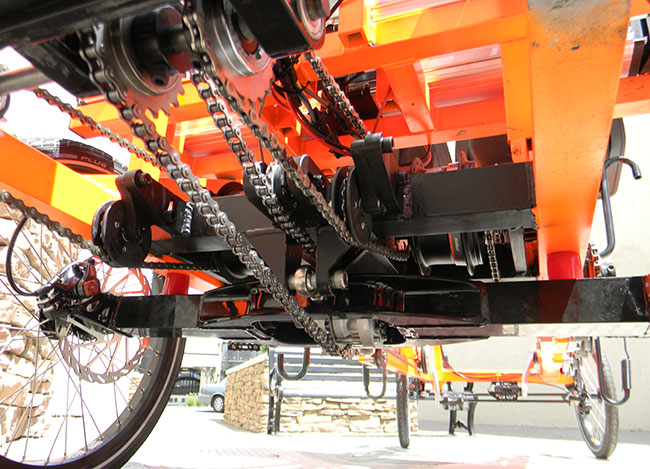 One of the most complicated drivelines that we've made. The bottom chain is the final power chain and goes to our differential.
---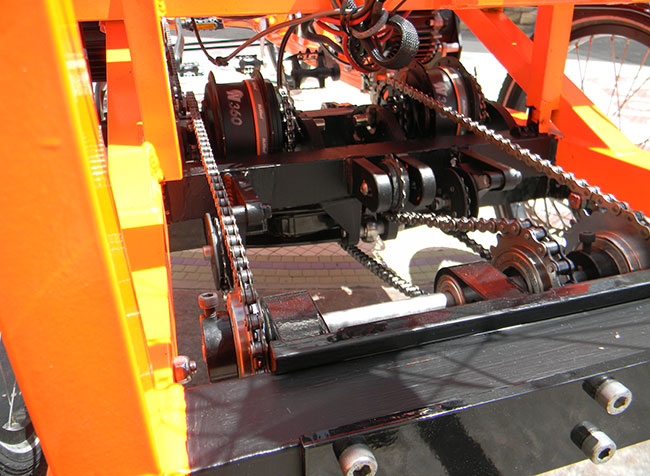 The rear jackshaft assembly is bolted on to the rear so it can be removed to more easily service the transmissions.
---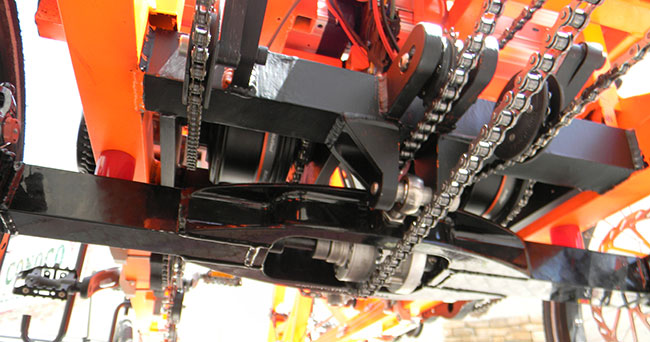 The rear drive axle housing is allowed to pivot and provide a limited suspension. The red elasomers provide the dampening.
---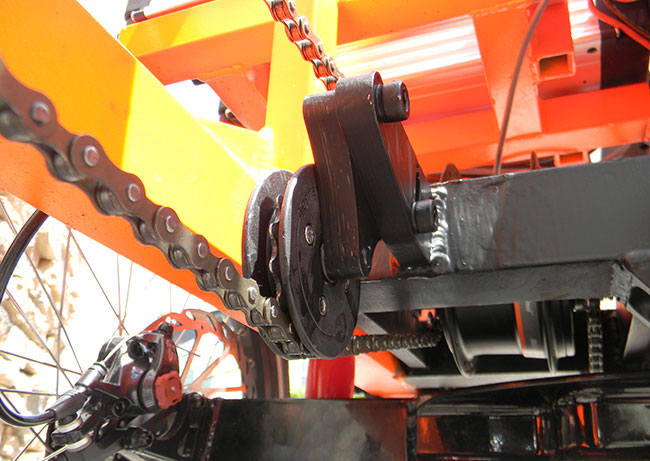 The tensioner shown here is used to adjust the chain between the Nuvinci transmission and the final jackshaft.
---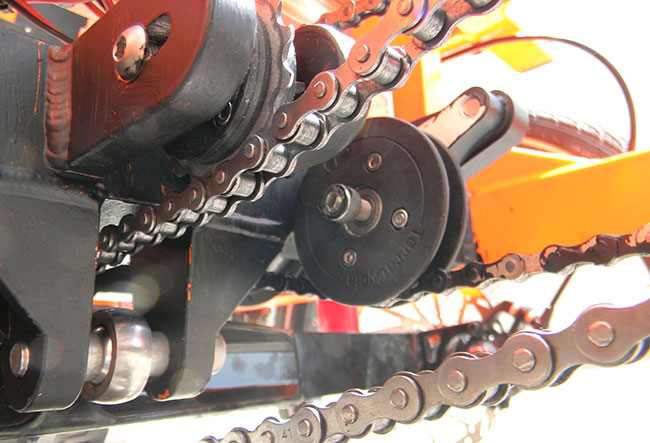 The top sprocketed idler is used to tension the final drive chain.
---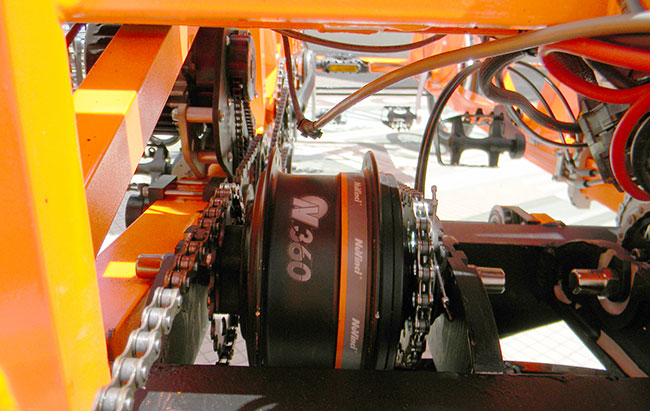 The Nuvinci N360 transmissions are tightly situated in front of the drive axle.
---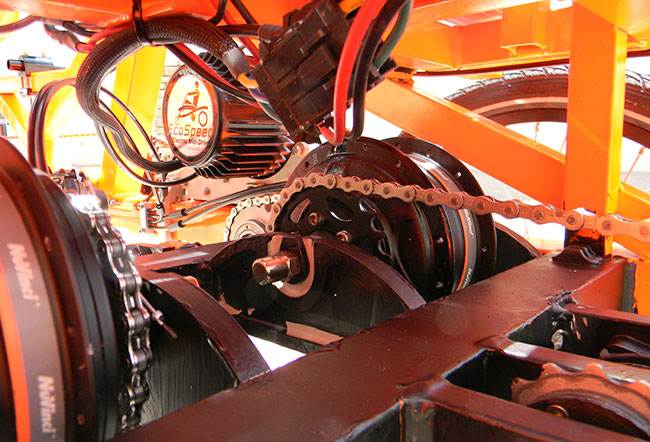 ---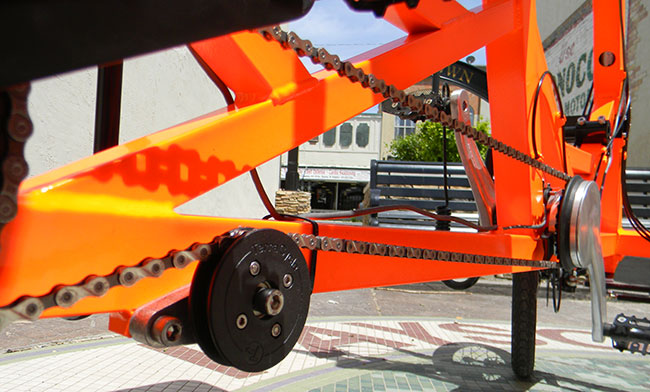 ---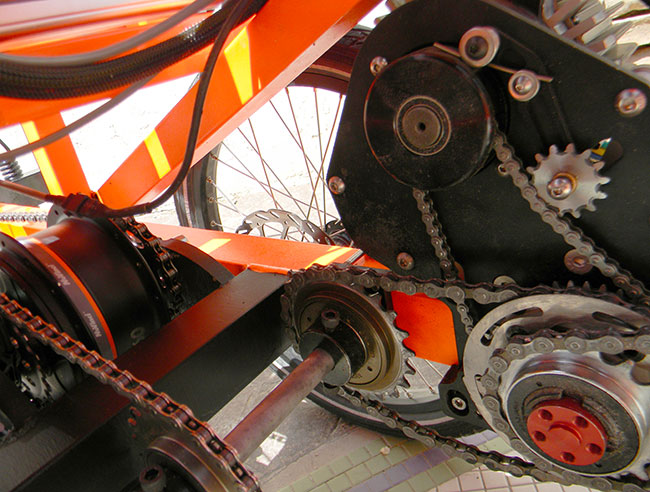 ---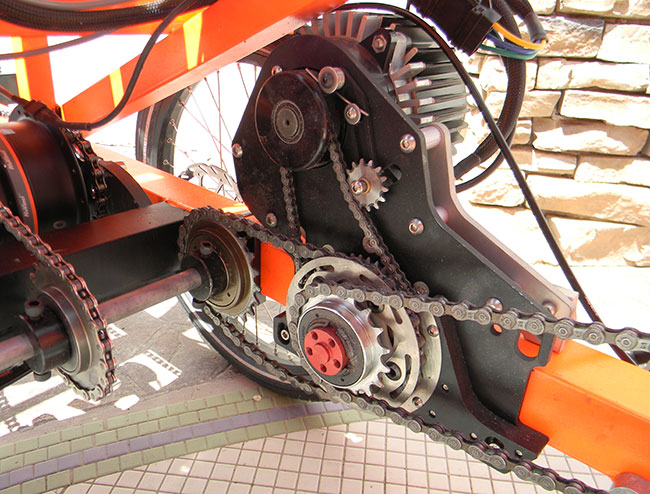 ---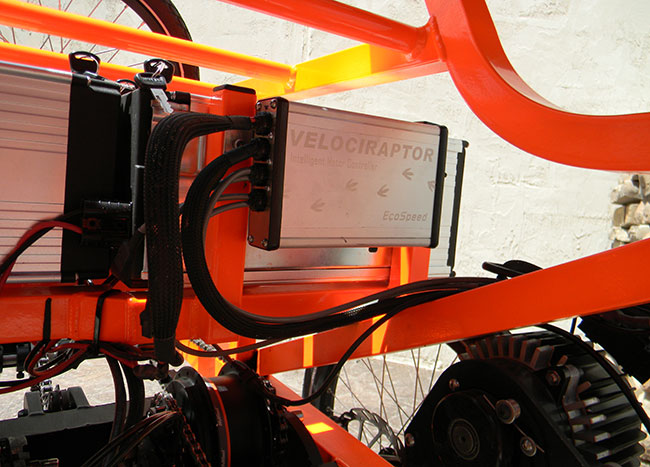 This machine is equipped with dual Velociraptor speed controllers. They are synced together with the throttle to provide matched power to both EcoSpeed motors simultaneously.
---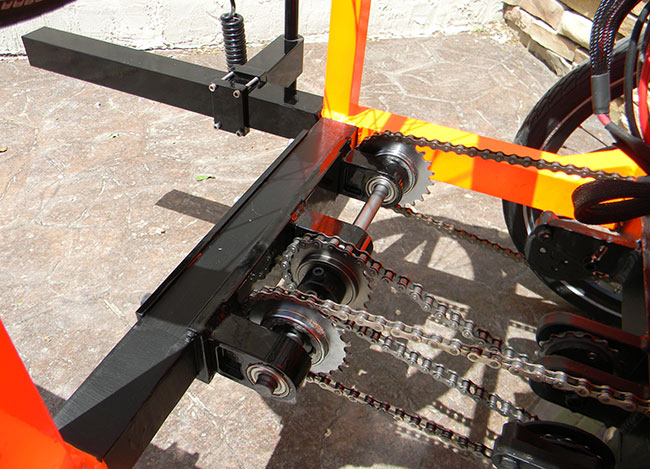 ---