This highly customized Cat-4 Quad is ready for the sand. It features big tires, an EcoSpeed electric motor system, Schlumpf HSD/Nuvinci Gearing, and lots of bling. We started out with the Catrike Expedition because it gave us the steering geometry and wheelbase we wanted. Since the Expedition is already designed for 26in rear wheels we were able to use the bigger front tires to keep the frame more or less at its normal riding level.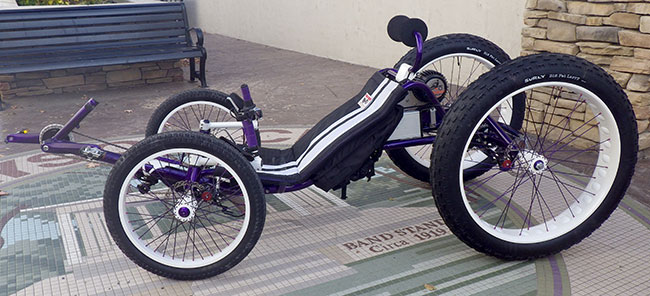 Odyssey 2.4 front tires in the front Big Fat Larrys in the back make this dune crawler formidable. Because of the low weight of the machine we are running all the tires at minimum pressures.
---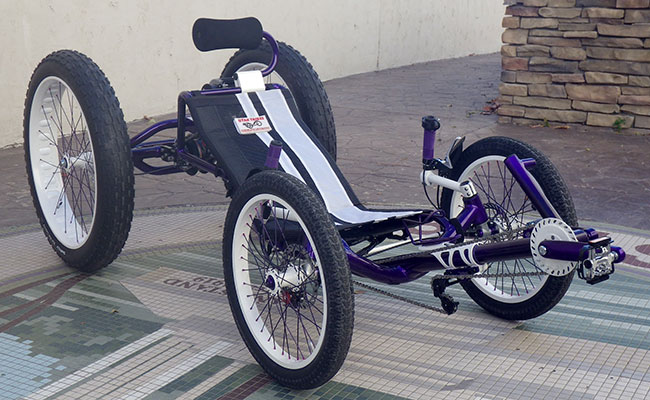 The Expedition Cat-4 already has a good ground clearance and the larger tires raise it by about two inches.
---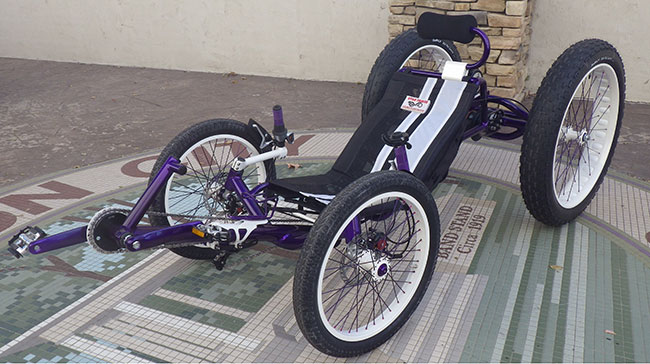 This custom "Woof Driver" has a wide gear range with the Schlumpf High Speed Drive and the Nuvinci N360 transmissions. At its heart, just behind the seat, is our customized EcoSpeed 1000W electric middrive system.
---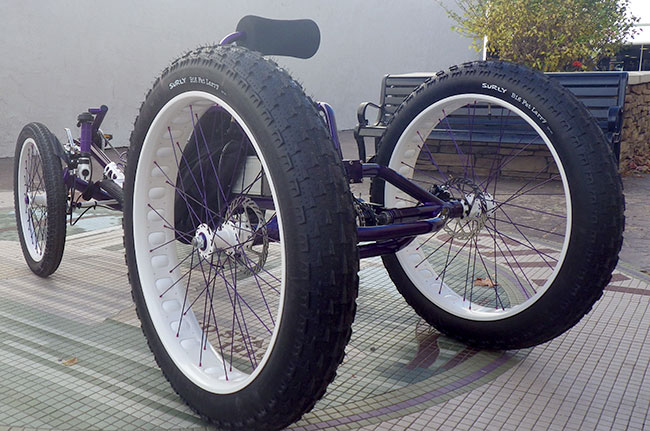 So big, the tires barely fit in the pictures!
---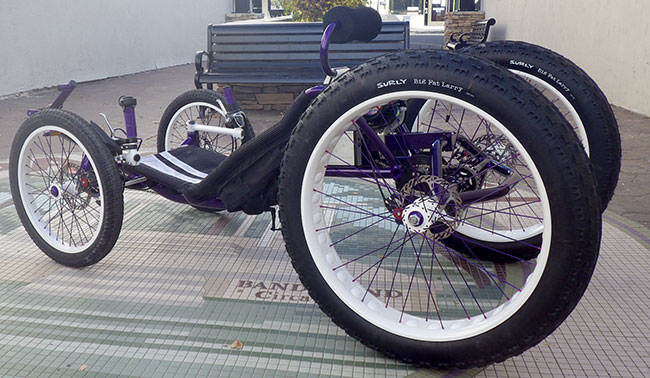 Despite their large size, the Clown Shoe rims are fairly lightweight. You can see the cutouts between the spokes where the rim tape bulges through.
---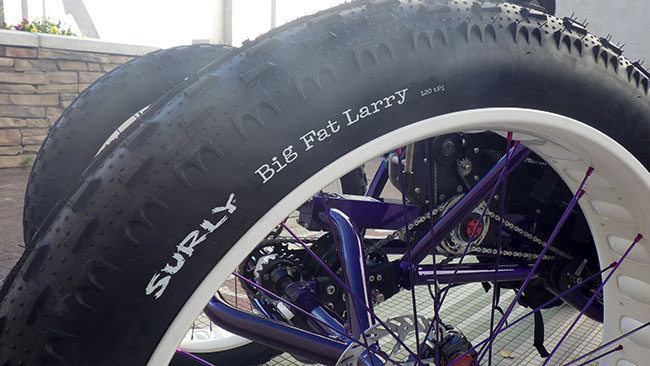 We inflate these tires with only 10psi. Awesome ride and great traction.
---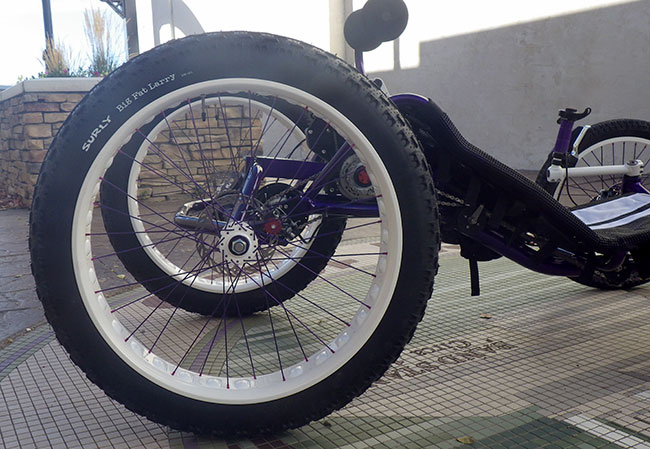 The Clown Shoe rims and hub were painted Pearl White, while the spokes are Candy Purple. The nipples are anodized purple.
---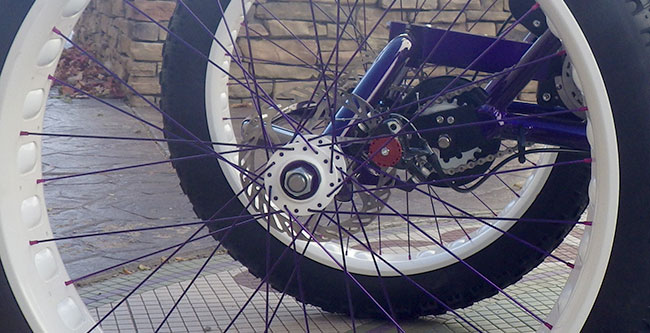 ---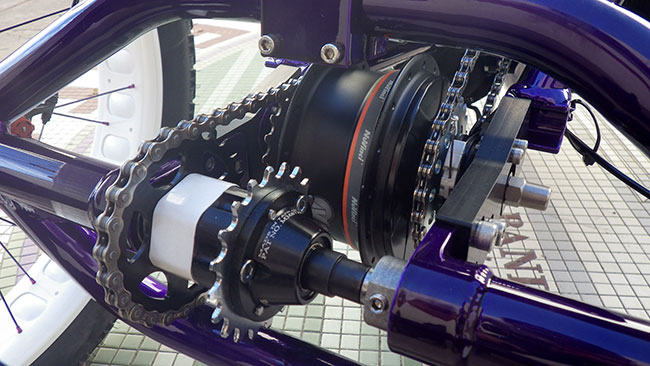 Our Cat-4 rear end features a custom Samagaga ETG positraction differential. Pedals and motor are fed into the Nuvinci N360 middrive transmission.
---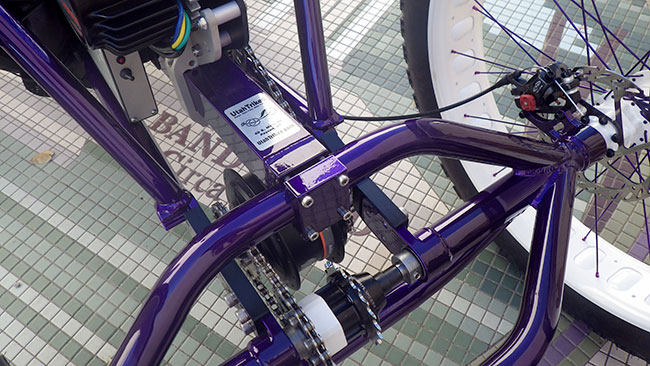 We added additional top bracing which doubles as the motor mount.
---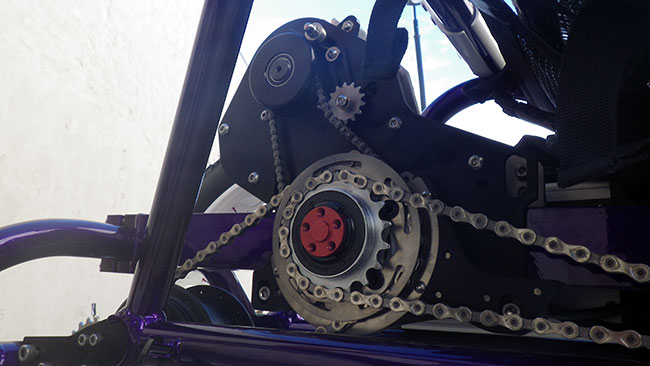 The EcoSpeed electric middrive freewheeling mechanism allows the motor to operate independantly from the pedals.
---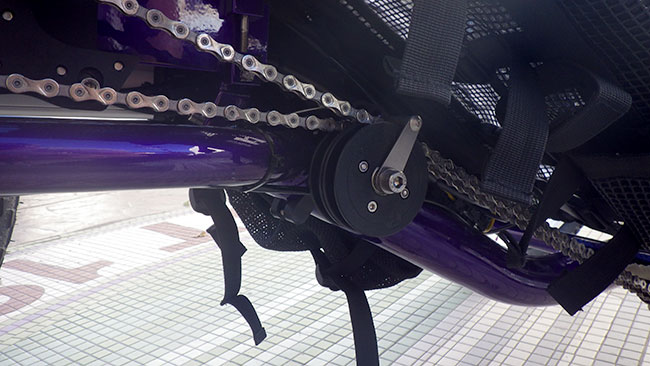 Some TerraCycle Sport idlers route the chain along the frame.
---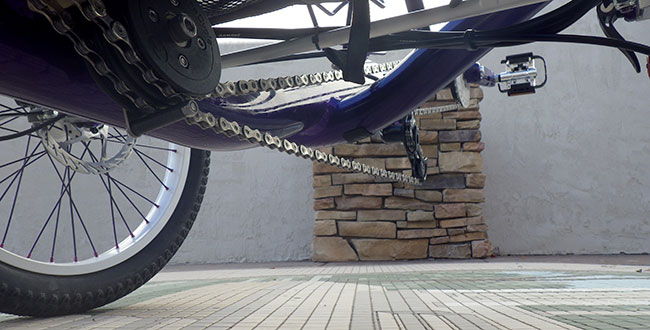 ---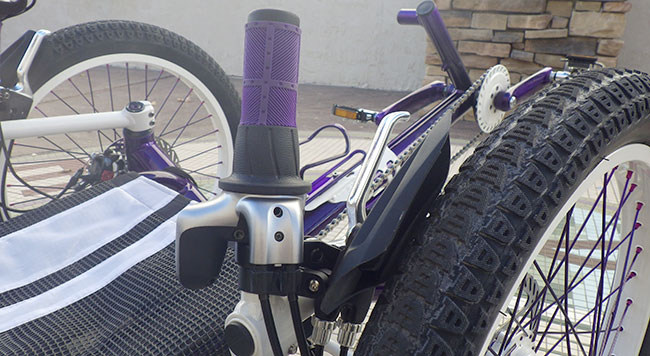 We had to get grips from four different suppliers to find the perfect shade to match the paint.
---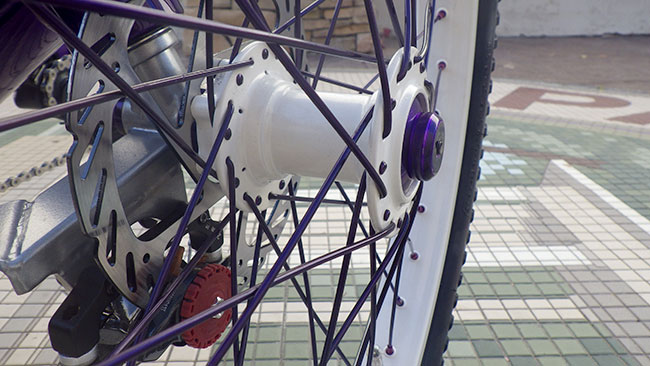 The front wheels use an oversized rim and custom Velocity hubs powder coated Pearl White with Candy Purple spokes and axle trim.
---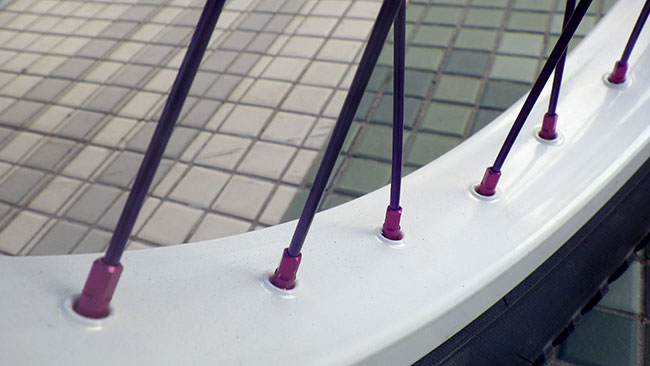 ---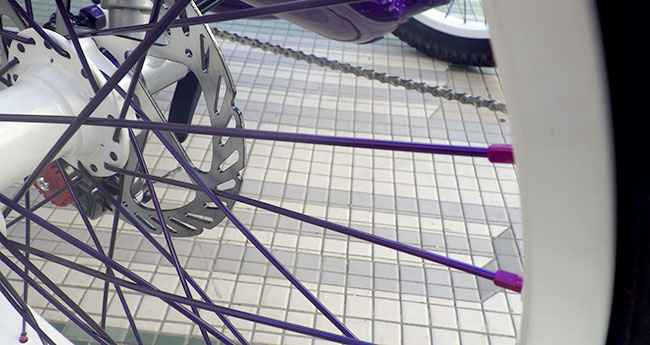 ---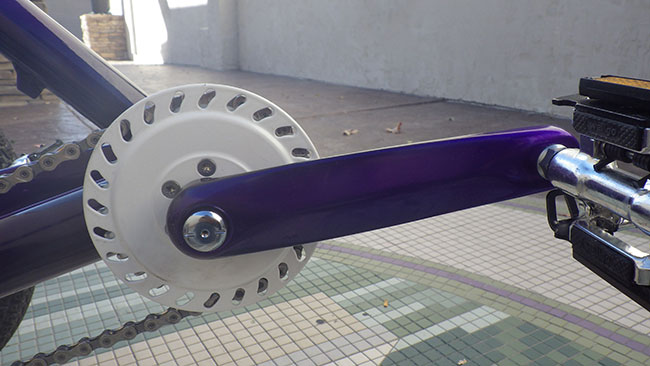 Even the Schlumpf High Speed Drive got some color treatment.
---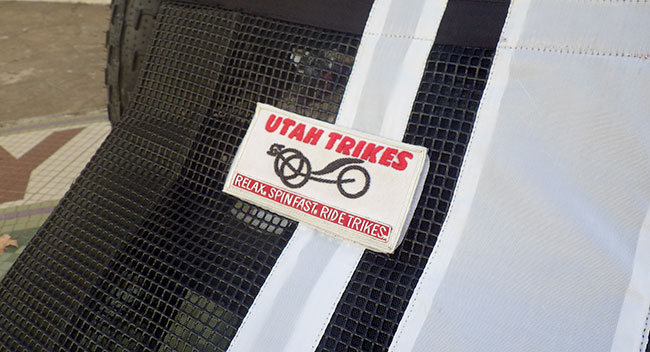 Custom racing seat mesh with personalized patch.
---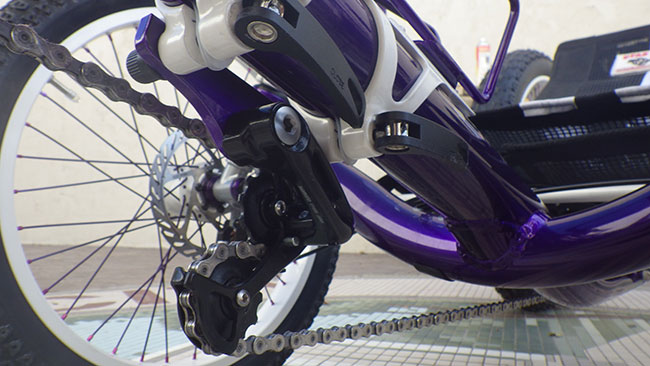 A custom tensioner allows nearly 6 inches of boom adjustment.
---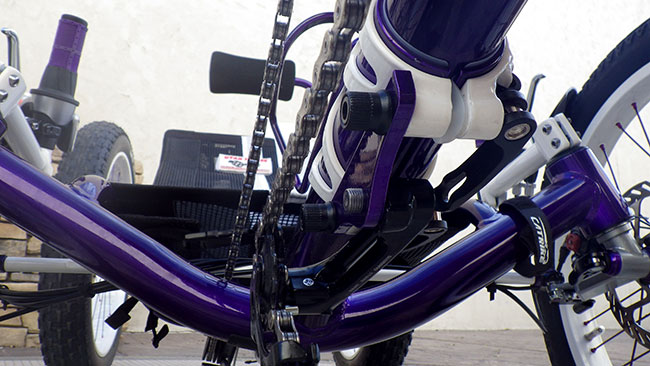 ---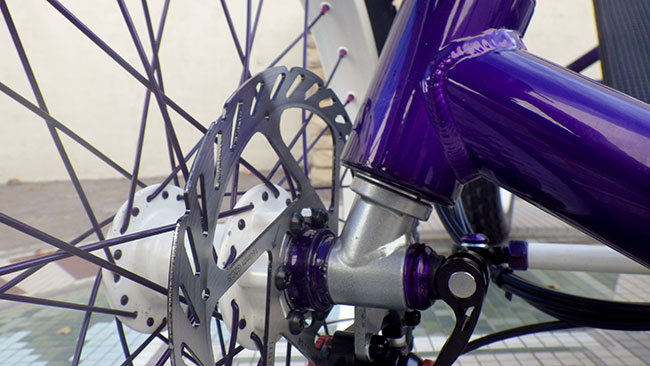 Like all Catrikes, this Cat-4 has quick-release front axles.
---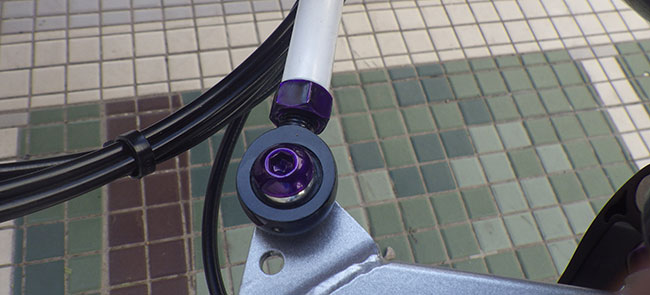 Even the tierod bolts and nuts got candied.
---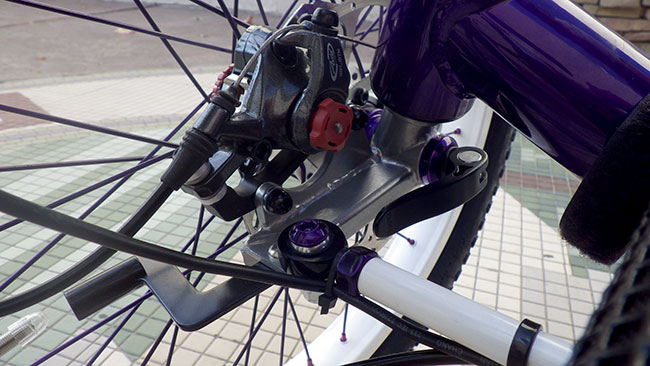 All four wheels have Avid BB7 disc brakes.
---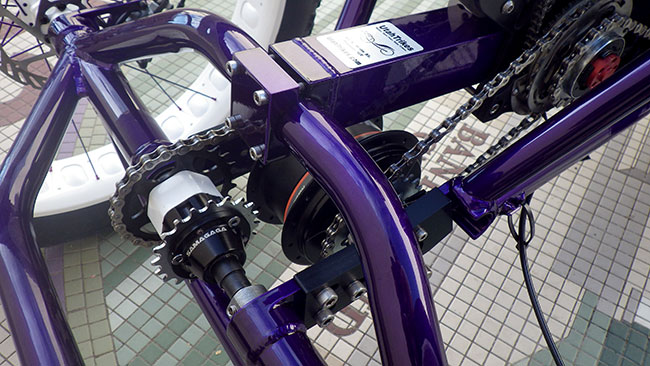 ---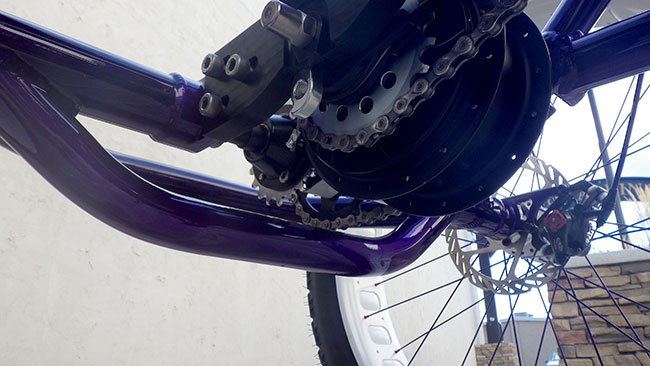 ---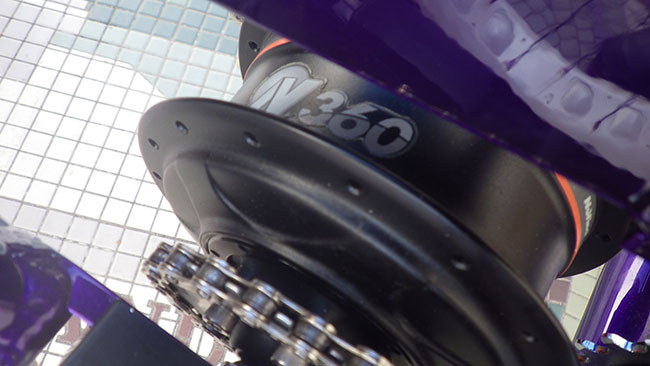 ---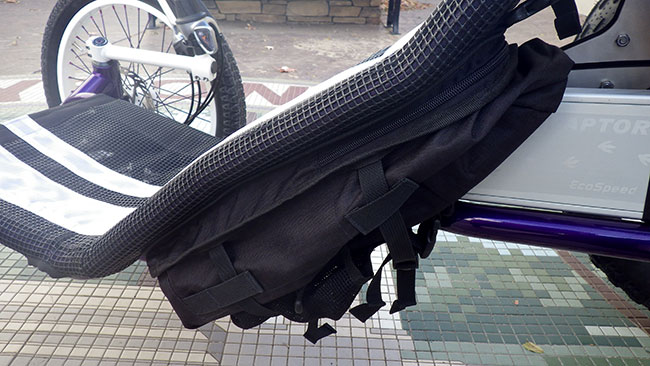 Our new racing seat features a large cargo pouch with insulated bladder compartment.
---
The Velociraptor controller.
---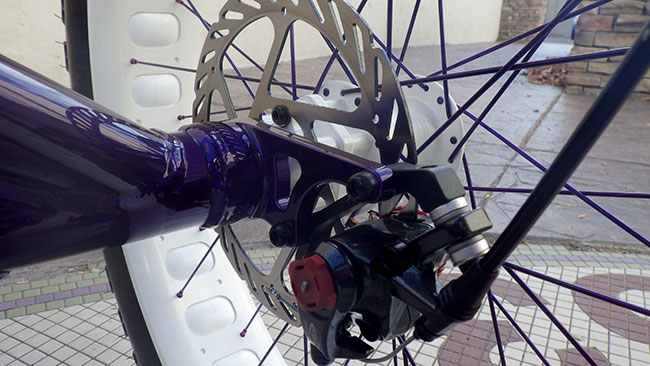 Rear Avid BB7 disc brakes.
---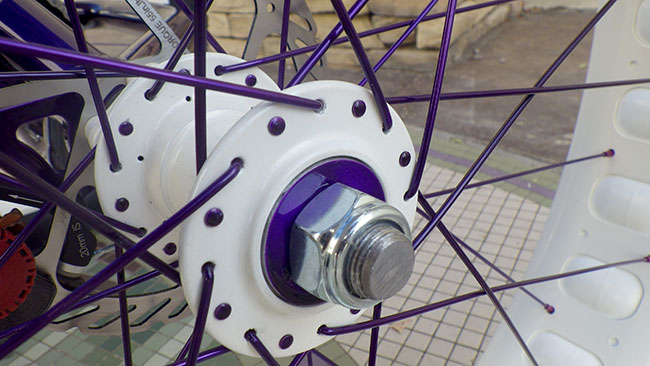 The rear wheels are secured with a substancial locknut and can be easily removed if needed.
---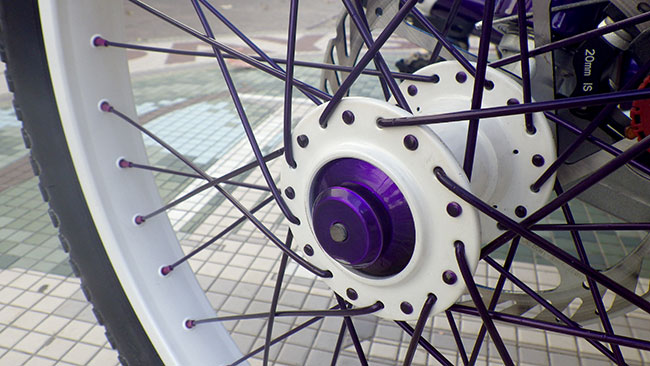 ---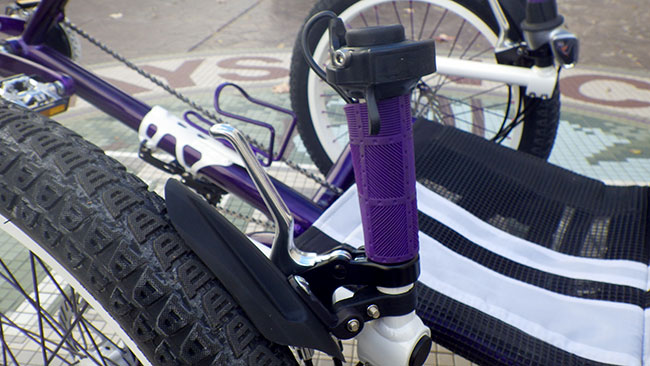 Custom hand guards keep fingers from getting buzzed by the oversized tires. The left grip has the throttle control on the top.
---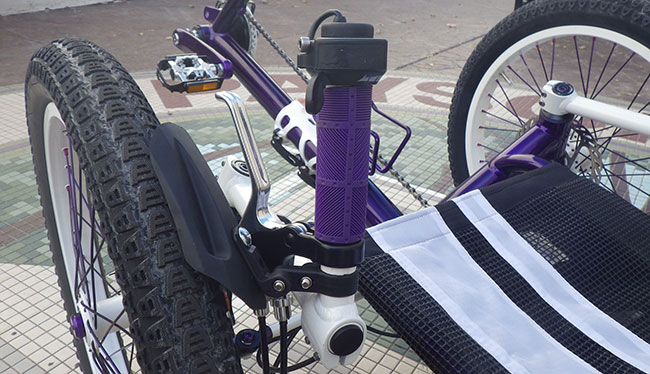 ---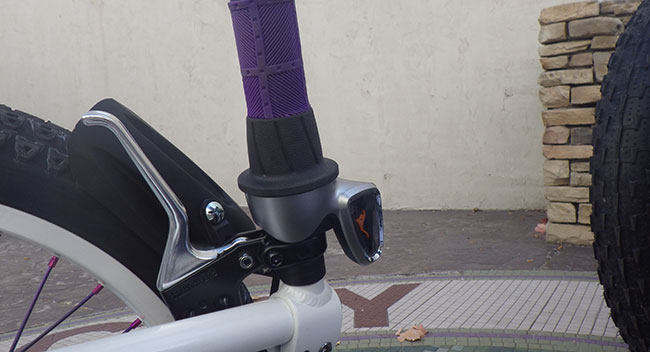 The right grip has the Nuvinci twist controller.
---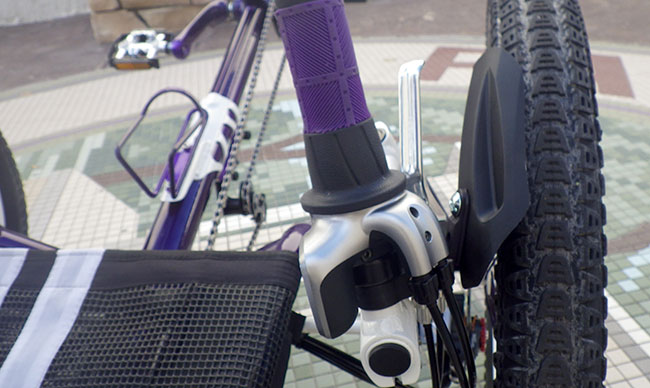 ---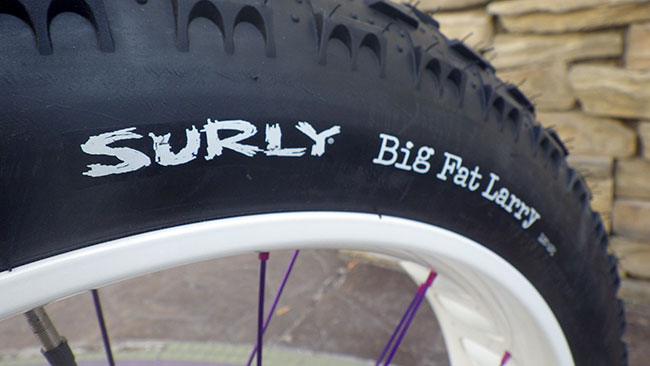 ---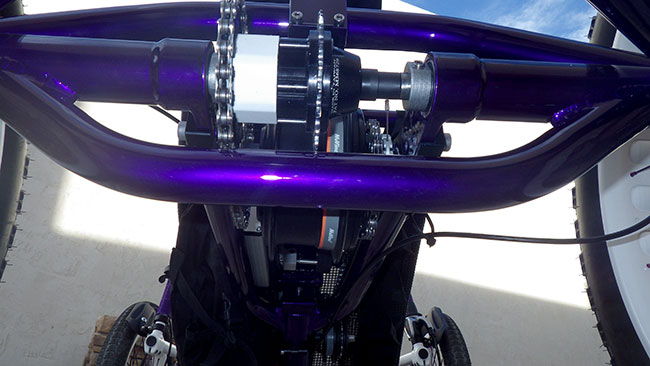 Bottom view.
---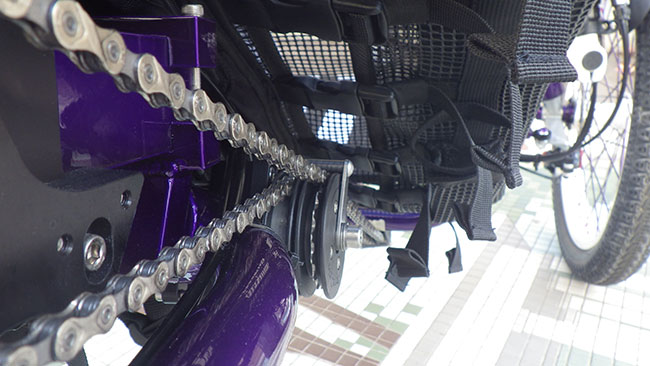 ---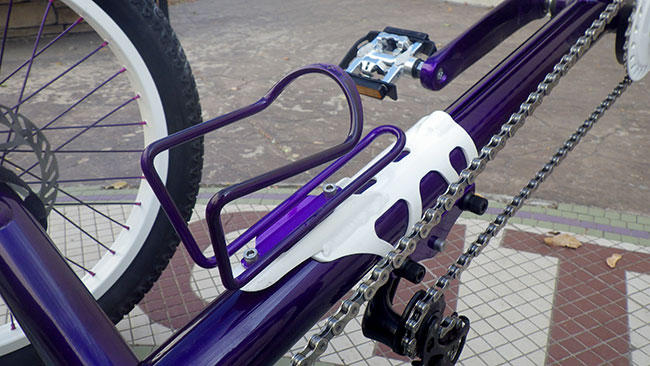 Bottle cage was painted to match.
---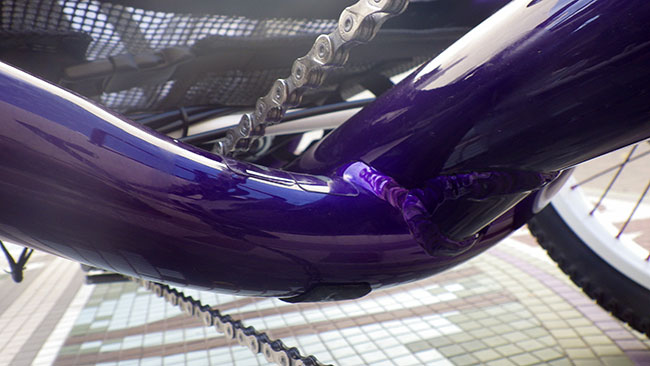 ---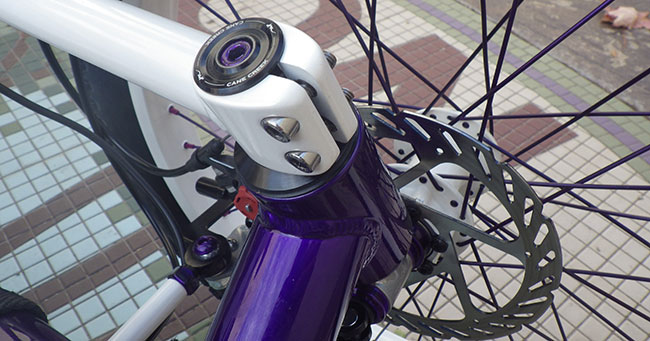 Handlebars were painted Pearl White.
---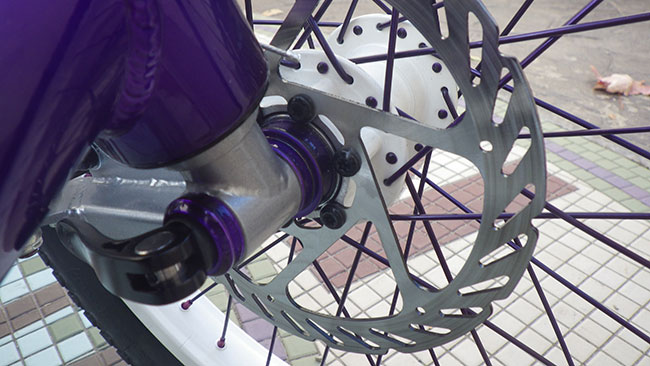 ---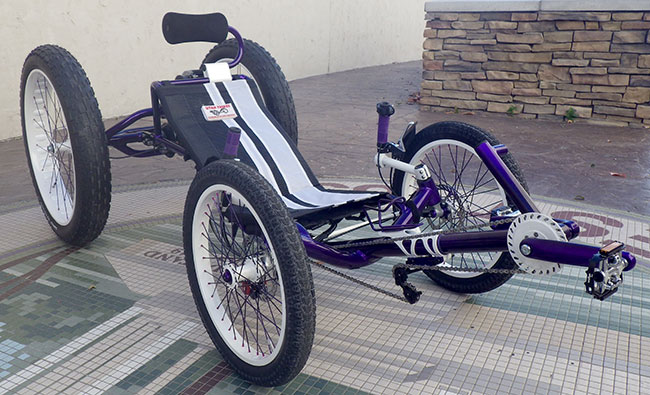 ---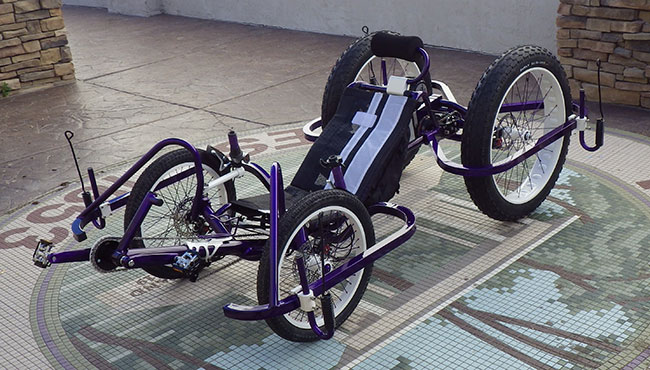 This quad was purpose-built for the guys over at WoofDriver.com and here you can see it with the custom dog running attachments and springers.
---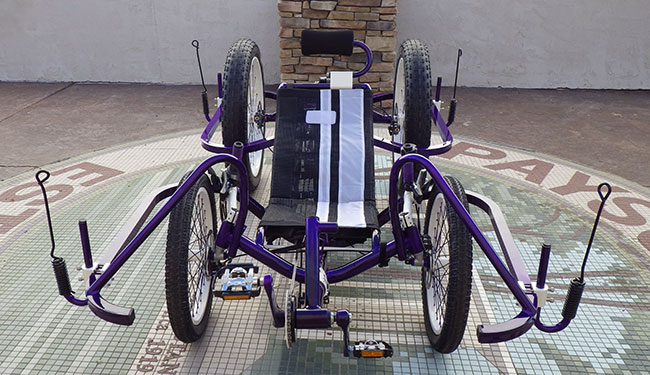 ---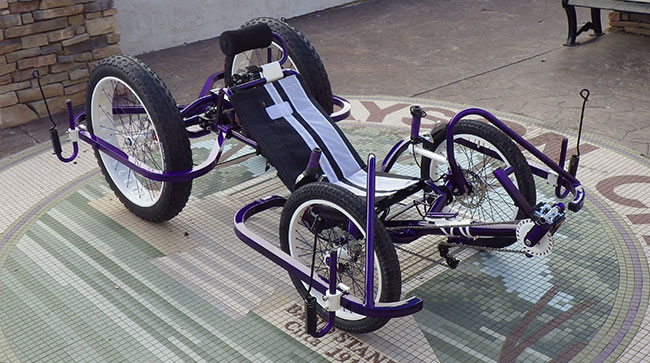 ---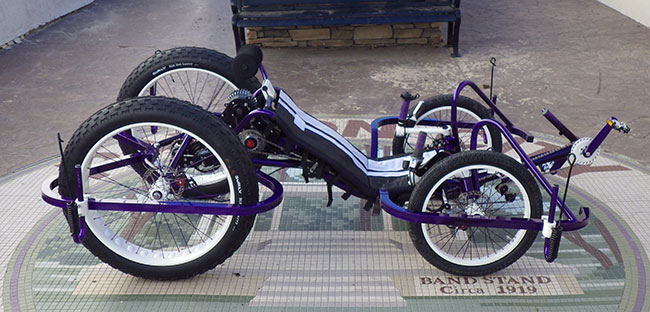 ---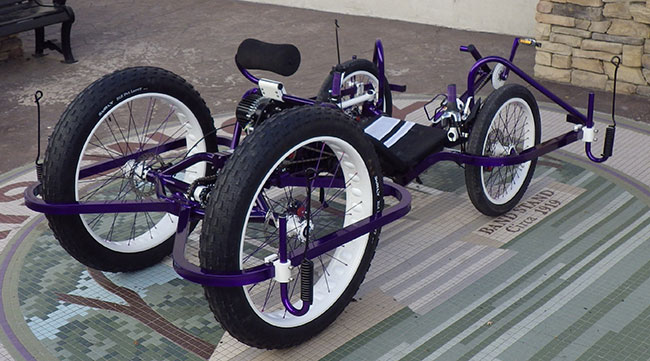 ---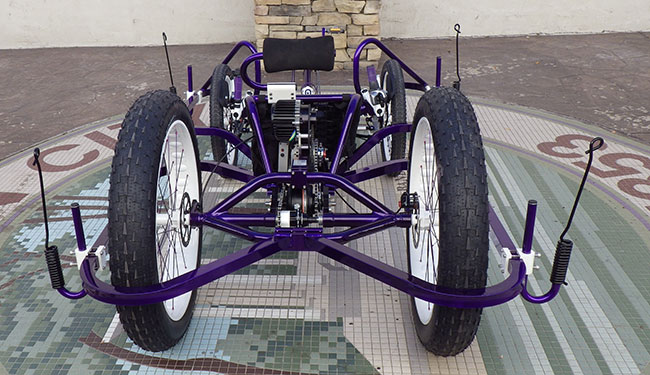 ---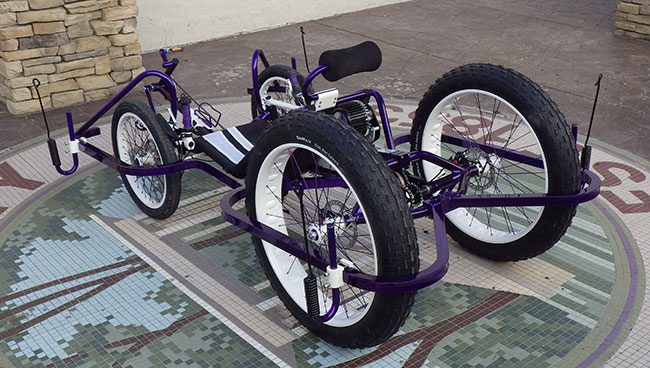 ---
---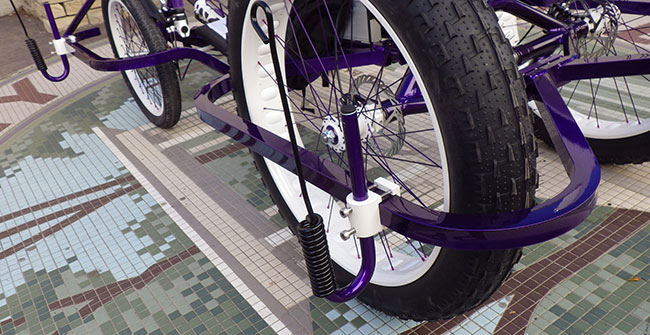 ---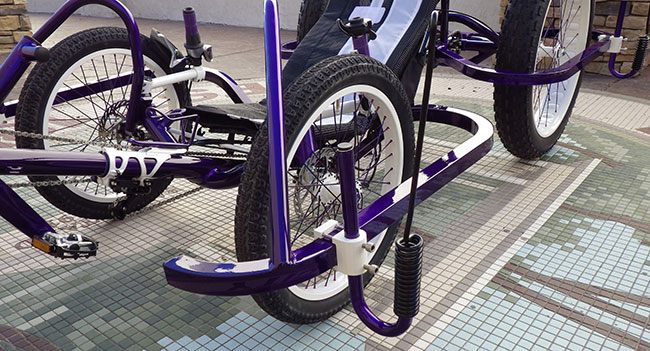 ---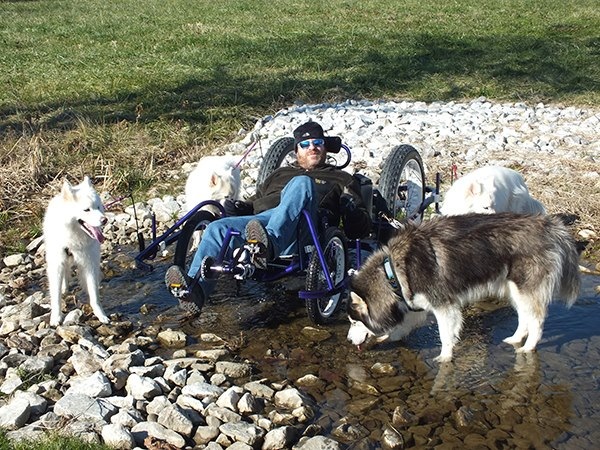 ---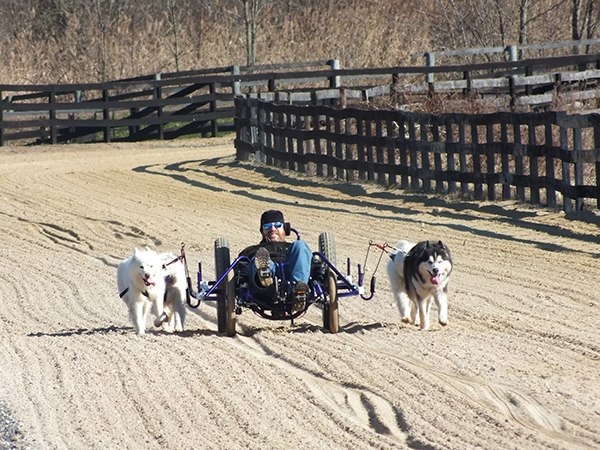 ---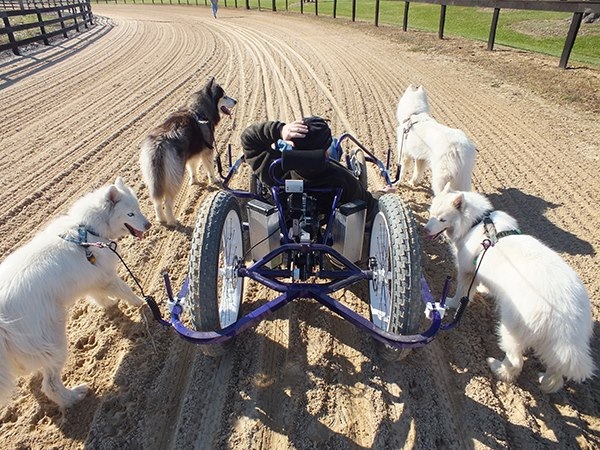 ---