Making a race machine means keeping it lightweight and efficient. And, of course it has to look spectacular. Starting with the already fast Catrike 700 we spec'd it out with the best road components out there and made some other mods to get a final ready-to-ride weight of 29lbs10oz.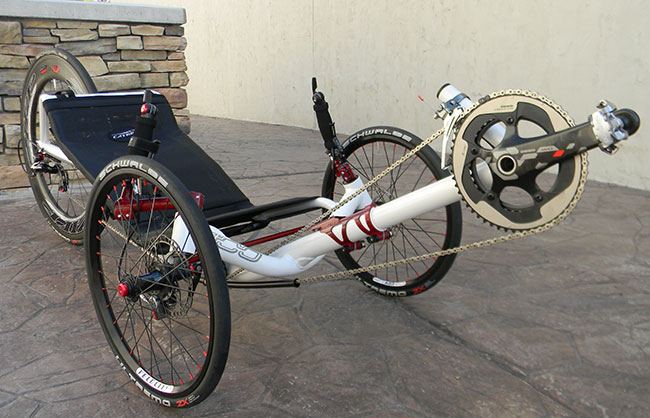 Starting with the paint we used Prismatic Pearl White for the frame and boom and Tiger's Candy Red for the bits and pieces.
---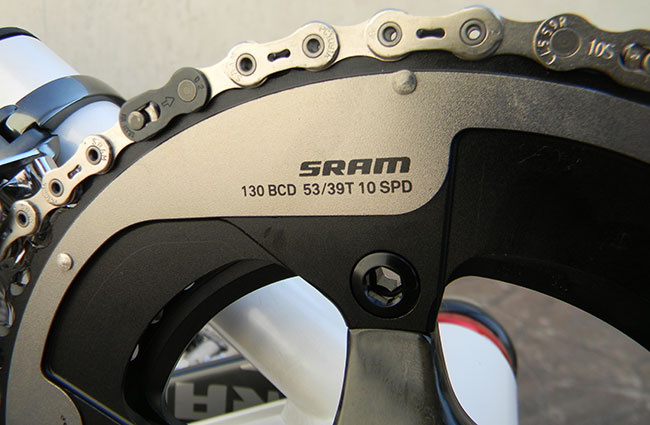 For chain we used the SRAM 1091R hollow pin chain. This is the lightest 10-speed chain available and perfectly matched for the SRAM Red componentry.
---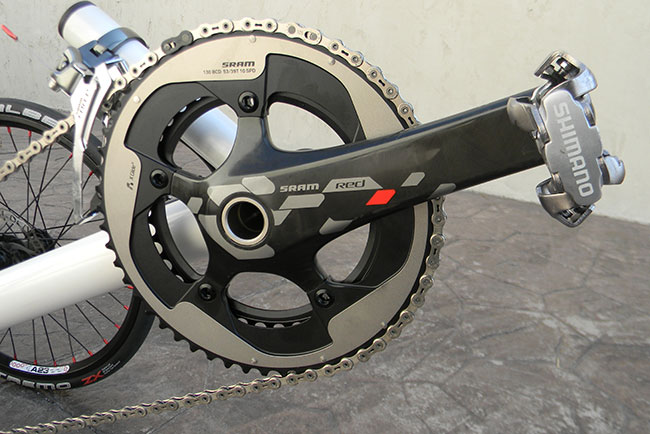 We chose a SRAM Red 53/39 double crankset to give us the desired gear range. This crankset is incredibly lightweight. It is paired with the SRAM Force road derailleur.
---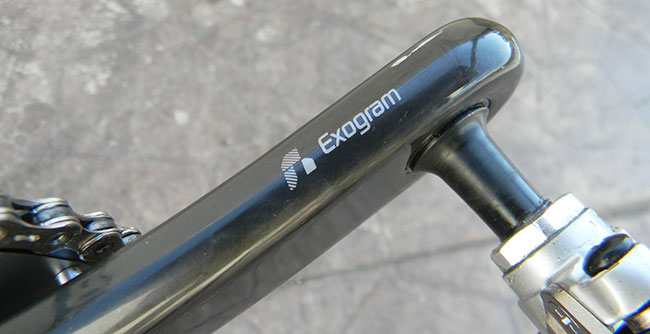 The Red crankset features carbon fiber Exogram crank arms.
---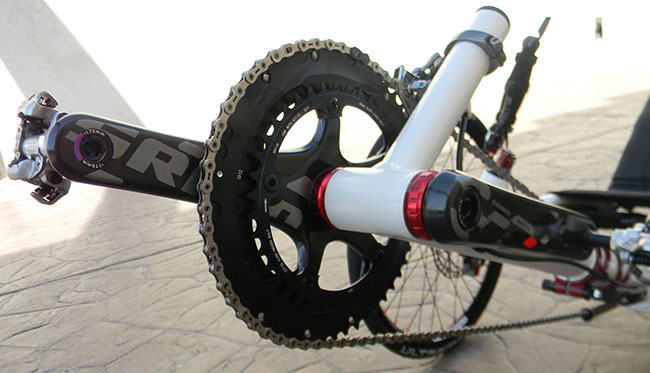 The anodized red bottom bracket has ceramic bearings.
---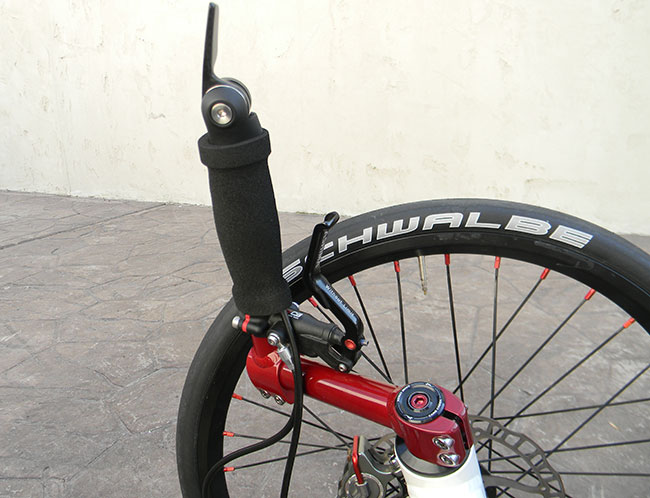 We trimmed 3 inches of the lower handlebar and coated them candy red.
---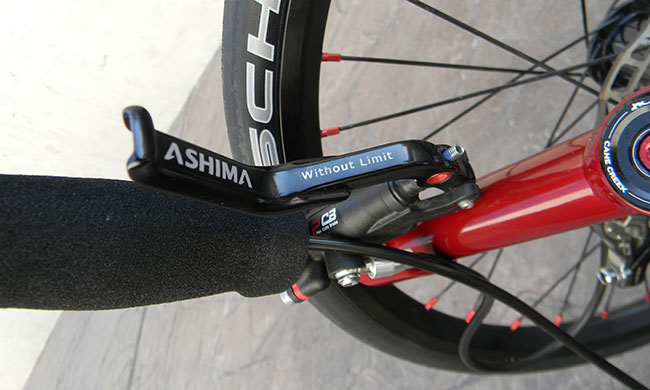 The brakes are Ashima hydraulic pancake brakes.
---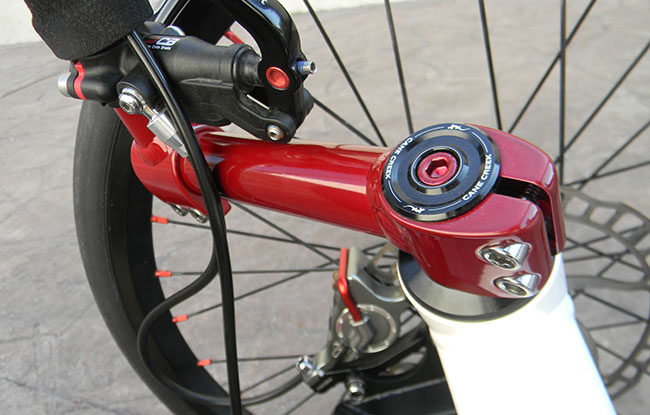 ---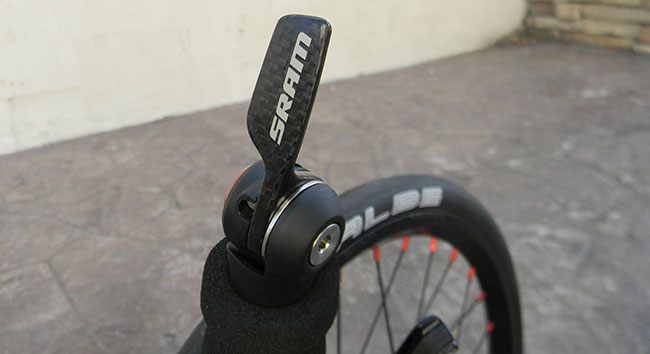 The SRAM TT900 carbon fiber shifters are ultra precise and lightweight.
---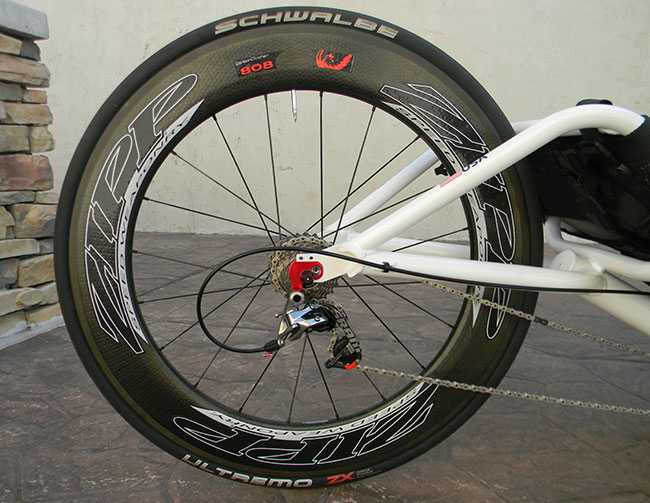 The rear wheel is a ZIPP 808 carbon fiber wheel with bladed spokes and a PowerTap G3C hub. The rubber is a Schwalbe Ultremo ZX.
---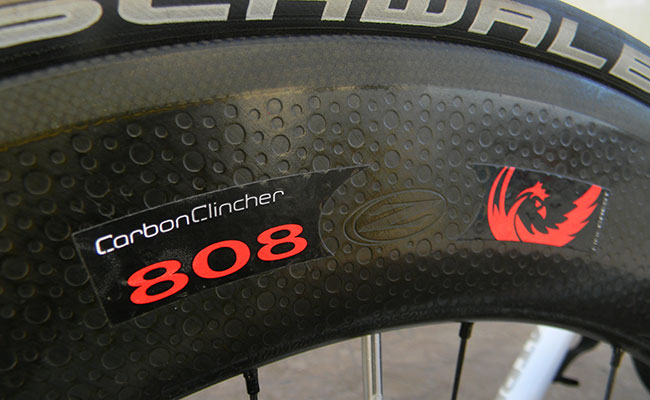 ---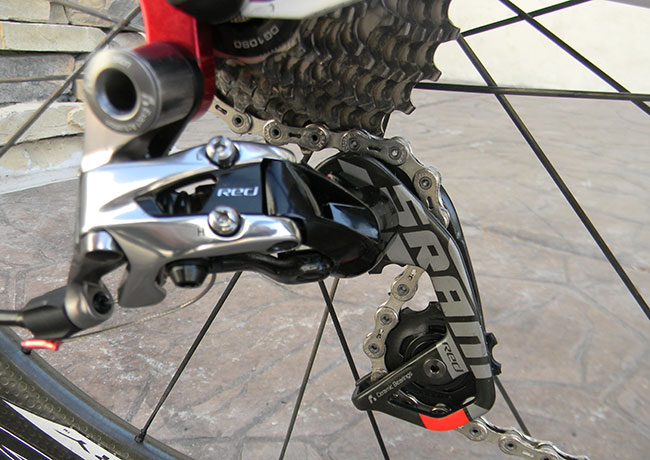 The rear derailleur is the SRAM Red road derailleur. This is consistently rated as the best cable-actuated derailleur available. Ultra precise, super lightweight and nearly silent.
---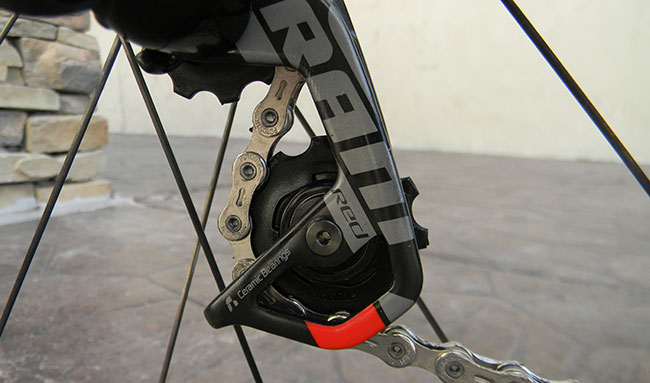 Even the jockey wheels have ceramic bearings.
---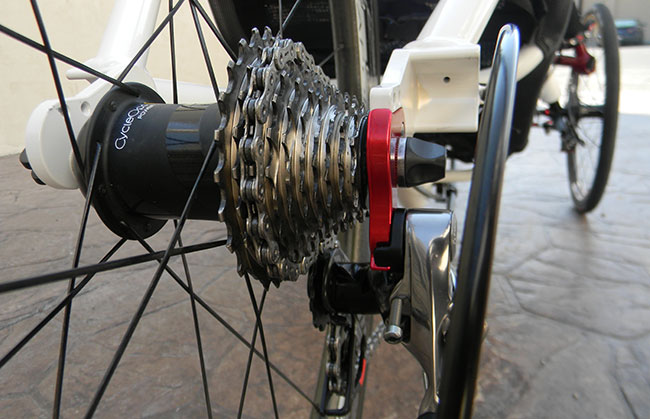 Made for speed, the SRAM OG1090 11-25 close ratio cassette. The cassette body is milled out of a solid piece and then hardened. Perfectly paired with the Red derailleur shifting is incredible.
---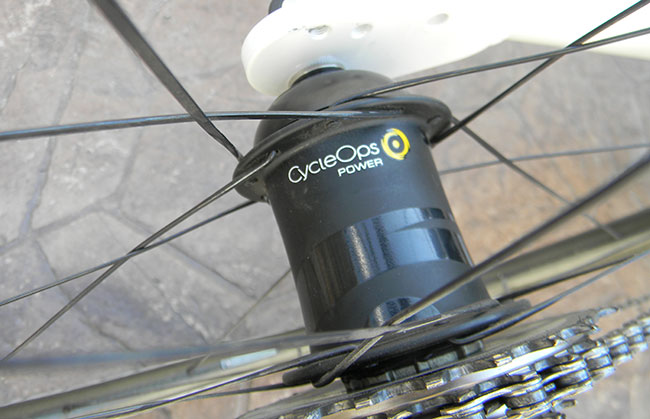 The CycleOps PowerTap hub gives realtime wattage outputs. Perfect for training and racing.
---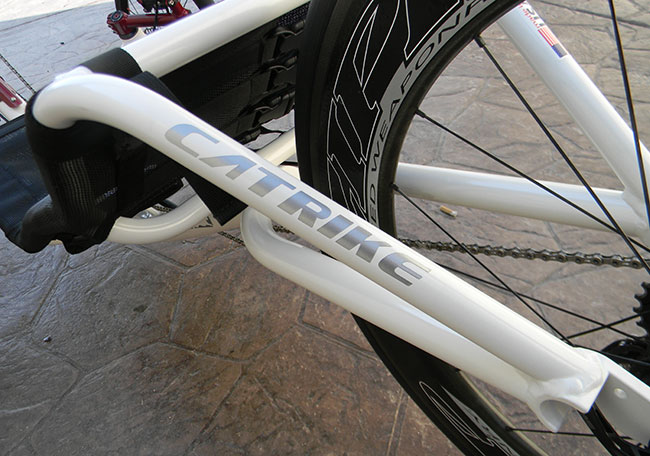 ---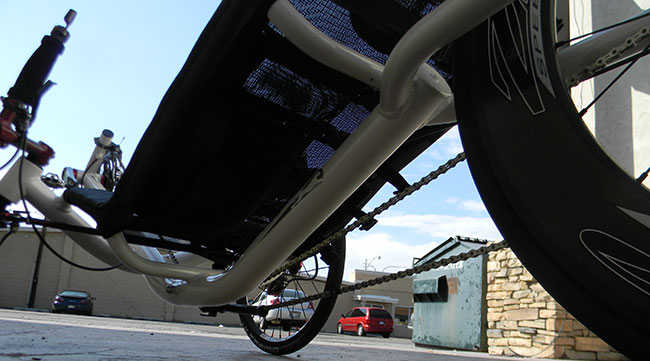 ---

---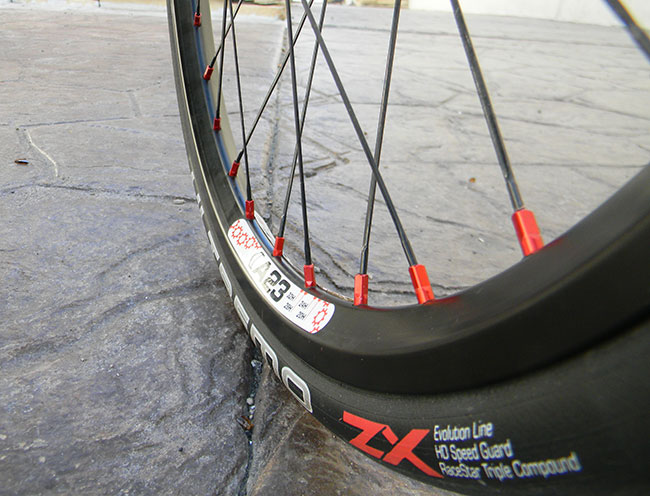 The front wheels are custom 20-inch Velocity A23 with bladed spokes and ceramic bearings. These wheels are significantly lighter than the stock 16-inch wheels and allow us to use the Ultremo ZX tires on the front.
---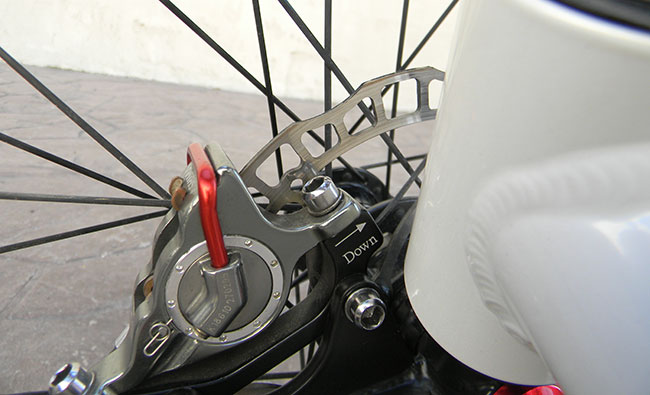 The Ashima calipers and rotors.
---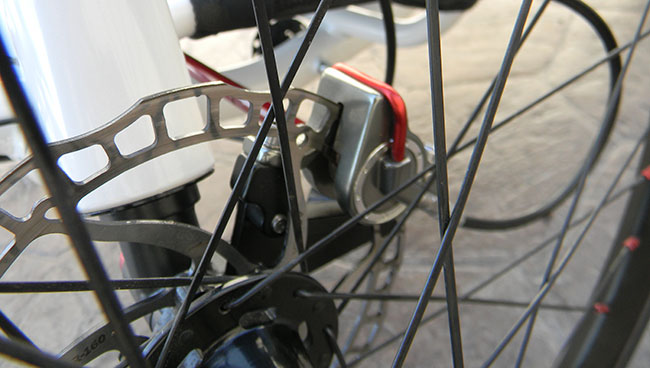 ---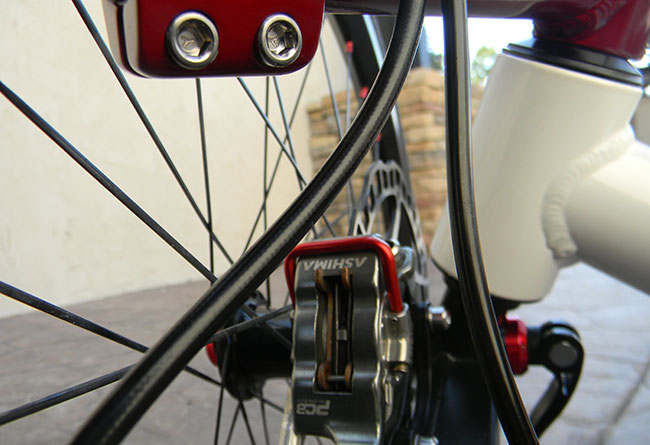 ---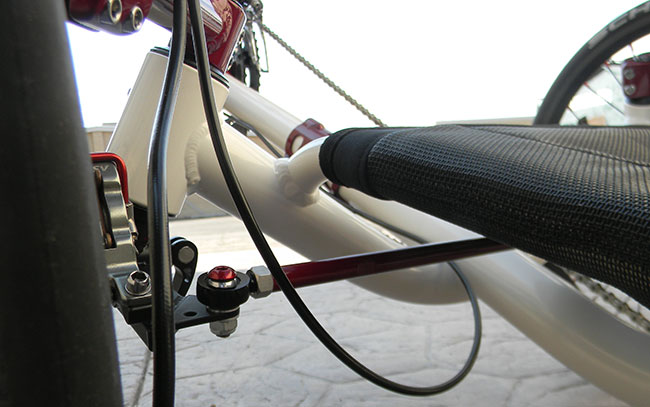 The tierod and bolt were coated candy red.
---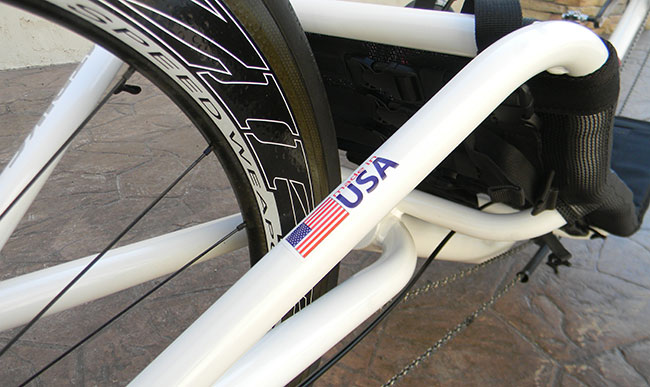 Catrike. Made in the USA.
---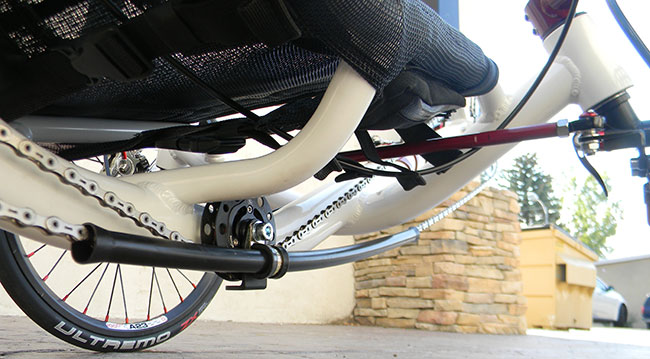 The chainline was made more efficient by eliminating the upper chain tube and replacing the stock idler with the TerraCycle Elite Titanium idler with ceramic bearings.
---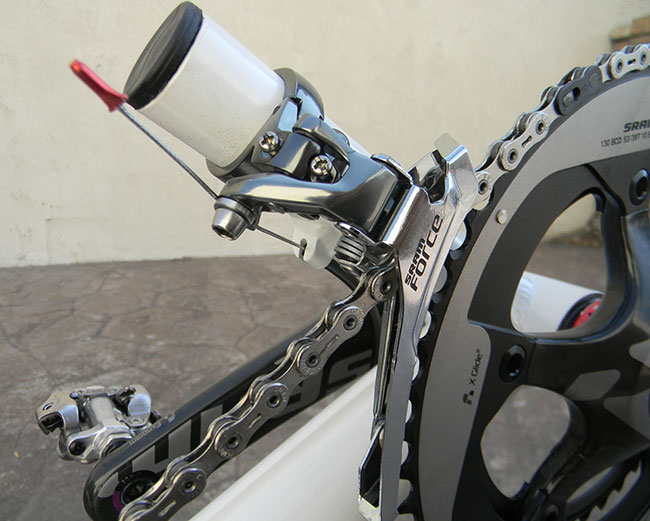 The top of the derailleur post was cut off to eliminate some weight.
---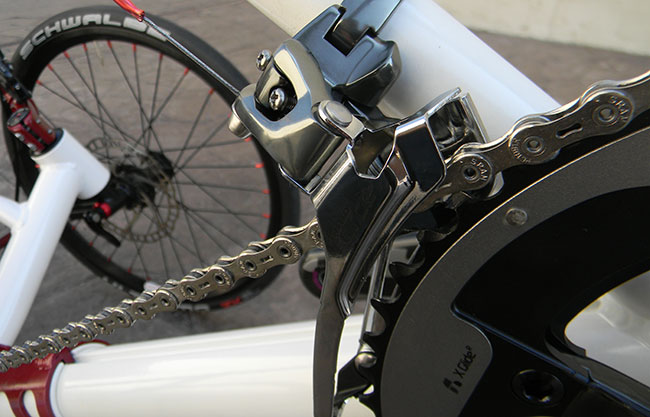 The SRAM Force derailleur was used in the front because there is no compatible Red derailleur that will work with the Catrike derailleur post. The shifting is so perfect that it matches the precision of the rear derailleur.
---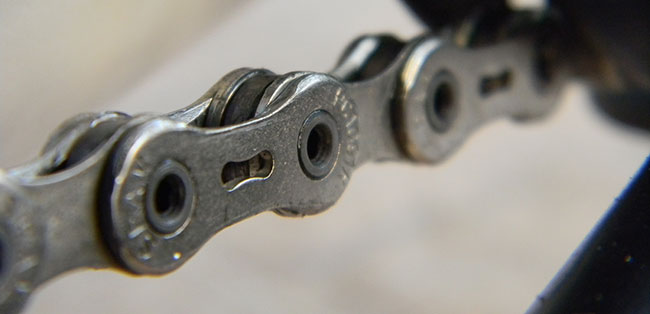 The 1091R chain has hollow rivets to save weight, but then they go a step further and take material out of each link to save even more weight. It is expensive but super light.
---