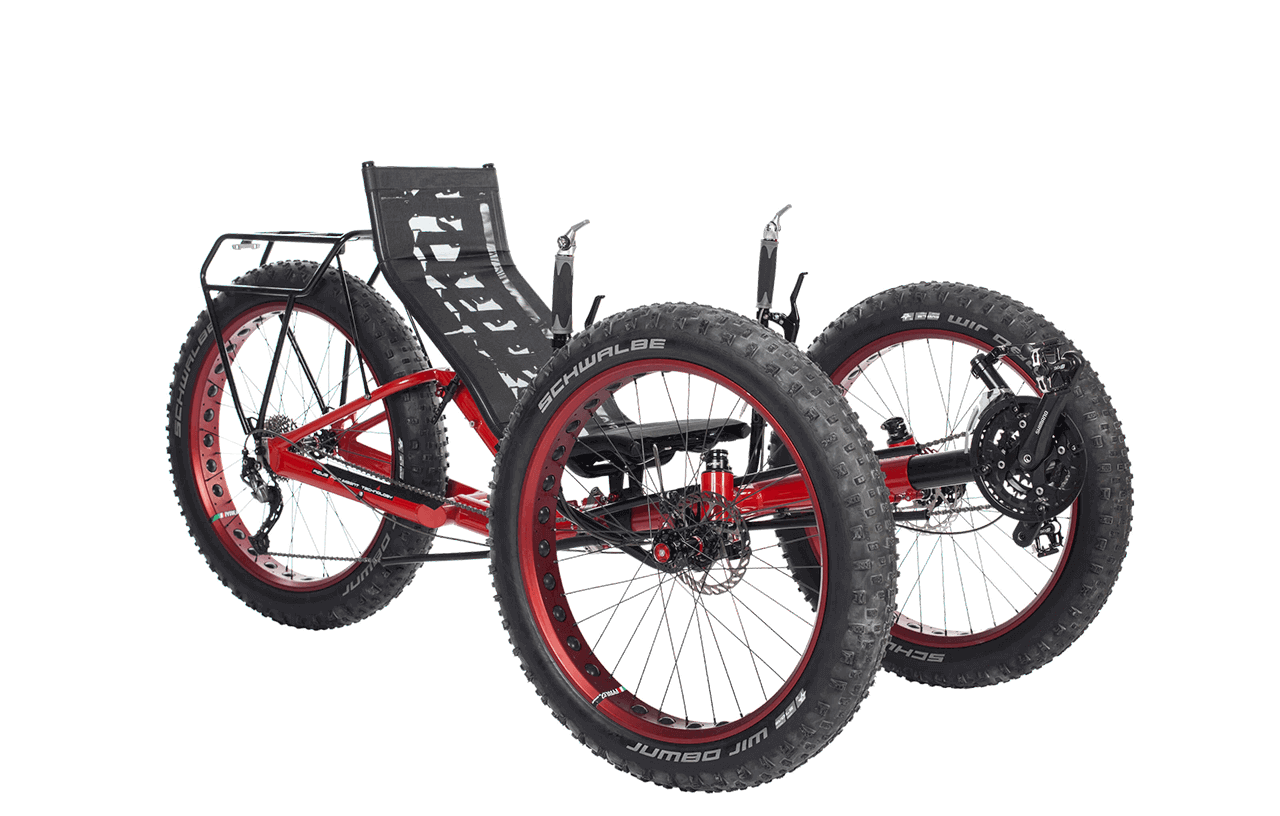 Starting at $5709
Availability: Call for Availability
The Azub fatty is a bike that is simply irresistible at first sight. It looks so huge, as if it did not even belong to the cycling world and yet riding it is a fast and smooth experience.
Places others cannot reach
Our fatty is a bike that is simply irresistible at first sight. It looks so huge, as if it did not even belong to the cycling world and yet it makes you feel that riding it will be a fast and smooth experience. And when you actually sit on it, your feelings grow into complete euphoria. The fully adjustable ergonomic seat feels like a throne fit for a king. The view is absolutely thrilling – two massive wheels on the sides and the road in front of you. "I wonder how many potholes there might be, or what terrain will this beauty cope with" you will immediately start thinking. Well, think definitely big – it will cope with much more challenging terrain than any other tricycle could.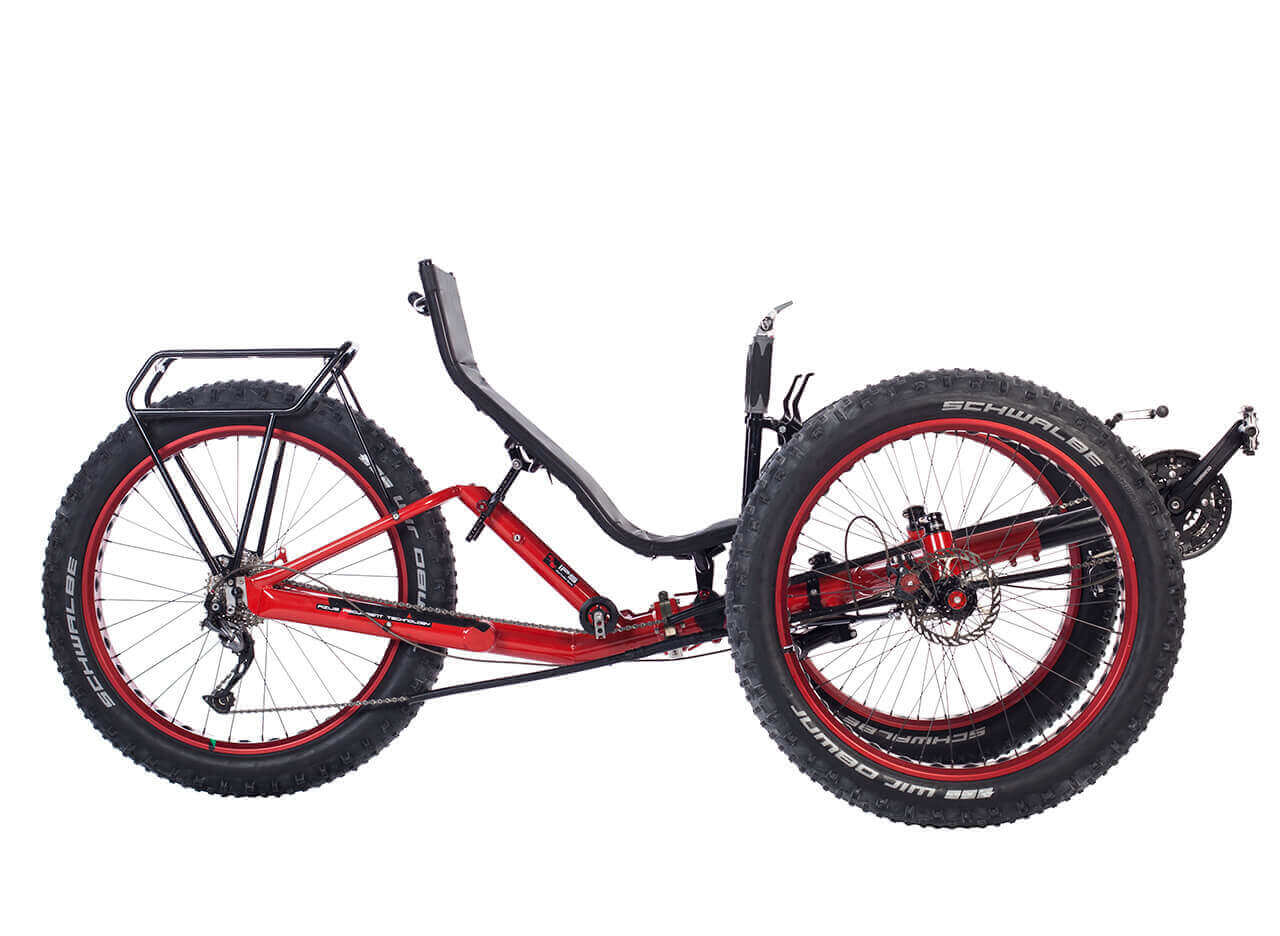 Gravel, beaches, snow!
The massive tires provide both suspension and sufficient grip. If the conditions look that they might be getting worse, we recommend underinflating them. AZUB FAT is at home on crushed stone roads, woodland paths, on beaches or in snowfall. You won't ride through large snow drifts, though it will definitely make riding in extreme conditions much easier.
Finely tuned
To make sure this trike would be perfect for you, we have worked hard on the components as well. The basic equipment includes red anodized rims with two rows of holes made in Italy, excellent hubs with industrial bearings and four inch Schwalbe Jumbo Jim tires. However, you can also go for such delicacies as the FAT version of the popular 14-speed Rohloff gearbox or the 18-speed Pinion P1.18, which provide the much needed very "slow" gears, so suitable for the FAT trikes. With these gears you will be able to manage even some very steep climbs. The whole range is then supplemented by many accessories, such as the ultra-durable rack by the famous German brand Tubus, built specifically for bikes of the FAT type.
Compact when riding as well as in transport
One of the reasons cyclists like our FAT so much is its overall compact dimensions. The very short rear fork increases the load on the rear wheel, which is crucial for effective exerting of power on rough surfaces. Nevertheless, the compact dimensions also contribute to the fact that after folding the FAT takes up relatively little space. In combination with the painless F2F (Fold to Flat) folding system, easily removable wheels and seat that is also removed for transport, you get several relatively small "packages" that can be carried in the trunk of your car.
Smooth adjustment of the seat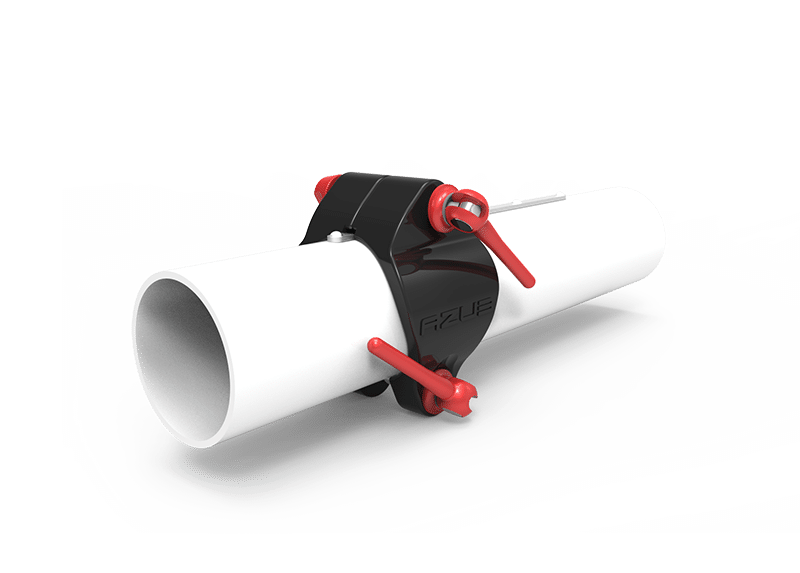 Ever since we started back in 2000, we have always thought that a bike should adapt to the rider and not the other way round. That's why we used an adjustable seat for our first bike, in which both the angle and the pedal distance were adjustable. With each further development stage, we introduced a more accurate adjustment, until 2013, when we reached a stage of adjusting without positions. This concept is based on a sliding sleeve, which we produce in a straight version for our tricycles and some bicycles, as well as in a curved version for recumbents.
F2F - Fold To Flat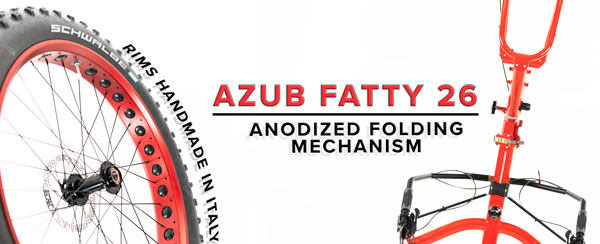 The folding mechanism on our tricycles is positioned in such a way that when you start folding the rear of the frame, the trike slowly "turns" and the rear wheel ends up folded flat. You also remove the seat and, if necessary, also the wheels, so the resulting package is remarkably small.
Detailed Specifications

Frame Material
Aluminum
Trike Weight
55lbs
Total Weight Capacity
275lbs (125kg)
Wheelbase
48in (1220mm)
Wheel Track
31.5in (800mm)
Total Length
78.75-88.5in (2000-2250mm)
Total Width
36.25in (920mm)
Total Assembled Height
31.8-39.4in (810-1000mm)
Ground Clearance
9.65in (245mm) w/4.8 Tires
Bottom Bracket Height
19.75-20.75 (500-530mm)
Steering Pivot Type
Sealed Cartridge Bearings
Seat Height
17-17.75in (430-450mm)
Seat Width
15.5in
Seat Angle
34-52 Degrees
Country of Origin
Czech Republic