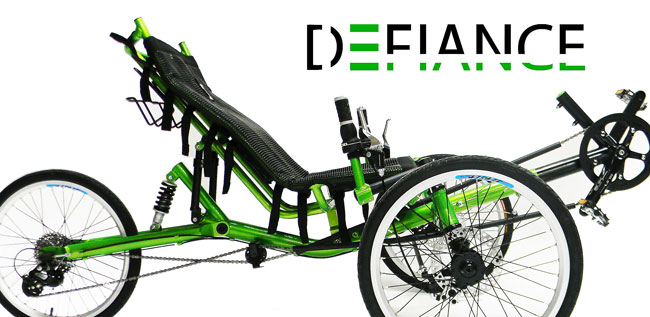 Currently Unavailable
The Revolution Defiance FS is a fast and comfortable adult recumbent trike. It is a full suspension trike at a price that will not drain your bank account. The Defiance features our performance comfort seat and an amazing selection of gearing options. If you want an electric trike, the Defiance FS is a great candidate.
Revolution Defiance FS
For years full-suspension trikes have been a coveted item in the trike market. Comfort on the road is unparalleled, bumps and cracks might as well not even exist, and taking your trike off a curb wonít jolt you into the next century. The downside with full-suspension trikes is that they havenít always been friendly to customersí wallets. Our goal at Utah Trikes was to provide a high-quality, affordable, fully suspended trike that everyone could enjoy. That being said, weíre pleased to offer in our catalog the all-new Revolution Defiance FS.

Full Suspension
If you've never had the chance to ride a full suspension trike, find a way to test drive one. Once you feel the difference in the ride you'll know why we're so excited about the Defiance. The back shock is a powerful Torch DNM, while the front shocks feature a custom spring design that offer maximum comfort. With our all-wheel suspension you'll also increase traction, giving you more control when you're out riding. This fully suspended monster makes curbs, trails, and uneven terrain feel like you're riding on clouds.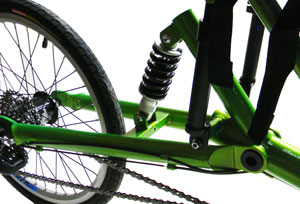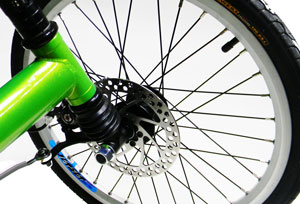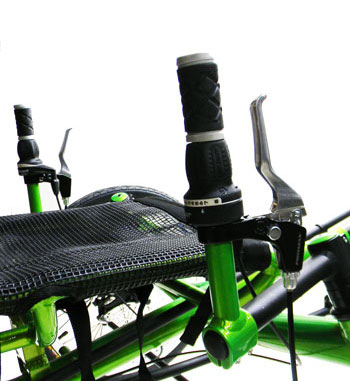 Gearing and Shifting
With a 24-speed drivetrain, three reliable internal gears, and 18-93 gear inches, the Defiance is quick on the road and capable of powering up hills. It has a 170mm single crankset up front, combined with a Sturmey Archer CS-RF3 internal hub and Shimano 8-speed 11-32 cassette, and Altus rear derailleur.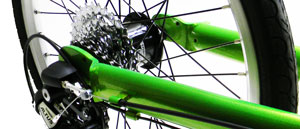 Make Yours Electric!
We have 500W, 750W, and 1000W systems preconfigured under the FRONT GEARING option as well as other motor options. Of course, we can add additional batteries for increased range. Just let us know and we'll make sure you get the right setup!
Detailed Specifications

Frame Material
Steel
Trike Weight
48 lbs
Trike Weight
48 lbs
Total Weight Capacity
300 lbs
Wheelbase
45 in
Wheel Track
32 in
Total Length
79 in
Total Width
35 in
Total Assembled Height
34 in
Ground Clearance
9 in
Bottom Bracket Height
19.5 in
X-Seam Range
36 - 47
Steering Pivot Type
Cartridge Bearing
Ackerman Steering
Yes
Brake Steer
Moderate
Self Centering
Mild
Turning Radius
12 ft 8 in
Seat Height
17 in
Seat Width
15 in
Country of Origin
USA