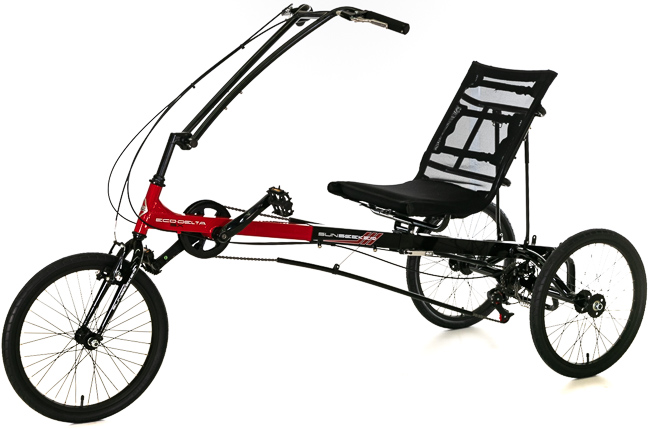 Starting at $1499
Sale Price $1000
Availability: 10+ In Stock
The Eco Delta SX is one of the newest additions to the SunSeeker delta trike family. This is our most affordable trike, but just because its affordable doesnít mean that it is not full of features. Unlike most of the recumbent trikes for sale that we have, the Eco Delta has one wheel in front and two in the back. This raises the seat up higher which is why many choose the delta trikes.
Take a Seat....and Relax!
This is the most comfortable delta trike available. The seat sits 23 inches of the ground making it easy to enter and exit. With the Delta, your seat is fully adjustable as the seat moves forward and back on the frame. Additionally, the seat can lean more recumbent or sit more upright based on your needs.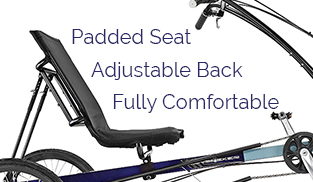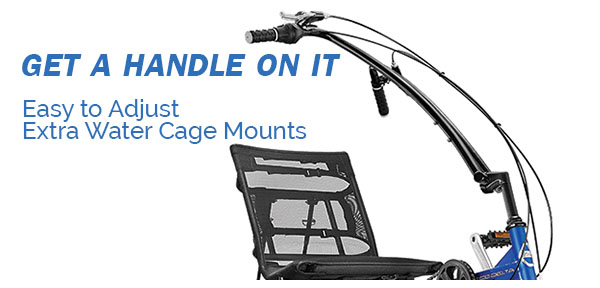 Simplicity meets comfort. This frame is incredibly durable, designed to hold up to 300+ pounds. The Sun Seeker series are a great platform to start from, and feature flexibility in upgrades. Getting in and out of Eco Delta is easy, and the ride is very comfortable. With the affordable entry price, there is room to customize the trike with custom features important to each custom rider.
It has a fully adjustable mesh-back saddle with a padded bottom that keeps you cool and comfortable on long outings. There are spare bottle mounts on the handlebar and seat frame to let you carry plenty of hydration for the long hauls.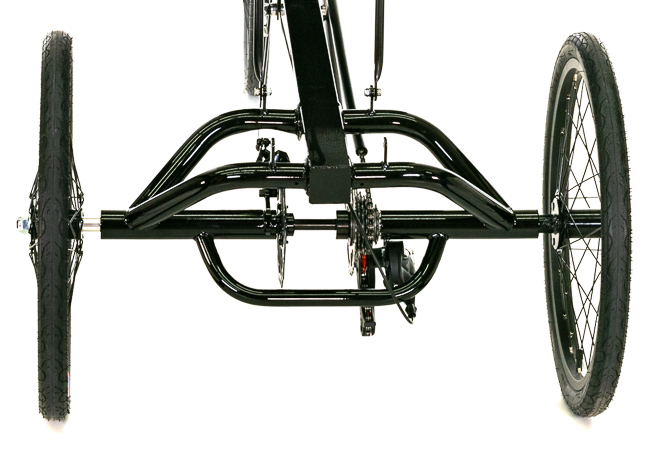 Detailed Specifications

Trike Weight
57 lbs
Total Weight Capacity
300 lbs (Rider) + 75 lbs (Cargo)
Wheelbase
42-1/2in - 63in (126 Ė 160 cm)
Wheel Track
27in (68.60cm)
Total Length
68-3/4in Ė 82-1/4in (125 Ė 209 cm)
Total Width
30-1/2in (77.5cm)
Total Assembled Height
38in (96.50cm)
Ground Clearance
Frame Clearance 6in (15.20cm) Derailleur Clearance 5in - 2-1/2in (12.7cm - 6.35c
Bottom Bracket Height
19-1/2in (49.5cm)
Steering Pivot Type
Cartridge Bearings
Seat Height
20-1/2in Ė 22-3/4in (52-58cm)
Seat Width
16.5in (42cm)
Seat Angle
45-90 degrees
Utah Trikes professionally assembles and test rides every Sun Trike we sell. We can customize any aspect of your trike down to a custom paint job or build any drive train you like or need!! We can also mount any accessory you would like and make sure when you receive your trike it is ready to ride, exactly how you wanted it!!