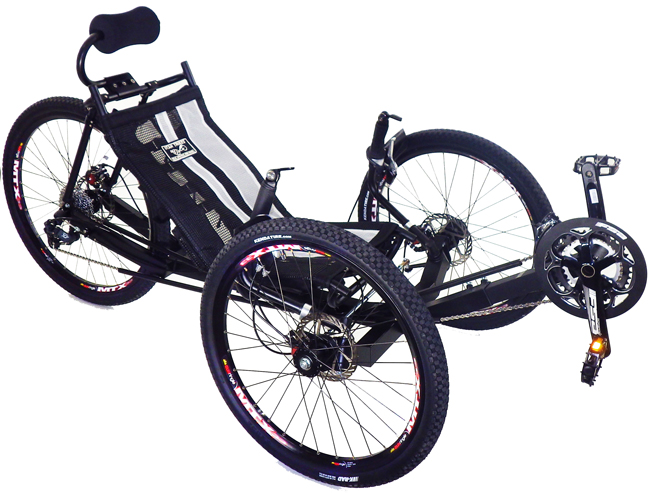 Currently Unavailable
The great outdoors are full of hills to climb, canyons to explore, and roads to travel. Donít just watch life, ride it! The KMX Annihilator K90's high quality and construction will annihilate your expectations. Hit the road in our most rugged KMX build to date, and tear up the trails with 90 speed gearing. Donít be afraid to put the K90 to the test. This trike features all the best components of our most popular Annihilator series at a lower price. Discover for yourself how incredible this trike truly is!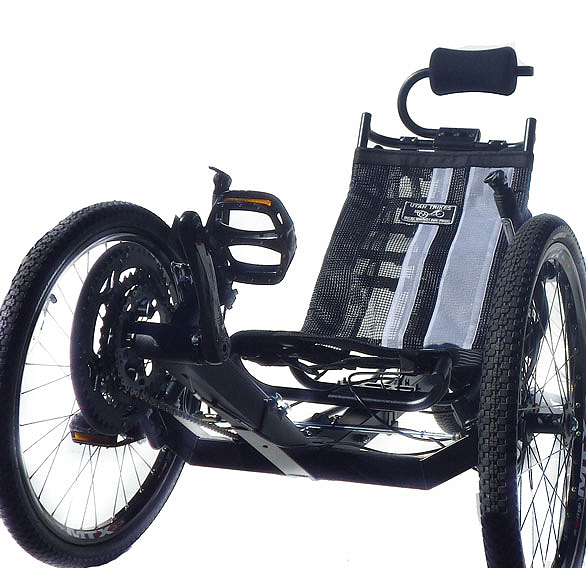 Unparalleled Value
Durable Steel Frame
90-Speed Gearing
Comfortable Custom Seat Mesh
Custom Adjustable Headrest
24in Front Wheels
24in or 26in Rear Wheel
Bar End Shifters
Three Wheel Disc Brakes
Fully Adjustable Seat, Position and Angle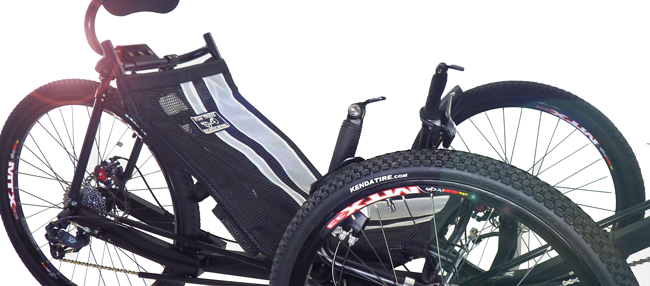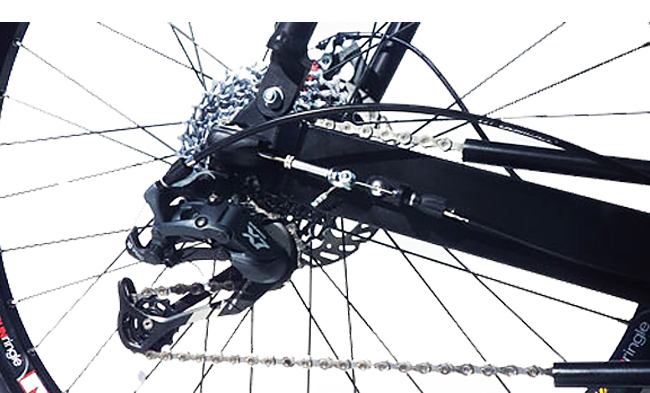 90 Speed Gearing
Want to climb hills with ease, or hit breakneck speeds as you soar down canyon roads? The KMX K90 features the Sturmey SCRK3 30 Speed back gearing coupled with a FSA Gossamer Crankset. Do the math! 10 gears in back x 3 Gears in front x 3 gears inside the hub = 90 Speeds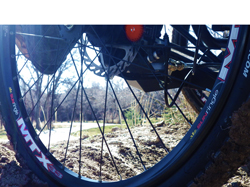 KMX + MTX = Awesome
The MTX is Sun Ringle's downhill/big mountain racing rim. These feature a deep sidewall and are incredibly durable. And honestly, they just look amazing on the Annihilator K90.
When it comes to tires, you don't want to sacrifice quality. The K90 features an all around durable and multi-use tire: the Kendra K-Rad. It's a Multi use designed tire - great for urban assault, street or park riding and great in the dirt and on the trails
Comfort and Style: Super Headrest and Custom Seat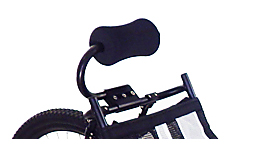 GIVE IT A REST
No seriously, give your head and neck a rest. Just because you're working hard, doesn't mean you have to be uncomfortable. The UTCustom Super headrest has a double hinge so you can place it just about anywhere you need it. So lean back and enjoy the ride.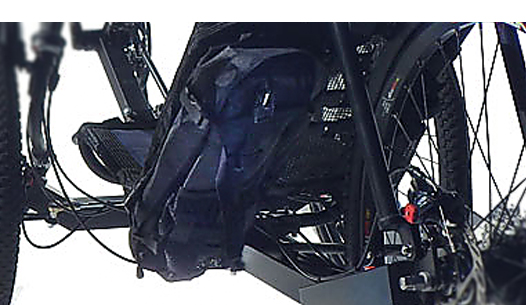 Comfort Meets Function
We are pretty proud of this seat mesh. It started out as a remake of the muscle trikes we had a few years ago. Then we found an even more breathable material. then we triple reinforced the strapping. And finally we put a custom cargo bag on the back complete with insulated water bladder pouch!
More Wheel = More Comfort, More Clearance, More Speed
Let's talk wheel size. We jacked this trike up! The front wheels sit at 24 inches in diameter, with an option for a 26in back wheel. Why? Ground Clearance and Comfort. The bigger wheels raise the gearing and provides you with a smoother ride. It also increases your ground clearance making this trike great for more rugged terrain. As if you didn't have enough reasons to ride a KMX K90, then remember how much easier this trike is to enter and exit. This trike is awesome!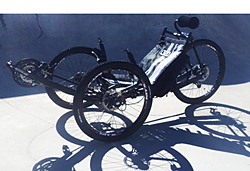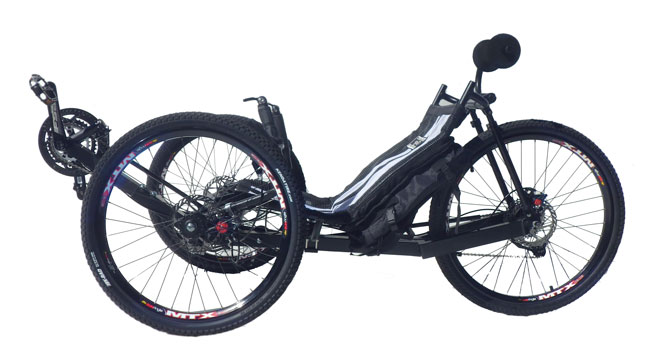 Detailed Specifications

Frame Material
TIG Welded High Carbon Steel Box with Aluminium front boom
Trike Weight
54lbs complete assembled
Total Weight Capacity
250lbs for Off Road use and 300lbs for Road Use
Wheelbase
41.5in (105cm)
Wheel Track
30in (76cm)
Total Length
76in (193cm)
Total Width
31.75in (81cm)
Total Assembled Height
34in (86cm)
Ground Clearance
7in (18cm)
Bottom Bracket Height
17.5in (44.45cm)
X-Seam Range
Min 35 Ĺin (90cm), Max 44in (112)
Gear Inch Range
15-154 GI (with stock gearing)
Steering Type
Direct Steer
Steering Pivot Type
Sealed Ball Bearings
Ackerman Steering
Yes
Turning Radius
7ft (213.4cm)
Turning Circle
14ft (427cm)
Seat Height
14in (35.5cm)
Seat Width
15in (38cm)
Seat Angle
40-54 degrees
Country of Origin
Taiwan/USA