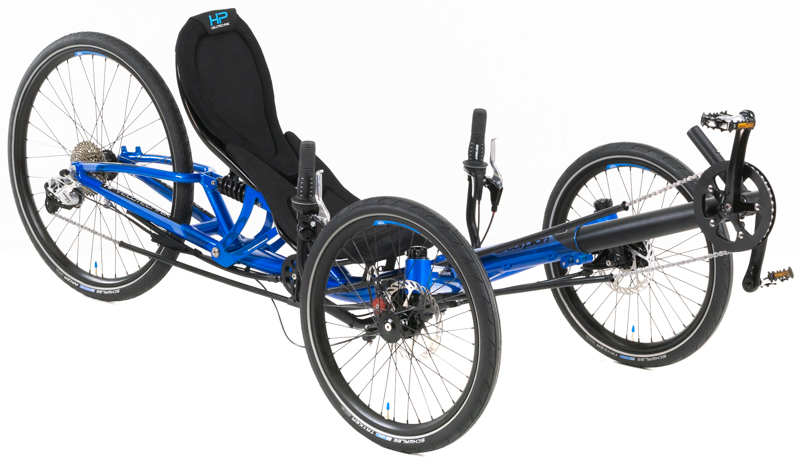 Starting at $5160
Availability: Call for Availability
The German made Scorpion by HP Velotechnik is a 24-speed recumbent with a 26-inch rear wheel that's built around a Sturmey Archer 3-speed hub. It features rear suspension that can be fine tuned for ultimate comfort and lends itself to a variety of riding styles.
GERMAN INNOVATION
HP Velotechnik first introduced the Scorpion line in 2005. The original model featured a 20" rear wheel, rear suspension and was considered an all around recumbent that was suited for many different styles of riding. Over the years HP has made some slight changes and now we offer the latest model of the Scorpion, now featuring a 26" rear wheel built around a Sturmey Archer 3-speed hub paired with an 8-speed cassette. The current model still features rear suspension and is built using HP's "No Squat" suspension design for maximum transfer of power. As the most affordable Scorpion in the lineup, it remains an excellent all around recumbent trike that lends itself to a variety of riding styles.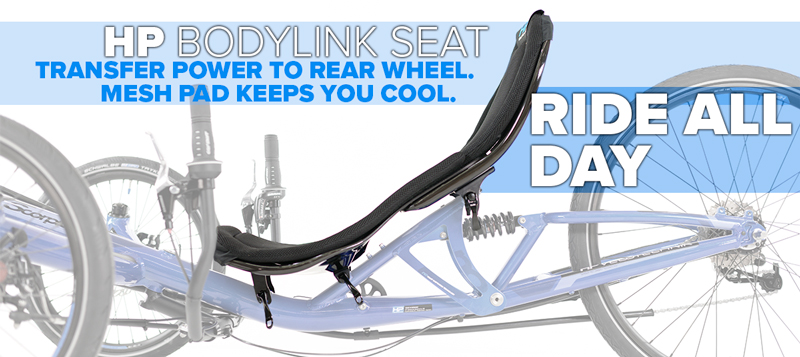 A COMBINATION OF POWER AND COMFORT
The HP Scorpion comes stock with the HP Bodylink seat. There's a reason most racing trikes like the ICE VTX have hardshell seats. The stiffer design means that your pedal power is transferred more efficiently to the rear wheel. While a hardshell seat sounds like it might be less comfortable than other mesh options, this Bodylink seat features velcroed mesh pads that are breathable and help absorb small bumps and vibrations from the road.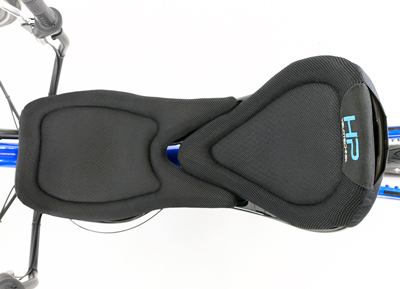 If you plan on doing a lot of touring and are going to be on your trike for hours and hours at a time, you might consider swapping out the Bodylink seat for the HP ErgoMesh seat. While you may lose some power, the ErgoMesh seat is a bit wider and more breathable than the Bodylink and you can swap them out at no extra cost.

SUSPENSION
Comfort doesn't stop there. The Scorpion also comes stock with rear suspension. It features a DNM DV22 Air shock that can be adjusted for rider weight and comfort. The Scorpion is built using HP's "No Squat" suspension, which means that the suspension isn't impaired by the force you create as you pedal. The rear wheel can then transmit your pedaling force to the road as direct forward propulsion.

24-SPEED DRIVETRAIN
The Scorpion features a single crankset up front, but the 26" rear wheel is built around a Sturmey Archer 3-speed hub that's paired with an 8-speed cassette for a usable gear range. For most riders this set up will be sufficient, but if you're looking for higher highs and lower lows, we recommend swapping out that single crankset for something like the Pinion drive, which comes in 6, 9, 12, and 18-speed options. If that isn't in the budget, you could choose the Schlumpf Mountain or High speed drive to widen up that gear range.