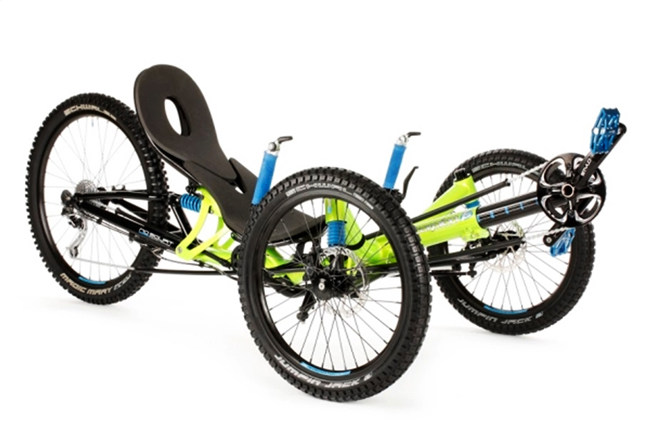 Starting at $6990
Availability: Call for Availability
Hit the trails in this aggressive off-road machine!
The Scorpion FS-26 Enduro is a no frills, trail-ready monster, featuring knobby tires, and smooth suspension.

Based off the award winning Scorpion FS-26 this trike is ready for anything you can throw at it.
ENDURO DEVELOPMENT
After releasing the first ever Scorpion model in 2005, HP Velotechnik would go on to develop an entire fleet of award winning Scorpion models. They created a folding model, models with full suspension and finally, in 2013, the introduced the Scorpion FS 26 Enduro. The knobby Smart Same tires, 27-speed drivetrain and blue/green powder coat scheme received overwhelming positive feedback. So much positive feedback, in fact, that the Enduro took home the Eurobike Award for innovative design and outstanding product quality.
The Enduro is essentially the ultimate crossover of precision handling and off-road capability. It's able to tear down gnarly mountain trails while also handling like a dream on the pavement. The large 26-inch rear wheel is built around a Sturmey Archer 3-speed hub that's paired with a 9-speed cassette. The stock model features Avid BB7 disc brakes, locking brake levers, and your choice of the HP Bodylink or ErgoMesh seat.

A COMBINATION OF POWER AND COMFORT
The HP Scorpion FS 26 Enduro comes stock with the HP Bodylink seat. Thereís a reason most racing trikes like the ICE VTX have hardshell seats. The stiffer design means that your pedal power is transferred more efficiently to the rear wheel. While a hardshell seat sounds like it might be less comfortable than other mesh options, this Bodylink seat features velcroed mesh pads that are breathable and help absorb small bumps and vibrations from the road.

If you anticipate riding your Enduro as a touring trike, you might consider swapping out the Bodylink seat for the ErgoMesh seat pictured above. It's more a bit wider and more breathable in order to keep you cool on day-long rides. You can swap out either seat at no extra cost.

SUSPENSION
The Enduro also boasts full suspension. In the rear you'll find a DNM DV22 air shock that does a good job absorbing bumps and potholes in the road. The Whole chassis is designed using HP's No Squat suspension design and transmits all of your drive energy to the road without any loss of power. On the front end, you'll find HP Velotechnik's independent wheel suspension with Mcpherson-style struts and stabilizer system. The suspension is completely encapsulated within the frame's tube which means it's well protected and needs very little maintenance.
GEARING
The Enduro features a 27-speed drivetrain. The Enduro has a single crankset up front and the 26-inch rear wheel is built around a 3-speed Sturmey Archer hub, paired with a 9-speed cassette. The hub is low maintenance and can be shifted while stopped or coasting, making it a great option for riding where thereís lots of flying debris or when you find yourself having to tackle a lot of hills.
While 27-speeds will likely be sufficient for most riders, we realize there are some riders who might be looking for a wider gear range. As with all the trikes we build at the shop, there are a lot of different options for you. We recommend swapping out that single chainring for a Pinion drive or, it that's not in the budget, a Schlumpf High Speed or Mountain Drive.


ELECTRIFY YOUR TRIKE As with all our trikes, the Enduro can be outfitted with various motor options. You can order it with the factory installed 250 Watt Shimano ESTEPS system, or we can install a Bafang Mid drive or UTCustom 1000 Watt hub motor here at our shop.