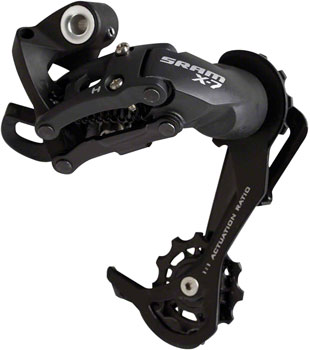 This item is currently not available for sale.
This Mountain Rear Derailleur supports wide range cassettes and up to a 36T cog for low climbing gears. Features SRAM Exact Actuation for precise and dependable 10 speed performance.(SALE)
3K carbon cage
239 grams (10 speed Carbon Long Cage)
36t Cassette compatibility
3 cage lengths available: short, medium and long
Storm Grey finish

Direct Route™
Here's the dirt on middlemen: they suck. That's why Direct Route Technology doesn't have one. Instead, the cable routes directly to the actuation mechanism. Result? Less friction. Less effort. More oomph. Plus it's impervious to cable housing damage. Nice.
Exact Actuation™
When we launched our road technology from scratch we reapplied our MTB proven SRAM 1:1 actuation ratio (shifter cable travel : derailleur movement) for 10 speed rear shifting. EA helps to simplify/stabilize the uneasy act of balancing rear derailleur hanger design, tight cog spacing and exact cable tension. The result: the easiest index shifting system to set up and it stays that way.