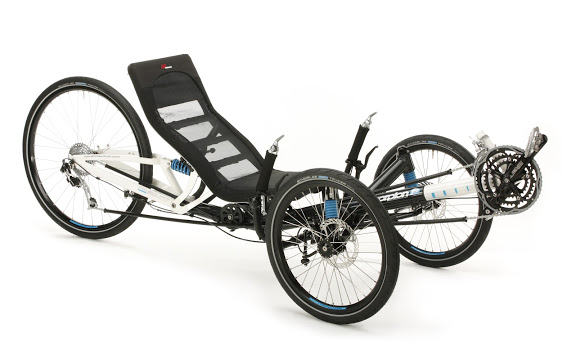 Starting at $6740
The following trikes are available for order:
Qty 1: HP Factory Color Pure Orange - Quote 36823 See Configuration Quote

Availability to make custom builds: 2 In Stock
Compared to the smaller 20-inch wheels conventionally found on recumbent trikes, the larger wheel on the suspended rear of the new Scorpion FS 26 model provides an even smoother ride, less rolling resistance, and easier obstacle traversing. The combination of full suspension with tried-and-tested chassis technology from the automotive engineering sector and the positive running properties of larger wheels sets new standards in riding dynamics.
Trike riding is becoming even more efficient and comfortable. On stand FW-300 at the Eurobike trade show, recumbent manufacturer HP Velotechnik will be the world's first manufacturer to exhibit a full-suspension foldable touring trike with a large 26-inch rear wheel.
Thanks to HP Velotechnik's sophisticated self-locking folding hinge, the vehicle can be quickly folded into an easy-to-transport package with dimensions of just 123 x 83 x 69 cm.
The new Advanced Steering Geometry (ASG) enables riders to control the Scorpion fs 26 smoothly and precisely, giving it a small turning circle of just 5.5 meters (18 feet) despite its long wheelbase
In addition to the ergonomically-shaped 'BodyLink' hard shell seat, HP Velotechnik also offers the option of the further improved 'ErgoMesh' seat. This not only provides optimum ventilation for the back but also offers more side support thanks to the enhanced seat design with strengthened, anatomically-shaped side cushioning. For larger riders, the seat is will be available in a 5 cm (2 inch) wider 'ErgoMesh XL' version with a 3 cm (1 1/8 inch) longer back rest and seat pan.