Looking for a trike that can take you anywhere? Then you are going to LOVE the UTCustom Fat Tad Crawler. The knobby, super wide tires are HUGE and have incredible traction, making the Fat Tad a monster among recumbent trikes. Rocks? No problem. Sand? Piece of cake. From the pavement to mountain trails, dry to wet, over snow and through mud, the Fat Tad Crawler can handle it all. Nothing can get in your way of a crazy fun, three-wheeled adventure.


A Beastly Frame
To handle all the rough terrain you're going to explore, the Fat Tad Crawler features a durable steel frame that can handle a beating. It's built to last through miles and miles of rough trails. There are also a lot of adjustability options, including an incredibly adjustable seat and boom. The Fat Tad can cater to a variety of rider shapes and sizes, seating a rider up to 6'4" and with a weight capacity of 300 lbs.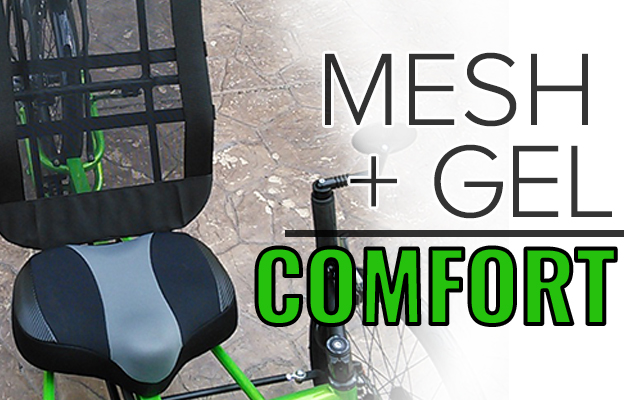 Riding Comfort
The Fat Tad uses a Sun gel bottom/mesh back seat. The gel bottom offers great comfort while you're out and about, be it on the asphalt or on a rough trail, and the mesh back does a great job keeping you ventilated. One of the favorite features of the Sun seat is that it can be adjusted exactly how you want it.
The angle of the seat can be adjusted effortlessly by removing the pins and then moving the seat stays to your desired position. The seat bottom can also slide easily along the frame by undoing the quick release clamps. The adjustability of the seat and the boom allow you to tailor your Fat Tad to fit exactly how you want it to.

Steering and Handling
Like most trikes, the Fat Tad features familiar Ackerman-compensated direct steering. Handling is very stable, even when you're on the pavement hitting higher speeds. It's also very responsive on uneven terrain. The steering geometry provides for a moderately heavy ride that is due in part to the HUGE tires. Seriously, they're huge! But even with the gargantuan tires, the handling is still impressive.The handlebars use cartridge bearings and are fairly adjustable as well. They can tilt, swing and pivot until you find a comfortable position.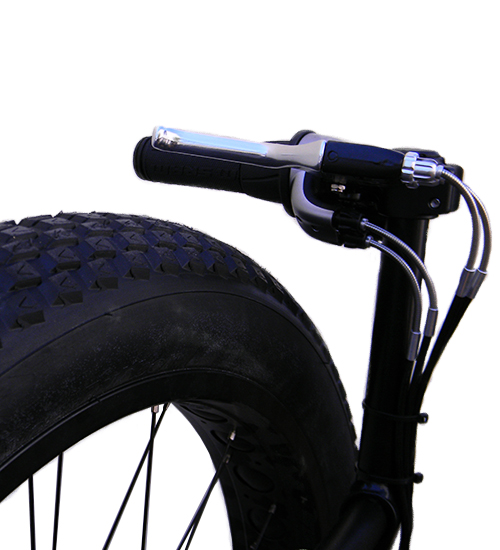 Gearing
The Fat Tad Crawler comes stock with an 8-speed drivetrain, but it's a little more awesome than a regular 8-speed. Up front the Fat Tad features a single 32T crankset, but in the rear you'll find a Shimano Alfine 8-speed internal hub. We're not sure where you'll be riding, but chances are it will involve mud, gravel, sand and loads of dirt.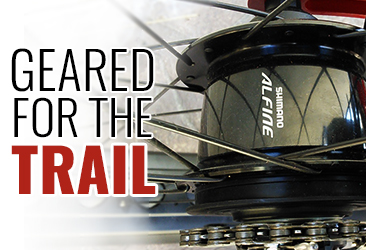 You don't want your chain getting jammed while you're out, and what's great about the Shimano Alfine is that the hub itself is completely sealed, which means you won't get any moisture or dirt inside the gearing. It'll last you for a long time and keeps the drivetrain hassle-free and efficient. This is entry-level gearing, but upgrades are quick and easy if you feel like you need a little something extra.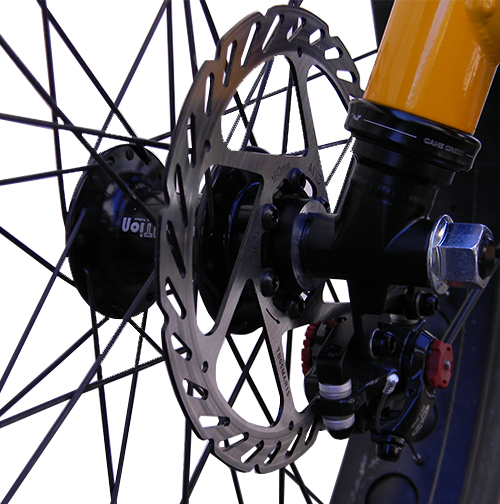 Stopping Power
As far as stopping power goes, quality was not overlooked. Avid BB7 mechanical brakes are the best around, and that's what you'll find on the Fat Tad Crawler. They feature G2 Clean Sweep 160mm rotors and Avid Speed Dial 7 levers. These brakes give you strong, reliable, and consistent braking that will help you when you're headed down steep hills and trails. The levers are set up with an individual lever on each handlebar. The Fat Tad doesn't come stock with a rear brake, but if you know you'll be going up and down steep inclines, you might want to consider adding one.

Chainline
The chainline on the Fat Tad has a no-nonsense setup that allows for smooth, seamless pedaling. It features one sport power idler and tubes that serve to protect your chain. Chances are you'll be riding through a lot of dirt and mud and the tubes are going to help keep your chain clean and free of debris. The last thing you want while flying down an awesome trail is for your chain to get caught up and put a stop to all the fun.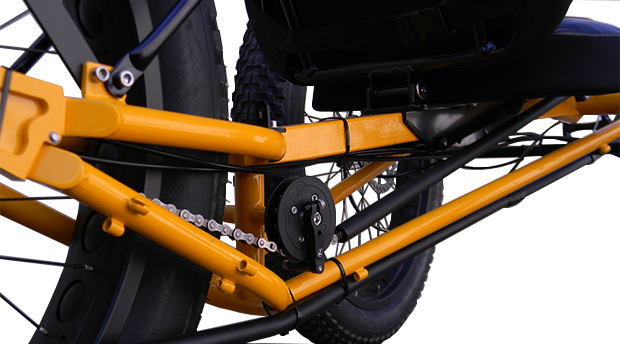 You might notice a little bit of noise coming from the chain tubes as you ride. It can be minimized by a small performance enhancement. You can simply heat the ends of the tubes and flare them out, allowing the chain to run more smoothly.
BIGGER is BETTER!

This is what sets the Fat Tad apart from all other recumbent trikes. At Utah Trikes, we've been putting fat tires on trikes and quads for years, and after receiving great feedback, we've made the Fat Tad Crawler a model of its own. The wheels have black rims, black hubs, silver nipples, and black spokes and use a Presta valve. The rims are double-walled so they can handle a lot of rough riding.
Those monstrous tires you see are 26-inch by 4-inch Vee 8 lightweight, folding, fat tires, and they look beastly. They run between 8-20 psi so you can ride at low pressure for a super soft ride and loads of traction, or at high pressure to reach higher speeds on the road. The rear wheel never slips. Ever. That's how great the traction is.

You won't have to worry about it spinning out on gravel, snow, sand or on steep inclines. These huge tires also give the Fat Tad a lot of ground clearance so you can move easily over obstacles. If we're being honest, the super fat tires are what make this Fat Tad Crawler SO awesome. They travel over anything and they just look cool! The Fat Tad is the monster truck of trikes!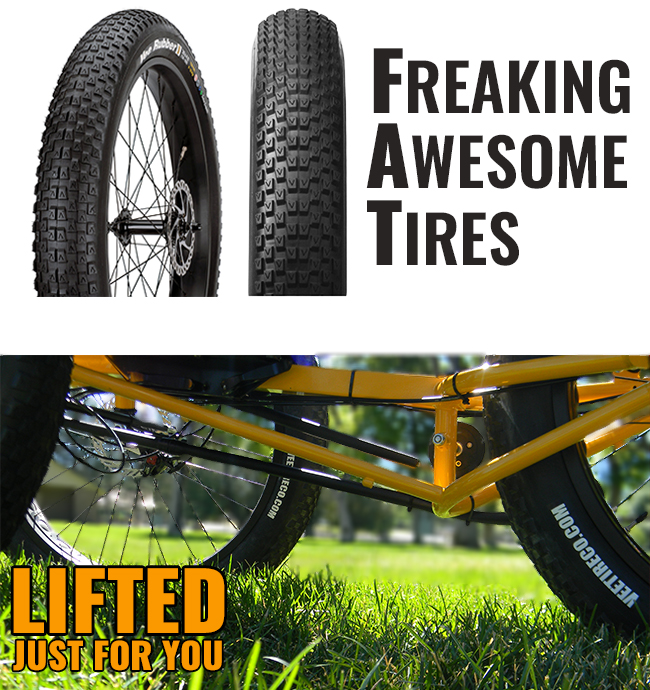 Extras and Upgrades
With all its adjustable features, the crazy huge tires that everyone loves, and some pretty impressive gearing, there's really not much to add to the Fat Tad that isn't already there. We're even throwing in a Utah Trikes three-flag combo. All in all, we're happy with the stock configuration and we think you will be, too, but we've also seen some pretty neat upgrades that you might be interested in.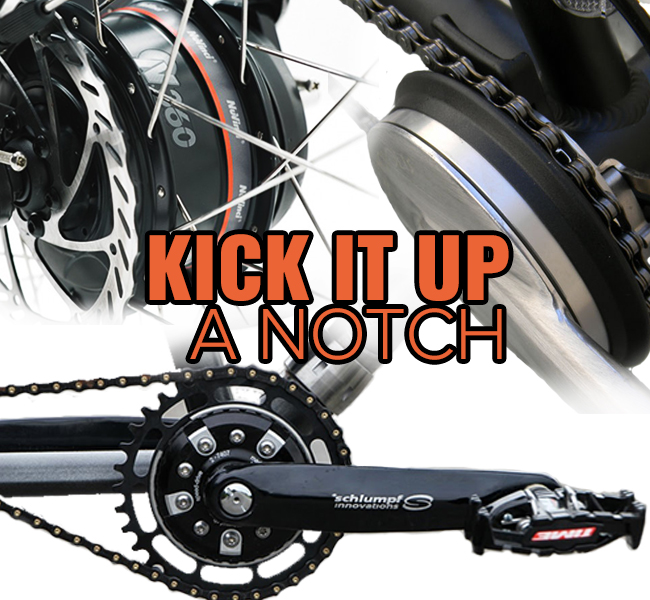 One item that seems to popular with the Fat Tad is the Nuvinci N360 internal hub. For those looking to upgrade gearing, this would be a good place to start. Adding a Patterson or a Schlumpf drive might be something you'd like as well.

If you're putting in a lot of miles in a day you could consider upgrading to our UT custom mesh seat. It just seems to offer a bit more comfort than the stock Sun seat. Don't forget about safety either! Mirrors and lights are always popular additions, and you might want to throw on a water bottle cage as well to stay hydrated.
Get in a Fat Tad! You'll LOVE it!
YES! You want a Fat Tad Crawler. It is impossible not to have fun. We could almost have some kind of 100% fun guarantee, but that's not necessary. You'll experience it for yourself: fat tires, a sturdy build, cool gearing, awesome comfort, and endless possibilities. Dirt, rocks, snow, gravel, sand, mud or asphalt, the Fat Tad can take anything you throw at it. Take the road less traveled. Or, better yet, why not try taking the road never traveled? The Fat Tad Crawler can handle it.