The Trisled Rotovelo is the world's first roto-molded velomobile fairing, making it more durable than any other velomobile on the market. The Rotovelo builds on Trisled's philosophy of simplicity equals usability, with all the sleek curves and Trisled speed tweaks thrown in. Improve your commute, pick up your shopping, tour the country, or just take it for a spin.
Frame
The Rotovelo features a chromoly steel frame thatís durable and can absorb small vibrations and jolts on the road, giving you a more comfortable ride. The adjustable boom allows the Rotovelo to cater to a wide variety of body sizes as well.

Eye Candy
What really makes the Rotovelo unique, and the feature that most likely caught your eye, is the roto-molded body. It gives the Rotovelo itís highly aerodynamic, torpedo shape that makes observers stop and stare. One of the key ideas behind the roto-molded body is to give riders the option of extending their riding season. Not all of us live in ideal climates and sometimes rain and snow tend to be a bit of a kill joy.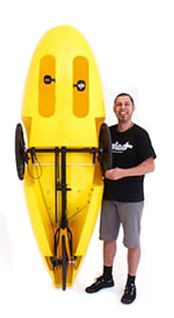 The unique design of the Rotovelo protects you from the elements and allows you to ride year round. Even for those who donít have to deal with wind, rain, snow, and the like, the Rotovelo still offers better aerodynamics and a sleek-looking ride. As far as color options are concerned, you can choose between our sleek blue or a bright green roto-molded body.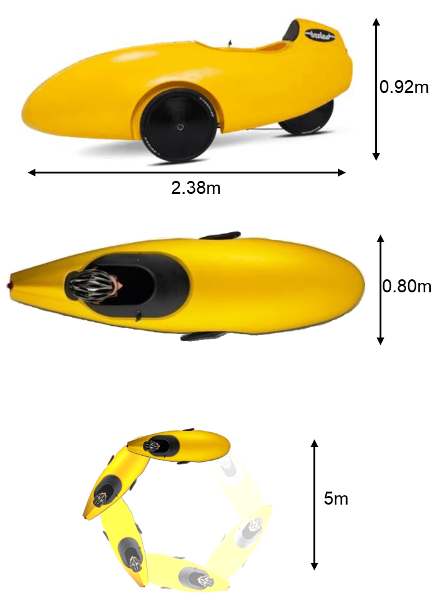 Seat
Unlike all other trikes, the seat on the Rotovelo is built directly into the roto-molded body. The seat frame is chromoly steel and the seat itself is the same durable plastic material that surrounds the trike mainframe.

You can shift your body position easily in the seat for optimum comfort, and donít forget the adjustable boom that allows you to adjust your reach. Something that we like to add for a little more comfort is a Ventisit seat pad. Itís no-slip grip will keep you from sliding around when you corner and it adds a little extra plush to your ride.
Steering and Handling
Like most recumbent trikes, the Rotovelo features Ackerman-compensated, direct steering. The steering geometry provides for a mildly heavy ride, which gives the Rotovelo a stable straight-line tendency and impressive high speed handling. Youíll look like a bullet flying down the road! The vertical handlebars can tilt and swing in and out to avoid aches and pains in your wrists while riding.
Another unique element of the Rotovelo is that it features Trisledís custom pivot design for smooth steering rather than using bearings. We were surprised and impressed by the seamless and reliable handling and weíre sure you will be, too.
Gearing
Along with being a solid, highly responsive recumbent trike, the Rotovelo also features admirable stock gearing thatís sure to satisfy most every-day riders. It has a Sugino 152mm triple crankset in the front, and features a SRAM X7, 9-speed rear derailleur with SRAM grip shifters. It offers a usable 13-84 gear inches that can handle most riding styles. For those looking for higher or lower gearing, adjustments can be made easily until you find the gear range that fits your style.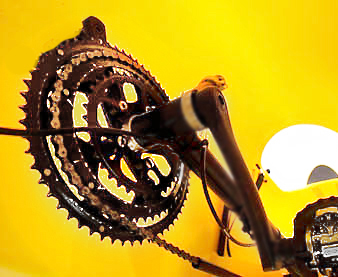 Brakes
Quality components can be found all over the Rotovelo, including the braking system. Youíll find Avid BB7 disc brakes in the front that have plenty of power to slow you down. There is one SunLite locking brake lever on each handlebar that can double as a parking brake. Brake steer is minimal and while it will hardly be noticed by most riders, more experienced riders will be able to take advantage of it when cruising around corners.
Chainline

The roto-molded velomobile utilizes an efficient chainline that has a single Trisled OEM power idler and chain tubes. These components are durable and are sure to last a while on the road. You may notice a little bit of noise caused by the tubes, but they are worth using. Theyíll keep your chain free of dirt and grime and protect your trike frame from scratches. You can heat the ends of the tubes with a torch or lighter and flare them out to reduce the noise. All in all, youíll love the smooth pedaling of the Rotovelo provided by its simple and effective chainline.
Wheels and Tires
The Rotovelo features 20-inch x 1.50-inch wheels all around. The black Rhinolite rims, silver spokes and nipples and black hubs look classy, and the popular Schrader valves make the wheel setup simple and convenient.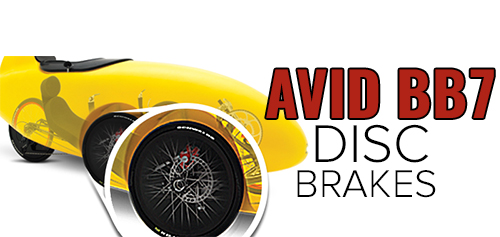 Schwalbe Marathon Racers are a great all-around tire and come stock on the Rotovelo. Theyíll work well for almost all styles of riding. The Racers are a jack-of-all-trades kind of tire. Theyíre fast, durable, and have decent puncture protection. If you ride in an area that has a track record of destroying tires, you may want to consider a small protection upgrade. However, for most roads and trails, the Schwalbe Marathon Racers will hold their own.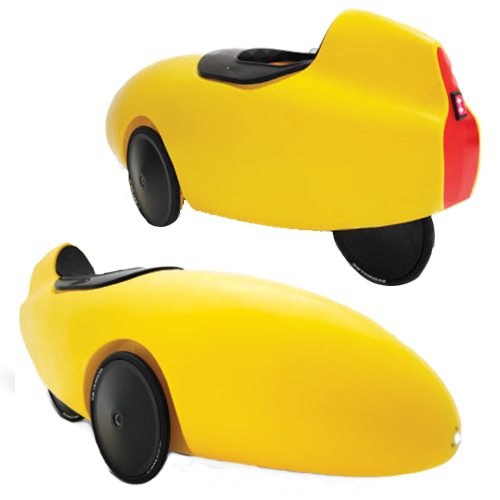 Extras and Upgrades
As was mentioned before, the most awesome extra feature of the Rotovelo is the roto-molded plastic body. Itís built to last and can handle everyday rides, trips to the grocery store, or long tours with friends. We think the stock Rotovelo is an awesome build, but weíve also seen some pretty neat upgrades that might interest you as well.
One of the most worthwhile upgrades, and one that seems to be a definite favorite, is adding a Schlumpf drive. Adding this internal gearing will take your riding to a whole new level with higher high gears and lower low gears. Not only that, but you can change gears as you ride, while coasting or while you wait at a stop. Depending on where you live, you can add a rain cover hatch with the option of a window wiper, or a fabric cover to keep the sun off you. For safety we would suggest some rearview mirrors, and you might want to look into the really cool lighting systems that are available.
Get in and get going!
The Rotovelo is ideal for trikers looking to ride all year round despite what the weather man tells them. The unique roto-molded plastic body keeps you protected from the elements so you can enjoy every mile of your ride. There are other Velomobiles out there, but as far as price/quality is concerned the Rotovelo is, simply put, the best option. Itís made of a more durable material than its carbon fiber or fiberglass competition, and has a more wallet-friendly price tag. The Rotovelo is quality, durability, and fun packed into an awesome-looking trike thatís a blast to ride. And the best part? You can ride it ALL year round! The fun never stops!