The KMX Viper is a machine that was built with daily commuters and everyday riders in mind. Designed for those looking for a durable, affordable and sporty entry-level trike, the Viper offers speed, comfort and adjustability at a price you can afford. The KMX Viper features the classic, highly adjustable KMX bucket seat, a large 24-inch rear wheel, and 24 speeds for reaching higher velocities.
Frame
Adjustability
Like almost all KMX trikes, the Viper frame is made of quality hi-carbon steel with an aluminum boom. For do-it-yourself trikers, the square frame is a favorite because itís so easily modified. You can weld brackets, put on a motor, or bolt mounts to it without damaging the frame.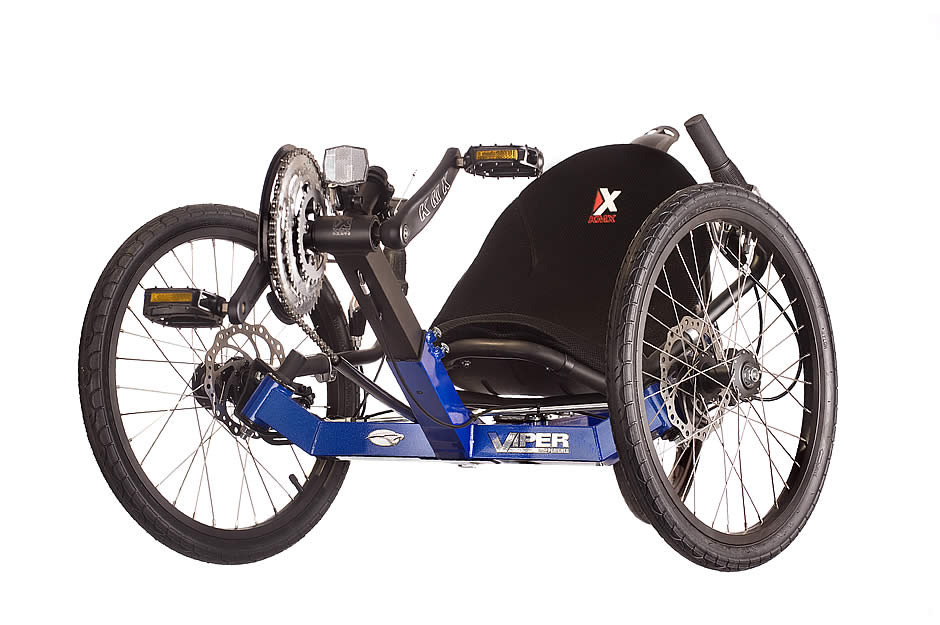 You can go crazy on your own modifications. Some of the key features are the adjustable seat that can slide easily along the frame, an adjustable, aluminum boom to fit your reach, and a derailleur post to mount accessories to.

Visual Appeal
True to the KMX standard, the Viperís frame is solid and incredibly durable. The steel makes it capable of absorbing smaller bumps in the road, giving you a smoother and more comfortable ride. The stock frame features the sleek KMX factory blue, but if thatís not what youíre looking for, check out our Utah Trikes custom color shop. We do our own in-house powder coating and offer over 35 different colors. Youíre bound to find the color thatís right for you.

Riding Easy
Comfort
All KMX trikes come stock with their comfortable hardshell bucket seat. The sides and bottom of the seat extend upward to cradle your body, which means you wonít slide off when youíre cornering hard. The KMX seat has side support bars which are intended to be bent as needed for adjustable lumbar support, so that you ride comfortably. The seat is attached to the frame with an easy-to-adjust clamp that makes sizing the trike a non-issue.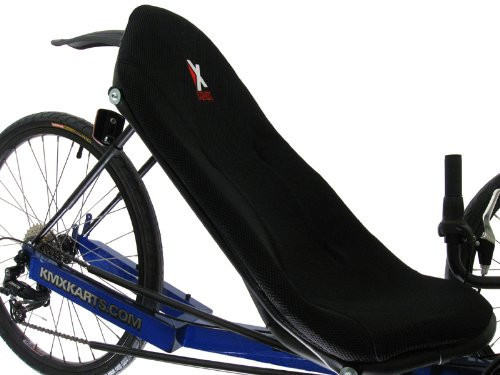 Adjustability
Because the frame allows for so much adjustability, the KMX trikes can fit a larger range of riders than most other models. The angle of the seat is also easy to adjust by changing the length of the rear seat supports. The seat frame is steel, with foam padding, and a black breathable mesh cover. If you want to do a little off-roading, the manufacturer rated rider weight is roughly 210 lbs, but total weight capacity for road riding is 300 lbs.
Steering and Handling
Like all other KMX models, the Viper handles incredibly well, with a slightly heavy ride. The direct, Ackerman-compensated steering gives it marvelously responsive handling, and itís tendency to be self-centering makes it even more stable at higher speeds. The steering is reliable and predictable. The Viper features vertical handlebars with sealed bearings for smooth control, and they can be adjusted to fit you. Tilt them in and outward or slide them forward or back until youíre comfortable.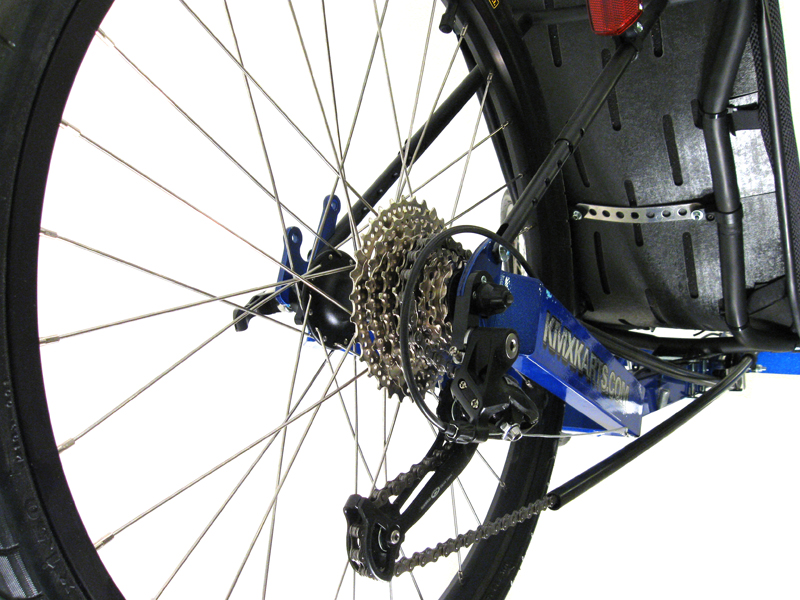 Gearing
The Viper features the KMX road triple crank set with a 170mm crank up front and Microshift twist grip shifters, and a Shimano Deore 8-speed derailleur in back. Like the KMX Cobra, the Viper gives you a wide range of 24 speeds, including some lower gearing to get up steeper grades. f you feel as though you need even more speed than what the Viper already offers, youíll be happy to know that all the gearing can be easily upgraded until your need for speed is satisfied.
Stopping Power
The Viper features Bengal disc brakes with 160mm rotors on the front wheels. There is no rear brake, but one can easily be added. Each handlebar has a locking brake lever, that works as a parking brake, and it will make sure your trike doesnít move around as you mount and dismount. The brake pads are easy to adjust at the caliper and by adjusting the cable going into the lever.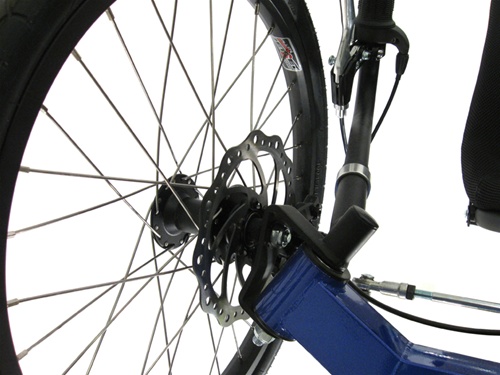 Chainline
The Viperís chainline has one power idler and two chain tubes. The lower tube guides the chain while the upper protects the frame from damage. Because the Viper is geared to be a road trike, the tubes serve to keep mud, dirt, grime, and other debris off of your chain. You might notice some noise as you ride, but a quick performance upgrade will help to minimize that. You can flare out the ends of the tubes using a lighter or torch.
The idlers and tubes are made of sturdy Delrin plastic thatís sure to last you a long time. While youíre out on the road, youíll find the chainline of the Viper allows for smooth and comfortable pedaling.
Wheels and Tires
The KMX Viper features larger wheels than some other models. It has a 24-inch rear wheel, and two 20-inch front wheels with Jetset alloy rims. The hubs and rims are black, with silver nipples and 32 stainless steel spokes, and Schrader valves.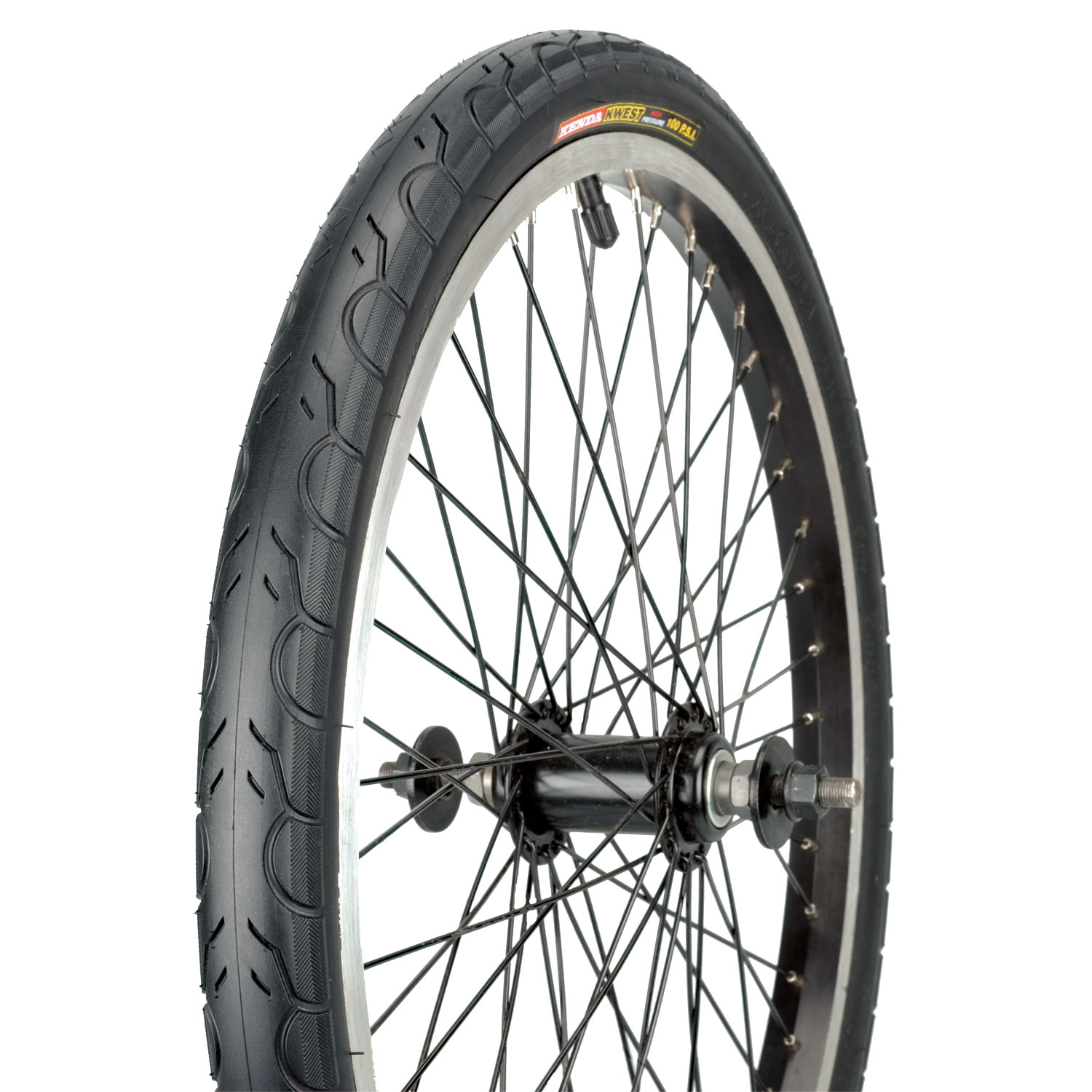 The Kenda Kwest tires on the Viper make it a suitable road trike. Commuters will love the smooth roll of the 24-inch by 1.75-inch rear tire, coupled with the 20-inch by 1.75-inch front tires. They may not be the fastest rolling tires, but if you run them at a high psi and youíll be happy with how fast they will let you go and how comfortable and smooth your ride will be. For most roads and trails, the Kenda Kwest tires will be sufficiently durable, however if you live in an area that is known for puncturing tires you might want to consider a protection upgrade.
Extras and Upgrades
Like all other KMX trikes, the Viper comes with a KMX flag so other motorists can see you on the road, and with a rear fender to keep you clean and dry. All KMX trikes are great platforms to create and customize a one-of-a-kind trike, but that doesnít mean you have to start making adjustments immediately.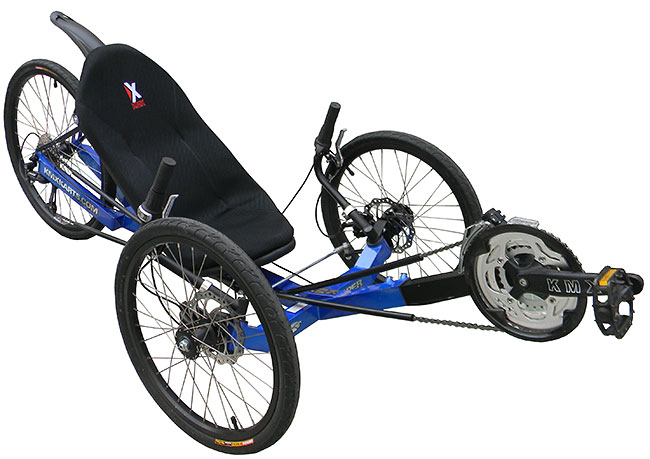 The stock KMX Viper ďas isĒ serves as a great road machine. If you decide you want to upgrade, we would suggest adding a mirror and a head or tail light. If youíd like to do a little touring, you could throw on a UT custom rack, some front fenders, and maybe upgrade to a more tour-friendly tire. To make the Viper a quality performance trike, you can upgrade the gearing and add a 26-inch rear wheel for even faster speeds.
Why is the Viper the trike for you?
If youíre looking for an entry-level trike that will serve you well on your daily commute or everyday riding, the Viper will be a surprisingly affordable favorite. Itís a performance-oriented trike, and its bigger tires make it quicker than other trikes. The 24-speed drivetrain is great for everyday riding and is geared low enough to make climbing steep hills a breeze.