If you are looking for a fast, performance-oriented trike under $2,000, look no further. The KMX Venom can handle your daily commute and weekend rides while keeping a fast pace and riding in comfort. The aluminium frame with internal strengthening system gives great ground clearance and high stability. With all of itís adjustability options itís one of the most versatile trikes on the market, and the more you learn about it, the more youíll want to have this aggressive speed machine: the KMX Venom.
Frame and Adjustability

The Build
Unlike all other KMX models, the Venom features a lightweight 7005 aluminum frame. Itís made entirely of custom aluminum extrusion that makes it a lightweight and incredibly rigid frame. Itís 30mm wider and longer than all other KMX trikes, but even with the larger size, the aluminum frame still makes it the lightest of all the KMX models. When you buy it stock youíll enjoy the sleek KMX factory silver frame, but if thatís not what youíre looking for, check out our custom shop. We can powder coat over 35 different colors.
Adjustability
A favorite feature of the KMX brand is all the adjustability their trikes have to offer. The adjustable aluminum boom allows you to tailor the Venom to your pedal reach, and the seat can slide easily along the frame. The angle can be adjusted as well, so you can ride with maximum comfort.
KMX Bucket Seat
Comfort
All KMX trikes come stock with their comfortable hardshell bucket seat. The difference you'll find with the Venom is that the seat frame is made of aluminum, keeping the trike lightweight and more performance-ready. The sides and bottom of the seat extend upward to cradle your body, so you wonít slide off when youíre cornering hard. Also the easy-to-adjust clamp seat adjustment makes sizing the trike a non-issue.
Adjustability
Because the frame allows for so much adjustability, the KMX trikes can fit a larger range of riders than most other brand models. The angle of the seat is also easy to adjust by changing the length of the rear seat supports. Lastly, the KMX seats have side support bars which are intended to be bent as needed for adjustable lumbar support, so that you ride comfortably.

The seat frame is aluminum, keeping the Venom lightweight, with foam padding, and a black breathable mesh cover. If you want to do a little off-roading, the manufacturer rated rider weight is roughly 210 lbs, but total weight capacity for road riding is 300 lbs.
Reliable Handling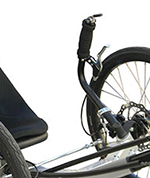 Like all KMX models, Ackerman compensation and direct steering gives the Venom responsive and predictable handling. The steering geometry provides for a heavy ride and, coupled with itís tendency to self-center, the Venomís handling is stable even at those higher speeds youíll be enjoying.

As with other KMX trikes, the vertical handlebars on the Venom can be adjusted as well, tilting in and out and telescoping toward or away from you. It also uses sealed bearings that wonít wear out easily over time, and allow for smooth control.
Gearing
The Venom features upper entry-level gearing with a Shimano Deore SLX 9-speed rear derailleur, and a KMX 170mm triple road crankset up front, with microshift bar end shifters. With 27-speed gearing, the Venom is able to reach higher speeds than most other KMX models. Itís a road machine, built for speed and capable of flying down the pavement.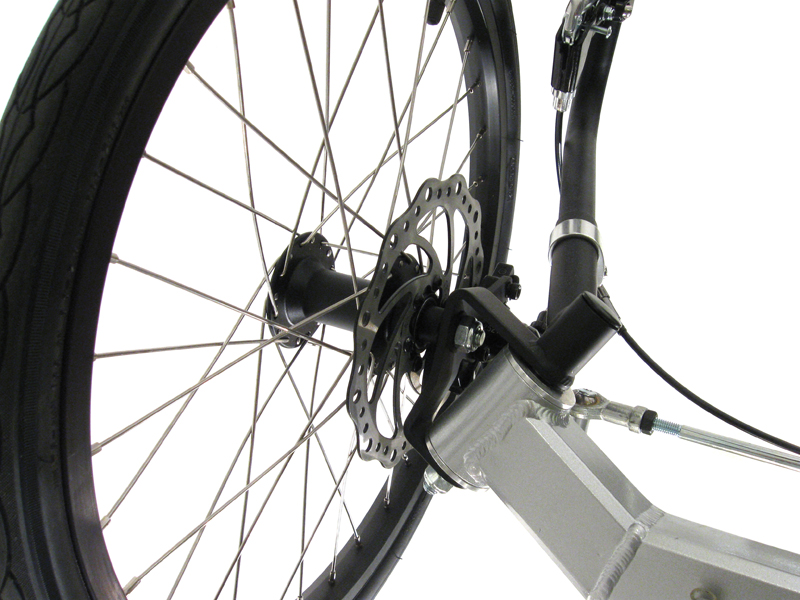 Brakes
With all the speed the KMX Venom is capable of, youíre going to need a good way to stop it. the Venom features effective Bengal disc brakes on the front tires with 160mm rotors, so you wonít be crashing into anything. Brakes are controlled by two individual locking brake levers located on each handlebar.
The locking levers function as a parking brake and will keep the trike in place as you mount and dismount. The brakes can be easily adjusted if they wear down over time and, while there is no rear brake on the Venom, one can be added easily if you feel you need a little more braking power.
Chainline

The chainline on the Venom is similar to other KMX trikes. It has one power idler and return-side chain tubes. The tubes serve to protect the chain from dirt and grime, but they will also protect the Venomís frame from damage done by the chain. You may notice a quiet rattle as you ride, but that doesnít keep your pedaling from being smooth and easy. The noise can be minimized by a simple performance enhancement. You can heat the ends of the tubes with a lighter or torch and flare them out, allowing the chain to run more smoothly.
Wheels to impress
The feature that makes the Venom the fastest and most aggressive of the KMX trikes is itís 26-inch, quick-release rear wheel, paired with two 20-inch front wheels. Not only is the Venomís tire setup fast, but with the black hubs, silver spokes, silver nipples, and black Jetset alloy rims with Schrader valves, everyone will admire them as you pass by. If you like racing against others or against yourself, youíll love the speeds the Venom is capable of reaching.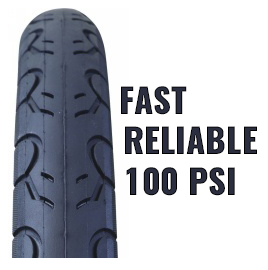 Tires made for speed
The Kenda Kwick Roller tires are high performance tires. With the 20-inch by 1.25-inch tires on the front, and 26-inch by 1.25-inch in the back, rolling at 100 psi, youíll fly past everyone on the pavement. If you live in an area where punctures are all too common, you may want to look into some kind of protective upgrade, however on most courses and trails the Kenda Kwick Rollers will hold their own.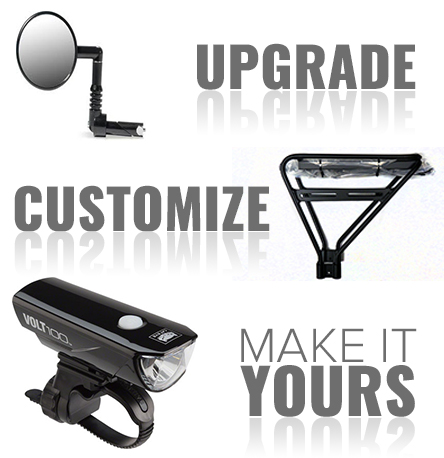 Extras and Upgrades
Like other KMX models, the Venom comes with the KMX flag and a rear fender to keep mud and water off you while you ride. Quite honestly there may not be anything you wish the Venom had that it doesnít already offer you! But, if you find yourself wanting to add some accessories or doing some upgrades, just let us know.We would suggest adding a few rearview mirrors first and a head or tail light for safety. If you know you want to do some touring, throw on our UT custom rack and add some pannier bags.
Also if youíll be on the road for longer periods of time consider upgrading to a slightly more durable tire. With itís 26-inch rear tire, lightweight frame, and aggressive style, the Venom doesnít really fit into the off roading world. If you want to take it off the beaten path, you will most definitely need to change your tires.
Will you love the KMX Venom? Absolutely.
As far as price/quality is concerned, the KMX Venom is in a class all itís own. Itís an extremely affordable road machine and faster than anything else in itís price range. The Venomís lightweight aluminum frame makes it a speed demon, and offers lots of options with comfort and adjustability. If youíre a do-it-yourself triker, we can send it to you as a kit as well and you can build it on your own. Speed, comfort, adjustability, speed, visual appeal, the Venom has it all. Oh, and did we mention itís really fast? All in all, coming in at less than $2,000, the Venom is a high-quality performance trike that will be a favorite of commuters, thrill-seekers, daily trikers, and tour-lovers.