Fully Suspended and Affordable
It has full suspension AND it's affordable? If we're talking about recumbent trikes, those are two features that you typically won't find in the same sentence. Since full-suspension trikes hit the market, theyíve been a popular item and the ultimate in riding comfort. The downside is that their hefty price tags have kept these tricked-out trikes out of the hands of a lot of customers. Revolution set out to create a comfortable, reliable, full-suspension trike at a price that would allow more people to relax, spin fast, and experience maximum comfort on and off the road. The result was the Defiance FS. It features a custom spring design in the front, and a reliable Torch DNM shock in back. If that doesnít catch your attention, it also comes stock with impressive gearing, a sturdy, durable build, and maximum adjustability.

Built to Last
The Defiance boasts a sleek chromoly steel frame that is durable and has a sporty look to it. Steel frames tend to absorb bumps and jolts much better than other materials, and with the added suspension what used to be uncomfortable terrain suddenly feels like youíre riding on glass. As far as color is concerned, you can choose from over 35 different options offered by our custom shop. It features an adjustable seat and boom that allows it to carry a rider up to 6í4Ē tall!
Stay in the Saddle
Comfort
The Defiance features our Utah Trikes custom mesh seat, so itís breathable and will keep you cool on the road. The seat frame is made of aluminum and it has foam padding along the rails for comfort. The pockets on the back of the seat will let you carry extra gear and the mesh is easily removed so you can keep it clean. Itís super comfortable and lightweight, but is also capable of carrying up to 300 lbs.
Adjustability
The new Defiance FS offers lots of adjustability in order to maximize your riding comfort. The seat angle can be changed by sliding the telescoping seat stays until you reach your desired position. To find a comfortable pedal reach, the seat can be mounted in three different positions along the frame as well.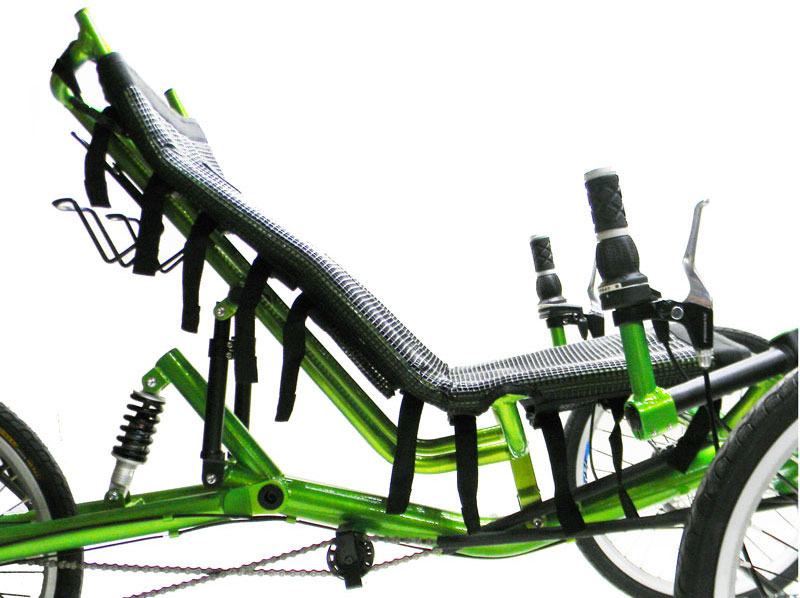 Intuitive Handling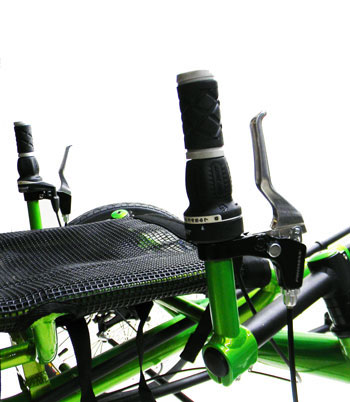 Like many other trike models, the direct steering and Ackerman compensation give the Defiance it's reliable and predictable handling. It has a mild tendency to self center and, like many Catrike models, handling is responsive at low speeds and stiffens at higher speeds to keep you stable. Many experienced riders will also enjoy the minimal brake steer that can help you around corners.

The vertical handlebars use cartridge bearings that makes the steering seamless. You can also adjust the position of the handlebars to fit you. They can slide closer to or farther away from you, tilt, and pivot so your hands, wrists, and forearms are well taken care of. You can avoid tiny aches and pains and focus on your ride.
Gearing
For the price and the quality, the Defiance FS uses admirable entry-level gearing components. With a 24-speed drivetrain, three reliable internal gears, and 18-93 gear inches, the Defiance is quick on the road and capable of powering up hills. It has a 170mm single crankset up front, combined with a Sturmey Archer CS-RF3 internal hub and Shimano 8-speed 11-32 cassette, and Altus rear derailleur.

The stock gearing will meet the needs of almost all riders, but if you find yourself wanting a wider gear range, the Defiance is easily upgraded. Adding a Patterson or Schlumpf drive would be a reasonably affordable and quick way to greatly increase your gearing.

Stopping Power
The Defianceís brake lever set up is similar to that of other recumbent trikes. It utilizes two Promax locking brake levers that double as a parking brake so it wonít roll away from you. The two individual levers located on the handlebars have enough power to slow you down, even when you go flying down a hill at breakneck speeds.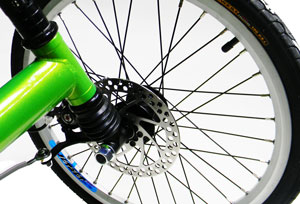 As was mentioned before, there is minimal brake steer that can be used by more experienced riders for cornering at high speeds.
Full Suspension
This is why you're looking at the Defiance FS, isn't it? The Defiance features a DNM Torch shock in the rear, and a custom spring design in the front. DNM has been in the suspension business for years designing quality shocks for motorcycles, bikes, ATVs and the like. Revolution used DNM's powerful Torch DV-22 to give the Defiance its awesome shock absorbing capabilities.

Full suspension equals comfort. Anyone that suffers from back or neck pain while riding or anyone simply looking for more comfort will appreciate the added cushion of the Defiance FS.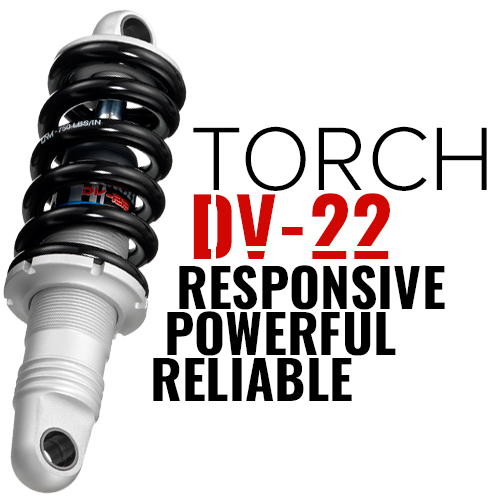 Chainline
The chainline on the Revolution Defiance FS is simple and efficient. It has two idlers and chain tubes made from a durable and long-lasting plastic that will protect the chain from dirt and grime. The tubes will also keep the frame free of scuffs and scratches.

You may notice the tubes make a slight rattling noise as you ride; this can be minimized by a slight performance enhancement that involves using a lighter or torch to flare out the ends of the tubes. All in all, the chainline is hassle free and allows for smooth pedaling when youíre out on the road.
Wheels and Tires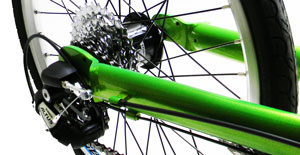 The Defiance features 20-inch by 1.25-inch wheels all around. It has black hubs and spokes with silver nipples and rims.The durable Kenda Kwest tires feature a Schrader valve and 100 max psi, making the Defiance quick on the pavement.

These tires are made to last and can handle every day use. While the puncture protection will be sufficient for most riders, if you live in an area that is home to lots of thorns, you may want to consider a slight upgrade like a liner or slime tire sealant.
Extras and Upgrades
Besides being a fully suspended trike, the Defiance is an all-around quality machine thatís readily available to a wide range of customers. As far as weíre concerned, there is little that it lacks, and youíll be happy with the stock build. However, the Defiance is also a great platform for upgrades. Some riders like to to upgrade right off the bat, others prefer to wait and add upgrades over time.

Itís your trike, so the customization is up to you. We would add a water bottle cage, a head or tail light, a flag and a rearview mirror for safety. The suspension on the Defiance makes it an ideal touring trike, so feel free to add a rack and pannier bags for longer outings.
Why do you need the Defiance FS?
The Defiance is truly in a class all its own. In its price range, there is zero competition. Most full-suspension trikes start at around $4,000. The Defiance has a price tag of just $2,599. While creating this one-of-a-kind trike, Revolution aimed to keep the price down while keeping the quality of the components high, and theyíve pulled it off.


The Defiance is made with quality materials, comes stock with very usable gearing, it has intuitive, reliable steering, and can be adjusted to fit your riding style. Most importantly, it wonít cost you an arm and a leg. The Revolution Defiance FS is a quality build that has full suspension at a price you can afford, which is something weíre excited to offer. Everyone should be able to enjoy the comfort of a full suspension trike without breaking the bank, and the Defiance FS is the way to do it.