Meet the KMX Cobra. Itís a mid-level trike thatís ready to hit the pavement or tear up an off-road trail. For men and women who crave exhilarating off-road riding on any terrain, the KMX Cobra is one of the most reasonably priced mountain trikes on the market. This jack-of-all-trades KMX has a robust design with 24 gears, large spoked wheels and added ground clearance making it fast on the road and unstoppable off-road. Many riders will love the comfort of the KMX bucket seat, the adjustability, and the overall aggressiveness of the Cobra. It features big off road tires and low gearing that will carry you up and over those steep hills.

Frame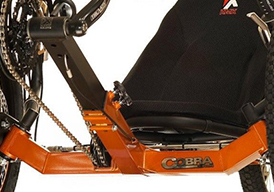 Adjustability
Like almost all KMX trikes, the Cobra frame is made of a quality hi-carbon steel. Do-it-yourself trikers will love the square frame and how easily it can be modified. Itís easy to bolt things to without doing damage, feel free to weld brackets, or throw on a motor. You can go crazy on your own modifications. The frame features an adjustable seat that can easily slide along the frame, an adjustable boom to fit your reach, and a derailleur post to add accessories.
Love the Look
True to the KMX standard, the Cobraís frame is solid and incredibly durable. Not to mention it comes in a super unique stock color. Youíll love the burnt, metallic orange thatís not offered anywhere else. If thatís not your color, we can swap out the other KMX colors of black, white, or blue. If those options arenít what youíre looking for, check out our Utah Trikes custom color shop. With over 35 different colors, youíre bound to find something that youíll love.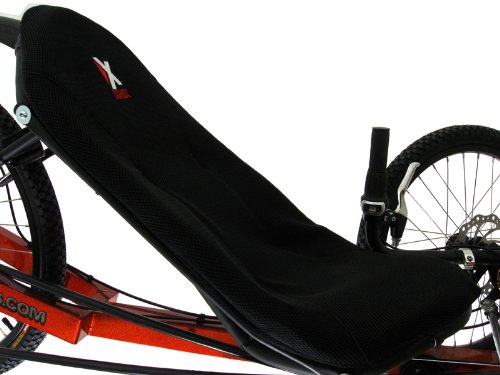 Riding Comfort
Adjustability
Like all KMX trikes, the Cobra comes stock with KMXís comfy bucket seat. The sides and bottom of the seat extend upward to cradle your body so you wonít slide off when youíre cornering hard. The seat is attached to the frame with an easy-to-adjust clamp that makes sizing the trike a non-issue.
The KMX seats have side support bars which are intended to be bent as needed for adjustable lumbar support, so that you ride comfortably. The seat frame is steel, with foam padding, and a black breathable mesh cover.
Capacity
Because the frame allows for so much adjustability, the KMX trikes can fit a larger range of riders than most other brand models. With the extra long boom extended and the seat slid back, the Cobra can carry a rider up to 6í4Ē! The angle of the seat is also easy to adjust by changing the length of the rear seat supports. If you want to do a little off-roading, the manufacturer rated rider weight is roughly 210 lbs, but total weight capacity for road riding is 300 lbs.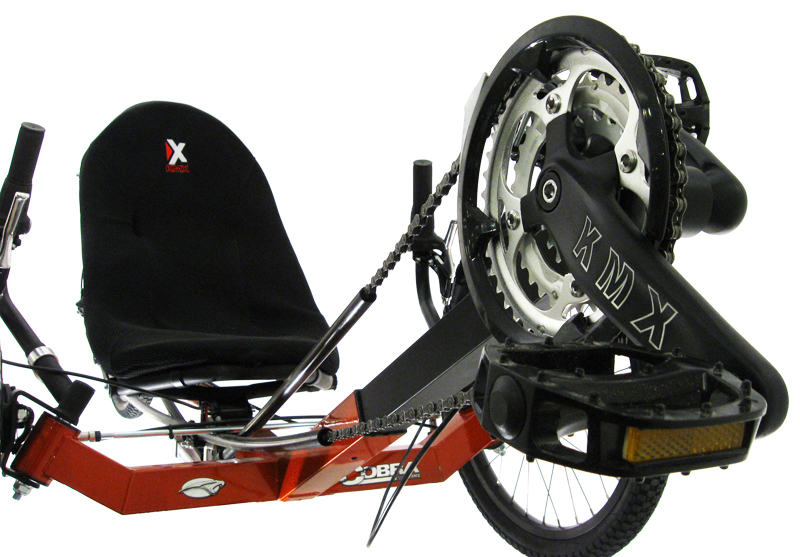 Steering and Handling
Like all KMX trikes, the Cobra uses Ackerman compensated direct steering, and features sealed ball bearings that wonít wear out easily. While the steering components are the same as the KMX Tornado, Typhoon, and Viper, the 20-inch wheels on the Cobra will make the steering slightly lighter, will lessen tire scrub, and improve handling.

The handling on all KMX models has a strong straight line tendency, so you can expect reliable and predictable steering even at high speeds, and wonít have to worry about any speed wobbling. The vertical handlebars can be moved in and outward and slid forward and back so you can ride comfortably. The twist grip shifters also allow you to easily attach a rear view mirror to the end of the handlebar.

Gearing
The KMX Cobra is an off road oriented trike and geared to be a hill climber. It features the Truvativ blaze 44/32.22T 170mm triple crankset and X4 derailleur up front and a SRAM PG 850 8-speed cassette in back, giving you a super usable 24 speeds. As opposed to a typical commuter or racing trike with a 26-inch wheel, the smaller 24-inch rear wheel on the Cobra provides that lower gearing you want on an off road trike. You can climb up steeper hills no problem, and if you want a little more speed, the Cobra really has no limitations as far as gearing upgrades are concerned.
Brakes
The Cobra features Bengal brake discs on all three wheels with 170 mm rotors. A favorite component that makes the KMX Cobra such a blast to ride is the rear brake. Anyone that loves sliding around or flipping 180ís will love the left brake lever for the rear wheel.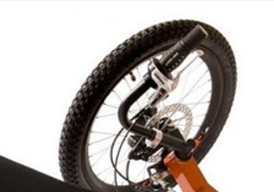 Itíll also give you a little more braking power as you go downhill. Itís a locking brake lever, so itíll keep you from moving unintentionally as well. The right brake lever is a double pull that controls the two front wheels. The Cobra uses mechanical disc brakes that can be adjusted easily as well.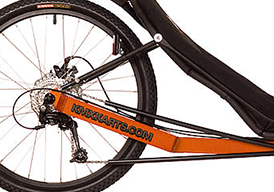 Chainline
The Cobraís chainline has one power idler and two chain tubes. The lower tube guides the chain while the upper protects the frame from damage. Because the Cobra is geared to be a trail riding trike, the tubes will keep mud, dirt, grime, and other debris off of your chain.
There may be some noise, but a quick performance upgrade will help to minimize that. You can flare out the ends of the tubes using a lighter or torch. The idlers and tubes are made of sturdy Delrin plastic thatís sure to last you a long time. Even though you may be on bumpy terrain, youíll find the chainline of the Cobra will let you pedal smoothly and comfortably.
Wheels and Tires
Made for off-roading
Like all KMX models, the wheels have black hubs, nipples and rims with silver spokes. The Cobra features double wall, square profile OEM Jetset rims and Schrader valves. Like we mentioned before, the 24-inch rear wheel makes the Cobra a hill climber, and the two 20-inch front wheels make handling a breeze. The Cobra features Kenda Kwest tires. Two 20 x1.95-inch in front, and the 24 x 2.3-inch tire in back. As weíve said, the Cobra is meant for off roading.These stock tires are knobbier, high traction tires, that can still be used comfortably on the pavement.
If you want to go on longer commutes, you may want to upgrade the tires to get a little more speed out of them. On the other hand, if you want to ride over even more rough terrain, consider upgrading to a more aggressive tire. For most trails and roads, the Kenda Kwest tires have great puncture protection, but if you ride in areas that have high puncture potential, you may want to look into a little extra protection on your tire. Try some slime sealant, or a puncture liner.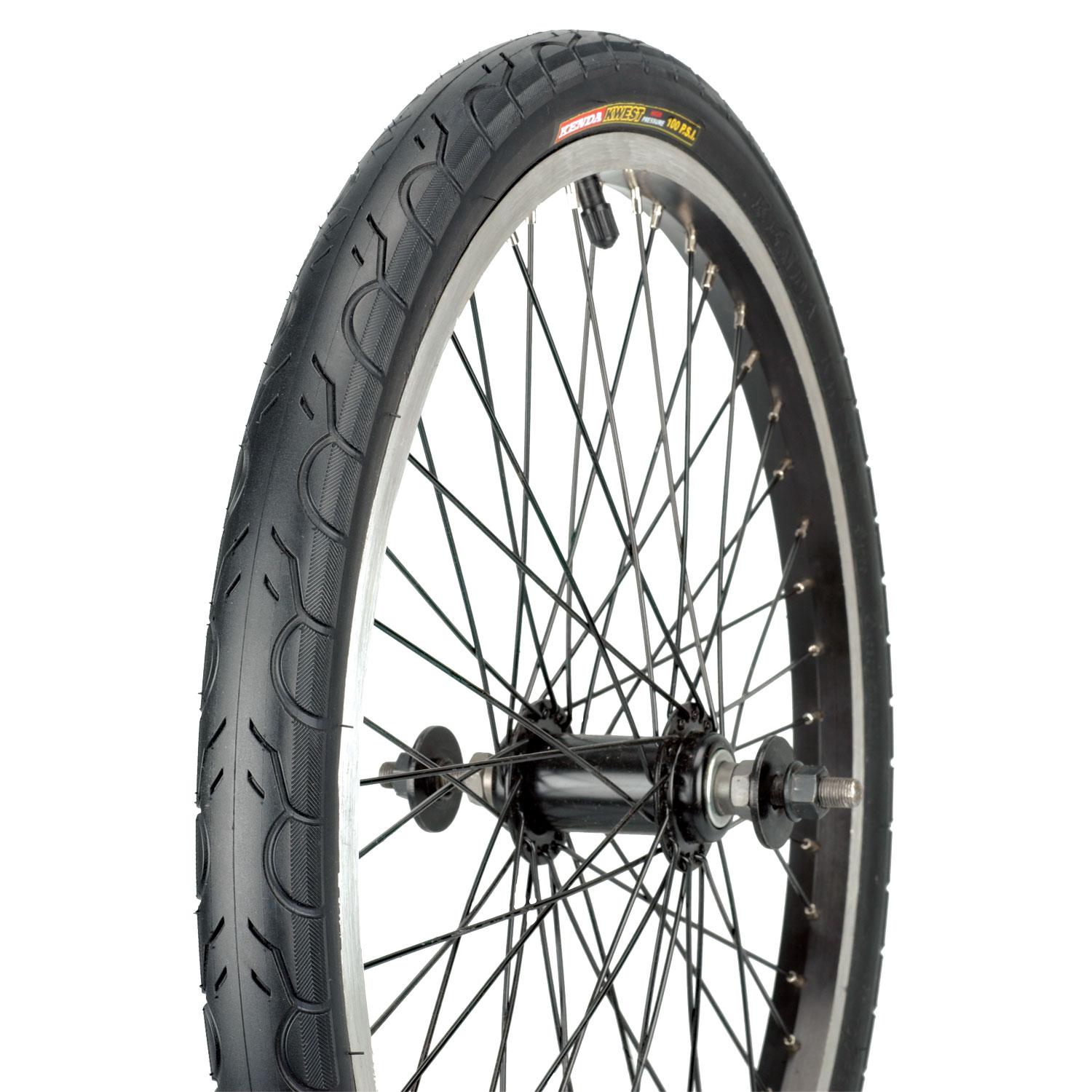 Extras and Upgrades
All KMX trikes come stock with a rear fender and a KMX flag so you can be seen on the road. If and when you decide you want to upgrade, we would suggest you think of safety first. You may want to look into a head or tail light; rear view mirrors are a must as well. Other upgrades are up to you. What do you want to do with your trike? If youíre commuter a computer would be appealing, as well as fenders for the front tires. For longer rides youíd probably enjoy having a rack and some pannier bags, and a few water bottle cages to stay hydrated.
Why the Cobra?
KMX truly presents the best price/quality value on the market. You wonít find many choices in the Cobraís price range, and compared to what is available, the Cobra definitely holds itís own. Part for part itís an overall higher quality trike at a reasonable price.The KMX Viper and Cobra are fairly similar, but your choice of trike depends largely on your riding style. For commuters, the Viper has higher gearing and faster tires, but the Cobra has lower gearing for climbing and more aggressive tires that give you great traction. If youíre looking to have a good time and go anywhere on a trike, the Cobra can get the job done.
Quality at Entry Level
If youíre getting into triking and off-road riding appeals to you, or if youíre looking for a second cost-effective trike to tear up the trails, the Cobra is for you. Compared to other trikes in the same price range, the Cobra is a great way to get your hands on a quality trike at little cost to you. If youíre looking for comfort, durability and a great time on those off road trails, the KMX Cobra will not let you down. Youíll be more than satisfied with how it handles on and off the road.