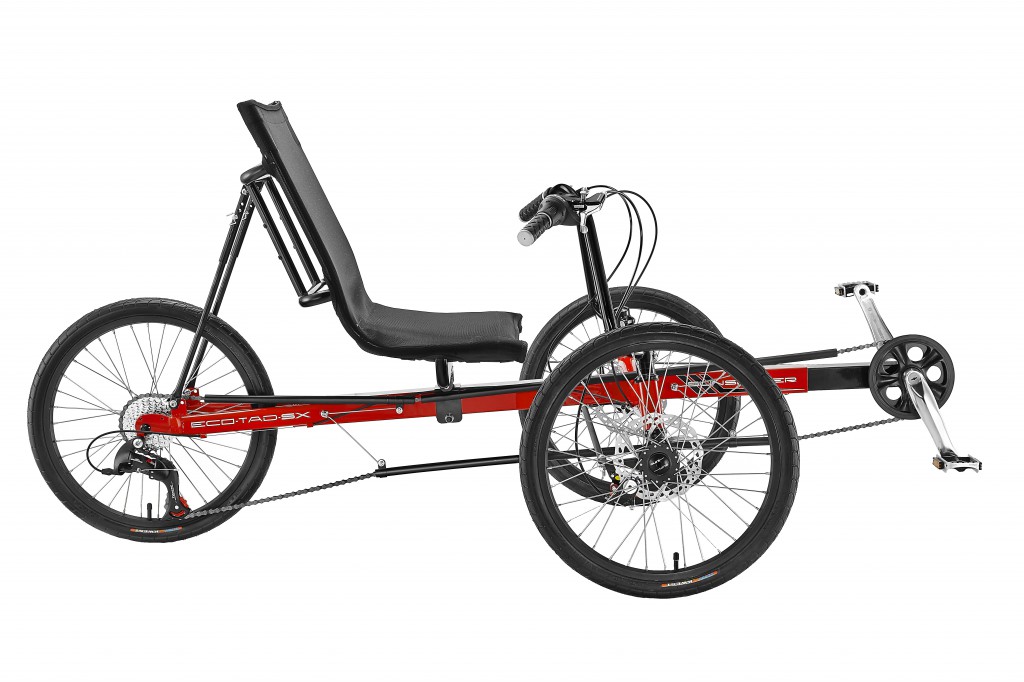 Are you looking to purchase a quality trike AND still have money left in the bank? We present to you the SunSeeker Eco Tad SX. Coming in at less than a thousand dollars, the Eco Tad gives you quality, comfort, and a great look at such a reasonable price that you may even want two.
This SunSeeker tadpole-style trike features a higher seat than most trikes in our lineup and the frame sits a whopping 8.5 inches above the ground, making it a great option for a wide variety of terrains. The Eco Tad has a padded seat that offers excellent comfort, two-way adjustable handlebars, and four different water bottle mounts (staying hydrated is always a plus). If you want to cruise comfortably around the neighborhood or enjoy some easy-going bike paths, all while starting with a low entry price, itís hard to pass up the Eco Tad Recumbent Trike from SunSeeker.
Frame and Adjustability

Eco Tad vs. The Rover
The first thing that youíll notice about the Eco Tad is its simplistic frame. Most people looking in this price range will immediately compare it to the TerraTrike Rover and itís obvious that the Eco Tad was inspired by the Rover. The Eco Tadís frame is built with a high-tensile, lightweight steel, so it is strong. Instead of using a three-piece frame design, like that used on the Rover, the Eco Tad uses a single-piece frame with adjustable boom that feels much more solid.
Adjustability
The Eco Tad is very adjustable and is a great option for those that one trike to share among multiple riders. While the boom can be easily adjusted for setting your precise leg length, the seat position can be set almost anywhere along the frame by using the quick release levers on the seat clamp. In addition, the seat angle is also adjustable so you can dial in your recline. These features make the Eco Tad one of the most user-friendly trikes available, and it accommodates a wide range of rider sizes quickly and easily.
Colors and CapacityThe Eco Tad comes in three stock color options: Red, Blue, and Navy Blue (sometimes it will look purple in the right lighting). But donít forget, if you want a custom color we can paint it in house and you can choose from over 35 different colors. The weight capacity is 300 lbs, allowing the Eco Tad SX to carry a wide variety of riders. Did we mention the extra cargo capacity? This sturdy SunSeeker will allow you to pack on an additional 75 lbs for the road.

The Most Comfortable Seat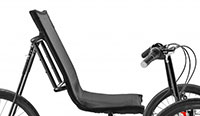 We already mentioned how adjustable the Eco Tad seat is, and now we want to discuss comfort. The Eco Tad features the same two-piece SunSeeker padded mesh seat that is found on most of their trikes. The back mesh is breathable and will keep you cool on longer rides or while youíre exercising, and the padded seat bottom keeps you so comfortable youíll want to stay in the saddle that much longer.
The frame of the seat is steel, with the mesh covering on the back. As mentioned earlier, the seat position is easily adjusted using the two quick-release levers under the seat which makes it easy to adjust itís position on the frame, moving you closer to or farther away from the pedals. This is great if you want to make quick adjustments while on the road. Swapping the position of the two individual pins behind the seat will let you adjust the angle to maximize your riding comfort as well.

Steering and handling
So far, weíve mentioned the adjustable boom and seat. Well, the handlebars are also adjustable both adjust horizontally and vertically. The width of the handlebar is 20-22 inches, depending on your personal preference. Ask us about the extra-wide handlebar option thatís available as well.

AdjustabilityThe Eco Tad features two-way adjustable handlebars. You can rotate them in or out, and raise or lower them by simply loosening the two bolts that secure the handlebars to the spindles, allowing you to achieve maximum comfort. No one likes sore, aching wrists after a day of triking. The adjustment possibilities on the Eco Tad solve that problem. The width of the handlebar is 20-22 inches, depending on your personal preference. Ask us about the extra-wide handlebar option thatís available as well.
HandlingHandling on the Eco Tad is excellent. Itís steering geometry allows you to control the trike with a light touch. The steering spindles use both lower and upper ball bearing supports, so steering is consistently smooth at low or high speeds and wonít become sloppy over time. With proper alignment, the Ackerman-compensated steering helps reduce tire scrub and it makes the Eco Tad a downright blast to ride.
Remember that the SunSeeker Eco Tad SX is not built for speed. Itís a machine meant for cruising and enjoying the scenery, but that doesnít mean you canít have a good time on it. Once it starts to reach 25-30 mph it can become a little twitchy and the steering can feel a bit sensitive, not unlike most comfort trikes. The Eco Tad does have a natural tendency to go straight, so a light touch is all that is needed to guide the trike where you want it to go at any speed.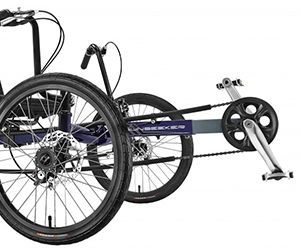 Gearing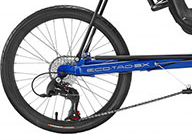 For those looking for a simple, no-nonsense trike, the Eco Tad is the answer. The SunSeeker Eco Tad has a basic, yet efficient drivetrain. It was built and designed with your wallet in mind, but that doesnít mean SunSeeker skimped on quality. The stock gearing on the Eco Tad features a 170mm 38T single crank up front that works with the SunRace 7-speed derailleur and 11-32 cassette in the rear. For those of you counting, that works out to a very usable gear range of approximately 22 to 65 Gear Inches. For those of you that want more gearing, the Eco Tad makes a great platform to upgrade, too. We have many gearing options available so we can build it up to fit your needs.

Stopping the Eco Tad
There is no rear-wheel brake on the Eco Tad, and quite honestly itís not necessary because like most trikes, braking power is primarily handled by the front brake discs. The Eco Tad stock model comes with Promax floating brake calipers on the front wheels, and this is probably our main beef with this trike. While totally functional, the floating caliper design does tend to take longer to break in and may rub a bit initially. The Eco Tad uses 160mm rotors and Sunlite locking brake levers. The brakes are set up on each handle and can be locked into place so as to avoid unintended movement. The brake pads are easy to adjust at the caliper and by adjusting the cable going into the lever. If you will be adding a motor or additional gearing we recommend upgrading the brakes to the Avid BB7s
Chainline
The chainline on the Eco Tad is basic, but efficient, and allows for smooth pedaling. Because of the Eco Tadís straight frame, thereís no bend in the chain which means idlers arenít needed. Thatís right! No idlers. It really doesnít get any smoother than this. You might notice a little bit of noise as you ride coming from the chain tubing. The tubing on the Eco Tad is meant to protect the chain from dirt and debris, and also to protect the frame itself from damage done by the chain. The sound can be minimized by heating the ends of the tubes with a lighter or torch and flaring them out. This will allow the chain to run more smoothly, and you can enjoy a quieter ride.
Wheels and Tires
The stock wheels have black hubs, spokes, and rims, and silver nipples. They look sharp! The Eco Tad SX features three 20 inch x 1.5 inch 65psi Kenda Kwest tires. They have sturdy, single-wall rims and Schrader valves. These tires will give you a comfortable, smooth ride, and while they arenít designed specifically for speed, theyíll last you a good long while on the road. As the Kenda Kwest tires donít come with any kind of lining for puncture protection, you might want to look into an upgrade if you have lots of thorns in your riding area. With that said, the Kwest tires are excellent and riding with the tires at their optimal pressure will typically keep them in great condition.
So why the SunSeeker Eco Tad SX?
In the sub-$1000 tadpole trike market, there are not a lot of options. Prospective buyers will likely be looking at either the KMX Tornado or the TerraTrike Rover. The KMX Tornado is quite different and which trike appeals to you most will likely come down to the appearance and seat height. The Eco Tad is most similar to the Rover, with a similar style and seat height. We think that most people comparing the two will find the Eco Tad to be superior in terms of frame rigidity, adjustability, comfort, steering and handling, and even upgradability. While the Eco Tad is very upgradable, those of you looking at higher-end performance trikes will likely be a bit disappointed, but that is not who this trike is designed for.
Rarely are you going to find such a quality trike at such little cost to you. As far as versatility goes, it will be a favorite of an incredibly wide variety of riders. You can get yourself in a trike today without emptying your pockets. Itís a quality machine, durable, comfortable, and is open to upgrades. The SunSeeker Eco Tad SX is, hands down, the most cost-effective way to start triking today. Donít overlook it!

Popular Upgrades
Before upgrading, remember the extra features already included on the Eco Tad: locking brake levers, a higher seat, and four mounting points for water bottles to keep you hydrated for days! Like a lot of trikers, you may be feeling like you want to make a few upgrades right off the bat. On the other hand, maybe you want to start with the basics and upgrade as you go. Either way, thereís a few popular upgrades we suggest that might be appealing to you. For those looking for a little more speed capability, throw some more gears on there. Youíll easily be able to satisfy your need for speed with the Eco Tad. With that extra speed you may want to upgrade the brake calipers as well to get more powerful braking. Add a rearview mirror or two for more safety on the road, and throw on a rack to make your Eco Tad more touring-friendly. Another popular upgrade that applies to nearly all the trikes we sell, is an electric motor. We have many options, so if you are looking for assist or want to make it into a pedal go-cart we can do that for you.You may not be able to turn it into a performance trike, but for cruising your favorite bike trails or enjoying an adventurous road trip, the Eco Tad is the most cost-effective way to fulfill your triking dreams.