There's a reason why we call this trike the Annihilator! With it's 29er rear wheel and 24-inch front wheels it eats the road for breakfast! This custom build features the Pinion 9-speed gearbox in the front paired with the SRAM 11-16T wide-range cassette in the back. Climb whatever you want and go as fast as you please.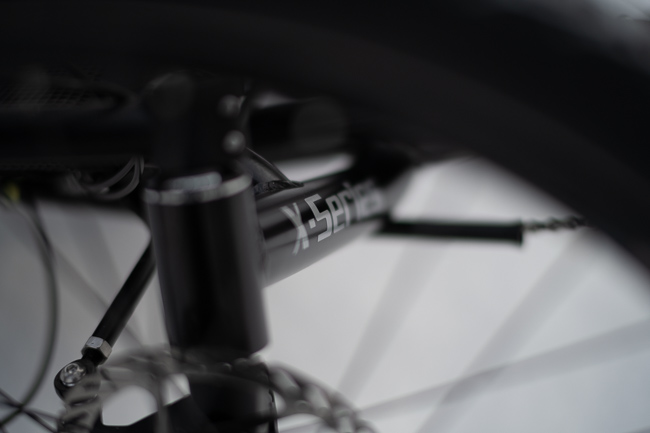 ---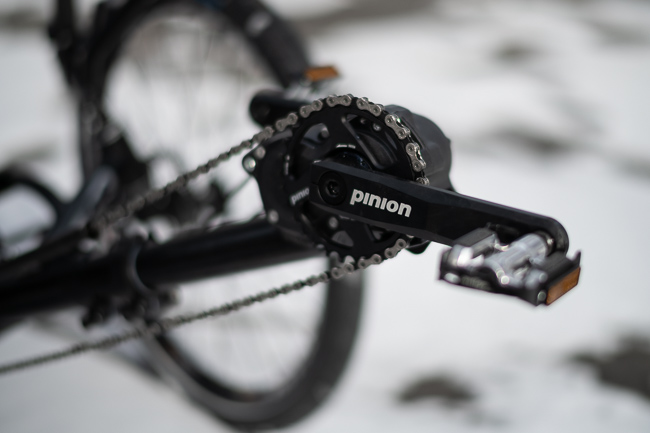 Pinion 165mm CNC Crank Arm Set - Black - Precision CNC machined from billet aluminum, these cranks deliver as much power as you can put out. The 165mm are the standard size but several other lengths are available.

---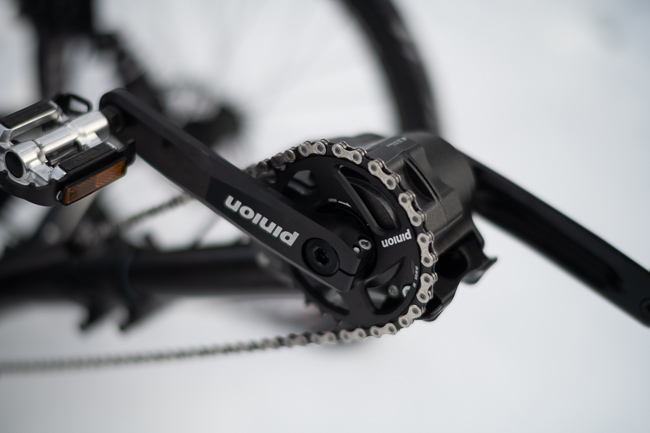 Pinion 30-Teeth Gearbox Sprocket - Black -

---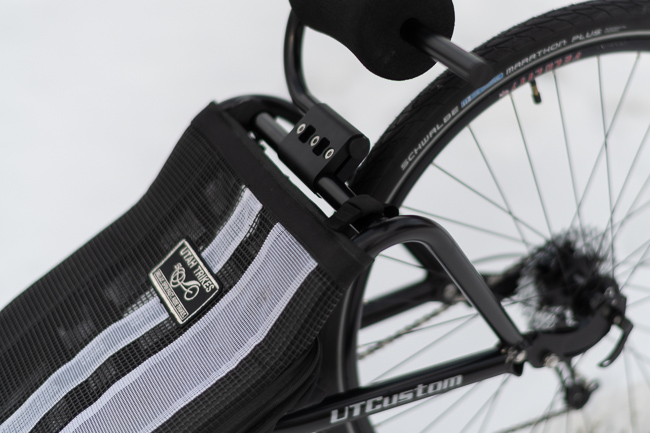 UTCustom Adjustable Super Headrest - Serious riders want serious comfort. That's why we created the Super Headrest. Our headrest is adjustable and functions as an additional support for your shoulders, neck, and head.

---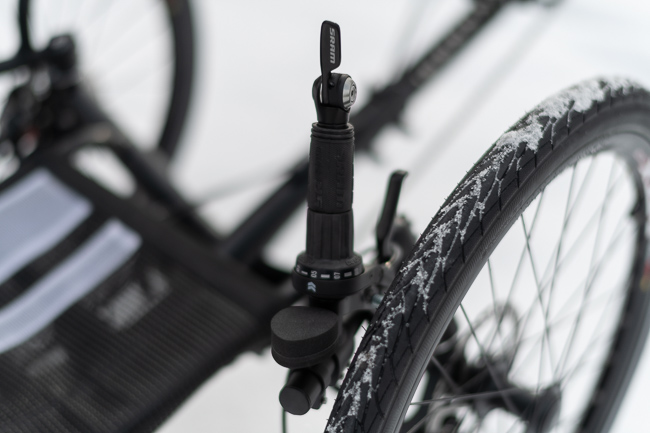 Pinion DS1.9 9-Speed Shifter - This one twist-style shifter gets you the full 568% gear range that the C1.9CX Pinion gearbox offers.

---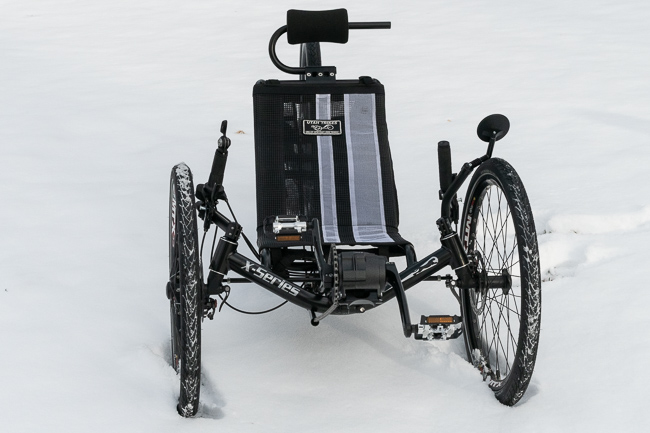 Utah Trikes Performance Annihilator Seat Mesh w/Cargo Bag - We are pretty proud of this seat mesh. It started out as a remake of the Catrike Muscle Trikes we had a few years ago. Then we found an even more breathable material. then we triple reinforced the strapping. And finally we put a custom cargo bag on the back complete with insulated water bladder pouch! We are not sure if this seat will actually make you faster, but your trike will definitely look cooler!

---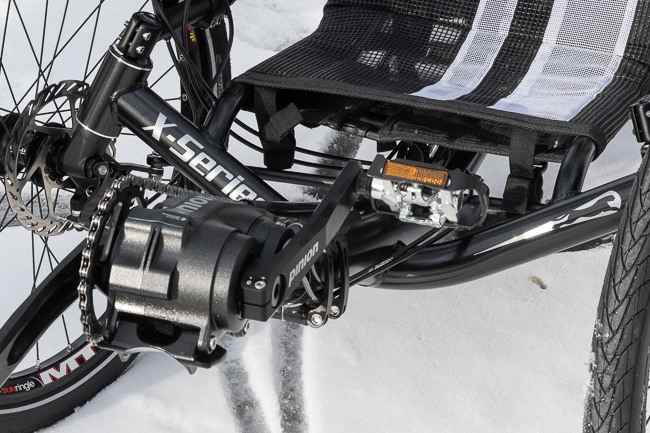 Pinion C1.9XR 9-Speed Wide-Ratio Upgrade - For Catrike (568% Gear Range) - Triple your gear range compared to a standard triple crankset with the Pinion C1.9XR. This wide range crank combines perfectly with rear derailleur gearing for incredible gearing.

---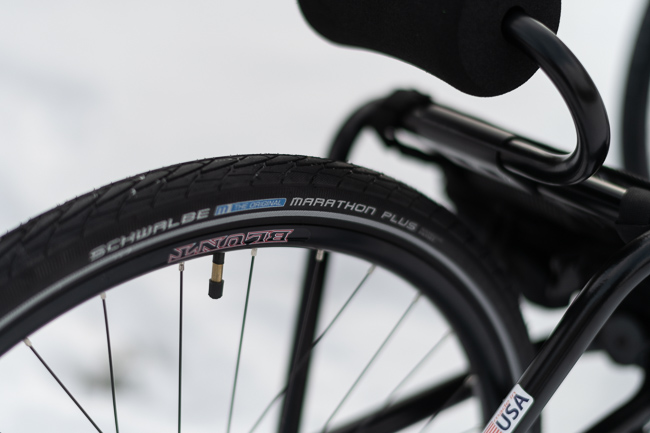 Schwalbe Marathon Plus 700x28C (28-622) HS440 Tire - The Marathon plus tire has a thick protective liner to keep foreign objects from reaching the tube. Schwalbe has a protection level 7 out of 7 for all Marathon Plus tires. This is our most popular tire by far because it's affordable and they will outlast any tire out there. You'll be surprised at how smooth and quiet they roll. -WIRE BEAD

---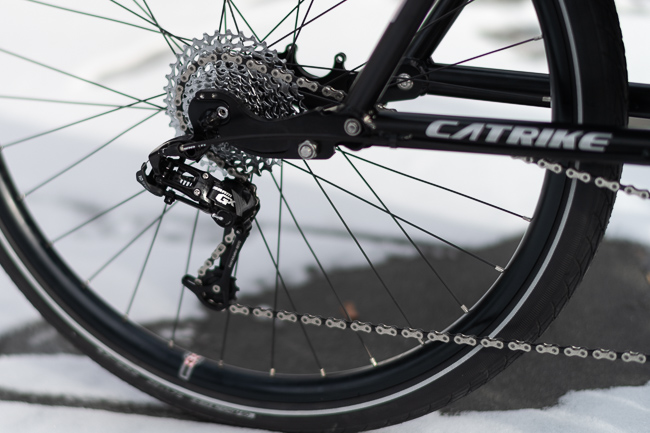 Sram GX Type 2.1 10sp Long Cage Rear Derailleur - SRAM GX rear derailleur takes the place of X.9 and X.7 10-speed models and provides shifting speed and precision. -Exact Actuation technology eliminates slop and shifting variation -Roller Bearing Clutch delivers maximum drivetrain stability even through the most punishing terrain

---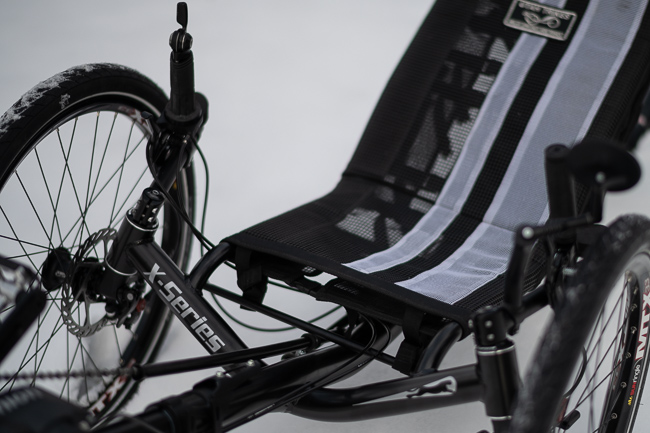 UTCustom Sun MTX33 - 24in Front Wheel on Catrike Hub - The SUN Ringle MTX 33 was developed for the Sun Ringle racing team and the quality shows. You can expect an excellent ride from this wide and deep rim.

---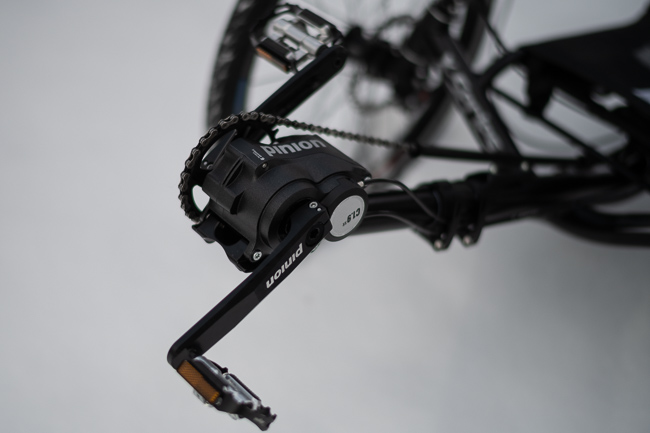 Pinion C1.9 XR Wide Range 9-Speed Drive - Black - The increased gear range of the P1.9XR is ideal for the long distance rider or anyone that deals with rapid changes of topography. The maintenance-free and permanently encapsulated drive with the wide range of gears allows lightning-fast and always reliable shifting. It guarantees perfect flow on uphill and downhill stretches. The wide spacing of gears combines perfectly with cassette gearing in the rear so that you'll always have usable gearing.

---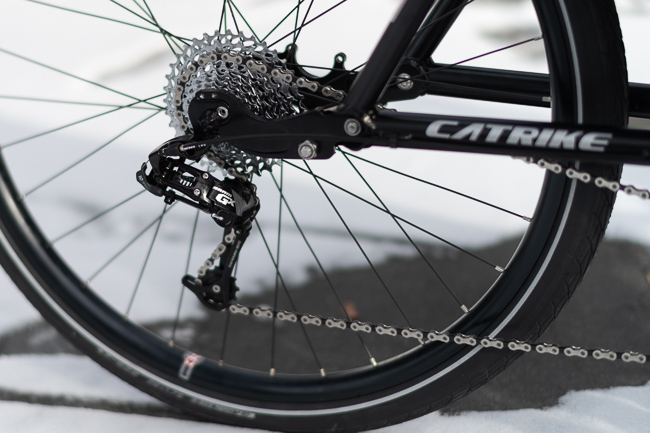 SRAM PG-1050 10-Speed 11-36t Cassette - The PowerGlide 1050 cassette offers an innovative approach to 10-Speed cassette design. Our cassette performance is optimized by material choice, tooth profile and shift ramp design for quick and positive index shifting. The cassette shifts efficiently and positively in all high performance situations.

---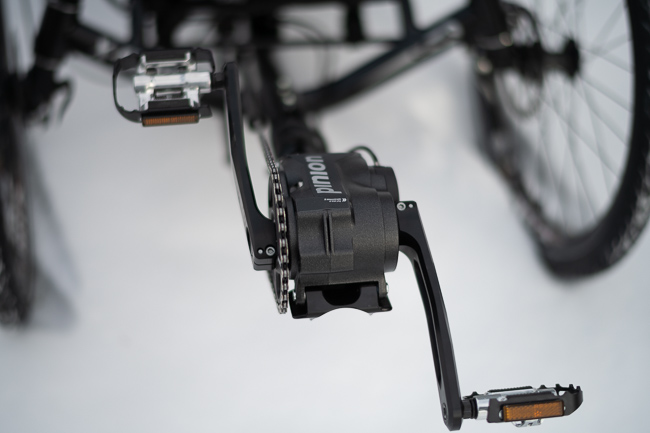 SunLite Clipless Pedals - -Forged alloy body -Chromoly spindle -Shimano SPD compatible -Flat side with rubber insert for traction -Toe clip compatible on non-SPD side -420g pair

---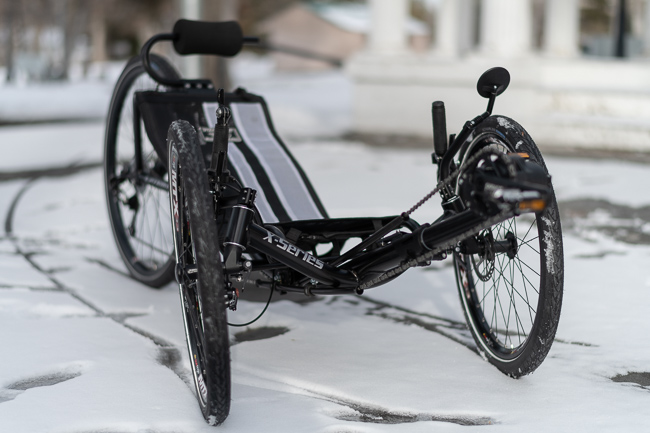 ---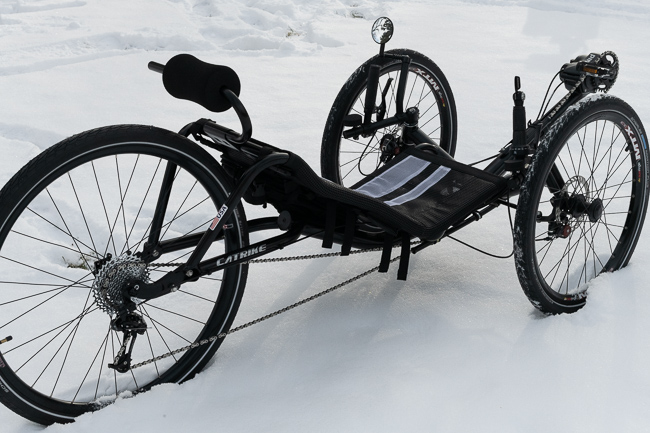 ---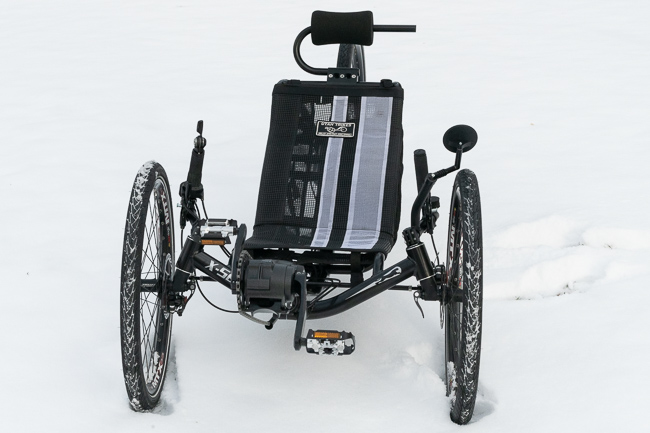 ---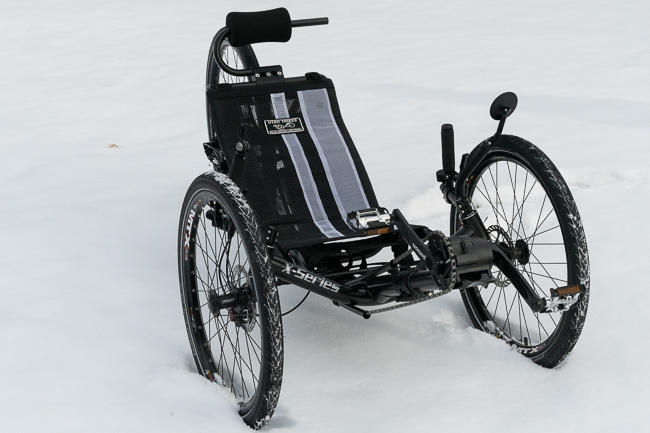 ---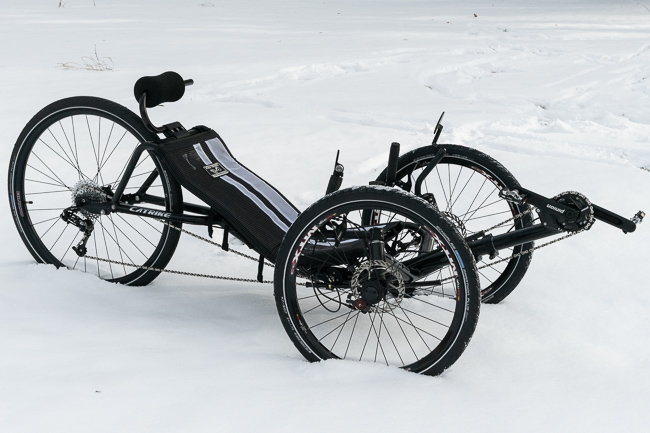 ---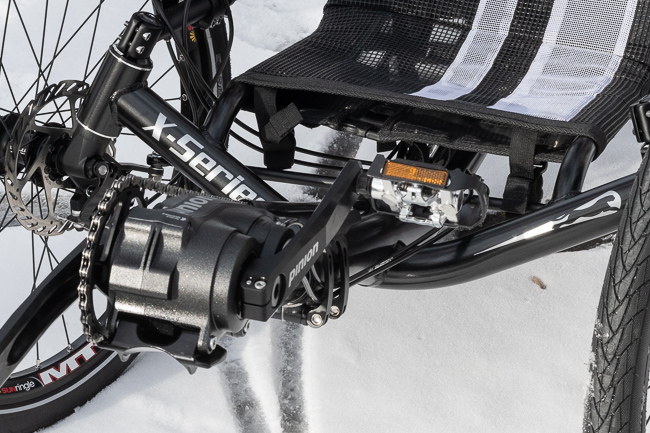 UTCustom Catrike Boom for Pinion Drive - Standard Length - Now you can add a 9, 12, or 18 speed Pinion Drive to your Catrike. We use the Catrike boom extrusion tubing with their "peace sign" strength webbing and alignment channel. Powder coated black, or can be painted to match if purchased with trike with UTCustom colors. Pinion Drive not included.

---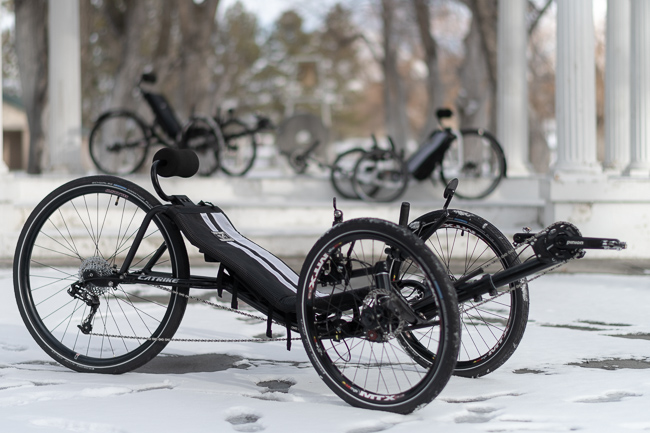 ---