Currently Unavailable
The Cobra is known as the Mountain Triker. For men and women who crave exhilarating off-road riding on any terrain. This jack-of-all-trades KMX has a robust design with 24 gears, large spoked wheels and added ground clearance that makes it fast on the road and unstoppable off-road. Make no mistake, the Cobra is dangerously fun.
The Cobra kit is easy to assemble. Watch our assembly video here. We can also ship the Cobra to you fully assembled and ready to ride.

The Cobraís benefits include:
Strong Hi Carbon Steel frame with good ground clearance and high stability
Direct steer for responsive handling
KMX Hardshell Bucket Seat featuring multiple angle seat position with adjustable lumbar support and fast and easy sliding adjustment
Aluminium front boom
Oversized Super Glide Pulley for smooth chain management
Simple and quick assembly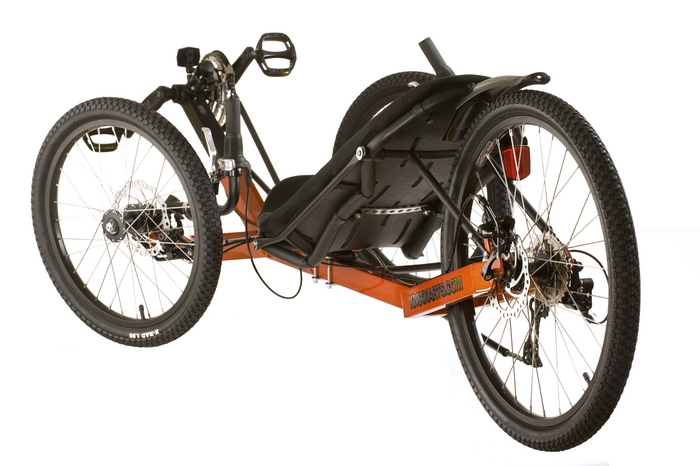 As innovation continues to drive the recumbent world, electric assist recumbents are in higher demand than ever before. Falco E-Motors is one of the most popular and reliable hub-motor systems on the market today and their patented 5-phase technology is a powerful option for KMX Karts. Choose between the 500W motor and 36V battery, or the 750W motor and 48V battery.

The Ecospeed motor transforms your recumbent trike into an ultra-efficient electric vehicle. Top speed is 20 mph without pedaling and over 30 mph with. The basic battery pack will give you 40-60 miles of range and you can add more batteries if you want to go farther. The chain-drive system allows the motor to use the gears, a huge advantage over hub-drive motors.
Detailed Specifications

Frame Material
TIG Welded High Carbon Steel Box with Aluminium front boom
Trike Weight
43 LBS
Total Weight Capacity
210lbs for Off Road use and 300lbs for Road Use
Wheelbase
41.5in (105cm)
Wheel Track
31.75in (81cm)
Total Length
73.5in (187cm)
Total Width
32in (81cm)
Total Assembled Height
26.5in (67cm)
Ground Clearance
5.5in (13.5cm) to the frame
Bottom Bracket Height
15.5in (39cm)
X-Seam Range
Min 35 ĹĒ (90cm), Max 44Ē (112)
Steering Type
Direct Steer with Ackerman and Centre point
Steering Pivot Type
Sealed Bearings
Ackerman Steering
Yes
Brake Steer
Minimal
Self Centering
Yes
Seat Height
8.75in (22cm)
Seat Width
14 Inches
Seat Angle
Adjustable between 39 and 45 degrees
Country of Origin
UK/Taiwan
Warranty
5 Year Frame Warranty
Idler Chain Keepers
KMX OEM Chain Tubes, and Idler