Currently Unavailable
The KMX Venom represents a new level of performance. The Venom frame is made entirely of custom aluminum extrusion for a light-weight and incredibly stiff frame. With a longer wheelbase and 26-inch rear tire the Venom is made to go fast and it does not disappoint. If you are looking for a fast performance-oriented trike under $2000 then look no further. It can handle your daily commute and weekend rides while keeping a fast pace and riding in comfort.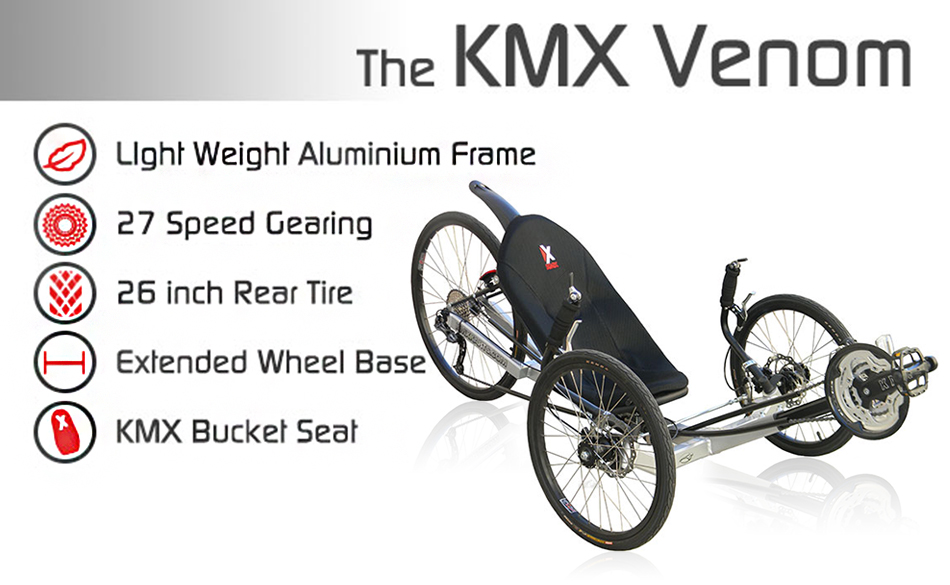 The Venom is KMX's top-of-the-line Aluminium Road Riding Performance Trike featuring Shimano components and disc brakes, providing quality and performance at an exceptional price.
The KMX Venom is very easy to assemble. Watch our assembly video and then save even more money and get the Venom as a kit!

The Venomís benefits include:
Aluminium frame with internal strengthening system giving good ground clearance and high stability. 30mm wider and longer than all our other models
Direct steer for responsive handling
KMX Aluminium Hardshell Bucket Seat featuring multiple angle seat position with adjustable lumbar support and fast and easy sliding adjustment
Aluminium front boom
Oversized Super Glide Pulley for smooth chain management
Simple and quick assembly



As innovation continues to drive the recumbent world, electric assist recumbents are in higher demand than ever before. Falco E-Motors is one of the most popular and reliable hub-motor systems on the market today and their patented 5-phase technology is a powerful option for KMX Karts. Choose between the 500W motor and 36V battery, or the 750W motor and 48V battery.

The Ecospeed motor transforms your recumbent trike into an ultra-efficient electric vehicle. Top speed is 20 mph without pedaling and over 30 mph with. The basic battery pack will give you 40-60 miles of range and you can add more batteries if you want to go farther. The chain-drive system allows the motor to use the gears, a huge advantage over hub-drive motors.
Detailed Specifications

Frame Material
Aluminum
Trike Weight
37 LBS
Total Weight Capacity
300 LBS Road 210 LBS Off-Road
Wheelbase
35 Inches
Wheel Track
29.5 Inches
Total Length
79 Inches
Total Width
33.5 Inches
Ground Clearance
5 Inches
Bottom Bracket Height
12.5 Inches
X-Seam Range
Min 35 ĹĒ (90cm), Max 44Ē (112)
Steering Type
Sealed Bearing
Steering Pivot Type
Direct Steer with Ackerman and Center point
Ackerman Steering
Yes
Brake Steer
Minimal
Self Centering
Yes
Seat Height
8 Inches
Seat Width
14 Inches
Seat Angle
Adjustable between 39 and 45 degrees
Country of Origin
Taiwan
Warranty
5 Year Frame Warranty
Idler Chain Keepers
KMX OEM Chain Tubes, and Idler