KMX Tornado Review

Click here to read more articles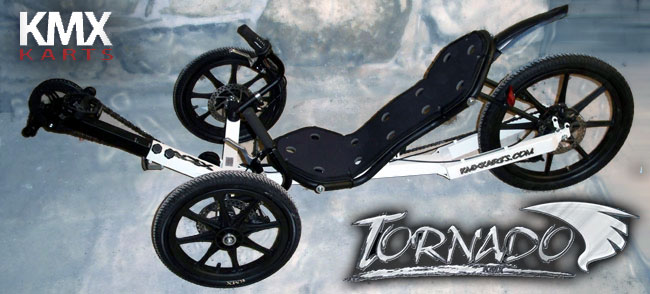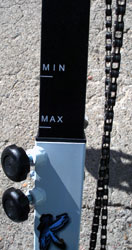 Much of the reason we initially wanted to carry the KMX line of recumbent tadpole trikes was because of their line of smaller trikes perfect for kids. Many of the KMX Karts are under $1000, allowing more potential riders to get into recumbent triking. The entry level adult size trike by KMX is called the Tornado. Priced at just $879, this 7 speed sport Trike is a great place to get started. The KMX Tornado is made of TIG Welded Hi Carbon Steel Box with an Aluminum front boom and weighs 43 pounds. Even with it's "sport" class, this trike is rated to hold up to 300lbs on paved road, and 225lbs off road. With the adjustable boom, the Tornado can fit X Seam sizes of 35 ½ inches to 44 inches.
The way the KMX Tornado achieves its total seven speeds is with a standard rear derailleur and 7 speed cassette in the back and a single chain ring in the front. The front crank is a 40 tooth 3 piece alloy crank with a chain ring guard called the "KMX Bash ring". The front end boom on the trike can be easily adjusted for each rider X-seam with dual knobs to tighten and loosen the adjustable boom. The front boom is marked to show the minimum and maximum x-seam range so you can easily find the setting that works best for you each time.

With the included 7 speeds, I was easily able to go faster than 20mph on flat ground. With the SRAM 3.0 rear derailleur and 7 speed cassette (28 – 13T) I felt each gear was appropriately spaced apart. There wasn't any point where I felt like I needed another gear between the existing chain rings. And being much lower to the ground than other recumbent tadpole trikes, I felt like I had the aerodynamic advantage helping me. The Tornado includes a rear fender that attaches to the seat. The seat has an adjustable recline angle between 39 and 45 degrees. While their stock hard seat isn't quite as comfortable as some mesh seats found on other trikes, the ability to adjust the reclining angle really helps to dial in a comfortable ride. The seat also has vent holes in it to help with air flow on your back and a slight lumbar support curve.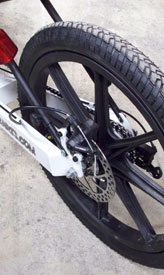 One of the most unique features of the KMX Karts is the stock inclusion of a rear disc brake. Your right hand brake works both front wheel disc brakes simultaneously. Your left hand brake works the back wheel's disc brake. While most stopping power comes from front brakes, the advantage to having a rear brake is that you can stop a little faster. The disadvantage is that using only the rear brake can cause you to skid and fishtail. Also, having one brake control both wheels could cause you to wobble or sharply turn if both brake cables weren't adjusted to be matched. This would result in unbalanced stopping power on the front wheels and could cause you to sharply turn to the left or right when you were hoping to quickly stop. Fishtailing and sharp turning would only happen if you were trying a quick stop. For normal riding and smooth stopping, this wouldn't be an issue. Also, at high speeds, not having independent braking of the two front wheels would result in not being able to brake steer. For some people, this would be optimal. For others, who like to use brake steering, this may not be ideal.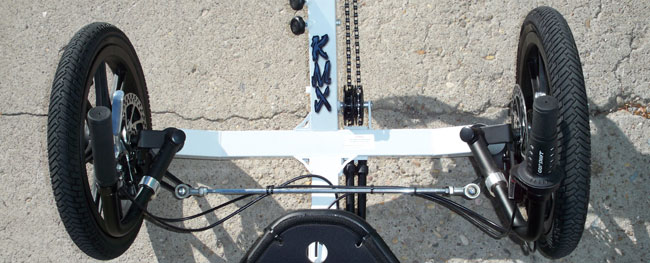 While most of the components on the KMX Tornado are pretty entry level, the frame is solid as a rock. My only concern is the 20″ rear and 16″ front black mag wheels. The material used to make these rims seem to have a tendency to expand and contract at a different rate than the tire/tube and we've had a few tubes blow with the trikes siting out in the sun. I would recommend initially upgrading to a thicker, thorn-resistant type tube which ssolves the issue. Still, I was very impressed that even with the very affordable $799 sticker price, that the KMX Tornado feels safe and very fun.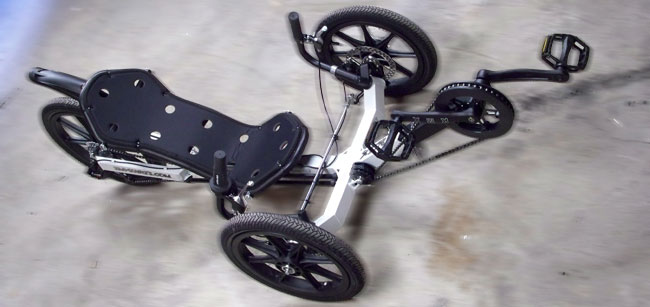 Click here to read more articles

---

Ask your question or share your comments below:

Could you write a review on the Trice Q?
Posted by Ron
11/28/2008 01:21:14 PM

---
I'm working on it currently.
Posted by Ashley

---
I bought a tornado over 6 month ago, I already put 3k on it, so far I don't have a single complain, then all my miles on it are happy miles.
If You are looking for an economic, fun to ride, stable and trouble free Trike; this is the one.
Posted by Threewheeler
03/12/2009 06:21:39 AM

---
I bought my KMX Tornado in Feb 2010 from a KMX dealer in Iowa. I still have it and use it on nice days to commute back and forth from work, and after dinner rides around town and neighboring communites. I enjoy riding my trike whenever I can. This is my first trike I have ever purchased and is a excellent "entry" level starter trike for anyone wanting to enjoy the thrill and experience of riding a KMX trike. I highly recommend them to everyone I meet.
Posted by Anonymous
04/11/2013 05:54:33 PM

---
I bought my KMX Tornado in Feb 2010 from a KMX dealer in Iowa. I still have it and use it on nice days to commute back and forth from work, and after dinner rides around town and neighboring communites. I enjoy riding my trike whenever I can. This is my first trike I have ever purchased and is a excellent "entry" level starter trike for anyone wanting to enjoy the thrill and experience of riding a KMX trike. I highly recommend them to everyone I meet.
Posted by Jeff Wilson
04/11/2013 05:55:03 PM

---